I had this casserole for the first time as an adult.  I fell instantly in love.   So simple.  Sweet, spicy, creamy…corny.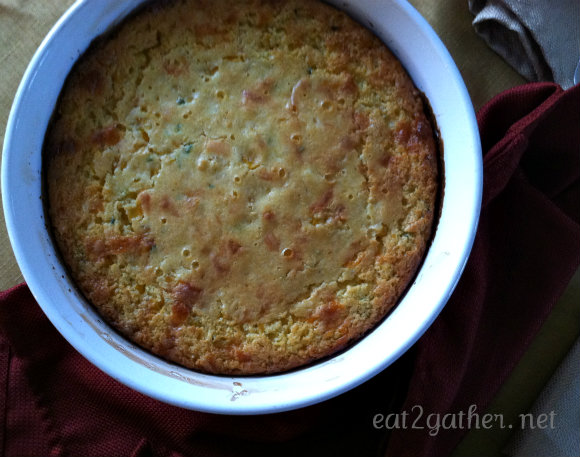 I admit I'm corny…and if you have been around here much you'll agree!  But all kidding aside, this casserole would be a perfect addition to your Thanksgiving menu!  Plus it's so gol dern easy!   It's pretty too…it adds a bit of sunshine to the otherwise neutral Thanksgiving plate.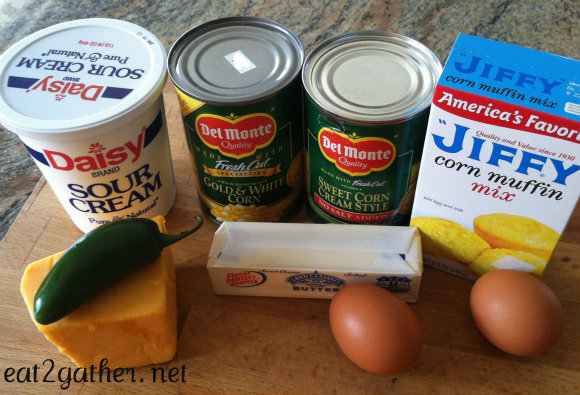 That's it right there! I bet you have all of these ingredients in your house already.

You can pretty much just dump it all in a mixing bowl and mix it up.  I like to whisk my eggs with the sour cream first, you don't have to.  After mixing the cans of corn, the jiffy mix, butter, and the sour cream & eggs together, fold in the cheese and finely chopped jalapeno.  Pour into a buttered dish.  Bake. Enjoy!
Already have a full table at Thanksgiving…can't add another dish?  Really?  I don't believe it!  OK then print this one off for another time during the Holidays, because I know it's going to be a new favorite!
[print_this]
Spiced-up Corn Casserole
serves 8
1 can Creamed Corn
1 can Corn, drained
1 package Jiffy Corn Muffin Mix
1 stick Butter, melted + 1 tablespoon for greasing dish
2 Eggs, beaten
1 cup Sour Cream
1 Jalapeno, finely minced
1/2 cup Cheddar Cheese, grated
Preheat oven to 375 degrees.
Combine the cans of corn, muffin mix, and melted butter together. Add sour cream, and eggs beat with a whisk. Fold in grated cheese, and minced jalapeno. Pour batter into buttered baking dish. 11×7 or 9 inch round works well. Bake at 375 degrees for 1 hour or until middle is firm and top is lightly browned.  Let sit for 10-15 minutes before serving.
[/print_this]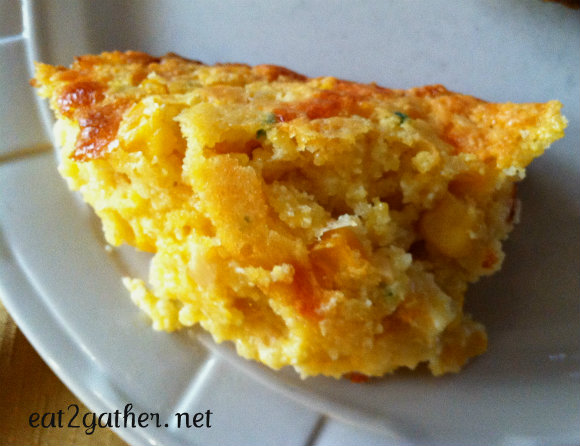 See what I mean?!  It's so pretty on the plate, and is scrumptious tah boot!
Don't forget to check out the Thanksgiving Day Round UP for more great TD recipes and ideas….have something you want to share?  LINK IT UP on that very same post!!!
Do you switch things up every year, or do you keep your Thanksgiving Menu the same?