Chicken Fontinella revisited
Jump to RecipePrint Recipe
I shared this recipe back in July. I think it's worth sharing again. It's easy to prepare. It's cheesy, creamy, flavor is comforting. The spinach adds much needed vitamin C and iron this time of year. Now don't write this one off because it's full of spinach….."my kids will never eat that!". Do they need to know? Well, I realize they will see it in there…just make them take one bite. My vegetable hater…child #3 even tolerates this meal. (I think he secretly loves it, but his pride keeps him from admitting it!)
I needed to bring a meal to a family in our church that just had a baby, I decided on this dish. One, because it's great leftover. Two, because it's healthy for the nursing mama's. Three, it freezes well so if they already have lots of meals, they could stick it in the freezer and pull it out when they need it. Four, because my kiddos love it so I figure other people would hopefully enjoy it too!
One dish, easy bring them salad and a crusty loaf from the bakery and this meal is complete. I also made some
Pumpkin Spice Donut Muffins
for a breakfast treat.
Did I say it's easy to double and triple the recipe? You will need a gargantuan bowl, but if you have one you could make a couple of these

one to give

, one for the freezer

, and

one for dinner tonight

!
Here's what you will need. Chances are you have it all in your pantry. If you don't have the Fontinella cheese, the italian variety of shredded cheese works just as well.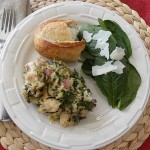 Print Recipe
Chicken Fontinella
hearty chicken spinach and rice dish
Ingredients
2

boxes

Uncle Bens Original Recipe Long Grain Wild Rice

do not use the fast cook version, needs to be original

4

cups

water

4

tbsp

butter

6

ounces

deli ham, diced

I prefer to use thick cut ham steak, or you can also purchase this already cubed in the breakfast meat section of most grocery stores

1

pound

chicken breast, cubed

I have also used ground chicken.

2

cloves

garlic, minced

1

tbsp

olive oil

1

cup

fontinella cheese, grated

you can substitute Monterey Jack, Gruyere, or mozzarella

1/2

cup

mozzarella

1/4

cup

Parmesan

1/2

cup

milk

2

cups

spinach, chopped

pack washed spinach leaves in a cup to measure, then chop coarse to fine depending on your preference
Instructions
Preheat oven to 375 degrees. Butter a 9x13 baking dish.

1. In a 6-8 quart pot add rice, water and butter. Bring to a boil and cover. Cook for 18 minutes. Turn off stove, do not uncover, allow to sit while you prepare remaining ingredients.

2. In a sauce pan, add olive oil and turn burner to medium heat add in cubed or ground chicken and brown until cooked through. Add minced garlic, sauté with chicken for an additional minute or until fragrant and beginning to brown. If there are brown bits on bottom of the pan turn off heat and add a splash of water and loosen the bits.

3. Add remaining ingredients to rice; chicken, milk, cheeses, ham and spinach. Mix to combine. If it seems like it needs a little moisture add a splash more milk.

Scoop cheesy rice chicken mixture into buttered 9x13 casserole dish, or cake pan.

Place uncovered in a 375 degree preheated oven for 30 minutes or until bubbly and starting to brown around the edges!
Notes
This recipe is extremely easy to double, and A. give to a friend in need of a comforting casserole  or B. to wrap tightly with plastic wrap and foil and place in your freezer for a busy day when you just don't have time to cook! Or A.&B. to have on hand in case there is a day a friend just needs your help and you can take it out and be like Wonder Woman, comforting casserole to the rescue!
Remember it's nice to share!