This recipe could go down as the easiest dinner recipe in Eat2gather history!
PIN this SKILLET LASAGNA now!  I promise you won't regret it!  Do you find it hard to get a home cooked meal on the table during the holidays?  I do!!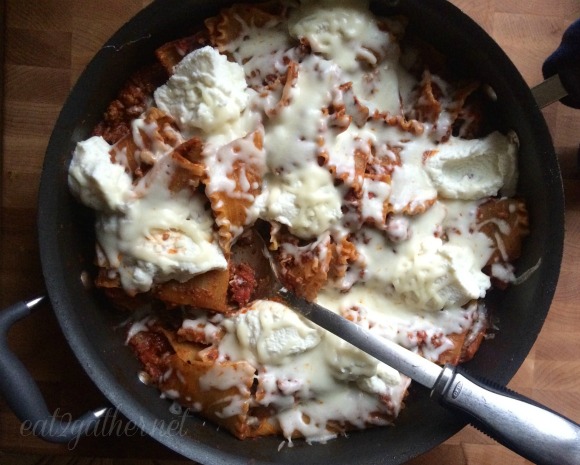 As much as I love to cook the hardest time for me to  feed my family is right before a holiday.  I am so into preparing the one big meal that the days leading up to the holiday (you name it Thanksgiving, Christmas, Easter, _______ ) end up being filled with egg sandwiches, macaroni and cheese, naan bread pizza's (all super easy meals) or Chinese take out!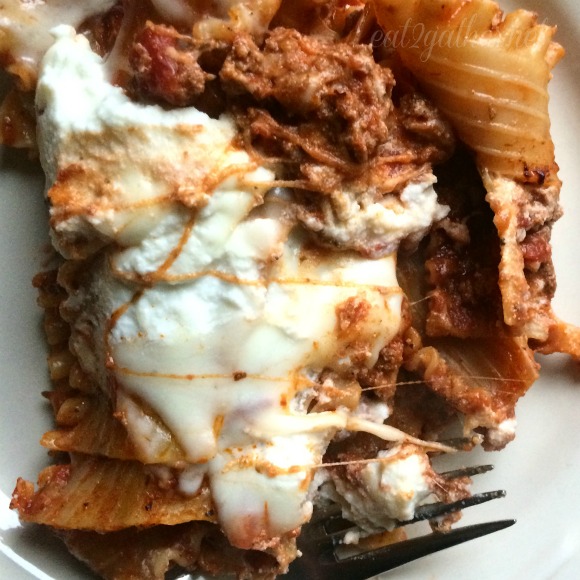 Well this year I've got one more super easy meal up my sleeve!  Skillet Lasagna will change your life!  My kiddos have declared it their new favorite meal.  And guess what? It takes less than 20 minutes from start to table.
I like to make a big batch of spaghetti sauce and freeze it so I have it on hand when I need a quick meal.  I have used my spaghetti sauce and I have also used 2 24 ounce jars of marinara, either way this recipe turns out wonderful!
Are you ready?  I'll show you how easy it is.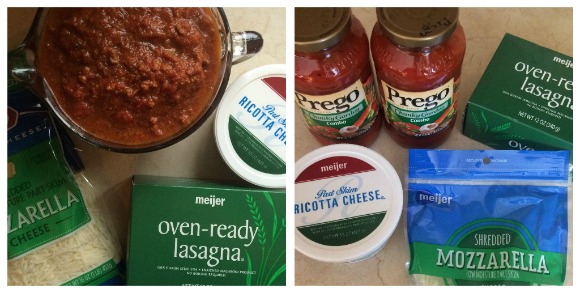 So either way works, one you have homemade sauce…maybe from your freezer or maybe from leftovers.  FOUR INGREDIENTS that's all folks!!

There you have it!  Water.  Noodles. Sauce. Cook for 15 minutes….no peeking!  Cheese, cover again for like two minny uts.   And VOILA!  That's it!  Dinner is served.  Super easy Skillet Lasagna.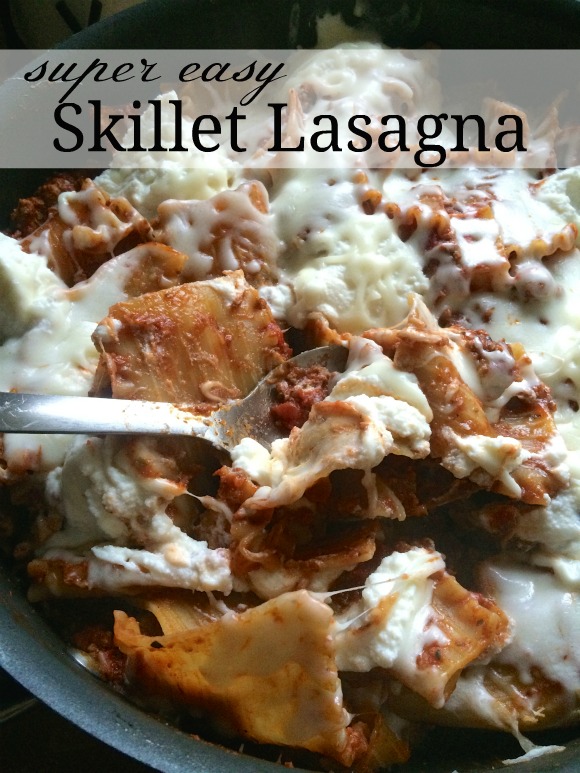 Grab a plate!
[print_this]
Skillet Lasagna
serves 6
1 cup Water
1 12 ounce box Lasagna Noodles
5 cups Spaghetti Sauce with meat or 2 24 ounce jars Marinara Sauce
1 cup Ricotta
1 cup Mozzarella Cheese
Place 1 cup water in a large skillet (I prefer non-stick) on stove top, break lasagna noodles in 1-2 inches pieces over the water, pour spaghetti/marinara sauce over noodles, cover pan and cook over medium-low heat for 15 minutes. Do not remove lid. Uncover, give noodles and sauce a stir. dollop spoonfuls of ricotta over noodles and sprinkle with mozzarella Place lid back on pan for 2-3 minutes, just to melt the cheese.
That's it! Serve with a salad and bread! Enjoy!
Note:  If you want to use jarred sauce but don't want your lasagna to be meatless just brown one pound of ground beef, chicken, or turkey in the skillet then pour water over meat, break noodles over top and proceed with the recipe as it is above.
[/print_this]
Do you find it hard to get a home cooked meal on the table at all, let alone at the Holidays?  Here are few of my favorite super quick and easy meals to help you get though the busy weeks to come!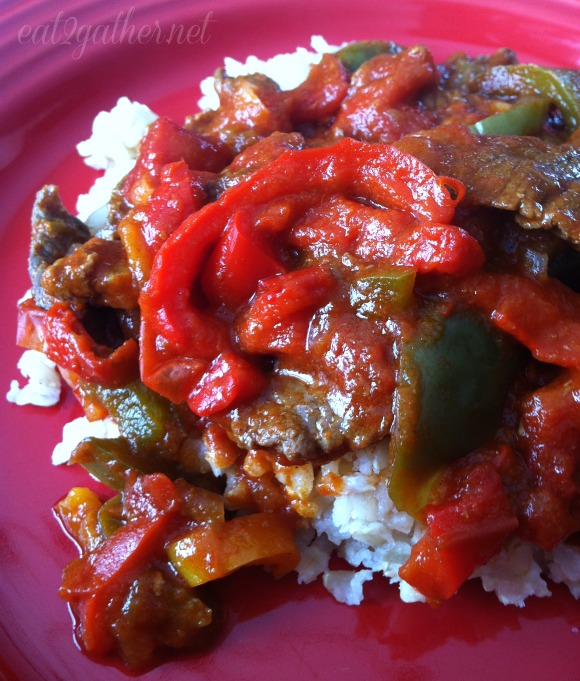 Pepper Steak -slow cooker recipe