Aunt Marla's Scalloped Potatoes
My Mom's Ham and Aunt Marla's Scalloped Potato recipe are all a person needs.  Seriously.  That's really all you should need.  Haven't you ever heard the new potato ad campaign? "Got Scalloped"   Easter dinner usually includes a few other delectable dishes but these two recipes are always present at our table.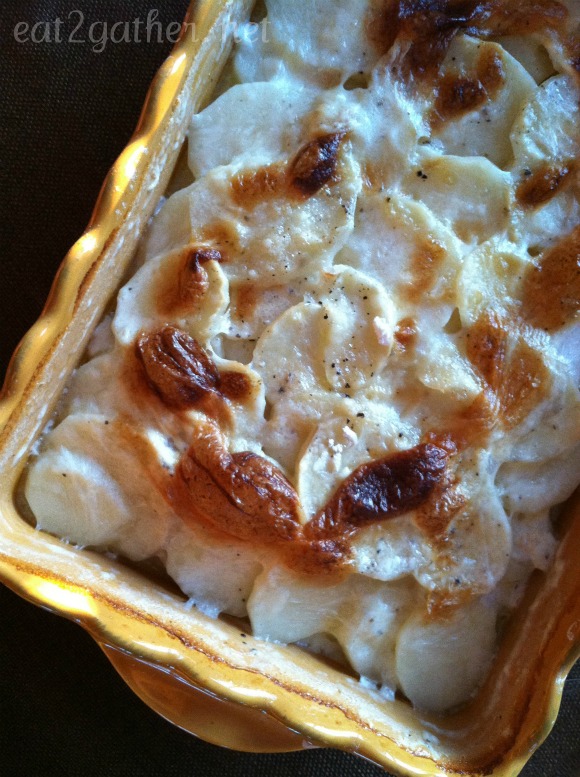 Aunt Marla's Scalloped Potatoes are a delicious memory from my childhood. Comforting. Made with butter, milk, salt pepper, and of course potatoes.  I recently emailed my Aunt about this side dish, I wanted to make sure she was OK with it being on-da-blog.  Because it wasn't written down any where, only in our heads.  I had to verify with her that I indeed had the correct recipe in my head for her "scalped potatoes".  She said yes indeed that was how she made them, but it wasn't her recipe it was great grandmas recipe.  But since I never got to meet my Great Grandma, I only rememeber Aunt Marla making them (or my mom)….I'm just going to keep calling them Aunt Marla's.  The women deserves credit for something…right?!  (I know exactly what your saying out loud right now Aunt Marla.  Love you!)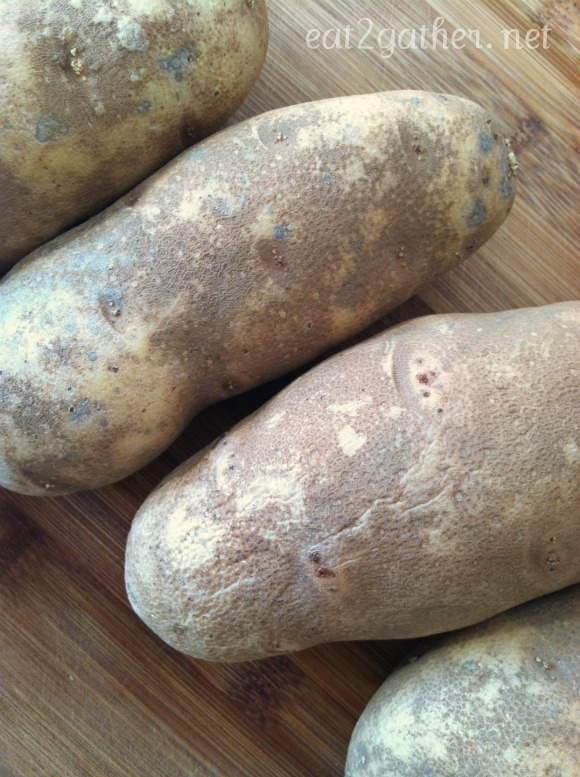 Somewhere along the way someone of us kids started calling  Scalloped Potatoes "scalped potatoes".  Maybe because that's what on pretty much does, scalp a PO-tater to make this recipe.  Yikes! I know it's an awful thought, ripping the poor taters hairline clean off…and it's eyes too.  Sheesh!   Making scalped taters is a gruesome job but gol' darnit someone has got to do it!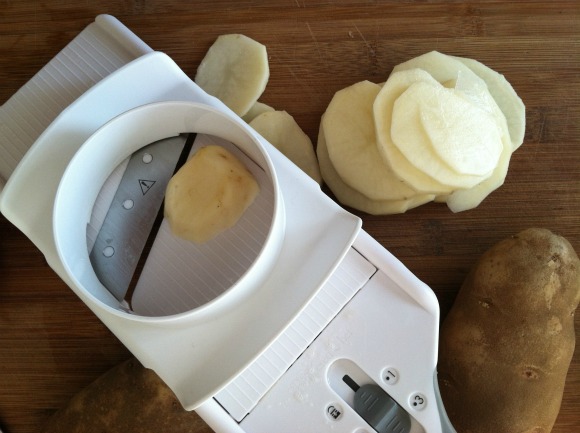 First peel 6-8 large russet potatoes.  Then if you have one of these doo-hickeys you can you can slice them up.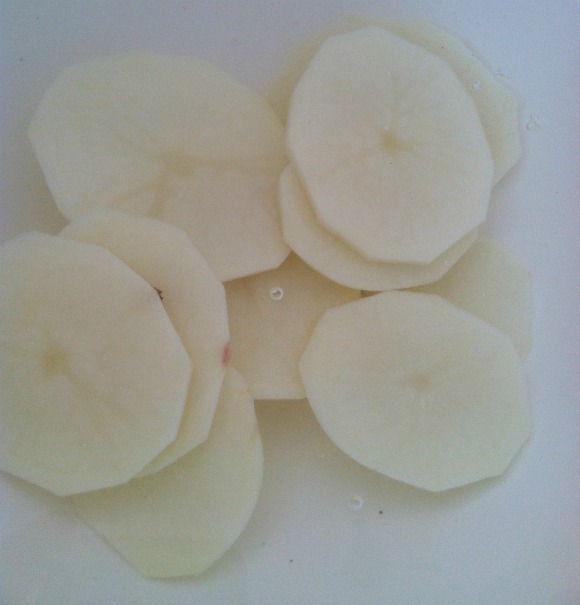 Because you don't want the potatoes to turn brown place them in a bowl full of salted water.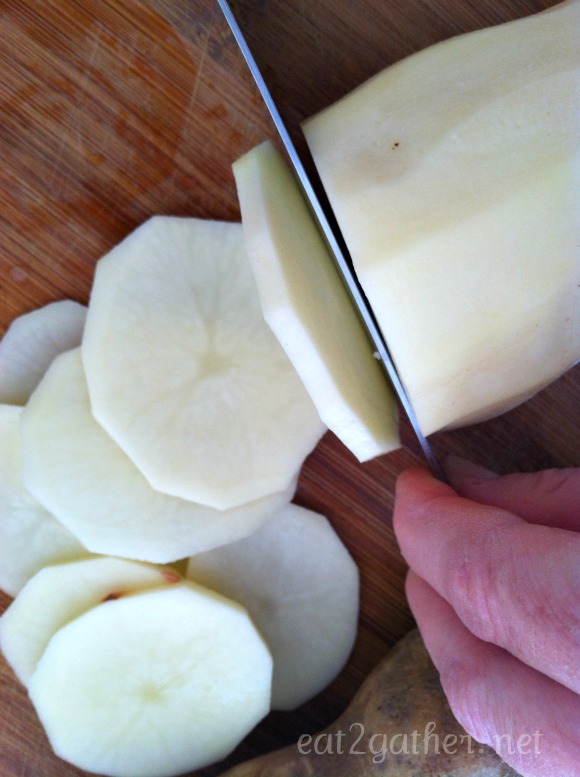 You want the potatoes sliced into uniform discs.  Now if you have a doo-hickey handicap like myself, you can simply use a sharp knife to cut your taters in uniform discs.  I guess I'm just a simple girl…I am not good with doo-hickeys.  I have never been able to get a mandoline (a.k.a. doo-hickey)  to work for me, or a apple-peeler-slicer-corer doo-hickey.  It's a nightmare.  Those tools have a vendetta out for my life!!!  Just give me a sharp knife and I'm good to go!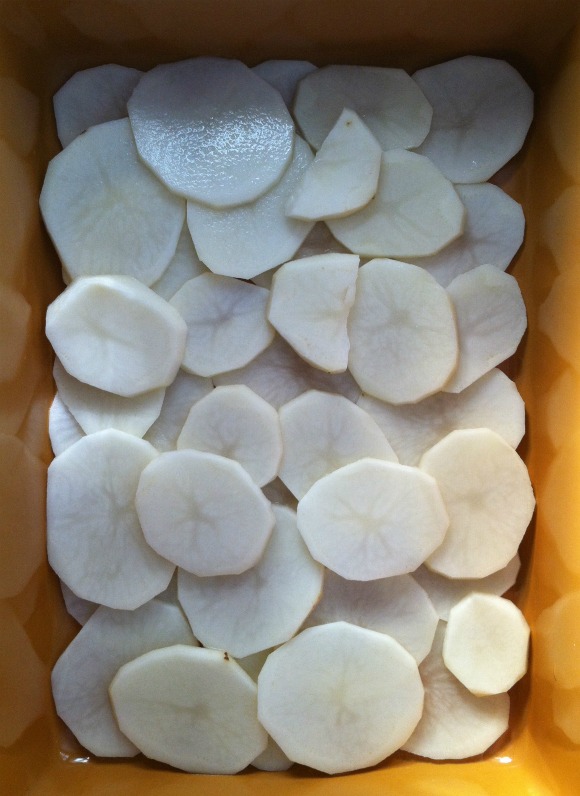 So once you get your potatoes all peeled and sliced you can get started!  Completely cover the bottom of a dish with a layer of potatoes.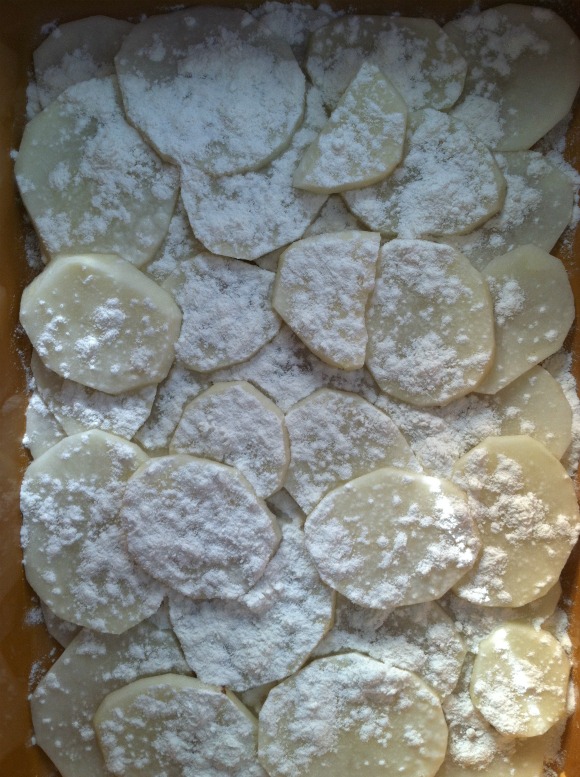 Sprinkle with a scant tablespoon of flour.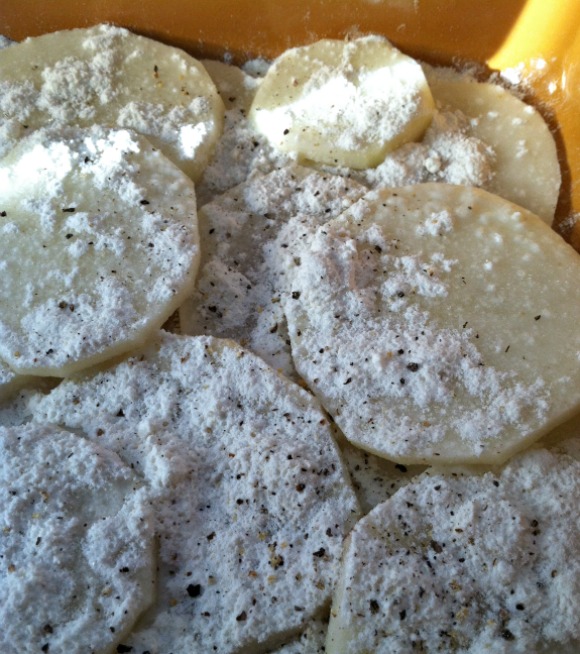 Then a sprinkle of  salt at pepper.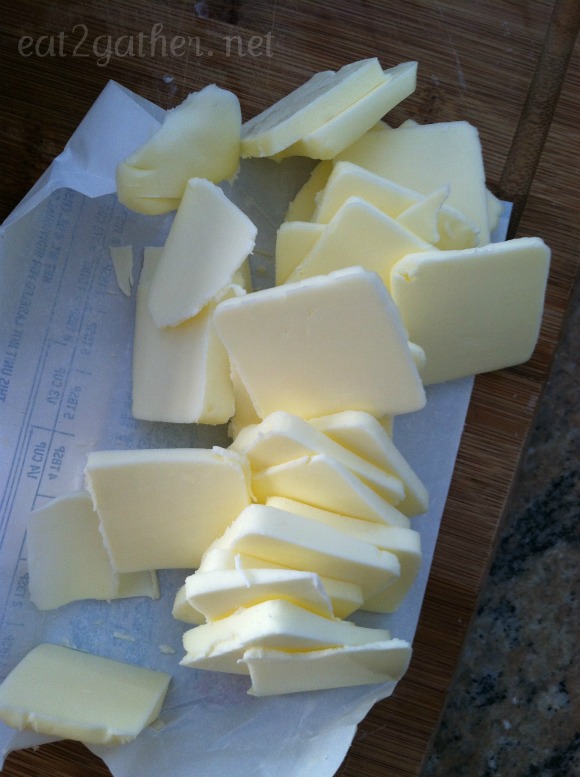 No for the buttAH! You are going to use 1 stick plus a tablespoon or two more or less kinda sorta.  Just go with it.  I told you this recipe was in my head.  No measuring just trust your scalloped tater instincts.  You've got them you just need to dig deep and unearth them. ; )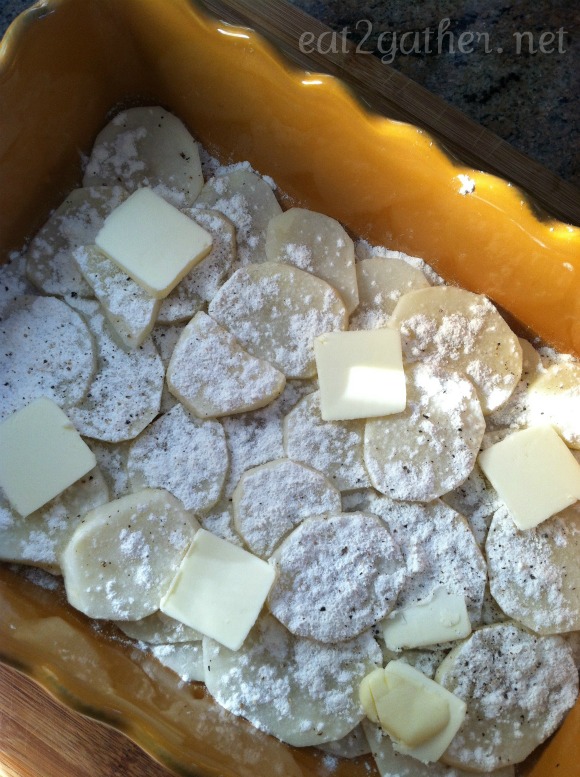 The next layer is thin butter slices placed evenly over the flour, salt, and pepper.  Continue layering these 5 ingredients until potatoes are gone, about 4 layers.  Ending with butter….always end with butter.  Words to live by people!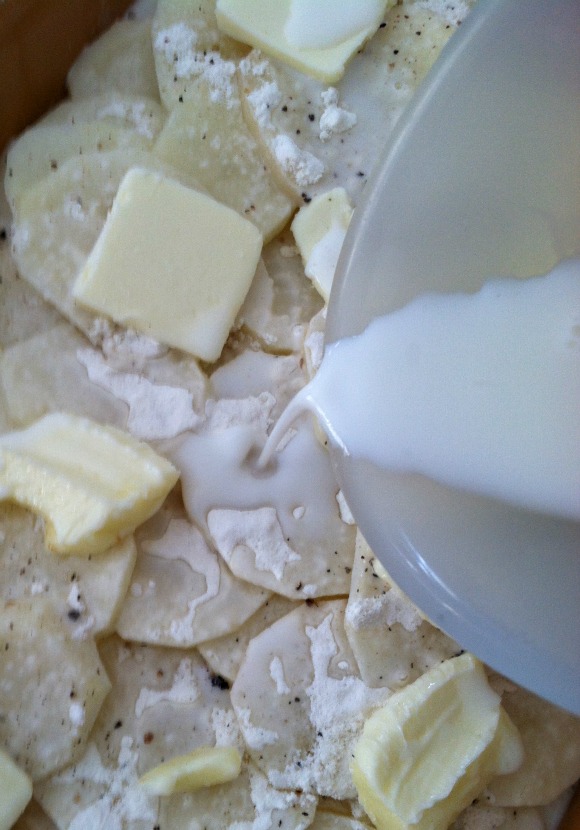 Now pour milk (I used 2%)  over the top until it just barely reaches the top of the last layer of potatoes.   Pop potatoes in the oven for 1 hour at 350 degrees.
That's all folks!  That's all there is too it!  So easy.  This can also be made ahead of time, the top layer of potatoes might turn a little brown, but if this doesn't bother you then layer it all up and just before you bake it add the milk.  Voila!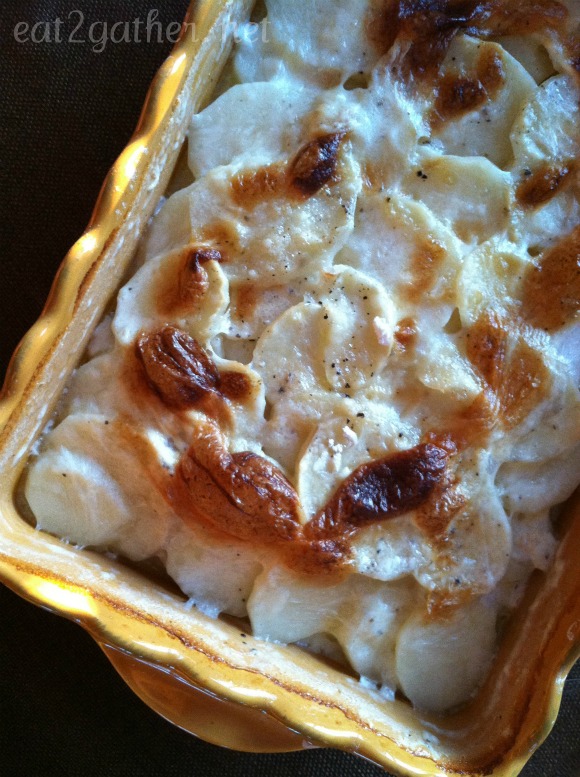 Don't be nervous if it the scalloped potatoes look soupy, they will thicken up as they rest.  You want to let this side dish rest for at least 15 minutes before serving.  Slice up the ham and get ready to dig in.

[print_this]
Aunt Marla's Scalloped Potatoes
serves 8
6-8 large Russet Potatoes
4 tablespoons Flour
1/2 teaspoon Salt more or less
1/2 teaspoons Pepper more or less
10 tablespoons Butter
2 cups Milk (I used 2%, what ever you have on hand will work.)
Preheat oven to 350 degrees
1. Peel and slice potatoes in to thin discs. Place in a bowl of salted water to prevent browning.
2. Place a layer of potato slices in bottom of 11×7 baking dish. (Note: You can used any sized dish you like. If you want to use a smaller deeper dish that works, or a larger dish.)
3. Sprinkle a tablespoon of flour over layer of potatoes followed by a sprinkle of salt and pepper.
4. Slice butter into think slices place approximately 6 slices evenly over potato flour layer.
5. Repeat the potato, flour, salt & pepper, butter layer ending with butter until dish is full. 4 layers, more if dish is smaller and deeper.
6. Pour 2 cups of milk over potates. The milk level should be just under the last layer of potatoes.
Bake at 350 degrees for 1 hour or until bubbly and browned on the top. Remove from oven and let rest for 15 minutes befroe serving.
Variations:  1. Sprinkle  cheese between each layer.  Any kind of cheese will do. Cheddar. Parmesan. Gruyere or Swiss.  2. Cut up tiny cubes of ham or bacon and add them in between each layer.  This makes a great potluck dish!  3. Get creative with spices add Garlic powder or thinly sliced onion, paprika, red pepper flakes, or dill the skies the limit!
Enjoy!
[/print_this]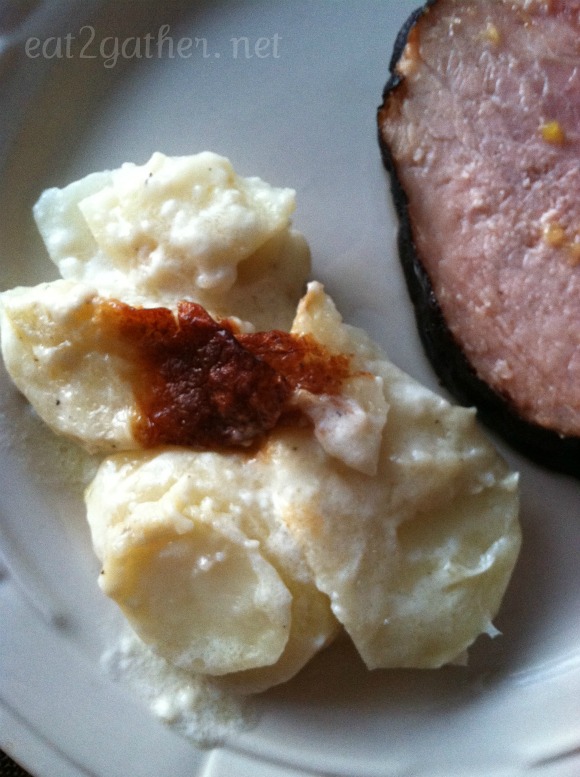 There they are!! Aunt Marla's Scalloped Potatoes with my my Mom's Baked Ham.
Enjoy!!
Sheila
PS. Have you filled out my super dee duper fun survey? Click HERE for the time of your life!
PPSS. If you have not.  And really don't want to because "who has time to fill out stupid surveys" , know this IT'S SUPER SHORT, and it will only take 2 minutes of your time.  AND I will be forever in your debt….and for this I will repay you with amazing recipes and awesome posts. Forever Amen.
PPPSSS. Still haven't taken the gol dern survey? GET ON IT!!  Chop! Chop!  Survey can be fun.  Live a little! Go here…and here…and maybe here.
PSSSSS. Thank you. Ur Awe-SUM.