The easiest way to share a meal with another family is by making a double batch of whatever it is that you are making for your own. Some recipes double easier than others. Chicken Fontinella, is one of my families favorites!  And I always get compliments on it when I bring it to someone.  Chicken Fontinella is full of chicken, and ham, and cheese….and spinach! You would think the spinach factor would ruin this meals popularity, but it goes literally undetected. In fact I prepared this for alot of years before one of my kiddos saw me chopping up spinach and tossing it in, "Ewwee why are you putting that in there?!" It's always in there, I explained. "oh" they said and went on their merry way.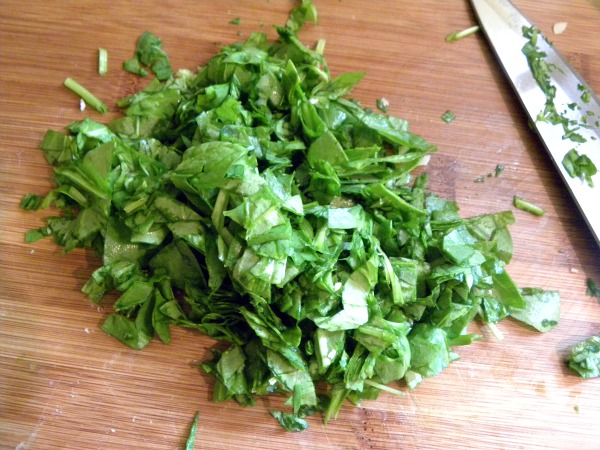 I promise you this will become one of your regularly rotated meals. It is so delicious. Add a salad, and a crusty loaf and you have wonderfully comforting meal. Or serve it alone…no need to fuss, no one will even notice. The leftovers are so good. We are not leftover eaters, sad but true. However, everyone will eat Chicken Fontinella leftover, that is if there are leftovers.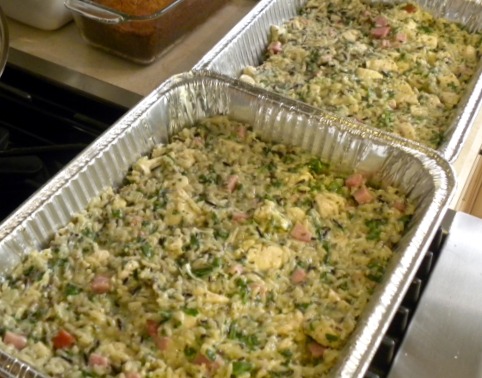 Chicken Fontinella doubles easily, and it freezes well. Two more reasons that it's a great meal for sharing!  For the play by play recipe you can go here.   Or you can print off the recipe below.
[print_this]
Chicken Fontinella
8 servings
2 boxes Uncle Ben's Original Recipe long grain wild rice
4 cups water
6 ounces cubed ham steak
1 pound chicken breast or ground chicken
2 cloves garlic, minced
1 cup grated Fontinella or Fontina cheese
1/2 cup mozzarella cheese
1/4 cup grated parmesan cheese
1 stick butter
1 tablespoon olive oil
1/4-1/2 cup milk
2 cups chopped fresh spinach
Preheat oven to 350 degrees
-Cook rice with spice packets, water, and half stick of butter in large saucepan, according to directions on rice package.
-Cube ham place in large mixing bowl
-When rice is done add to bowl with ham.
-Add other half of butter stick to pan with tablespoon of olive oil over medium heat melt butter, add 1 pound of chicken breast cubed (or ground chicken), and minced garlic, saute' until chicken is cooked through. When chicken is fully cooked add to bowl with rice and ham.
-Add cheese, and milk fold together.
-Add chopped spinach, fold in. Mix well to blend cheese, spinach and all the flavors evenly.
-Spread into an 9×13 ungreased casserole dish. Bake at 350 degrees for 30-40 minutes or until bubbly on the top, and edges appear crispy.
[/print_this]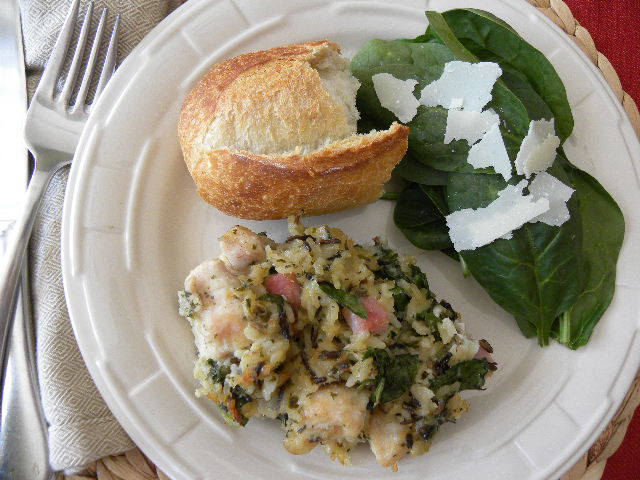 Do you have a recipe, that's a family favorite, that would be easy to double up for sharing?
I would love to hear about it!
You are not going to want to miss tomorrow! I haave UH GIVEawaaaay! And it's extremely luverly, so tell all your friends and neighbors!  Remember it's nice to share.
Sincerely,
The Spinach Eater
If you missed any of  31 days of Meals 4 Sharing you can catch up below……
Day 1~ my Heart for Meal Ministry
Day 2~ "I'm not comfortable with bringing someone a meal"....
Day 3~ Reasons 4 sharing a meal.
Day 4~ Quick Easy Apple Sauce
Day 5~ Organizing a Meal Schedule
Day 6~ #1 reason -No reason at all!
Day 7~ #2 reason 4 sharing a meal - Baby...baby....baby..oooo
Day 8~ Chicken Supreme
Day 9~ It doesn't have to be home cooked to be a Blessing
Day 10~ partnering 2 SHARE a meal
Day 11~ Dare
Day 12~ #3 reason Hostess Meal
Day 13~ #4 reason Back 2 Work
Day 14~ Chicken Salad - the perfect meal 4 SHARING
Day 15~ Containers
Day 16~ reason #5 illness/injury
Day 17~ (#6) Loss & an update on BwoB JOPLIN
Day 18~ bring your NEW neighbor a meal
Day 19~ Swedish Meatballs
Day 20~ #8 reason 4 sharing-last minute dinner invitation
Day 21~ Holiday Giving
Day 22~ Pumpkin Gingerbread