There is nothing better than a Summer picnic table laid out with home fried chicken, potato salad, corn on the cob, baked beans, and thick juicy slices of watermelon.  This was my childhood.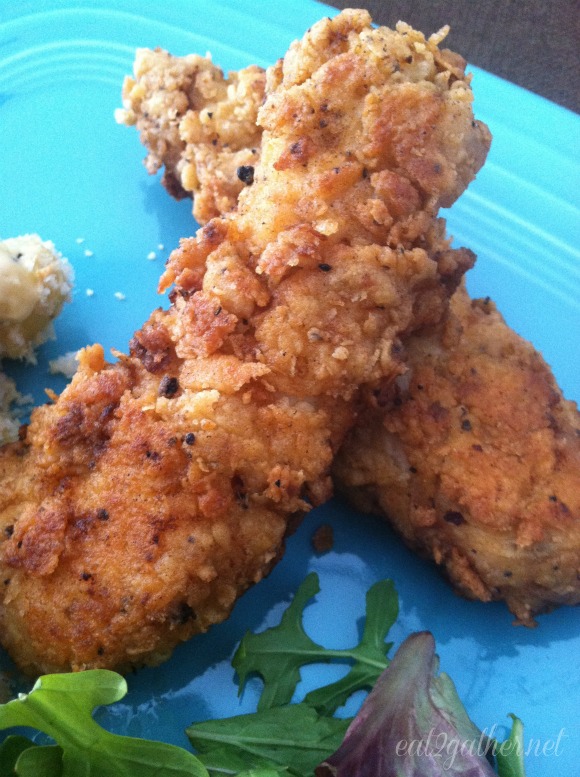 I've learned that not many people actually fry chicken, but everybody loves it!  I grew up eating homemade fried chicken.  My grandma and my mom are famous for it.  There's really nothing fancy about the way my family makes fried chicken.  I actually think the beauty is in the simplicity of this recipe.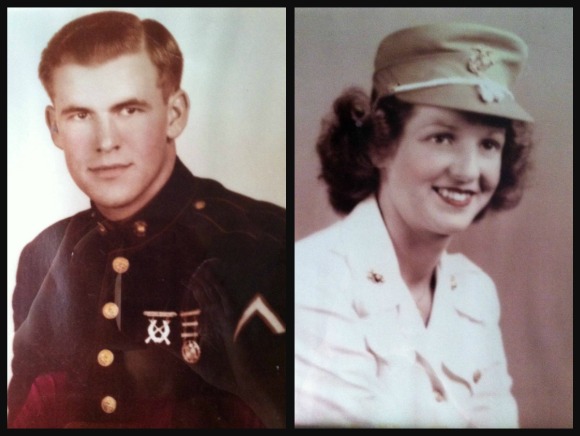 My maternal grandfather is from the south, as in Carthage, Missouri south.  He met my grandma (born and raised in Michigan) while they were both in the Marines during WWII.  After the war they wed.  As the story goes….one thing led to another and grandma attempted to make fried chicken 😉 for her new beau, it was a disaster, he took her south to his mama to learn how to make some proper fried chicken.  The rest is history.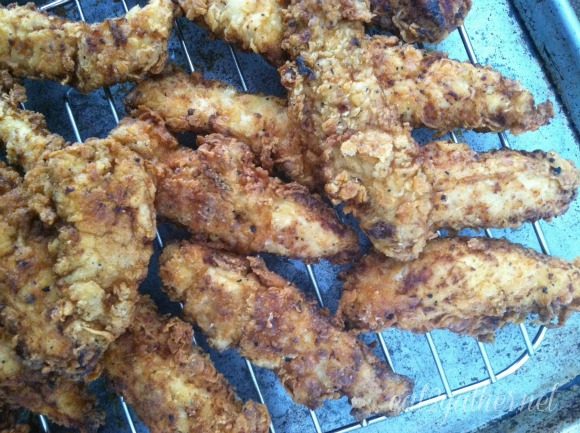 Frying chicken is somewhat like making pie crust, ya kinda gotta get a feel for it, but honestly it's really not hard at all.  Fried chicken tastes delicious served at room temperature.  I think that's why it's makes for perfect picnic food.
Allow me to introduce you to the art of frying CHEEECKIN'.

Trim boneless skinless chicken breasts and cut them into strips lengthwise.  You should be able to get 4 strips out of each breast.  Toss with Lawry's Season Salt in a glass or plastic bowl, pour buttermilk over chicken allow 3-24 hours to marinate.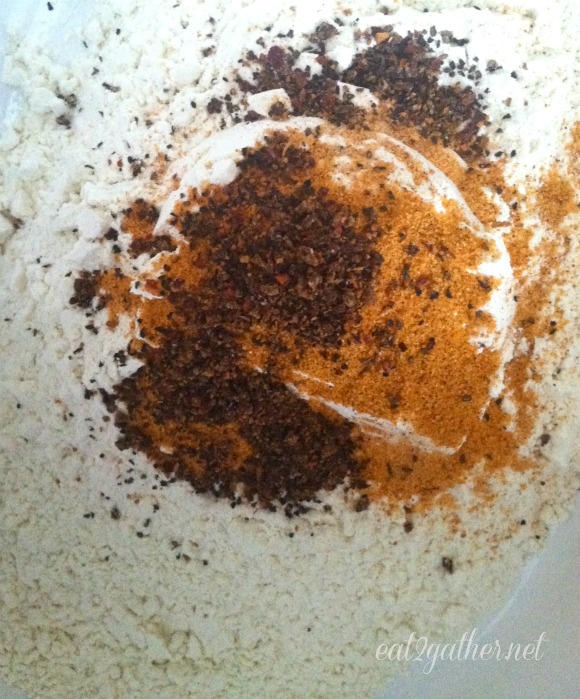 When you're ready to fry um up, toss together flour, more seasoned salt, and Lawry's Seasoned Pepper ( I love this stuff! it's one of my secret weapons in the kitchen.)  in a shallow dish.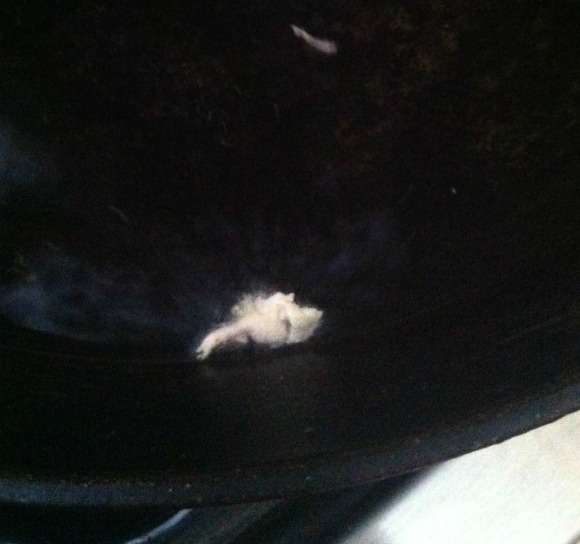 How to tell if oil is ready.   Pour one inch of vegetable oil into your pan.  Turn heat on medium.  If you want to use a thermometer you can, or this is how I do it.  I take a little bit of buttermilk that the chicken is in, drizzle it in the flour and then I take a little clump of buttermilk flour and drop it in the hot oil.  If the flour sizzles right away and floats on the top you are good!  Start fryin'!!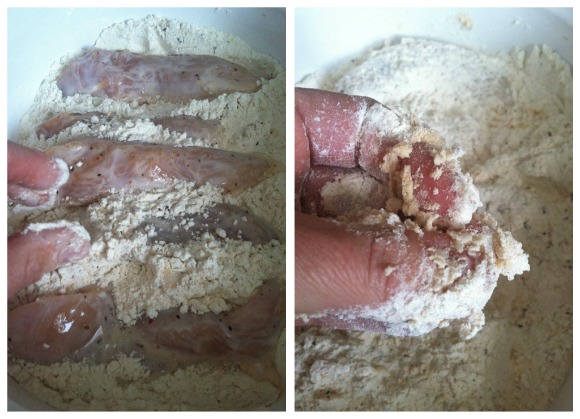 Remove chicken one piece at a time and place it in the flour.  Dredge heavily in flour.  I like to toss and turn my chicken making sure it's nice and coated with flour.  Your fingers will get a bit gummy during this step.  I suggest trying to keep one hand dry and one hand for the dirty work.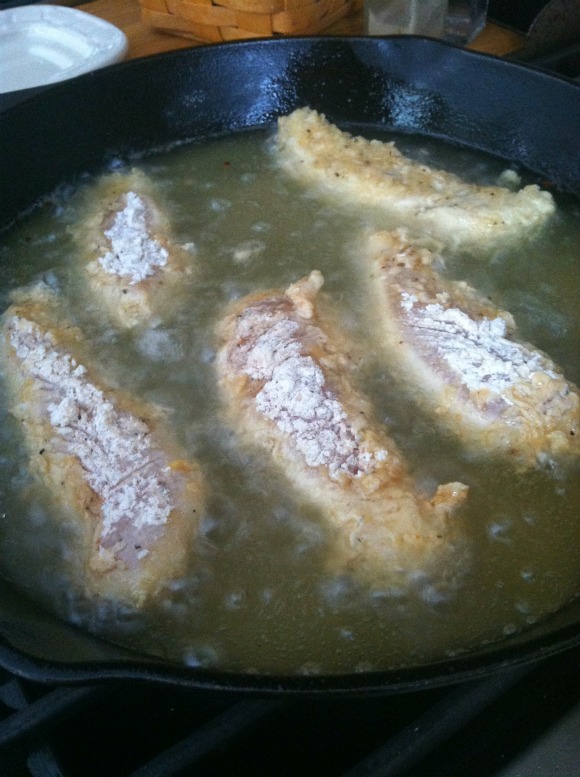 Lay chicken in pan, being careful not to over crowd the pan.  Allow chicken to cook for 3-4 minutes.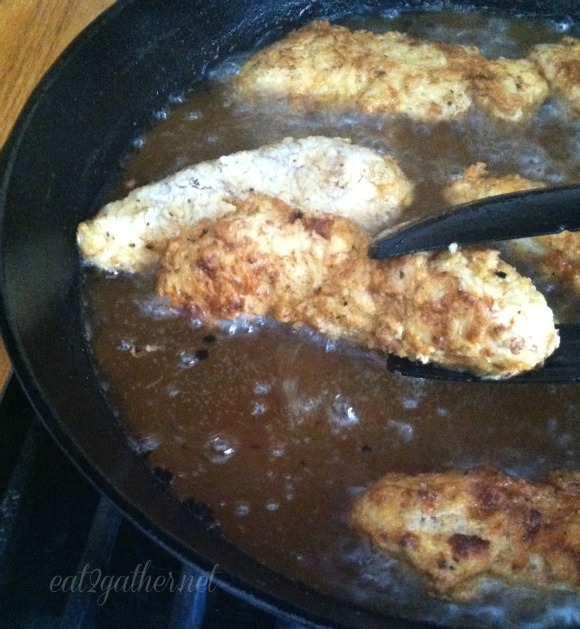 Then turn on to the other side, and allow to cook for an additional 3-4 minutes.  Note:  This is the same technique used for bone-in skin-on chicken you will need to cook the chicken longer on each side, and may I suggest covering the pan.  (See more details in the printed recipe.)
Remove chicken to baking sheet lined with paper towels, or place a wire rack over a baking sheet and place chicken on the rack.  That's all there is to it.  Now you can have the best picnic of your life!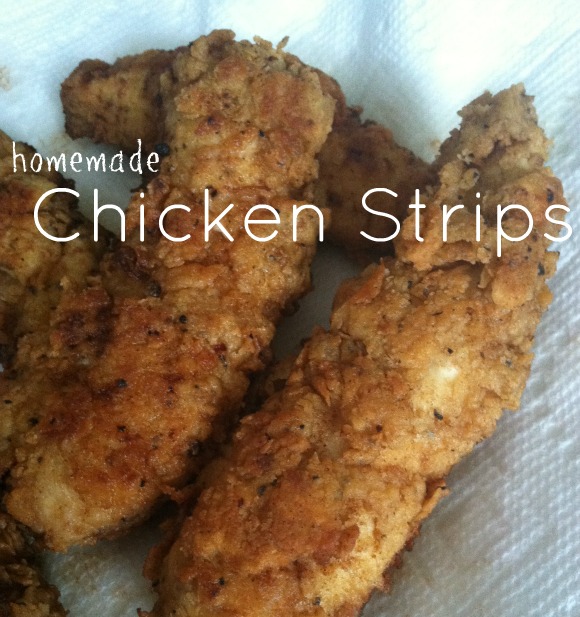 Come back Wednesday I'll show you one of my families favorite ways to eat homemade chicken strips!
Happy first Monday of Summer! Sheila
[print_this]
homemade Chicken Fingers (fried chicken)
3 pounds boneless, skinless, Chicken Breasts
2 cups Buttermilk
1 teaspoon Lawry's Season Salt
1 1/2 cups all-purpose Flour
1 tablespoon Lawry's Season Salt
1 teaspoon Lawry's Seasoned Pepper
vegetable oil for frying
1. Trim off excess fat, and grizzle from the chicken breasts and cut each into 4 strips.
2. Place chicken strips in a glass or plastic bowl toss with 1 teaspoon of season salt, pour buttermilk over chicken cover and let marinate for at least 2 hours or up to 24 hours.
3. Flour, season salt and pepper, in a shallow dish combine. Set aside.
4.  If you have a cast iron skillet this works the best if not any large frying pan or dutch oven will do. (actually an electric frying pan works really well) Pour 1 inch vegetable oil into the pan, turn heat on medium. If you have a thermometer you want the temperature of the oil to be between 360-375 before you start frying. Or you can use the flour test as seen above.
5. Dredge chicken in seasoned flour, making sure every part of chicken strip is covered with flour. When oil is at the correct temperature carefully lay the strips in the oil, being careful not to over crowd the pan. Let chicken strips fry for 3-4 minutes, take tongs and turn chicken allow to fry another 3-4 minutes. Chicken should be golden brown.
NOTE: If the chicken is cold it will bring the temperature of the oil down, so you may need to adjust the dial on your stove top to bring the oil temp back up after adding chicken to the pan.
Once you have cooked chicken strips on both sides, remove from pan with tongs to a baking sheet lined with paper towels or to a wire rack placed over baking sheet.
P.S. I use the exact same method when I want to fry bone in chicken. Which my family loves!! The only difference is you will want to cook the chicken longer on each side approximately 8-10 minutes depending on the size of the chicken piece. I would also suggest covering the chicken, but check often to make sure temp hasn't gotten to high  you don't want to burn the chicken. Also, I like to turn the oven on to 250 degrees and place the cooked pieces of chicken on a wire rack sitting on a baking sheet into the oven this allows them to stay warm while you are cooking the remaining pieces of chicken and it keeps them crispy. Also when doing bone in chicken please leave the skin on, it is fried chicken after all! Who's counting calories when eating fried chicky dinner??!!
Enjoy!
[/print_this]