What can I say about potato soup? It's yummy, comforting, and best when enjoyed on a cold rainy day loaded with extra toppings, eaten while wearing your favorite stretchy pants wrapped in a blanket sans slippers.
[insert cheesy smiley face]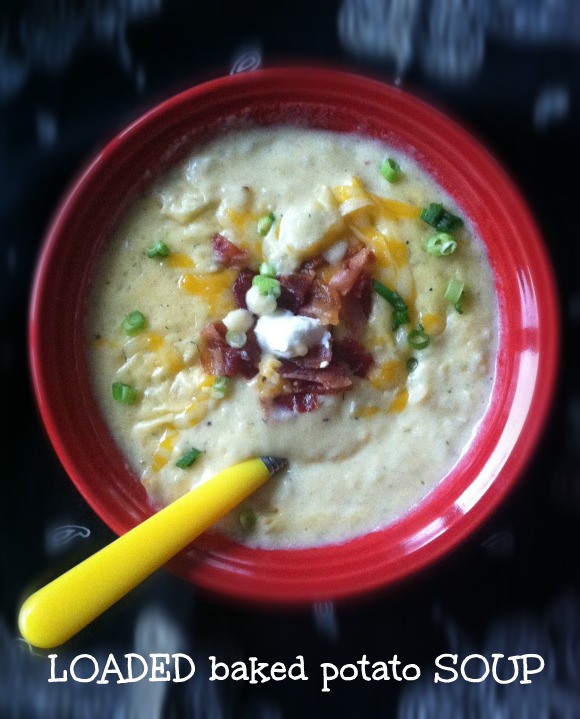 Loaded baked potato soup is good for the soul!  And that's all I've got to say about that!
I live in the country but close to the city.  Which is the best of both worlds really.   However this means that I pretty much have to drive everywhere…but never very far.  I seriously feel like a hamster on a wheel most days.  Round and round she goes where she stops nobody knows!  I do however get quite a bit of critical thinking done while I'm spinning around town.  I thought I would share with you a few of my mini van musings….
~One thing I ponder quite a bit lately is what is my oldest son going to do?  (He's a junior in High School.) Where will he end up going to college?  How can I help him.  Who can I put him in contact with.  Have I done my job with him.  Have I loved him well, taught him enough about life to drop him into the hell throws of University life….GOD HELP ME!!  Usually after I pull myself together and start back on the road of rational thinking my mind then starts to think of schools we should visit, and then I start wondering if there is any good eats around this or that school, how can I  possibly turn these college visits into mini foodie adventures.  Then my stream of thought goes to…..can you write off college visits/mini vacations on your taxes?  Hmmm I think I need to call our accountant.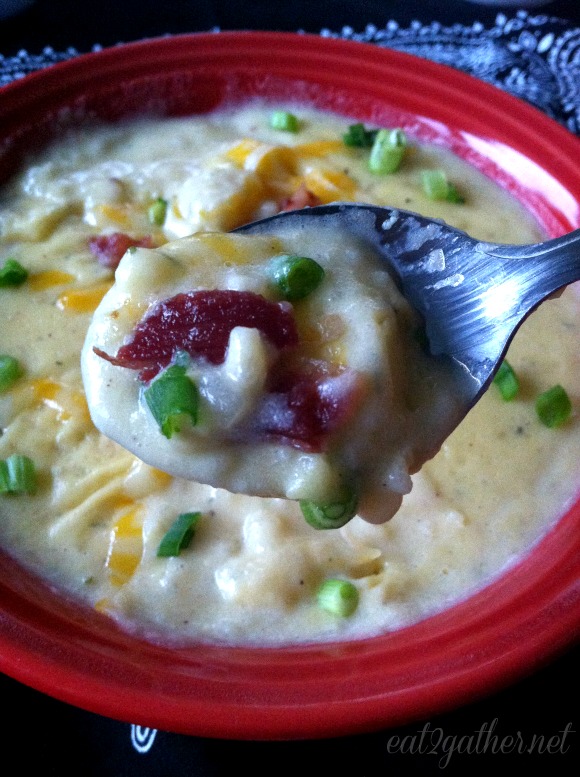 ~  I'm back in the van and I'm chugging the leftover coffee that was left in the van from my mornings jaunt. I pass a yoga studio, then a yogurt shop, and then a Christian Reformed Church, this scenario repeats itself a few times over by the time I'm done with my appointments and errands.  Weird.  Why?  What's with all the yoga, yogurt and reformation?
What does all this mean?
How do I fit into this picture?
I decide to hightail it back to my chunk of country livin' and get some laundry done…no sense wasting anymore brain cells over reformed soft serve yoga contemplation. (say that 10 times fast!)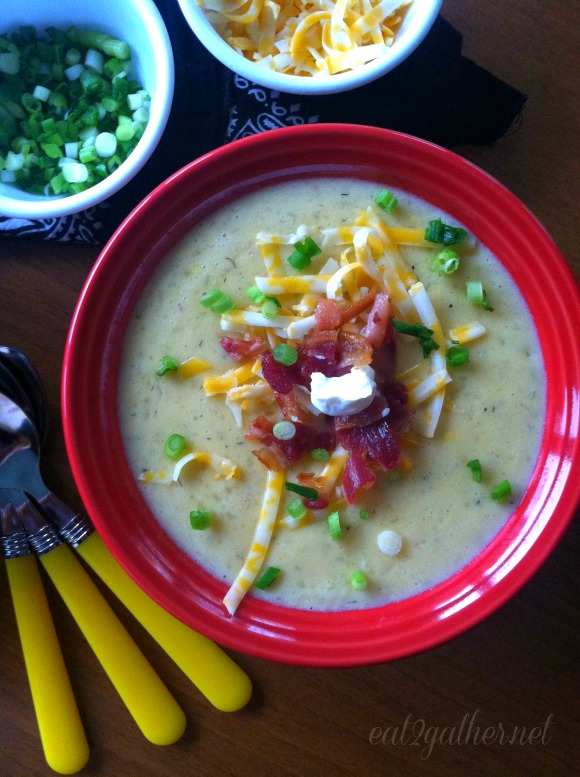 Soup sounds like a good choice for dinner…something comforting to take my mind off the craziness this world.
[print_this]
Loaded Baked Potato Soup
serves 6
6 large Idaho Potatoes, baked
1 pound Bacon
3 tablespoons Butter
1 cup chopped Onion
1/2 teaspoon dried Dill
1/2 teaspoon Salt
1/2 teaspoon ground Pepper
5 cups Milk
12 ounces Velveeta Cheese
Toppings: crumbled bacon, chopped green onion, grated cheddar cheese, sour cream
1. Wash potatoes, poke through skin with a fork, bake in a 400 degree oven for 45 minutes or until fork pokes easily into potato. Remove from oven, cut in half, allow to cool enough so you are able to handle them.
2. In a 6 quart pot fry 3 pieces of the bacon until crispy, remove to paper towel, leaving bacon grease in the pan. Add butter to bacon drippings allow butter to melt then add onions and cook over medium heat until onions are soft. Add in dill, salt and pepper.
3. Scoop out potato from the skins and add to the pot with onions and dill. Using a potato masher add in one cup of milk at a time mashing potatoes as you go. Get them as smooth as you like.
4. Cut Velveeta into chunks and add to potato soup, stir until cheese is melted. If soup is thicker than you prefer add more milk.
5. Cook the rest of the bacon, either in the oven or in a frying pan however you like, and crumble for topping.
Serve soup with toppings on the side allowing your people to top their soup as they like. Load it up!!
Enjoy!
[/print_this]
I hope this post finds you well!
xox, Sheila