I love having meals in my freezer, that I can take out and pop in the oven for days that I don't have time  to make a meal.  I often will make two of a meal when I am making one that freezes well, and pop the second in the freezer for busy days. Keeping disposable pans on hand makes this easy to do!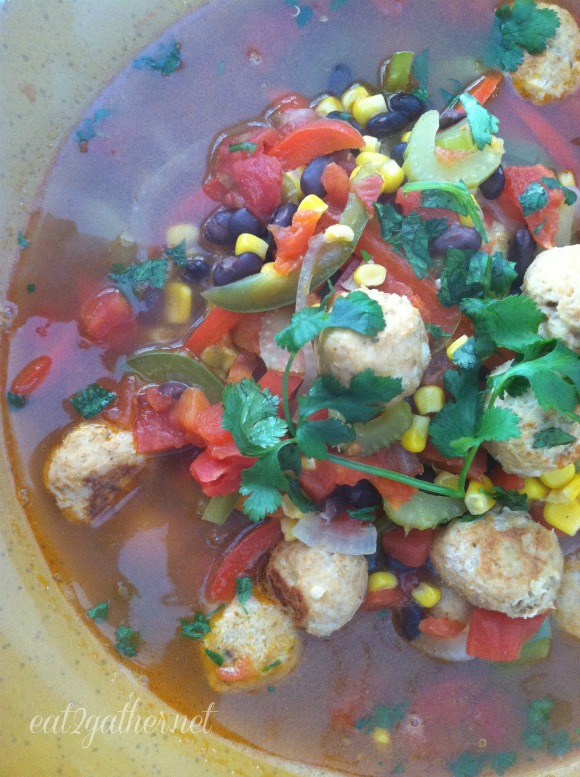 Turkey meatballs aren't a whole meal, (Unless you want to eat plain turkey meatballs as a meal then who am I to stop you!) but they will help you make a hearty healthy home cooked meal  quick and easy!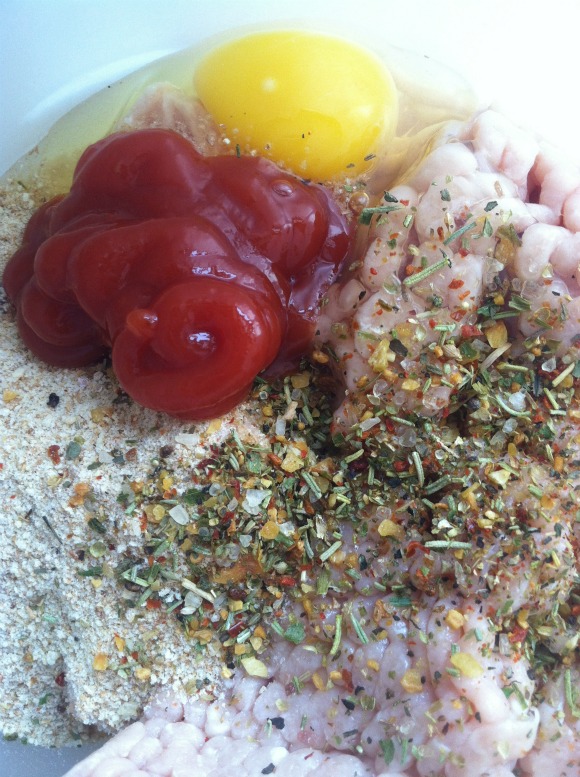 All you need to do is put all the ingredients from the recipe below in a large bowl.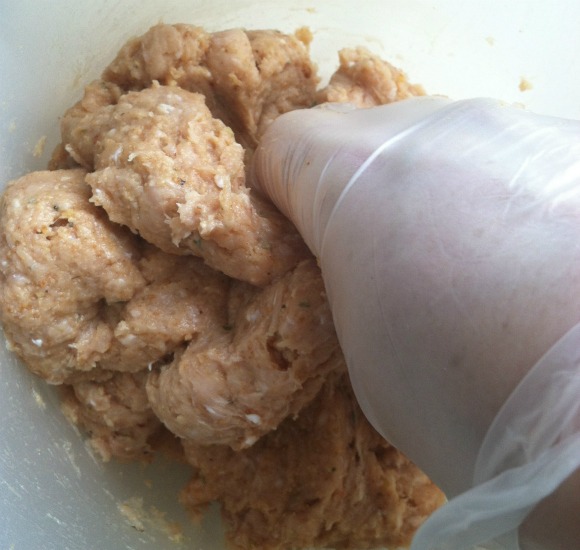 Get your hands in there and mix them all together……I get a little squeamish touching raw ground meat so I use food service gloves.  Call me Wimpy.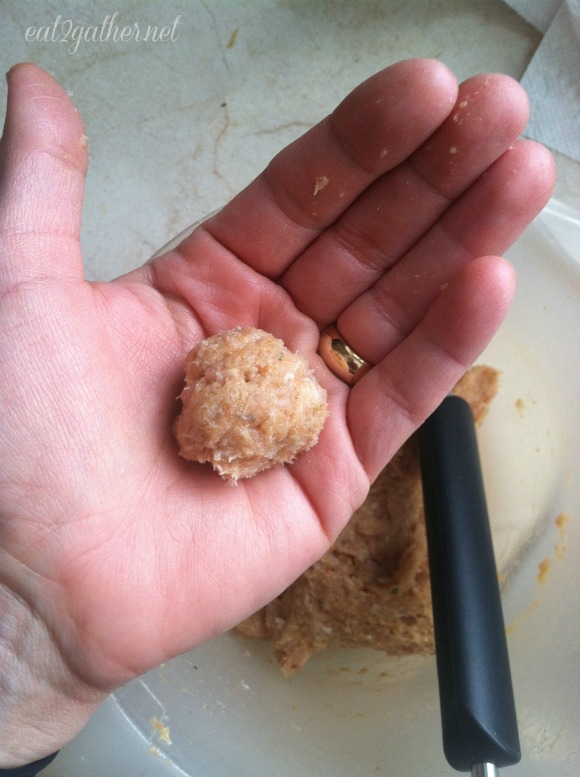 Using a small scoop or melon baller, scoop out 1″ sized balls of meat.   Roll in the palm of your hand.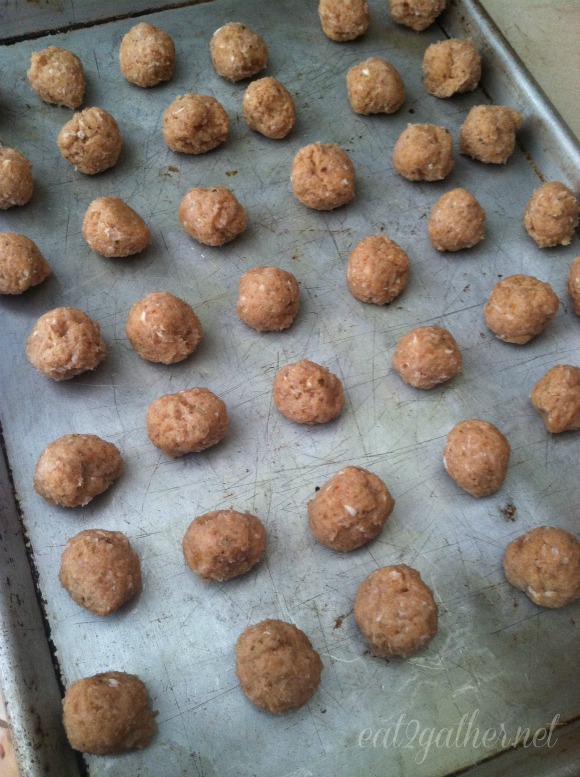 Place on a baking sheet lightly greased with olive oil.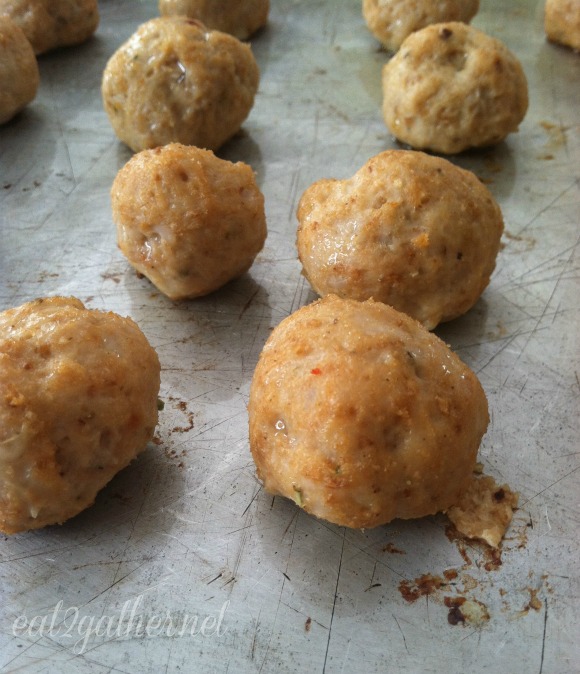 Bake for 15 minutes in a 350 degree oven.  Allow to cool.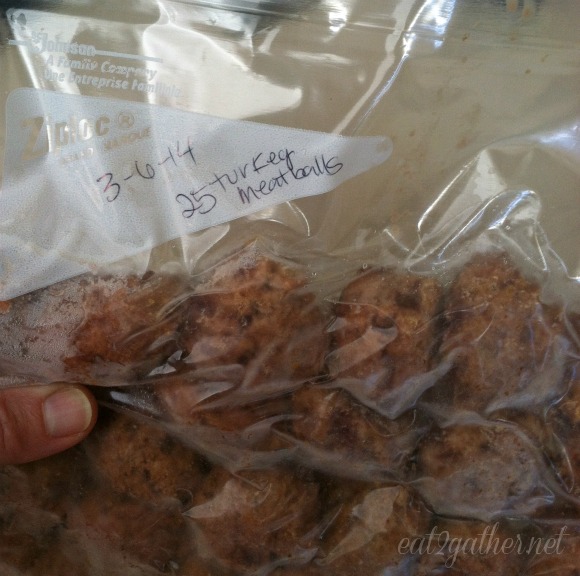 When cool place in freezer zip-loc bags in whatever quantity works well for your family.  Twenty-five works well for us, and then I make a bag or two with 10 for my Dad or for making a pizza, or a smaller meal.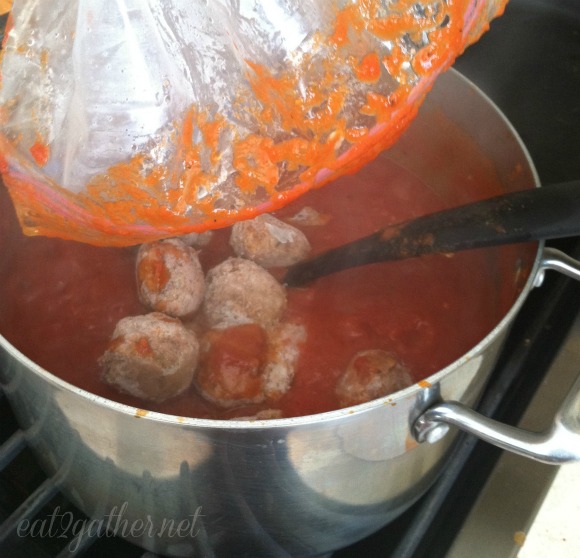 Then when we want spaghetti and meatballs all I need to do is whip up the sauce and dump the frozen meatballs in the pot and let it cook.  Pssst unlike me dump only the meatballs in the sauce not the plastic bag.  Erg Imackluzzzt.
By the way the spaghetti sauce can be made meatless or with meat and put in the freezer for a quick home cooked meal as well.
[print_this]
Turkey Meatballs
makes approximately 110 meatballs
4 pounds ground Turkey Meat
2 cups Bread Crumbs
1 tablespoon Italian Seasoning
1/4 cup Ketchup
3 Eggs
Olive Oil for greasing baking pans.
Preheat oven to 350 degrees.
Place all of the above ingredients together in a very large bowl, using your hands mix ingredients together until everything is incorporated and consistent in texture. Using a small melon baller, scoop out meat into 1″ portions and place on baking sheets lightly greased with olive oil. Roll balls in the palms of your hands to give them round shape. Bake for 15 minutes in preheated oven. Allow to cool completely and place in zip-loc freezer bags in family or single sized portions. Get as much air out of the bag as possible and zip it shut.  Freeze and use when needed.
[/print_this]
I know you're thinking I will never in a million years eat 110 meatballs!  Hey you just never know.  These meatballs can be used in so many recipes.  Slice them in half and put them on pizza.  You can use them in this recipe instead of sausage, they are perfect in Mexican Soup (as seen above), in a pinch they also can be used in Swedish Meatballs, or put in a slow cooker with your favorite barbecue sauce for an appetizer.  The possibilities are endless.  Oops I forgot to mention Meat Ball Subs!
I hope this helps solve a few if not many of your dinner dilemmas.
XO, Sheila