I'm so glad you're here!  It's time to LINK-UP your favorite recipes and clever ideas  for loving others through the gift of food.  Link Up below through Sunday, or share in the comments, forever!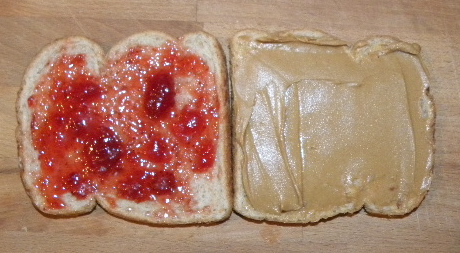 In the shower today, I guesstimated, that this school year alone, September through today that I have made somewhere in the vicinity of 300 peanut butter and jelly sandwiches!  That does not include the peanut butter that is eaten on toast, waffles, bagels, and plopped in smoothies, or used in savory dishes like Chicken Satay.  This family puts down the smashed peanuts!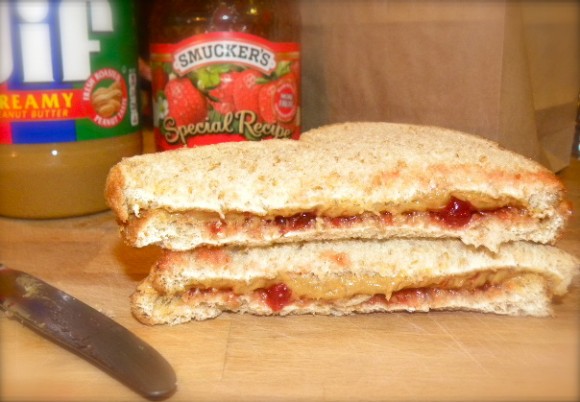 I also use peanut butter in many of my desserts and baked good recipes.  PBJ bars being one of the kids favorites.  These bars are so quick and easy to make, and I feel better about them eating one of these as a snack rather than a prepackaged boxed snack….not that we don't have a few of those in our pantry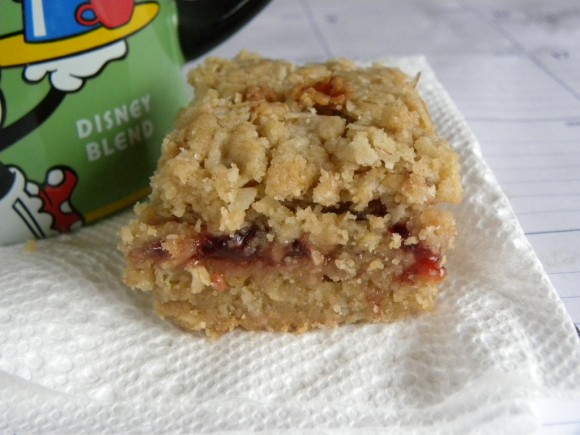 If you are bringing someone a meal,  PBJ Bars, or squares depending on how you cut them, are a delicious and super easy addition to your delivery!
If I'm going to give these away I usually double up the recipe because my PBJ lovin' kiddos cannot get enough of them.  Nor can I….they were calling my name at all hours of the day!  It's so hard to eat just one!   They love them for after school snack, after dinner treat, and especially in their lunches….right along side the pbj sandwich!  Feel free to use your favorite jam, ours happens to be strawberry….go figure!
Do you have a favorite snack bar recipe that is fun to share?
You know the one that you pile up on a paper plate and walk
next door to the neighbors.....just because.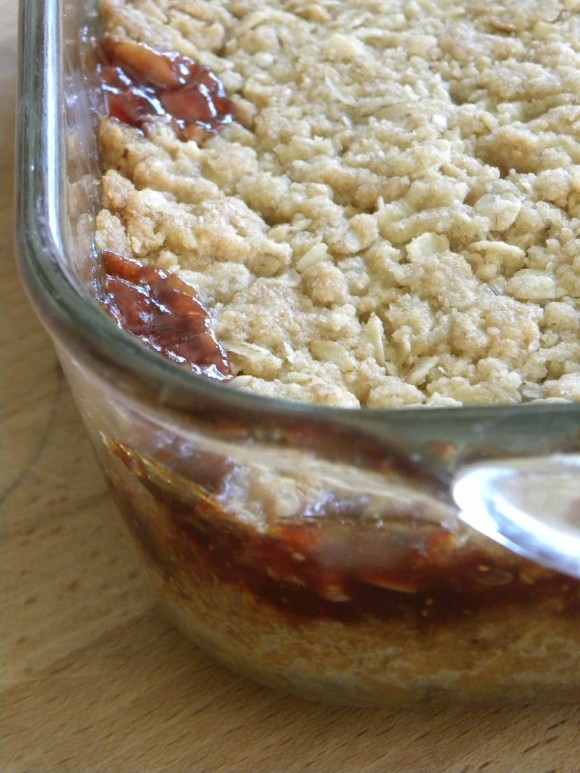 MMMMmmm can't ya just smell um?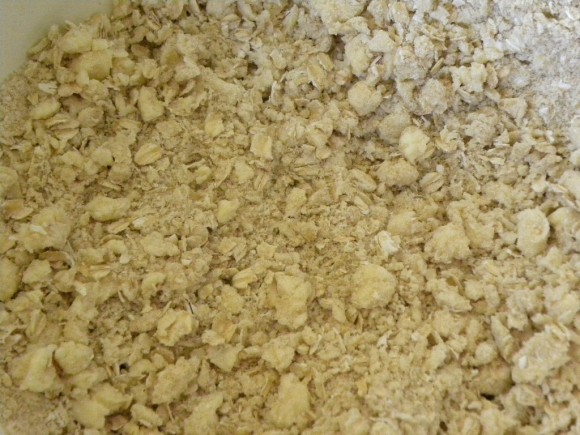 Mix all dry ingredients together and cut in butter, it should look like this.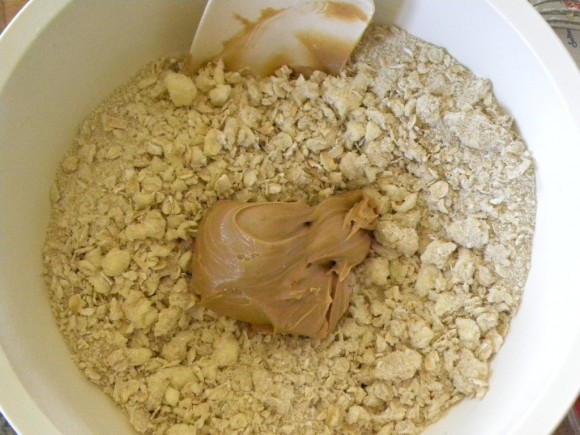 Then add 1/2 cup of Peanut Butter, and mix in with spatula.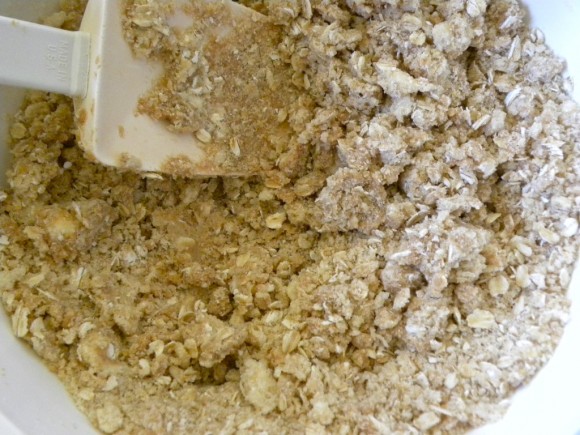 Mixture will be crumbly, but will should hold together if you pinch it.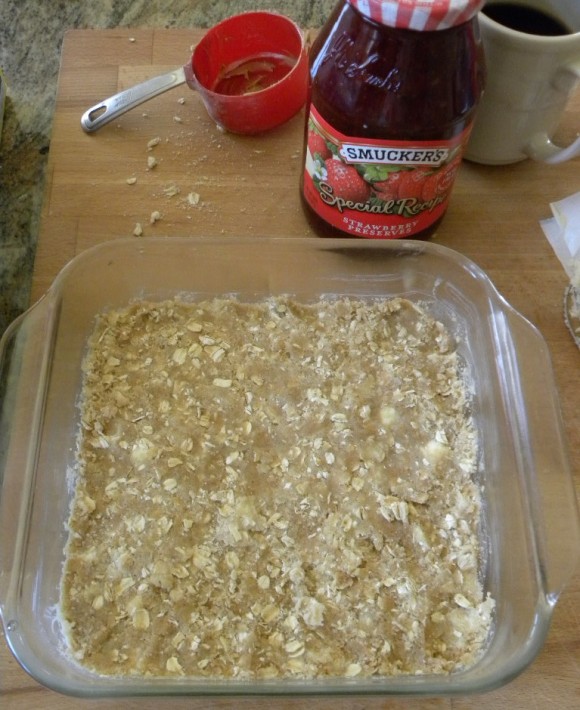 Press half into bottom of a buttered baking dish.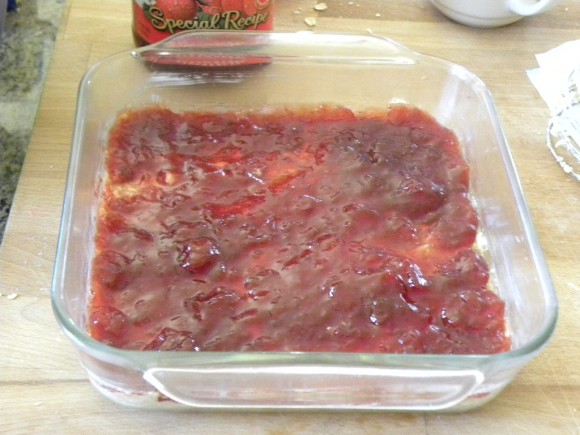 Spread jam evenly over bottom layer.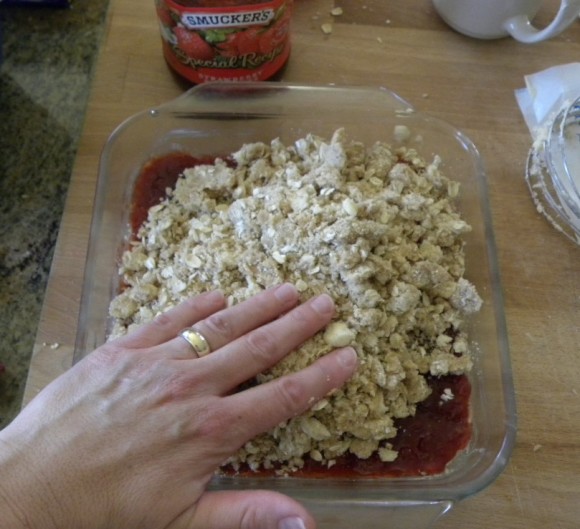 Pour the remaining crust over jam and press evenly.  That's it!  So easy.  Now pop in a preheated 350 degree oven and bake for 40 minutes.
[print_this]
PBJ Bars
makes one 8×8 square pan
1 1/2 cup Flour
1 1/2 cups Oatmeal ( I use old fashioned oats)
1 cup packed Brown Sugar
1/2 teaspoon Salt
1 3/4 sticks of Butter, cut into pieces
1/2 cup Peanut Butter
1 1/4 cup Jam or Jelly, any flavor you like
Preheat oven to 350 degrees and butter a 8×8 baking pan.
Mix flour, oatmeal, sugar, and salt together in a mixing bowl. Add butter, cut into pieces, in to dry mixture cut butter into dry ingredients with a pastry cutter until there are no large chunks of butter. Add peanut butter and mix with a large spatula. Dough will be thick and slightly crumbly. Pour half of the dough into a greased 8×8 baking pan, press down, spread jam over first layer, sprinkle second half of dough over jam and press down. Bake for 40 minutes. Let cool completely. Cut into squares.
Note: You can easily make these peanut free by deleting the peanut butter and adding an extra 1/4 cup of butter.
Healthier version: These are great made with whole wheat flour. I have also thrown in a tablespoon or two of wheat germ for good measure!
[/print_this]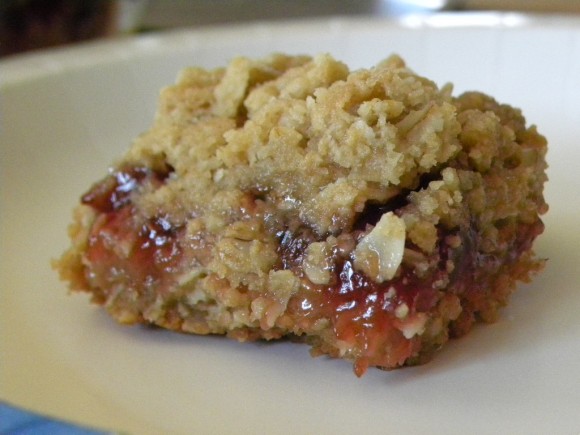 Try to wait until they are completely cooled to eat, but they are so delicious, I know you're gunna want to cut into them while they are still warm and ooey gooey.  Enjoy!
So now it's time to let the sharing begin!

1. Click on the Add link below then Add the permalink from your post.  Please do not link your websites homepage.
2. Select the photo you wish to link to your site and include the title of what you are sharing!
3. Create a link to Eat2gather.net within your post, to share all the great recipes with your readers.  Please feel free to grab my  blog button from the sidebar.  If you share the button on your sidebar or in your post I will hug you and kiss you!!  Well not literally, but maybe if I happen to run into you. (wink)
I have also shared PBJ Bars on these other fine blogs:
Tidy Mom~I'm Lovin it: My favorite face lotion
Six Sisters Stuff~Strut your Stuff Saturday Link Party