Spicy Chicken Tortilla Soup with dairy toppings
There's nothing like a big bowl of soup to warm you up on a chilly Fall day. This soup fits the bill! Top it with plenty of cheese and sour cream or yogurt and you've got yourself a hearty good for you meal!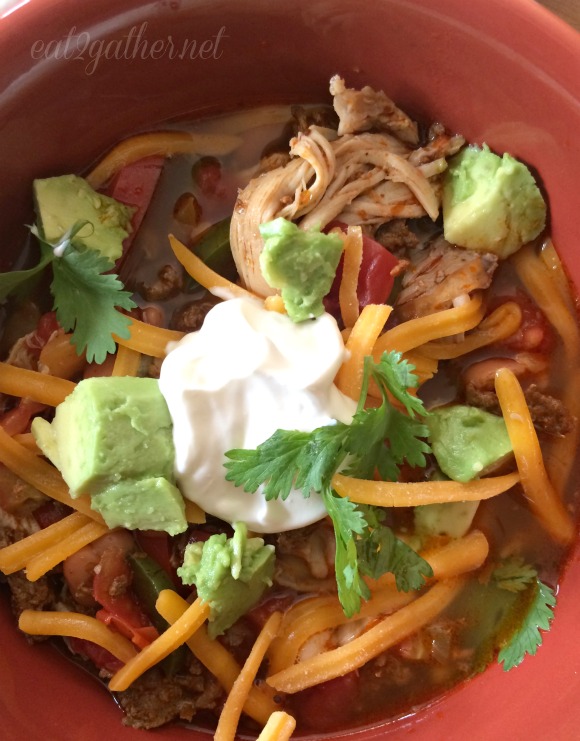 I'm partnering with the United Dairy Association of Michigan to help bring you easy healthy meals that will get your family running to the table!   You will be able to find this recipe and many more that incorporate vitamin rich dairy into your daily diet.  For more dairylicious recipes be sure to check out MilkMeansMore.org.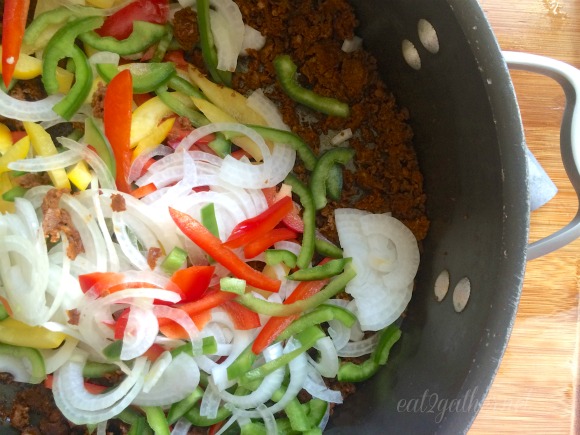 This recipe starts by browning chorizo sausage in a pan and then sautéing the peppers and onions along with it, then we add all that to the slow cooker and layer the remaining ingredients on top, pour some chicken broth in set your slow cooker on low and let it do its magic!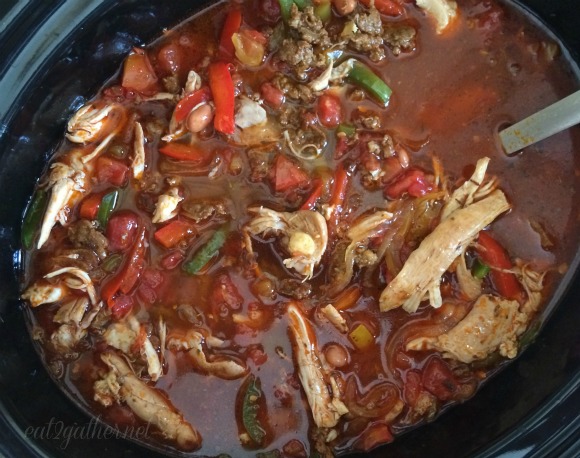 In four to six hours you have yourself a hearty bowl of soup that will warm you right up!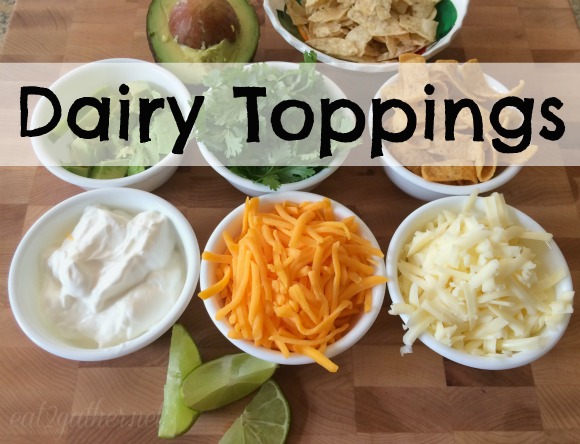 The only thing this soup needs is toppings!!  And the best toppings are of the dairy variety!  Sour cream, cheese, yogurt, more cheese…well you get the idea.  This soup is spicy, not only does adding dairy toppings to it add much needed vitamins and calcium it also helps to take down the heat especially if you don't love spicy.  I love spicy and I still love to pile my soup high and low with cheese and sour cream!
Here are some fun facts about CHEESE!!
– Most cheese is gluten-free!
– Cheese can help fill the protein gap! (Cheese contributes high-quality protein as well as calcium, phosphorus and vitamin A to the diet.)
– Cheese is the no.2 source of calcium for Americans!
– Other countries have a higher consumption of cheese but a lower incidence of hypertension and obesity! Check this out….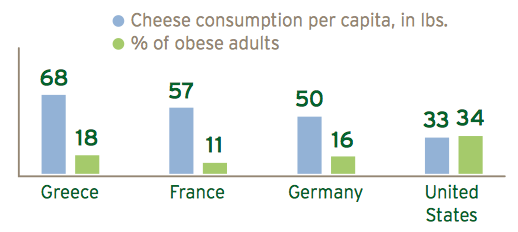 **The moral of the story is….Eat more CHEESE!  
Let's grab a bowl and get started!

The addition of the chorizo sausage made this soup a little different from the Tortilla Soup I normally make.  It adds a spicy Mexican flavor with out taking the time to get a bunch of spices out!  The addition of the chorizo sausage made this recipe easier!  I'm all for easier, and I bet you are too!
[print_this]
Spicy Chicken Tortilla Soup with dairy toppings
Serves 6
1 pound Chorizo, spicy sausage
1 Red Bell Pepper, sliced thin
1 Green Pepper, sliced thin
1 Yellow Pepper, sliced thin
1 medium sized yellow Onion, sliced thin
1/2 teaspoon Salt
2 teaspoons dried Oregano
1 16 ounce can Pinto Beans, drained and rinsed (black or kidney beans work too)
2 10 ounce cans Rotel Tomatoes
2 1/2 pounds skinless bone in Chicken Thighs (about 4 thighs)
3 cups of water
36 ounces of Chicken Broth
Toppings: Sour Cream, shredded Cheddar Cheese, shredded Monterey Jack Cheese, Plain Yogurt, Cilantro, Avocado slices, crushed Tortilla Chips, Fritos
1. In a 6 quart pot brown the chorizo sausage, add in peppers and onions and saute together with the sausage until vegetables are soft and the sausage is completely cooked. Add salt and oregano allow to cook a minute longer. Place in bottom of slow cooker. Return pot to the stove, do not clean.
2. Add rinsed and drained beans, and rotel tomatoes to the slow cooker.
3. Return pot to stove and heat to medium high heat place chicken thighs in pot and allow to cook for 2 minutes until starting to brown. Add 3 cups of water to pot and cover. Cook chicken thighs for 20 minutes or until meat is falling off the bone. Turn off stove, and allow chicken to cool enough for you to remove it from bone, add pulled meat to the slow cooker.
4. Add chicken broth to slow cooker, turn on low and allow to cook for 3-6 hours.
5. Place crushed tortilla chips in bottom of bowl, add cheese, ladle soup over chips and cheese, top with more cheese and any additional toppings that you like.
Enjoy!
[/print_this]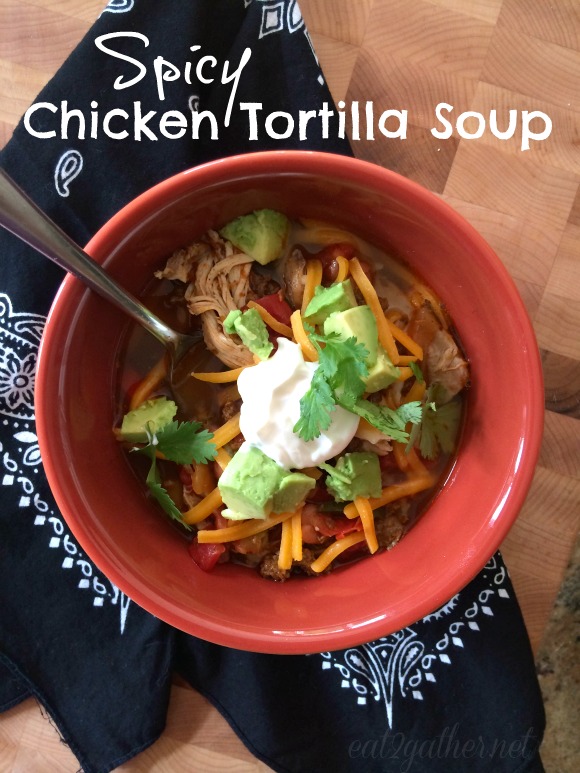 Mmmmm I wish I had a bowl of this right now!  You know what?  I haven't done it, but I bet this soup would be a great freezer meal.  Make a double batch, let half of it cool, and then ladle it into a heavy-duty freezer safe zip-loc bag, freeze it for a rainy day!  All you need to do is add your dairy toppings!!  Cheese can also be frozen too.  I often will stock up on cheese if it's on sale.  I shred it and store it in freezer zip-loc bags and then freeze it.  Of course this can also be done with pre shredded cheese!
For more great ideas on how to incorporated dairy into your diet be sure to follow the United Dairy Industry of Michigan on
Disclaimer:   I partnered with the United Dairy Association of Michigan to bring you a hearty meal that would send your family running to the table!  As always everything on Eat2gather is 100% my opinion! I am grateful to be able to partner with the UDIM.  It's partnership like this that keep Eat2gather up and running!