Tina's Caramel Apple Crunch Pie
What do you do with a sink full of apples? Well you make pies of course!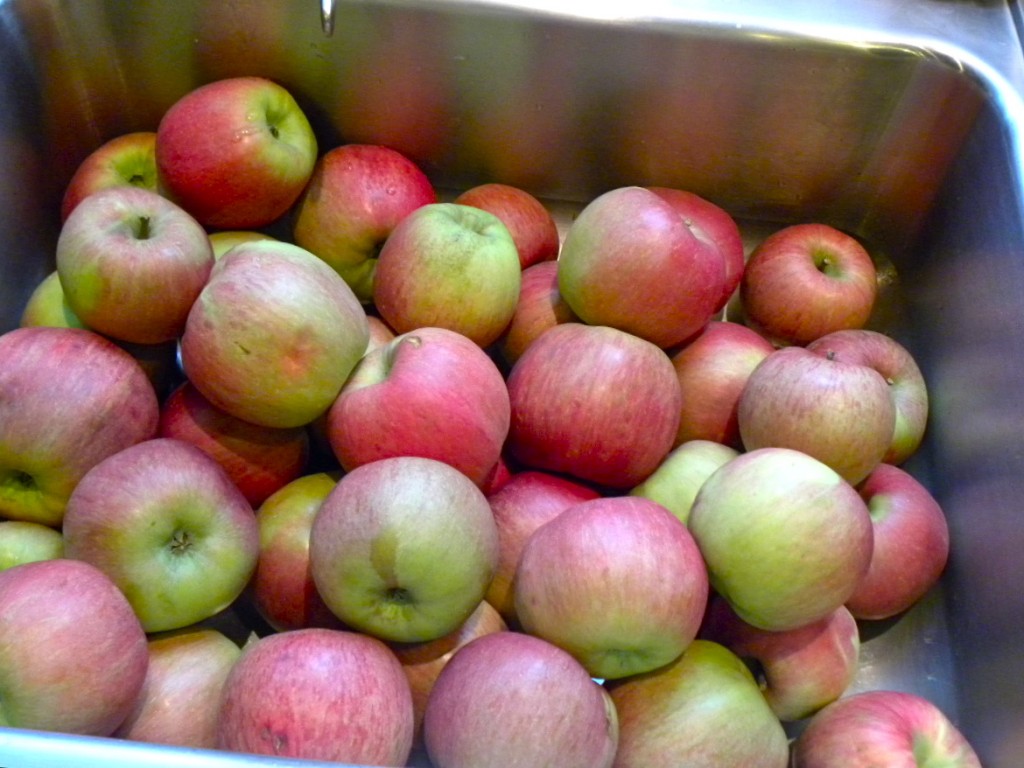 This recipe for apple pie is not just any ol' apple pie recipe. This pie is nothing short of life changing, and I mean this in the most sincerest sense of the phrase. I know quite often this phrase is thrown around a little too liberally. But today, I say this for reals. Tina's Caramel Apple Crunch Pie is seriously life changing. This is the kind of pie that calls to you as you attempt to fall asleep, it beckons you to sneak out to the kitchen in the middle of the night and shave just one more sliver off, because until you do so there is no way you are going to be able to rest. AND then if that's not enough!   As soon as you wake,  you slap your feet over the edge of the bed and shuffle out to the kitchen salivating as you cut yourself a real piece of pie, not just a sliver, but a generous slice of pie to be had for breakfast.  Then you stand there in front of the coffee pot eating your generous slab-O-pie, as the coffee pot puffs, crackles and spits your coffee into the pot, and hoping not be caught by one said spouse.
Not that I have done any of the above.
I'm just saying…….that this pie is so especially tasty, I could see how somebody might go to these extremes.
You know the type.
Pie freak types.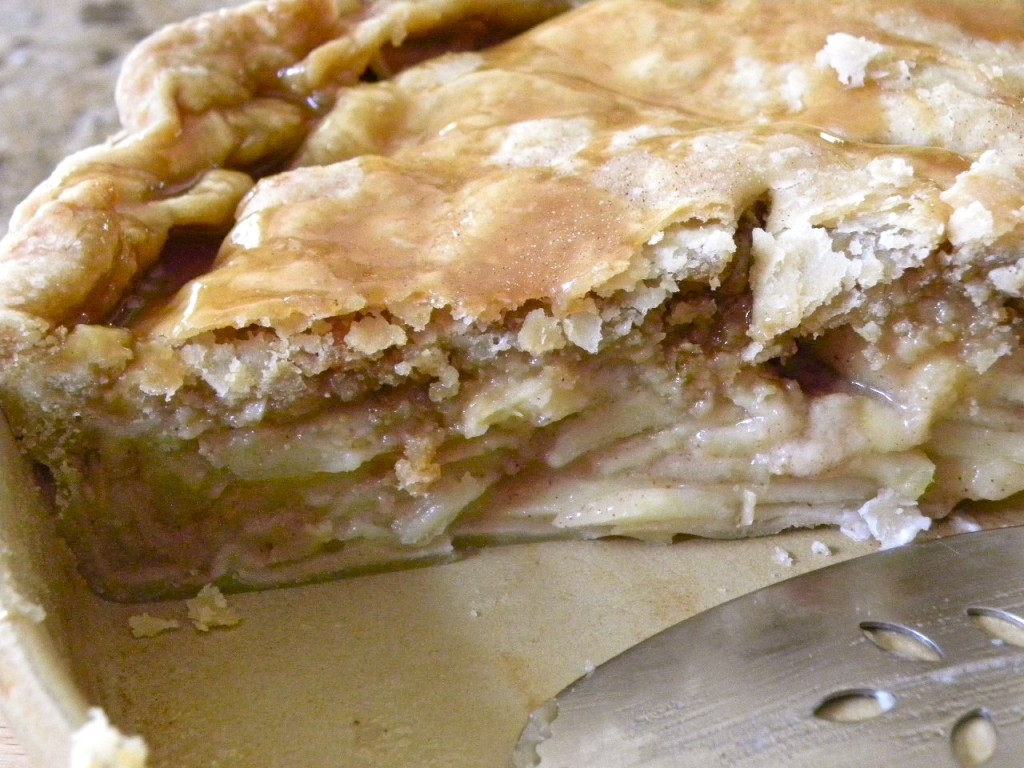 There it is calling you like a Siren from the sea….only it's the Caramel Apple Crunch Pie in the kitchen.  And it's gonna pull you down, down, down until your stretchy pants are the only pants that fit!
Ironically enough my friend Tina, who I work out with at the Y three times a week, gave me this recipe.  She is actually quite famous for this pie.  So I am very grateful that she shared the much coveted recipe with me so I could in turn share it with you.  But that's the kinda gal Tina is!  Or maybe she was just delirious from the spin class we had just finished when I ask her and she didn't realize what she was giving away.
"Hey you mind if I put your apple pie on my blog?  But maybe Tina in her delirium heard this…
Hey my ape thighs feel like blobs and yours? "Sure", she said.
I know it was a risk…even possibly a dirty rotten trick, but hey timing is everything and I got you the recipe didn't I?!  So here it is.  The best dam apple pie you will ever eat!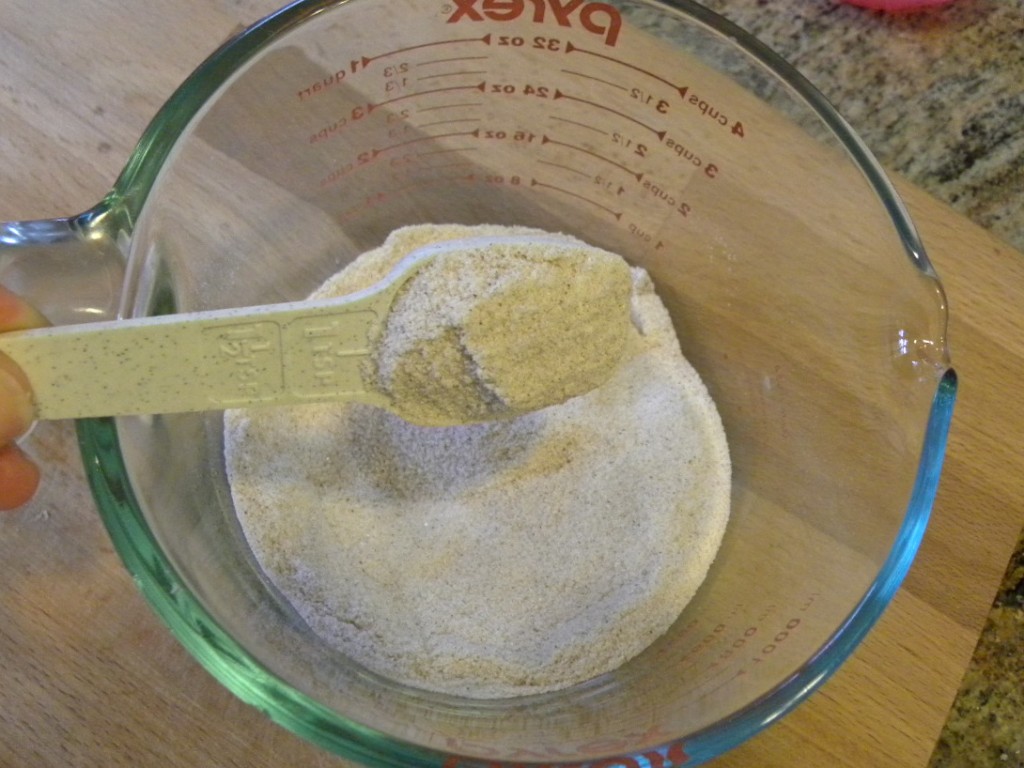 Mix 3 tablespoons Flour, 1/2 teaspoon Salt, 1/2 cup Sugar, and 3/4 teaspoon Cinnamon together in a dish.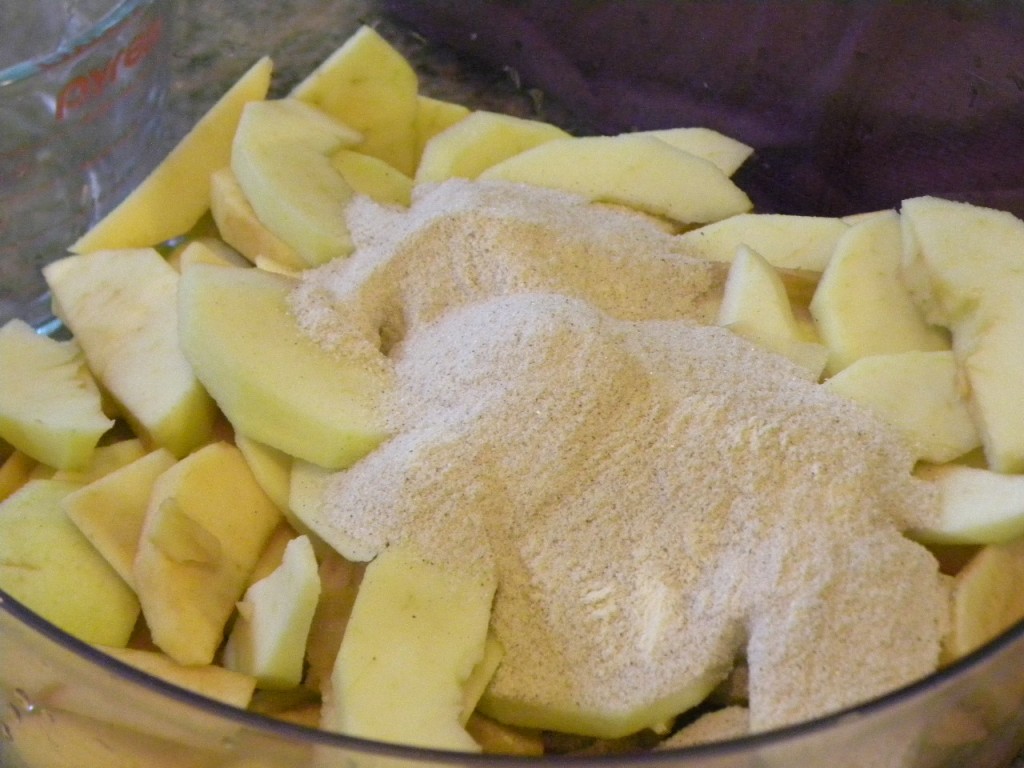 Core, peel, and slice 6 large Northern Spy Apples or 8-10 medium apples of a tart variety.  Pour the sugar and flour mixture over apples.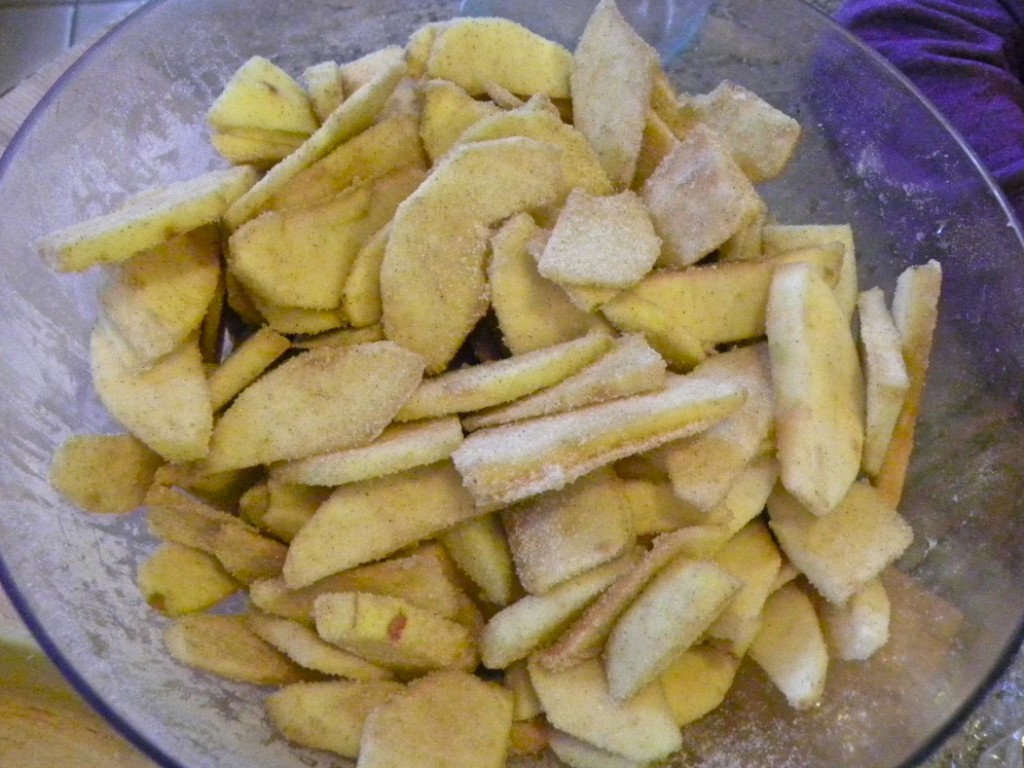 Give them a good toss to completely coat apples with mixture.  Set aside.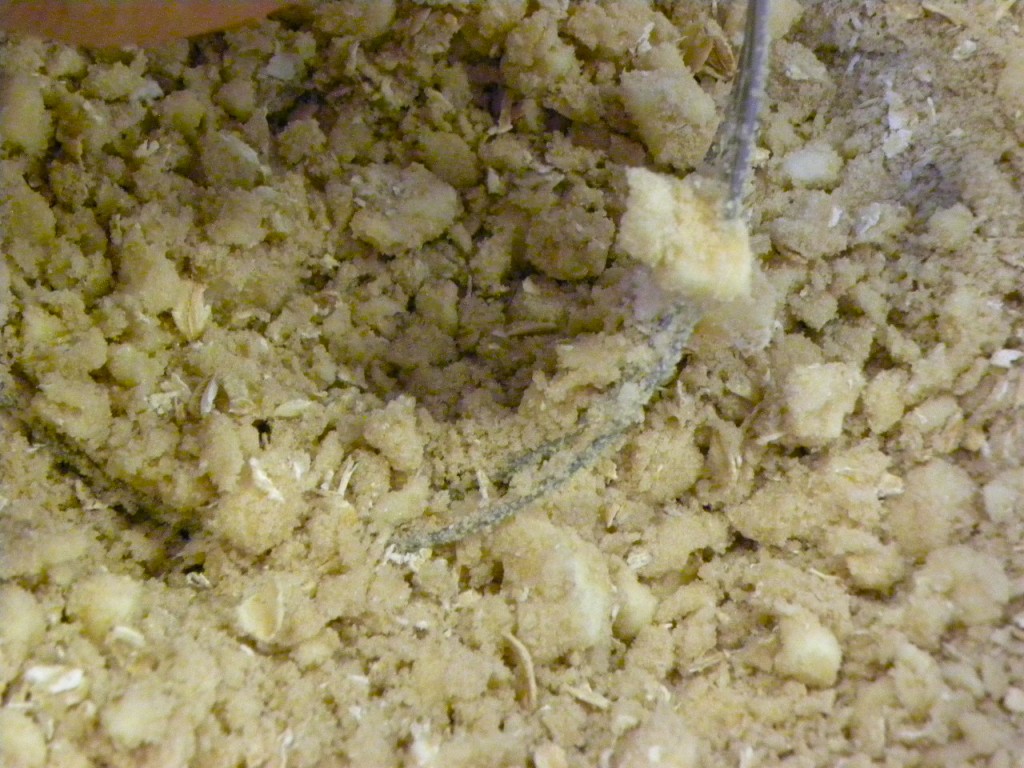 In a medium bowl combine 1 cup Brown Sugar, 1/2 cup Butter,  1/2 cup Flour, and 1/2 cup Oats cut together with a pastry blender.  Set aside.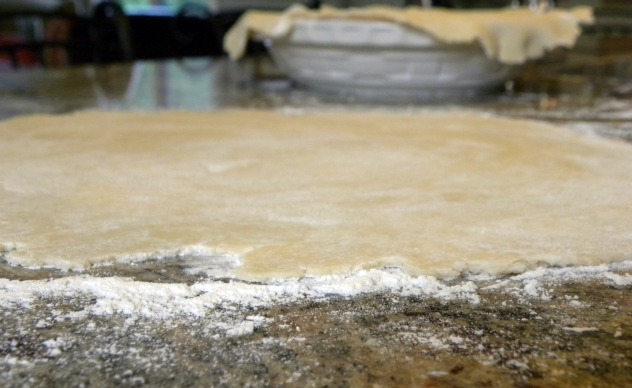 Prepare the crusts.  You can use store bought or if you would like mine you can go here.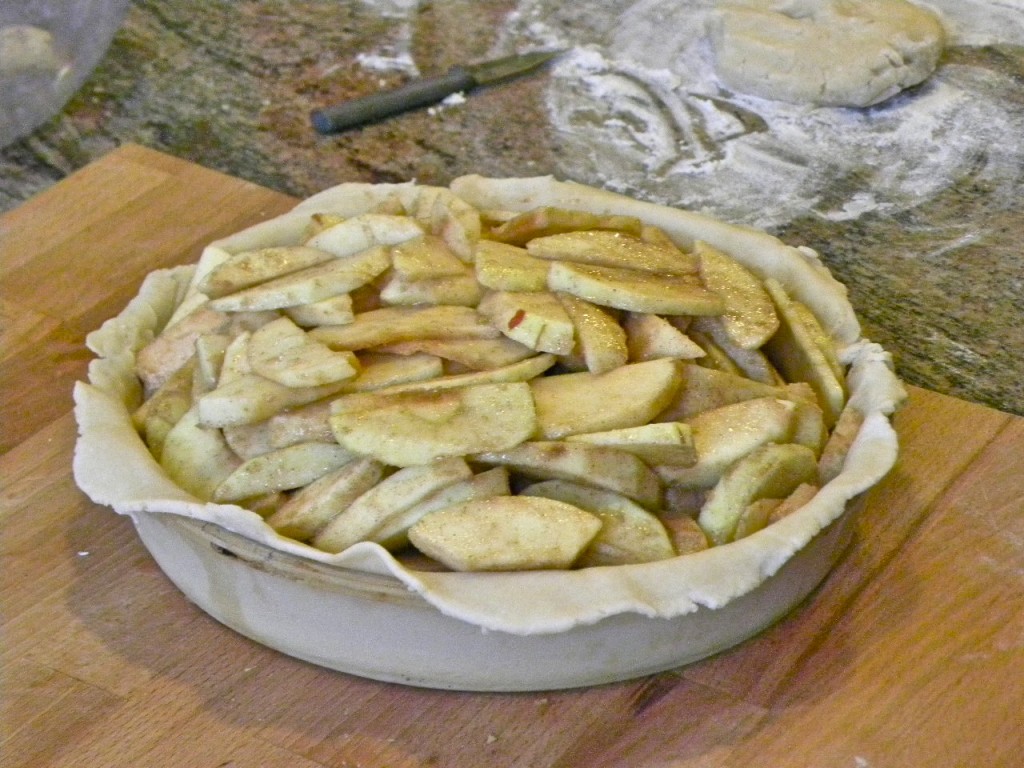 Lay bottom crust into a deep dish baking stone, and fill with apple mixuture.  ( A regular 10″ pie dish will also work, you will just need to cut down on the amount of apples by 1 or 2.)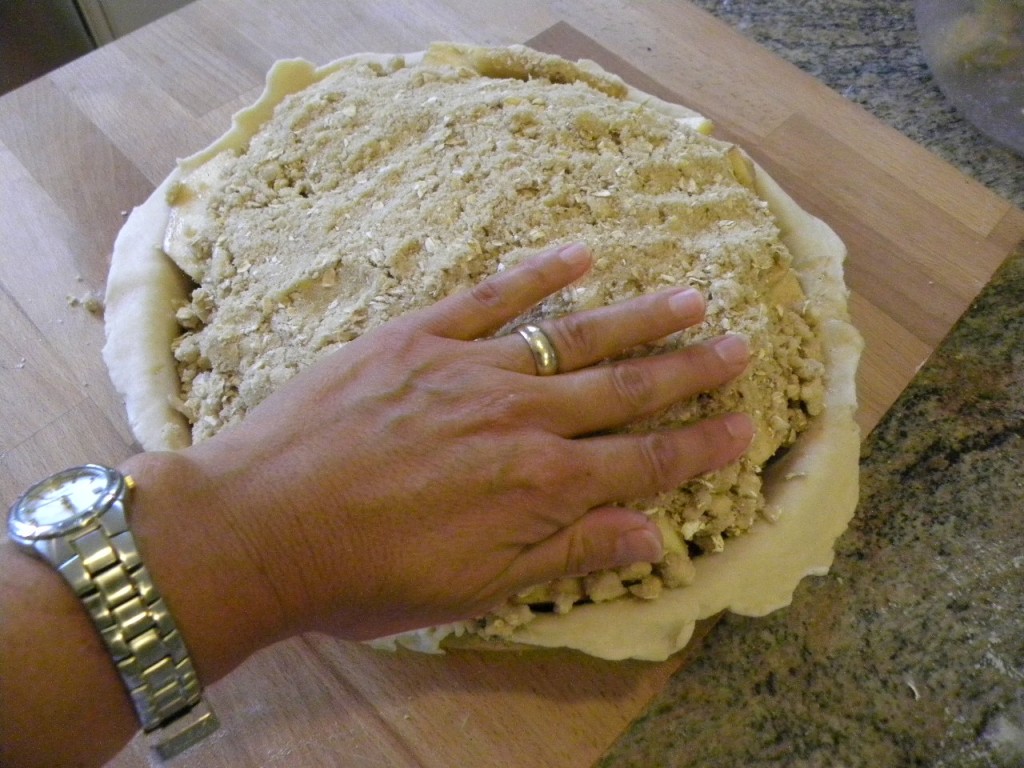 Now pour the brown sugar crumble over apples and pat it down firmly.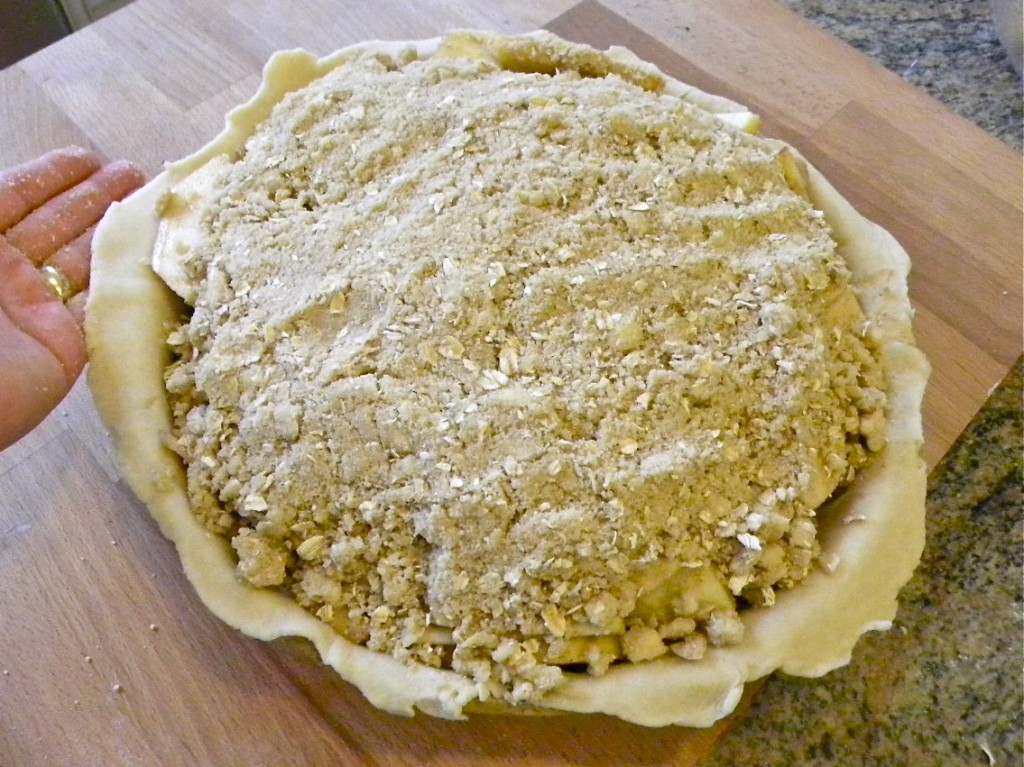 Hold on if you think you're done you're not…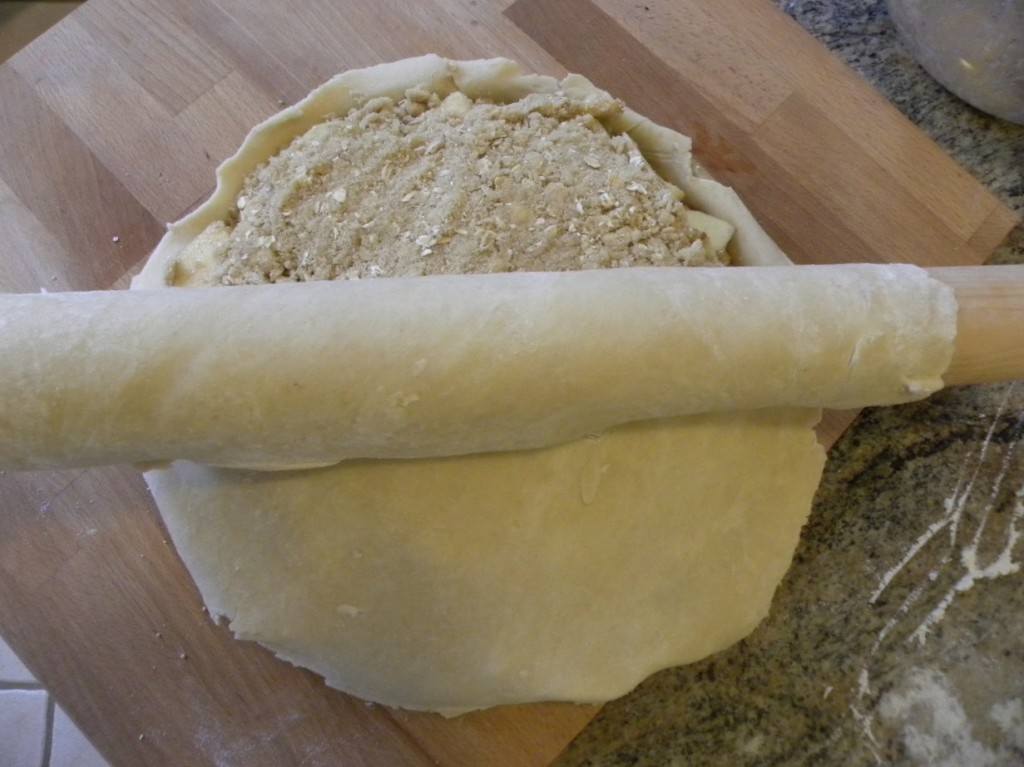 roll the top crust out and lay it over all the goodies.  Crimp edges inward.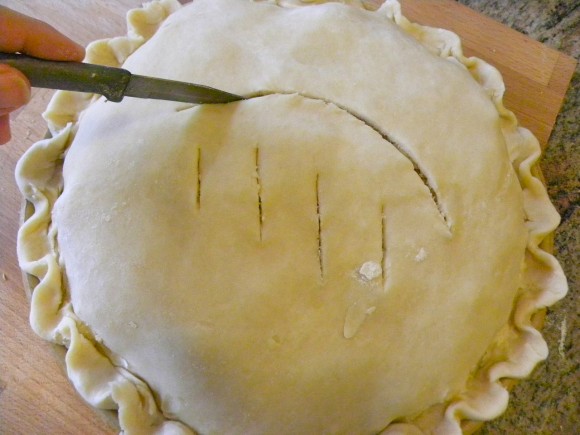 Cut slits in top crust.  Now pop this in your oven, that has been preheated to 375 degrees, for 50-55 minutes or until golden brown.  Mine took about 65 minutes.
Now this is where things get really crazy.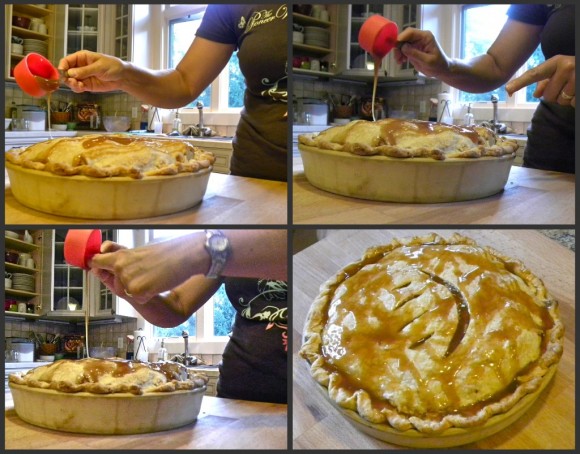 Take 1/3-1/2 cup Caramel Ice Cream Topping and drizzle it all over the top of the hot pie.  Heavens to Betsy…help me Hannah!  Never mind every cupboard door is open in the kitchen…who has time for cupboard door closing when there's caramel to be drizzled!
Now be patient.  Let it rest for at least thirty minutes before cutting.  But when you do…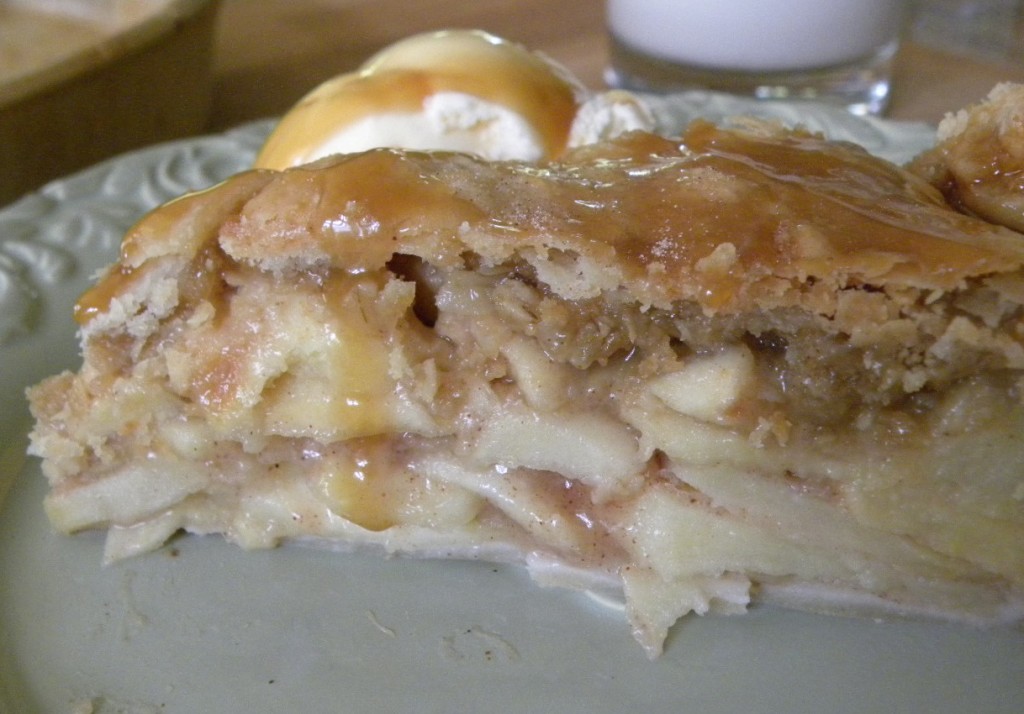 you better have the ice cream handy, and a fork too.  That is unless you are the type to drop your face down into your pie.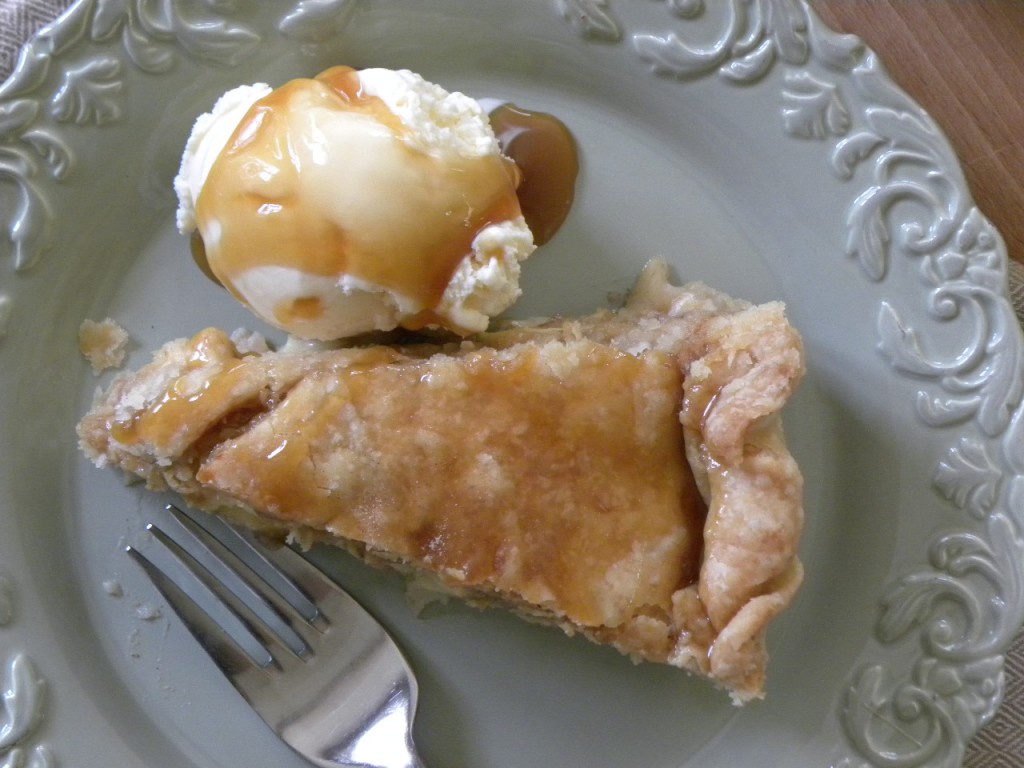 [print_this]
Tina's Caramel Apple Crunch Pie
2 Pie Crusts
Filling
6 large or 8-10 med/small Apples, peeled, cored, and sliced
3 tablespoons Flour
1/2 teaspoon Salt
1/2 cup granulated Sugar
3/4 teaspoon Cinnamon
Crumble Layer
1 cup Brown Sugar
1/2 cup Flour
1/2 cup Oats
1/2 cup cold Butter, but into cubes
1/3-1/2 cup Caramel Ice Cream Topping for drizzling
Preheat oven to 375 degrees.
1.Prepare 2 pie crusts.  Spread one crust into the bottom of a deep dish baking stone.  (a 10″ pie plate will work too, but you may have to cut down on the amount of apples by one or two)
2. Core, peel, and slice apples into a large bowl.  In a dish combine 3 tablespoons flour, salt, granulated sugar, and cinnamon.  Pour over apples and toss to coat.  Pour this mixture into bottom crust.
3. In a medium bowl add crumble ingredients flour, brown sugar, oats, and butter.  Cut together with a pastry blender.  Pour over apples and pat down evenly and firmly into apple filling.  Top with second crust, crimp edges inward, cut slits into top of crust.  Bake in preheated oven for 50-55 minutes or until golden brown.  Remove from oven, let rest for a few minutes, drizzle with caramel topping.  Serve with vanilla ice cream.
[/print_this]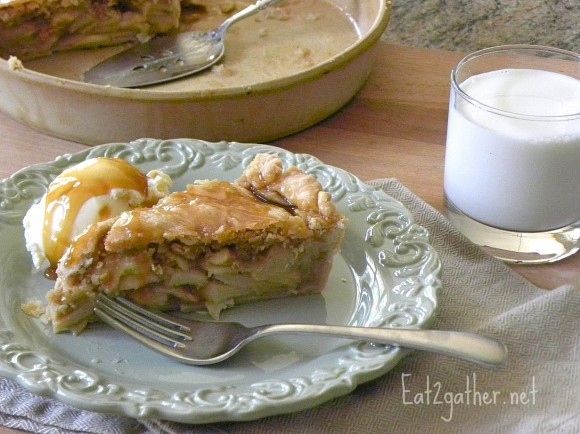 I hope you agree that this pie is nothing short of life changing.
Yours Truly,
The Pie Freak

Come join Love the Pie with Tidy Mom sponsored by Cherokee USA, LeCreuse, Wilton, Bags by Bloom, and Harvard Common Press