Lattice Peach Crumble Pie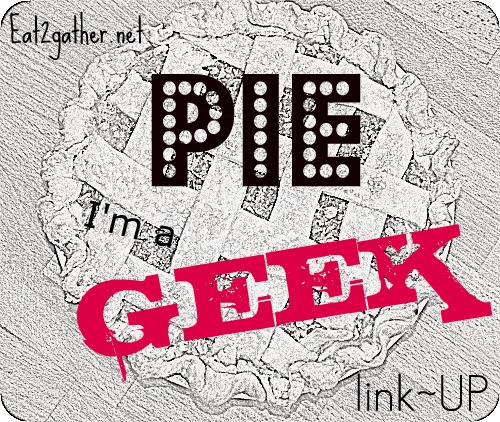 I am a TOTAL Pie GEEK!  Are you a Pie Geek too?  How do you know if you're a Pie Geek?  If you answer yes to any or all of the following pie questions then,
You are a Pie Geek!
1. If you could stand up in a court of law and confess  "I your name do solemnly swear that I love pie, ALL PIE, Cream Pie, Fruit Pie, Savory Pie…pie, pie, pie."
2. If you, ALSO, love to bake pies, or have baked at least 3 pies in your life time.
3. If you find yourself inserting the word pie into poems, songs, and your daily vocabulary.  "Pie how are ya" "Lucy in the Pie with diamonds.." "Oh how I love pie let me count the ways…" Or you think people have said something about pie when they really have not. "I love the color of your pies…" (eyes).  "Aren't the Boston Cream Pies on fire this year?!" (Boston Celtics)
4. You call your mouth a "pie hole".
5. And FINALLY…just saying the word pie makes you swoon, MMMmmm AaahhhH, and smile dizzily like a GEEK.  If you answered yes to this question…well I'm sorry, BUT you are a PIE GEEK!
SO…..
–Because I'm a self proclaimed PIE GEEK.
–Because I've had a blast sharing some of my favorite pie recipes with you this week.
–Because I partied like a rock star with Tidy Mom at her LOVE the Pie Party. (I had my first pie hangover.)
–BECAUSE I love you, and think you are all the bomb diggity (daughters new word).  I want to give you the chance to WIN my FAVORITE PIE PLATE. Longaberger Pottery's Grandma Bonnies Pie Plate.  I looooove this pie plate.  It's my favorite of all my pie plates.
There it is.  I love this pie plate with all my heart.  It's pretty.  It bakes the crust perfectly.  It's nice and deep, but it's not too deep.  Any way you look at it, it's the perfect pie plate!
RULES:
1. Leave me a comment telling me about your favorite pie.  Is it a pie you make, you buy, or a pie that Grandma Ethel makes every Thanksgiving.  One entry per person.
2. If you have a blog, LINK UP your favorite pie recipe BELOW.
Add this line in your post and link it back to me: I'M A PIE GEEK.   Join me and many others for the Pie Geek link~up at Eat2gather.net, and have a chance to win a Longaberger  Pottery Pie Plate. Be a part of the fun and share your favorite pie recipe! (or just link up with with out adding line…I'm easy!) But please
Leave me a comment letting me know you left a link!  You may link two pies, giving you an entry for each!
**US Residents Only to win. All winners with a valid entry will be chosen using Random.org.  Link-up and comments entries close at 10pm November 21, eastern standard time.  I will announce a winner on November 22, 2011.
Longaberger has no idea who I am or that I'm doing this giveaway. This giveaway is purely from me to you…cause I love you and Pie more than you will ever know….actually it's really quite piethetic.
Now that I've got all that business out of the way.  I have another pie that I want to share with you!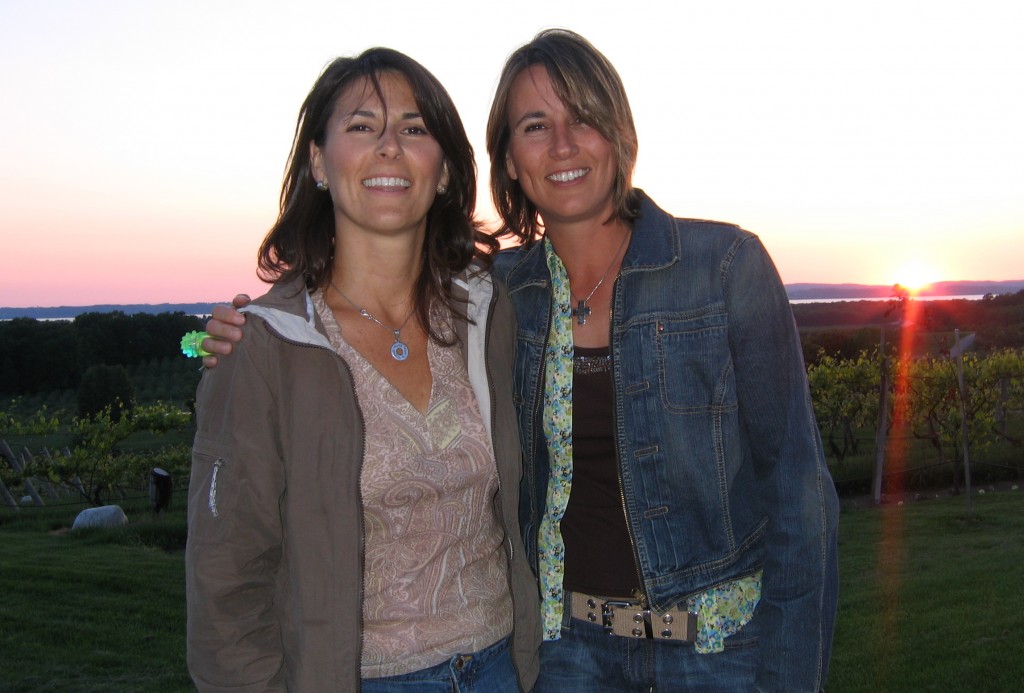 This pie goes out to my gal Cind.  She's the purdy one on the right.  This girl loves herself some pie.  We have known each other before we could even eat pie!  Don't you worry though, we have made up for all those non-pie eating years…..and then some.   Cindy is a bonefide Pie Geek, and Peach Pie is her favorite!  So, I came up with this pie just for her.  This one's for you my Pie luvin' sister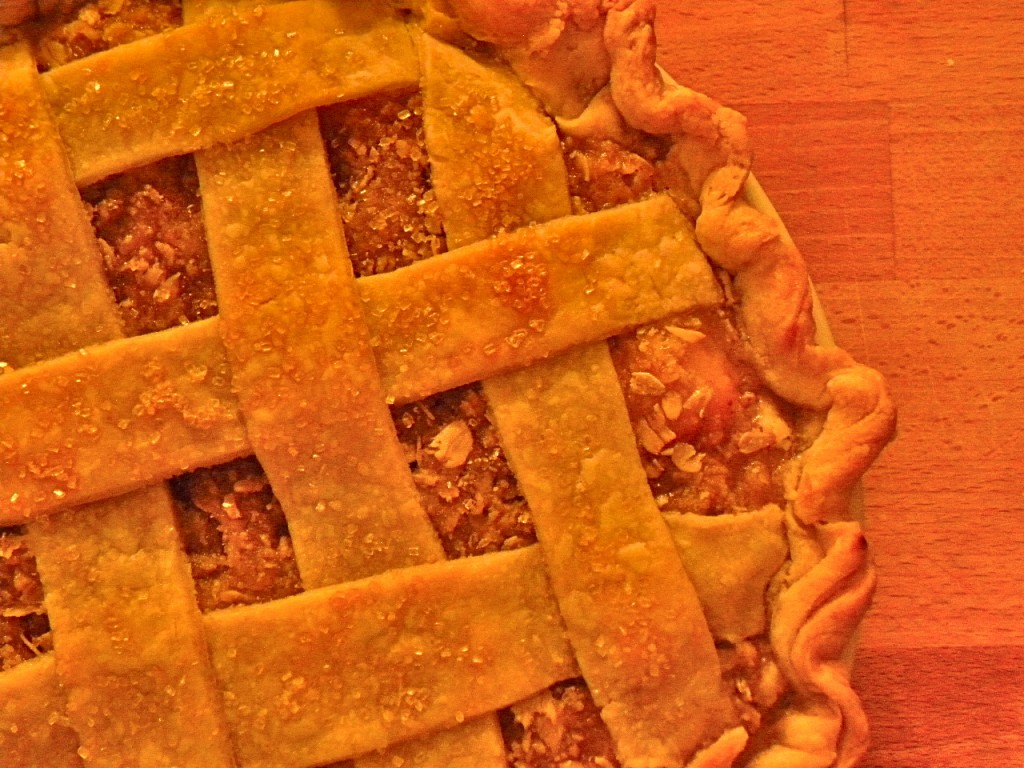 [print_this]
Lattice Peach Crumble Pie
Filling:
6 cups Peaches, pitted and sliced
3 tablespoons Flour
1/2 cup Sugar
3/4 teaspoon Cinnamon
1/4 teaspoon Nutmeg
Crumble Layer:
1 cup Brown Sugar
1/2 cup Flour
1/2 cup Old Fashioned Oatmeal
1 stick Butter, cold and cut into cubes
2 Pie Crusts
Preheat oven to 375 degrees.
-Roll out one pie crust and lay it in bottom of pie plate, trim edges so they hang 1″ over edge of pie plate.
-Combine peaches, flour, sugar, cinnamon, and nutmeg in a bowl.
-Cut cold butter into flour, brown sugar, and oatmeal with a pastry cutter.
-Pour peach filling in bottom crust.
-Cover filling with crumb layer, make sure crumb layer evenly covers peaches.
-Roll out second crust, cut into 1″ strips with a pizza cutter, lay strips in a basket weave pattern over crumb layer. Trim up over hang. Crimp bottom and lattice crust layer together.
-Set pie plate on cookie sheet (to avoid juices bubbling out from getting all over the bottom of your oven) place on middle rack in a preheated 375 degree oven for 50-60 minutes.
Let cool 1 hour before serving with vanilla ice cream.
Enjoy!
[/print_this]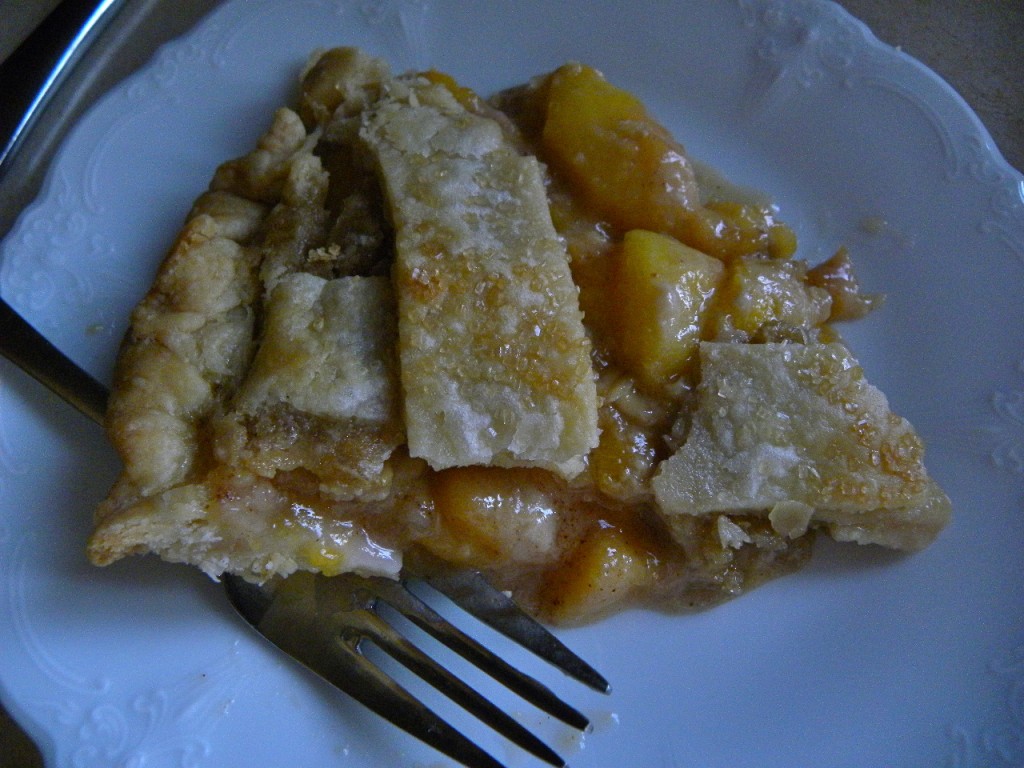 Be a dear and share this PIE GEEK link-up & GIVEAWAY with all your friend and enemies.  Sharing on Facebook and Twitter is nice too!
Cheers to Pie!