Hello! It's time to share the recipes that you love to make for those you love!
It's EASY! Check out the "how to share" below!  
Today because tomorrow is Cinco de Mayo, and because we love Mexican food, and because I really love quick and easy meals, I decided to dish out one of my families favorites!  ENCHILADAS!  I found this enchilada recipe in one of my favorite cookbooks Perfect ONE-DISH dinners by Pam Anderson.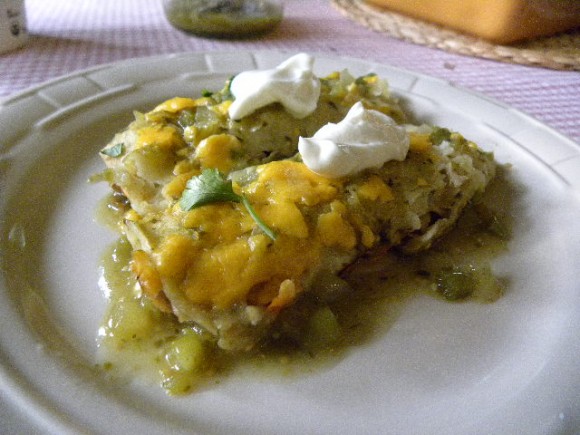 Before I share this wonderfully tasty and especially easy enchilada recipe with you I just have to ask….
Do you know what Cinco de Mayo is?
I thought I did.  Well let me back up…a few weeks back we were at our favorite Mexican restaurant and they happened to have decorations up and signs hanging everywhere reminding us that Cinco de Mayo was nearing.   As our family was eating and enjoying some intelligent conversation, I had to open my big mouth and ask…..
What does Cinco de Mayo mean?
My oldest,  lost all the color in his face, mouth falls open, brow furrows, and he says, "really mom?"   Well as soon as I said it, I knew it was a stupid question, because I can count to ten in Spanish, and well Mayo is quite similiar to May…not Mayonnaise.  Duh!
Please accept my apologies fellow brunettes, because on a daily basis….sometimes more than once a day, I put our reputation of  level headed intelligence on the line.
So yes Cinco de Mayo means "the 5th of May", but it's not Mexico's independence day.  (September 16 is Mexico's Independence Day.)  Which is what I thought it was.  Ditz factor rising.  Cinco de Mayo is mainly celebrated in the USA and in the Mexican state of Puebla, where the Battle of Puebla was won on May 5, 1862, when the Mexican army defeated the much larger French army that was sent in my Napoleon III, to establish an empire in Mexico.  So every year Mexican Americans and the people of Puebla celebrate Mexican heritage and pride on the 5th of May, to commemorate the cause of freedom and democracy.  (I found all this information here…thank goodness for Wikepedia!)
So now that I got my facts straight, and if I missed something or misinterpreted something forgive me, and please feel free to set me straight, I'm used to it….. I will share these yummalicious enchiladas with you my Amigos.
[print_this]
Spicy Chicken & Bean Enchiladas Verde
adapted from Pam Andersons Perfect One-Dish Dinners
serves 6-8
4 cups shredded cooked Chicken
4 cups ( 32 ounces) store-bought Salsa Verde, divided
12 ounces Colby Jack or Monterey Jack Cheese
1/2 cup fresh chopped Cilantro, divided
1 can Beans rinsed, your choice black, pinto, or cannellini
salt and pepper to taste
12-16 Corn Tortillas
sliced onion and sour cream for garnish
Preheat oven to 400 degrees
-Combine chicken, 1 cup salsa verde, beans (rinsed and partially smashed), 1/4 cup cilantro, salt and pepper to taste.
-Spread 1 cup of salsa verde in bottom of a 9×13 baking dish.
-Warm tortillas in a skillet, or wrap them in damp paper towels and microwave on high power until warm and pliable. Spoon about 1/4 cup of chicken filling into each tortilla, sprinkle with cheese and roll into a cylinder, place seam side down in baking dish. Repeat with remaining filling and tortillas.
-Drizzle enchiladas with 1 1/2 cups salsa verde.
-Cover dish with foil and bake at 400 degrees for 30 minutes.
-Remove from oven, remove foil, and immediately sprinkle with remaining cheese (and onion if desired), let stand for a few minutes until cheese has melted, serve with sour cream and remaining salsa verde.
I like to serve this with Spanish Rice, Tortilla Chips, and maybe a light Salad with avocado slices on top!
Enjoy!
[/print_this]
How are you celebrating Cinco de Mayo? 
What are you eating?   That's what I really always want to know!!!
So now it's time to  SHARE youR FAVORITE RECIPES!  Here's how……
1. Click on the Add link below then Add the permalink from your post.  Please do not link your websites homepage.
2. Select the photo you wish to link to your site and include the title of what you are sharing!
3. Create a link to Eat2gather.net within your post, to share all the great recipes with your readers.  Please feel free to grab my  blog button from the sidebar.  If you share the button on your sidebar or in your post I will hug you and kiss you!!  Well not literally, but maybe if I happen to run into you. (wink)