Book Club ~ what we've been reading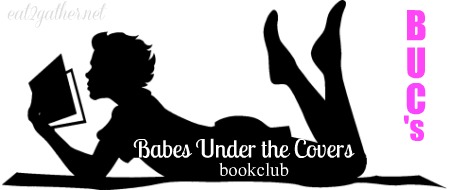 Read any great books lately?  I was hoping to get more reading done this winter than I have.  My list of "want to read" keeps getting longer, and the pile of books beside my bed keeps getting bigger.  Gives me something to look forward to I guess….how awful would it be if you couldn't' find one good book to read?  Pretty awful.  You are going to have to bear with me we have some catching up to do, I CAN'T BELIEVE that I have not done a book club post since August!!
I guess I'll start with our latest read and work backward….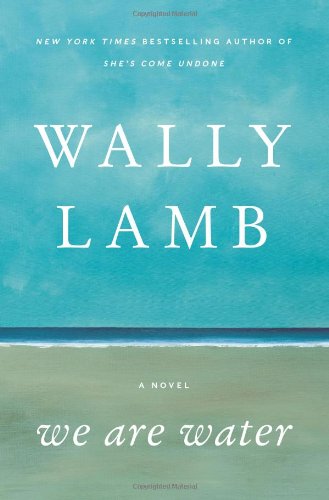 We are Water by Wally Lamb was our latest book club read.  This is the third Wally Lamb book I've read, my favorite being I Know this much is True.  We are Water was not my favorite, but I will say it held my interest.  Wally is superb at character development, I think. As a group one of our rules is to not go over 400 pages for a book.  Well this book is 561 pages, we sort of went over.   Just keep that in mind if you're thinking of picking this for your book club.
Here's what Goodreads had to say…In middle age, Anna Oh – wife, mother, outsider artist – has shaken her family to its core. After twenty-seven years of marriage and three children, Anna has fallen in love with Vivica, the wealthy, cultured, confident Manhattan art dealer who orchestrated her professional success.  Anna and Viveca plan to wed in the Oh family's hometown of Three Rivers in Connecticut, where gay marriage has recently been legalized. But the impending wedding provokes some very mixed reactions and opens a Pandora's Box of toxic secrets–dark and painful truths that have festered below the surface of the Ohs' lives.  We Are Water is an intricate and layered portrait of marriage, family, and the inexorable need for understanding and connection, told in the alternating voices of the Ohs–nonconformist Annie; her ex-husband, Orion, a psychologist; Ariane, the do-gooder daughter, and her twin, Andrew, the rebellious only son; and free-spirited Marissa, the youngest Oh. Set in New England and New York during the first years of the Obama presidency, it is also a portrait of modern America, exploring issues of class, changing social mores, the legacy of racial violence, and the nature of creativity and art.  With humor and breathtaking compassion, Wally Lamb brilliantly captures the essence of human experience in vivid and unforgettable characters struggling to find hope and redemption in the aftermath of trauma and loss. We Are Water is vintage Wally Lamb-a compulsively readable, generous, and uplifting masterpiece that digs deep into the complexities of the human heart to explore the ways in which we search for love and meaning in our lives.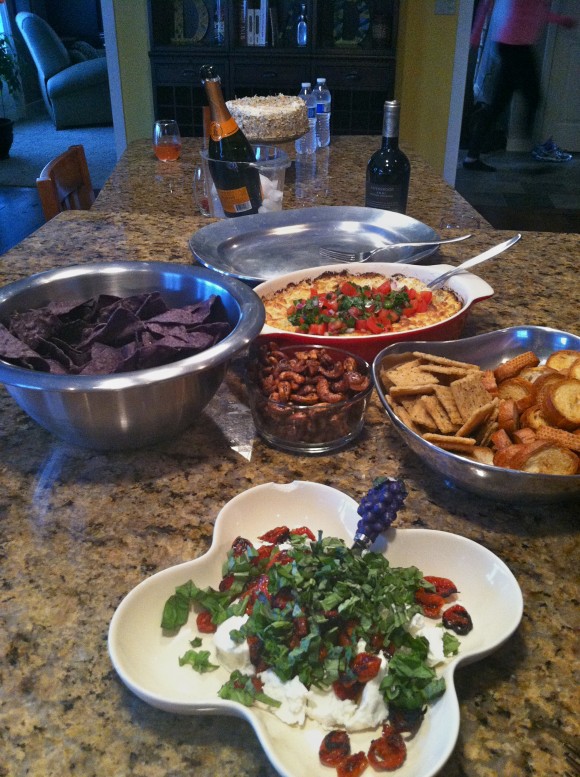 Details of the night… We welcomed a new member into the fold.  The lovely Holly.  She survived the night, I think. Helloooo Holly are you alright, did we scare you? XOX.  We can get a bit unruly at times, but she held her own.  Big D (otherwise known as Demetria) was our host.  She served a delicious array of snacks.  Crab Dip, a lovely Goat Cheese with roasted tomatoes and basil dip, Brie and Fig Jam bites (YUUUmeee!) , spiced and roasted cashews; it was all very lovely! And to drink, because in the book they popped a top a few times, we had Champagne with raspberries, fancy!  Because Big D's birthday is coming up I volunteered to make her a birthday cake, can you see it in the back ground?   I made Billie's Italian Cream Cake from The Pioneer Woman.
Mini book review….We decided that this book covered every social issue out there with the exception of obesity.  Which got to be a bit much at times, as you're reading you're thinking really?  Really?  The book is centered around Annie and Orian's  marriage, the undoing of their marriage, their children, their careers and how that affected the raising of their children.  We are Water is told in first person by the various characters in the book.  I love a book written this way.  I get the whole story, not just one side of it.  What We are Water boils down to is how our upbringing affects how we parent, the whole generational curse thing.
Overall ~ We gave it a thumbs up.  Nearly everyone finished it, and the one who didn't had a good excuse 😉 . No one said this was their favorite book of all time on a scale of 1-5, 5 being best it got a solid 4.  Which is pretty dang good.  I'd say.
January Book Club: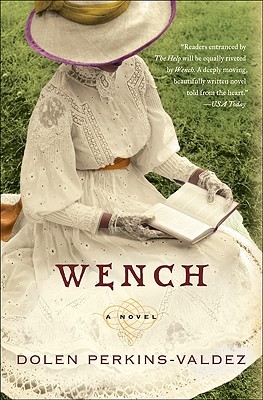 Wench ~ This was our January read.  I loved it.  I gave it four stars on good reads.  The only reason I didn't give it a full five was because I felt like some of the characters weren't developed as well as I would have liked them to be.  But despite that I couldn't put this book down!  Wench is set pre-civil war, and is based on a real life resort in southern Ohio called Tawana House where rich southern slave owners would bring their African slave mistresses for long summer getaways from their plantations.  Based on real life events the story of four African slaves and how their lives collide once a year is heart wrenching and riveting.  I found myself holding my breath at times as I read accounts the horrific conditions African-American slaves endured.  As much as I read and see movies about this time in our countries history I never can quite get my head around how any human can treat another human like an animal.  And I know that this time in history is no isolated event, it goes on everyday to this day all over the world.  Don't get me started….it really sickens me.  But I think we need to be aware and to know our history and this book although extremely sad at times also was a testament to a mothers love, sisterly friendships, and deep seeded hope that life can only get better if we don't give up on our dreams.  You can read the detailed description on Goodreads HERE.
Overall ~ The BUCs gave this book a solid 4 thumbs up! ( out of 5 thumbs)
My in between reads were….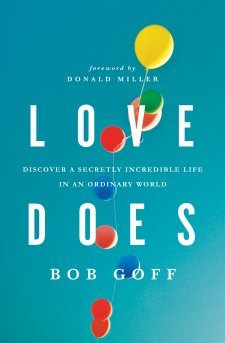 Love Does by Bob Goff.  This book is a book that I want to buy a crate of and give one to every single person I know and encounter on the street.  While reading it I had to control my urge to ask the check out lady at the grocery store if she had read it.  I begged my son to read it.  He did.  He loved it.  If you read no other book this year you have to read this book.
I love what Bill Hybels says about this book….it's so darn true! "If this book does not make your heart beat faster, book the next flight to Mayo Clinic!" –Bill Hybels, Senior Pastor, Willow Creek Community Church
Here's a bit from goodreads: As a college student he spent 16 days in the Pacific Ocean with five guys and a crate of canned meat. As a father he took his kids on a world tour to eat ice cream with heads of state. He made friends in Uganda, and they liked him so much he became the Ugandan consul. He pursued his wife for three years before she agreed to date him. His grades weren't good enough to get into law school, so he sat on a bench outside the Dean's office for seven days until they finally let him enroll.
I had to follow Bob on instagram to see if this guy was for real.  What I can tell from his instagram feed, he is for sure real, funny, amazing, and inspiring!
I also read The Fault in Our Stars by John Green, this book is soon to be a movie.  My oldest daughter read it first and said I had to read it.  I did like this book, but I can't lie the topic of teens dealing with terminal illness was hard as a mother of three teens to sink my teeth into.  Definitely opened up some great conversations with Ainslie. Now I'm looking forward to a girls night out to see the movie together.  This book is a quick read…grab a box of kleenex and have a seat, you won't regret it.
The Alchemist by Paulo Coelho was another solo read.  I had been anticipating reading this book for quite a while, and I was completely disappointed.  Here is what Goodreads had to say.  I read it when I was sick, so maybe I just was in too much of a fog to get it.  It's not a long book, but the pages seemed to supernaturally multiply as I read.  I would love to hear what you thought of this book if you've read it. 
November Book Club: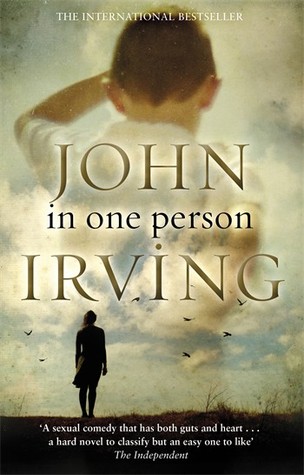 In One Person by John Irving was our November book club book.  Call it what you will, but I could not finish this book.  It was all over the place for me, and I had a hard time believing in the characters.  The extremely sexual descriptions in regards to all types of relationships between opposite and same sex partners.  I dunno it was just not my cup-o-tea. (No I did not read 50 Shades.  No I am not a prude.  I like sex….we'll leave it at that.)   I did enjoy hearing from those that read this novel in its entirety. (Only three of 12 did….if that tells you anything.)  I did want to know how it all wrapped up, I just didn't want to have to spend precious time reading.
Overall ~ 2 thumbs up
White Teeth by Zadie Smith was our book club read for September.  THUMBS down.  No one liked it.  I am not sure who rated this book on Goodreads but it was awful and a complete waste of money!  Did I mention that I only got as far as the first chapter before I decided to call it quits.  That's all I've got to say about that.   Thankfully the food and fellowship were 5 stars!  Thanks Rebecca for hosting way back when.
Reading with kids: My three oldest are readers.  I don't have to tell them to read.  They all just read.  Now my littlest does not seem to be following in her sister and brothers reading footsteps so in order to get her to read I read with her.  She reads a page, I read a page.  It takes us forever to read a book….but it's all good.  We've read the first two Harry Potter books together, and we just finished A Wrinkle in Time.  What should we read together next?  Any ideas are welcome!
Next up on the BUCs reading list are:
May ~ The Ocean at the End of the Lane ~ Neil Gaiman
July ~ The Art of Hearing Heartbeats by Jan-Philipp Sendker (pssst already read it LOVED IT!)
Here are a few books that I hope to read soon for myself!
The Divergent series
I just received both Melanie Shankle books in the mail….The Antelope in the Living Room and Sparkly Green Earrings, can not wait to read.
What are you reading these days?  What do you hope to read soon?
Have a book slammin' day! Sheila
P. S. This just in!! Have you heard of Spritz? The stealth mode reading app?  You can read about it and test it out here.  I'm not sure what I think of it.  I just gave it a try and I think my brain prid-near sploded.  I'd love to hear your thoughts on this new technology.