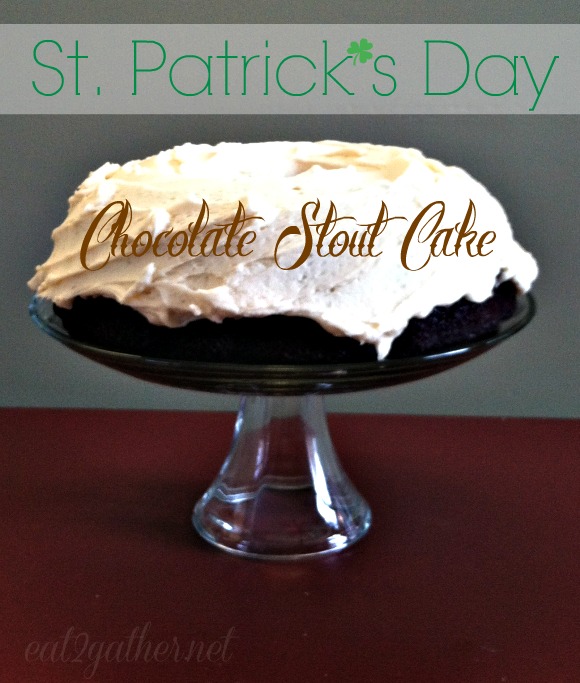 We have this great little corner store by us, some would call it a liquor store, I never really liked the sounds of that but I guess that's what it is. They have every kind of wine and beer imaginable as well as other goodies and snacks. I'm a beer girl. I like beer. I like wine too…but it gives me a headache so I've become a little scared of it.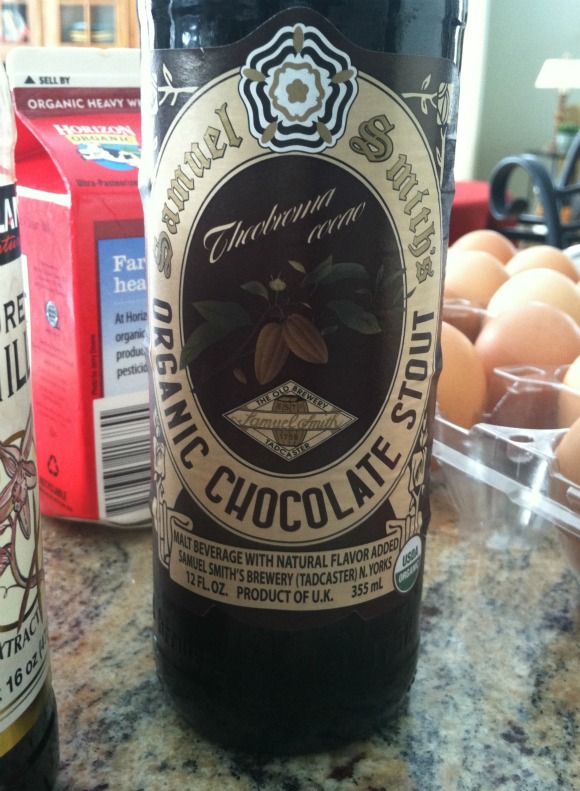 Anyway I've found that I'm drawn to the porters, stouts, and I always some how seemed to find a chocolate porter or stout in my little brown bag.  But they can sometimes be heavy and half the time I end up using it to cook with, Chocolate Stout Stew is perfect for a cold winter day.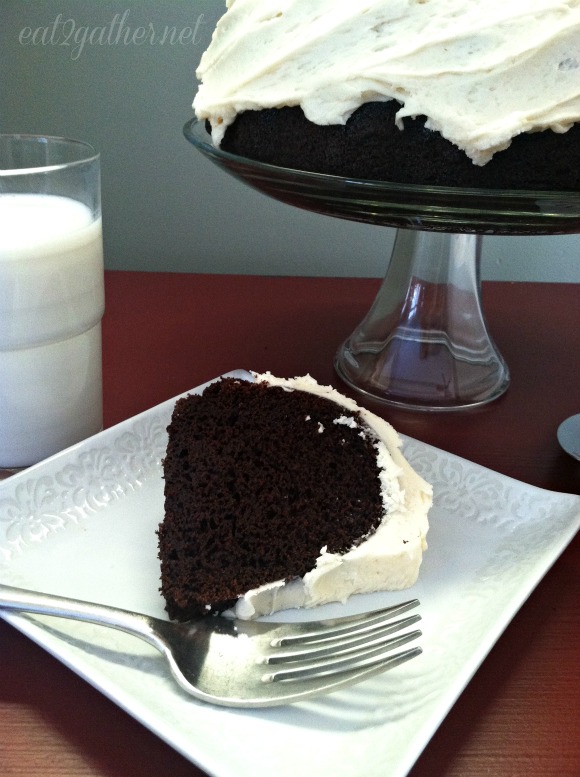 I was actually looking for some ideas for a St Patty's Day dessert when I came across Nigella and Elise's recipes, and then I remembered the chocolate beer I had hanging around in the back of my fridge! Bingo!  Beer cake it is!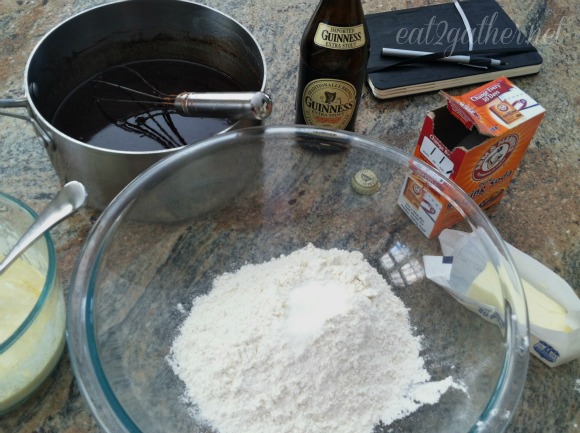 This cake is rich and dense and moist and tastes nothing like beer if that is a concern for you.  The cream cheese frosting balances out the richness of the chocolate.  Quite frankly, I think St. Patty would love this dessert with a Guinness and boiled dinner on the side!
I ended up making this cake twice.  The second time I used a bundlt pan and buttercream frosting, oh and I should mention the fact that I used Guinness and accidentally used the whole bottle, not just 1 cup as the original recipe states.  Oops!  You know what?  It was moister the second time, and my kids who do not appreciate cream cheese in their frosting (who are these kids…they are not from my loins) like this cake much better with the buttercream.  So I included the recipe for the buttercream as well.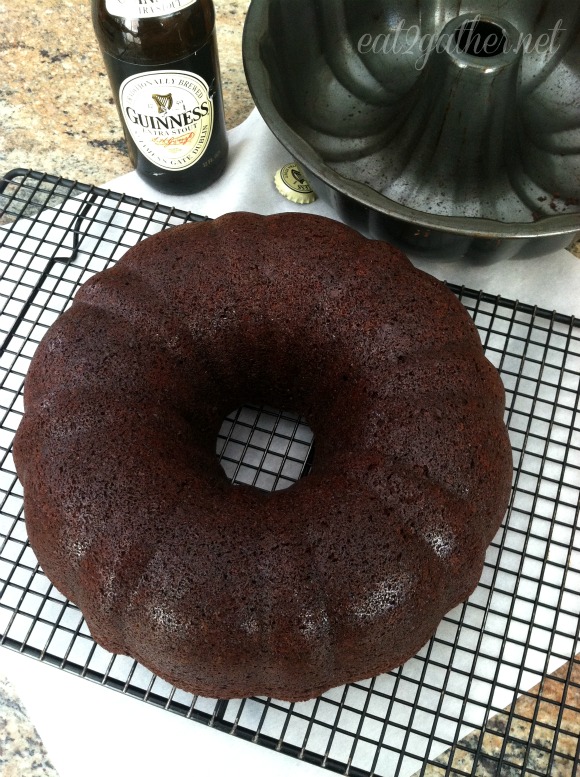 [print_this]
Chocolate Stout Cake
12 ounces Chocolate Stout or Guinness beer
10 tablespoons Butter
3/4 unsweetened Cocoa
1 1/2 cups Sugar
1/2 cups Brown Sugar
3/4 cup Sour Cream
2 Eggs
1 tablespoon Vanilla
2 cups Flour
2 1/2 teaspoons Baking Soda
1/4 teaspoon Salt
Cream Cheese Frosting
1 8 ounce block Cream Cheese, room temperature
4 tablespoons Butter, room temperature
1 1/3 cups Powdered Sugar
1 tablespoon Heavy Cream (milk or half and half work too)
Preheat oven to 350 degrees and spray a 9″ round cake pan or a spring form pan with Baking Spray.
1. Add beer and butter to a medium saucepan, cook over low heat until butter melts add sugars and whisk until smooth and sugars have dissolved. Remove from heat allow to cool.
2. With a mixer in another bowl cream together sour cream, eggs, and vanilla. Add cooled beer mixture to egg mixture. Mix scraping the sides of the bowl at least once, continue to mix for 1 minute.
4. Combine flour, baking soda, and salt in a measuring cup gradually add dry ingredients to the wet, mix until it comes together. Do not over mix.
5. Pour batter into prepared cake pan give pan a few drops on the counter to release any air bubbles place in preheated oven and bake for 50 minutes. Remove and allow to cool on wire rack for 10 minutes, run a knife along the edges of the cake pan then place the cooling wrack top down on cake and flip cake out on to cooling rack, allowing cake to cool completely before frosting. (If you choose to use a spring form pan just release the sides.)
Frosting: In mixer whip butter and cream cheese together, gradually add sugar 1/3 cup at a time, drizzle in heavy cream at the end continue to whip until frosting is light and fluffy. Place cake on cake plate, scoop out all the frosting on to the top of the cake and work around with a knife until frosting is even on the top and just falling over the edges of the cake.
Serve and store any leftover cake in the refrigerator.
Enjoy!
Note: If you are not a fan of cream cheese frosting here is how I make
Buttercream Frosting:
2 sticks Butter, softened
6-8 cups Powdered Sugar
1/4 cup Half and Half
1/4 teaspoon Salt
2 teaspoons Vanilla Extract
Place the butter in a large mixing bowl. Add 4 cups of the sugar, salt, and the half and half and vanilla on medium speed begin to beat until smooth and creamy about 3 minutes. Gradually add in the remaining sugar 1 cup at a time beating well after each. If frosting seems to stiff, add in a little extra half and half a tablespoon at a time.
[/print_this]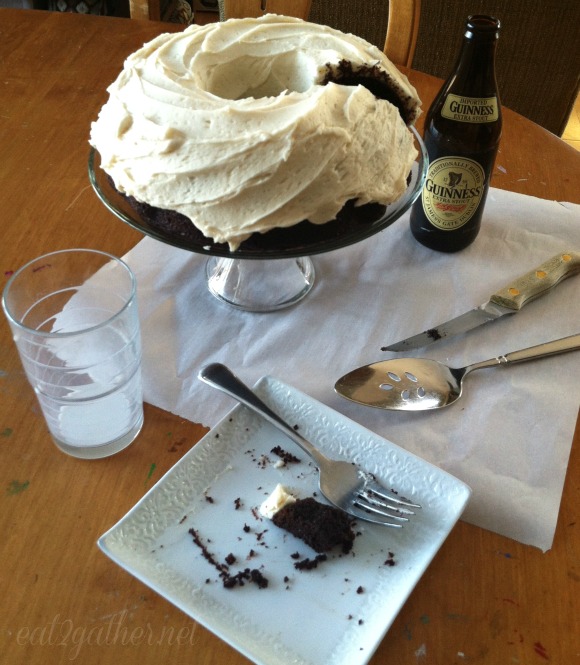 This cake is moist, and rich and screams out for a glass of milk!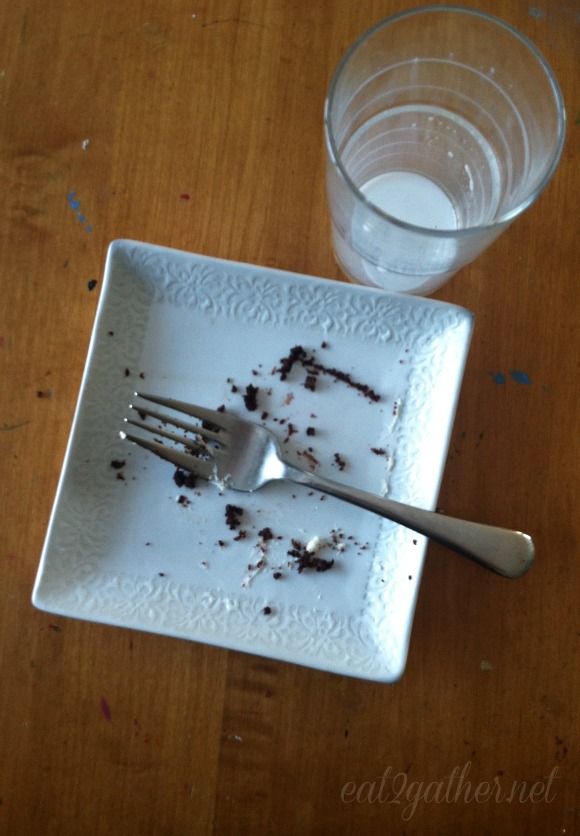 I'm wondering are you of Irish descent?  How do you celebrate St. Patty's day?  Do you have a special meal or tradition?  Do tell….I'd love to hear!
May the luck-O-deIrish bewidya, Sheila