Bagger Dave's flagship location in Berkley, Michigan
Have you been to the Legendary Burger Tavern better known as Bagger Dave's?  Until recently I had not.  My kiddos and husband have eaten there several times.  It's what daddy does when momma-seeta is gone…. they go out to dinner.  Since Bagger Dave's has gone in down the road….or pretty darn near…I could walk there, it's become one of my families favorite restaurants.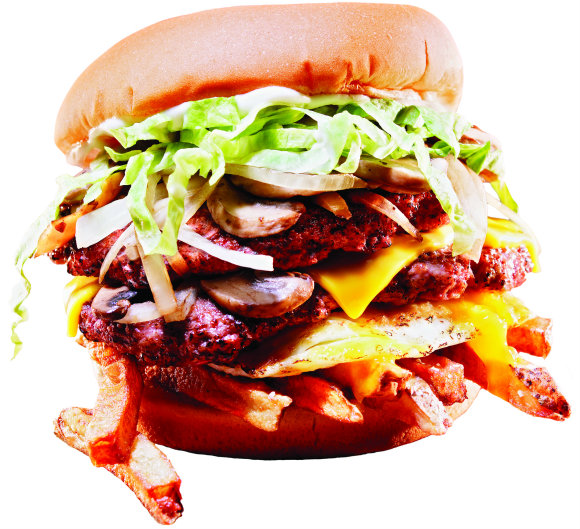 And from the looks of this burger I think we probably should walk to and from Bagger Dave's .  Hokey Smokes!  This is the Train Wreck Burger.  Mr. Friberg is this the burger you were telling me about?  Here's what's on this thing, fresh-cut potato fries, a fried egg, cheddar cheese, lettuce, sliced tomatoe, sauteed onions, Bagger Dave's own Barbecue Sauce, 2 fresh ground beef patties, and Bagger Dave's Railhouse Burger Sauce all on a toasted sesame seed bun.  Dang!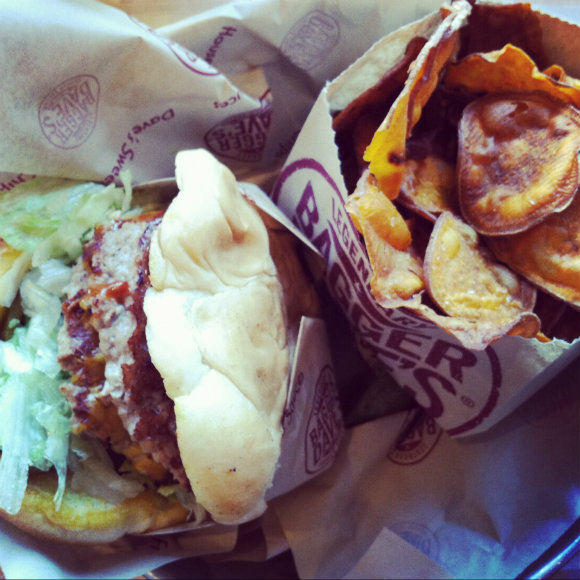 PB & J(alapenos) Burger
Of course I went for the weird burger.  It was awesome!  Two turkey patties, bacon, cheddar cheese, lettuce, chipotle BBQ sauce, jalepeno, and natural Cream-Nut Peanut butter all on a sesame seed bun. I also had the sweet potato chips, could eat those baby's every day!  It was so good.  Huge!  I would order it again for sure!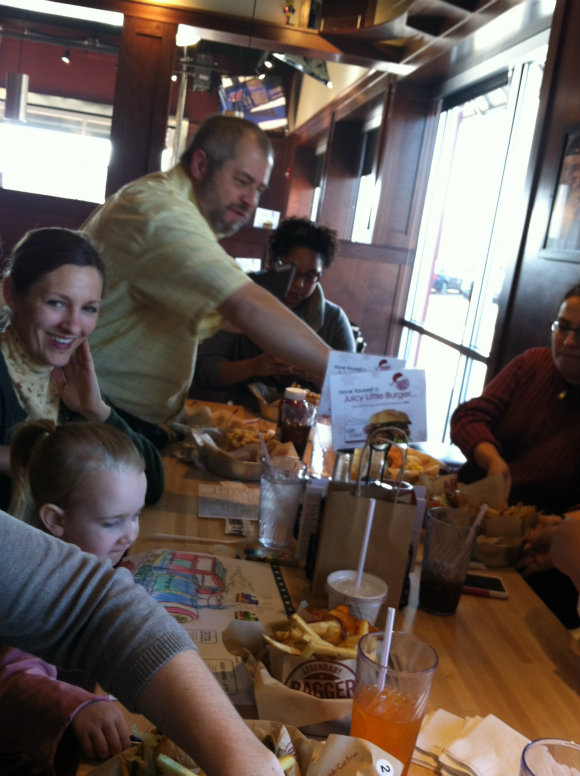 Bagger's invited a party of local Bloggers to lunch recently.  They wanted us to share with us their new burger items, and the companies philosophy on keeping things local.  Bagger Dave's uses 30 local farms and business for all their menu items, plus they only serve local brews on tap, and all of their soda is handcrafted in the Mitten!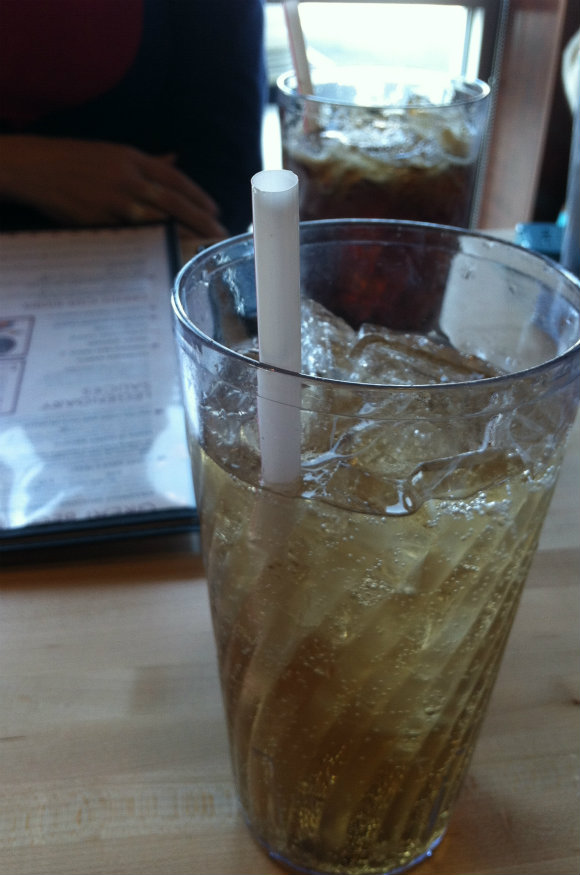 I love Ginger Ale, so I gave their handcrafted Ginger Ale a go.  It was fantastic.  So many times you don't even get the bite of  ginger, and the soda is too sappy sweet.  This Ginger Ale was perfect, not too sweet and I got the twang of ginger up my nose!  Everyone else around me was oohing and aahing over the Root Beer…I might have to give that a try next time.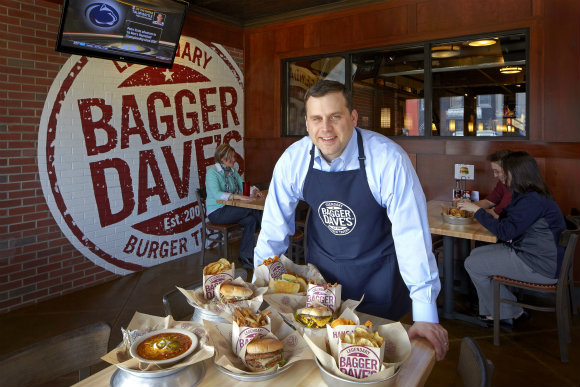 Michael Ansley is the CEO and founder of Bagger Daves Legendary Burger Tavern founded in 2006.  Bagger Daves' is a unique, full service, family friendly restaurant and bar whose fresh, never frozen, premium beef blended burgers have earned rave reviews since the concept was launched.  Guest can choose from three different buns and more than 30 toppings to create their own legendary beef, turkey or veggie black bean burger.   The menu also includes house made sauces, fresh cut fries and chips, and hand dipped milkshakes.
The atmosphere is warm and inviting.  I think it has a neighborhood pub feel.  The little ones will love the electric train that runs above the bar and dining room areas, and the adults willl enjoy watching all their favorite sporting events on the plasma TV's placed around the dining room. There are 11 locations across Michigan.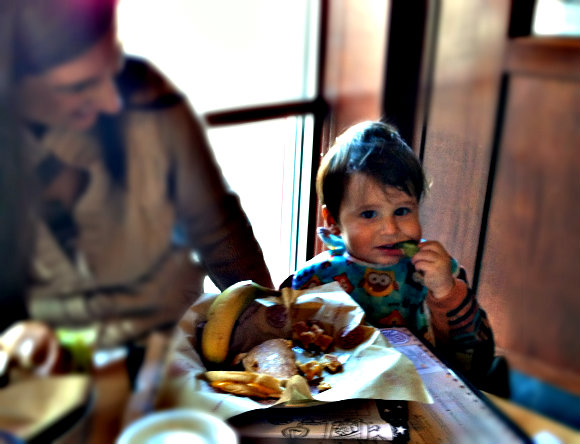 Bagger's is all about family friendly. Look at this lil guy…such a cutie patootie! He was loving his healthy lunch. Grilled Cheese, banana, and a pickle!  Bagger Dave's shared with us, that they will soon be rolling out the red carpet on their new childrens menu January 2013.  This new kiddos menu will be in keeping with the NEWEST USDA Dietary guidelines and standards for children.  Each childrens meal choice will include the recommended daily amounts of fruits, vegi's, protien, and dairy every child needs to have a healthy meal!
THANKS Bagger Dave's for giving me the opportunity to meet other bloggers in the area,  enjoy a FABULOUS lunch, and learn what The Legendary Bagger Dave's is all about!
To keep up with what's going on at Bagger Dave's LIKE them on FACEBOOK , and follow on Twitter!