Meals 4 Sharing Fridays: Easter Brunch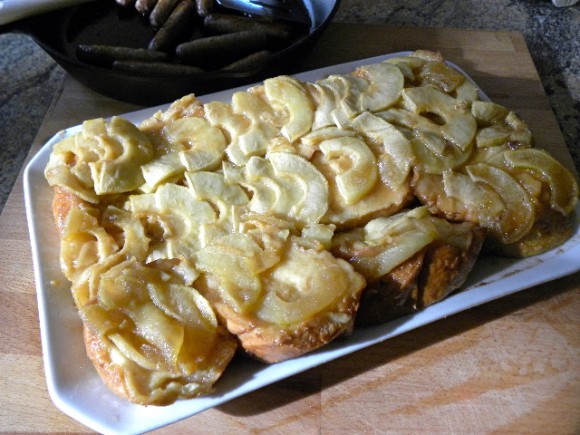 Do you have an Easter Day tradition?  Be it dinner with extended family, brunch after church, or maybe you have a favorite restaurant that serves an amazing buffet that pleases everyone.  Easter because of it's religious back ground seems to be a holiday that most families have deep rooted traditions.
Our traditions over the years, have fluctuated greatly.  Just about the time I think we have a tradition, someone moves, gets married, or goes on vacation.  (Michigan Spring Break almost always touches Easter weekend.)  When and where we eat are not nearly as important as who and what we are celebrating.
When our kiddos were little we attended a church that had a sunrise breakfast together, and then our church service after.  I loved this tradition more than anything, and so did my family.   There was no better way to celebrate Easter than to share a delicious breakfast with our church family!  The recipe for  Apple French Toast Bake was handed down to me from one of the women at this church.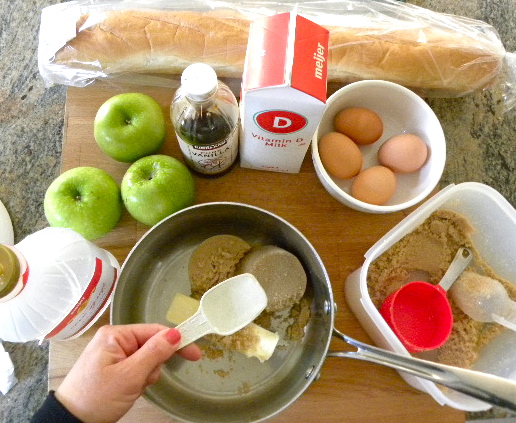 One of the best things about Apple French Toast Bake is that it needs to be made the day before.  Which is perfect for Easter Brunch!  The first step is to cook 1 stick Butter, 1 cup Brown Sugar, and 2 tablespoons Corn Syrup on the stove until thick and bubbly, approximately 5 minutes on low.
Next crack 4 eggs.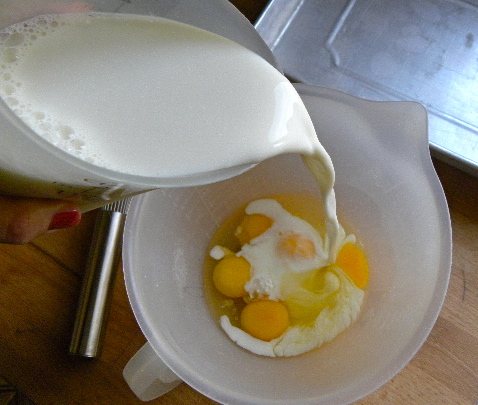 Add 2 cups Whole Milk to eggs and whisk well, until thick and frothy.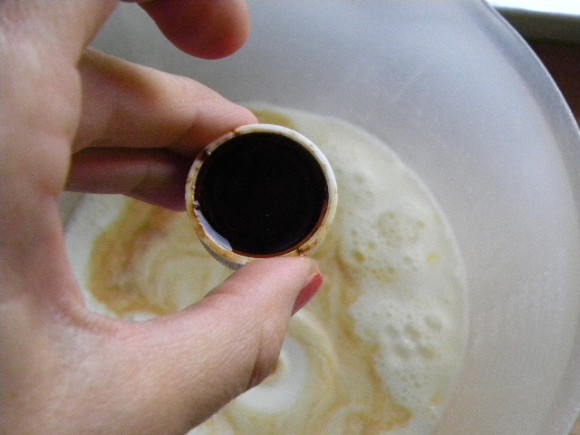 Now add 1 teaspoon pure Vanilla Extract.  I always use the cap from my bottle of vanilla to measure out my vanilla, it makes for a messy cap, and drippy bottle, but that's just how I roll. And yes if you are wondering the cap to my bottle of Vanilla from Costco measures exactly 1 teaspoon….I tested it.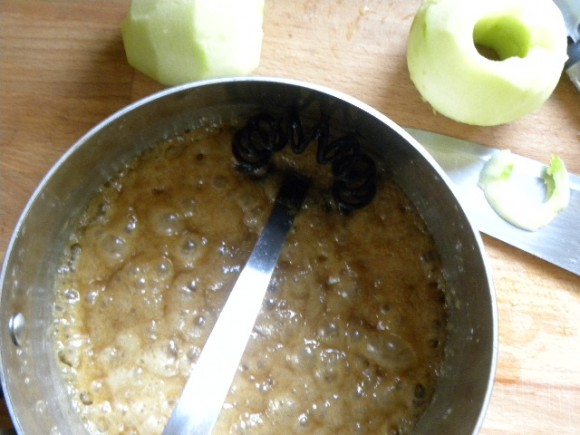 While your sugar butter mixture is cooking be sure to give it a good whisking here and there.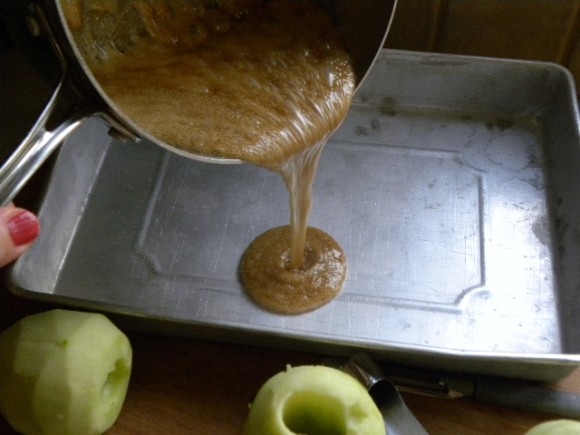 Pour caramel into a 9×13 pan, (no need to grease it) making sure that it completely coats the bottom.  I quite often double this recipe and make it in my 12×15 sheet cake pan.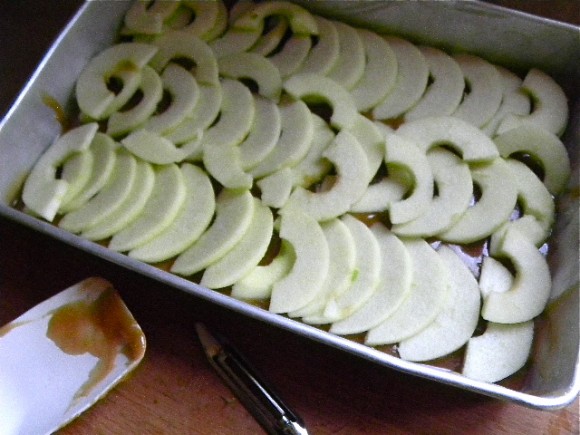 Core, peel, and slice 3 Granny Smith Apples arrange them over the top of the caramel in the pan.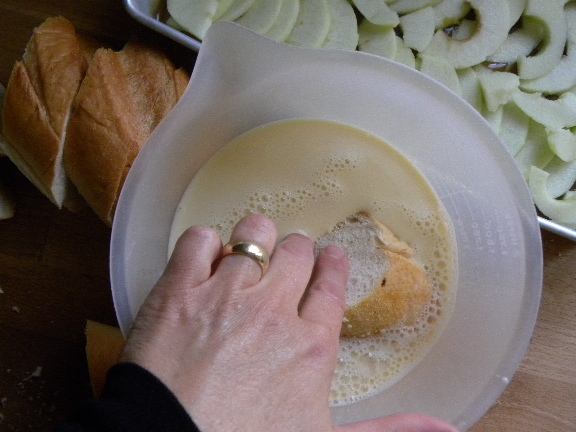 Now slice 1 loaf of French Bread into 10 thick slices about 1 1/2 inches thick.  Dunk them into the egg and milk mixture, making sure that they are completely saturated.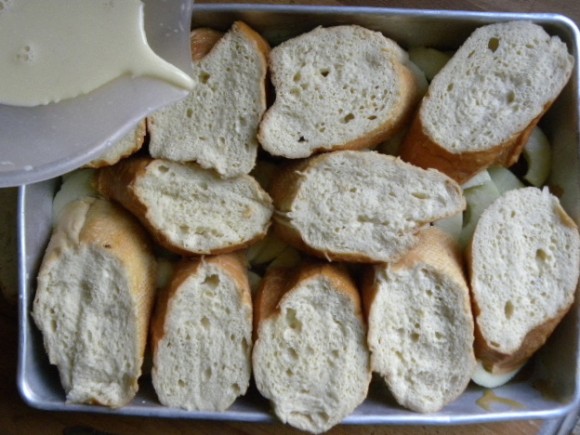 Arrange the saturated pieces of bread on top of the apples, and drizzle the leftover milk mixture over the bread.  Be careful not to pour  in to bottom of pan, you just want it soaking into the bread.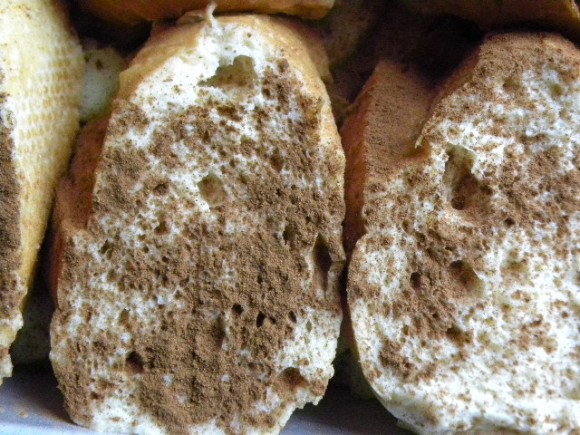 Now give the bread a generous sprinkle of Cinnamon, unless you are allergic or have some sort of aversion to cinnamon, then you have my permission to leave it out.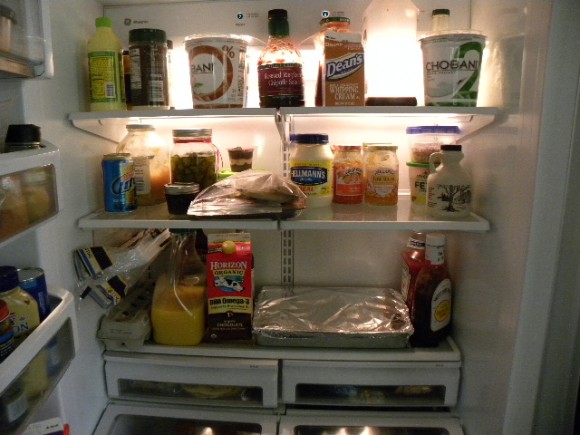 Cover the pan tightly with aluminum foil and pop it in the refrigerator over night, until 30 minutes prior to baking time.
How do you like my refrigerator.  This pic reminds me of the segment Rachel Ray used to have in the back of her magazine.  Remember that one?  She would feature a shot of a celebrities fridge contents.  Sort of a what can you tell about someone by the contents of their frigidaire.  I was super disappointed when she removed that from her magazine, I always went right to the back to see who she had featured.  This is really not an honest representation of my fridge because I had just straightened my frigde up so I could fit the pan in there…usually it looks like a cyclone hit the inside of my Frig-eee-dare.
When ready to bake preheat oven to 350 degrees, remove foil and bake for 45 minutes.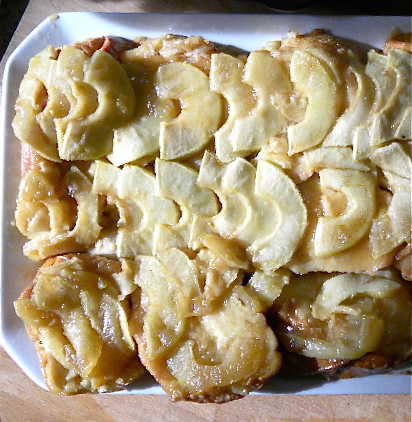 You can leave it in the pan and scoop out the Apple French Toast Bake or you can be a dare devil like myself and flip it out onto a platter so everyone can see how purdy it is.  You can serve this with maple syrup but it really doesn't need it.  Which makes this recipe an even better option for a brunch, no condiments necessary, it's one dish perfection.   My girlfriend Nikki wondered if I ever used Raisin Bread for this, I have not, but I don't see why raisin bread or challah bread wouldn't be marvelous used in this recipe, just as long as you cut the bread into thick slices.
[print_this]
Apple French Toast Bake
10 servings
1 cup Brown Sugar
1/2 cup Butter
2 tablespoon Corn Syrup
3 large tart Apples, peeled, cored, and sliced
4 Eggs
2 cups Milk
1 teaspoon Vanilla
10 thick slices (1 1/2 inches) day old French Bread
Cinnamon to taste
In a small sauce pan cook the brown sugar, butter, and corn syrup until thick and bubbly, about 5 minutes. Pour into an ungreased 9×13 baking pan. Arrange the sliced apples on top of the caramel.
In a medium bowl whisk together 3 eggs plus one egg yolk with milk and vanilla. (discard 1 egg white). Dip bread slices in egg mixture, making sure that they are saturated with egg. Place the soaked bread on top of the caramel and apples, sprinkle with cinnamon. Cover with tin foil and refrigerate overnight. Remove from refrigerator 30 minutes before baking. Bake uncovered at 350 degrees for 35-45 minutes or until set.
[/print_this]
This year we will be driving home from our Spring Break vacation in Florida, even though we are missing out on Easter dinner with family we will be celebrating the real gift of Easter together as we drive.
He is RISEN!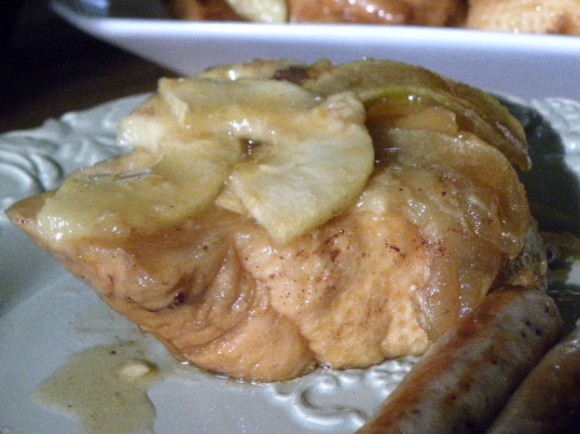 How are you celebrating Easter? Brunch, Dinner, at home or at a restaurant?
Please LINK UP or share in the COMMENTS your families favorite Easter Sunday recipes!
So now it's time to let the SHARING begin!  Here's how……

1. Click on the Add link below then Add the permalink from your post.  Please do not link your websites homepage.
2. Select the photo you wish to link to your site and include the title of what you are sharing!
3. Create a link to Eat2gather.net within your post, to share all the great recipes with your readers.  Please feel free to grab my  blog button from the sidebar.  If you share the button on your sidebar or in your post I will hug you and kiss you!!  Well not literally, but maybe if I happen to run into you. (wink)
It's nice to share 🙂
I am linking up with these bloggers:
Six Sisters'Stuff: Strut your Stuff Saturday