Deviled Eggs could very well have been at the first Thanksgiving table.  Why do I think so?  It's recorded that the pilgrims had hens with them on the Mayflower, the question is did the hens survive…lets assume they did! They most likely had chives, mustard seed, and possibley pickled vegetables of some sort, so how easy would it have been to whip up deviled eggs for their thanksgiving meal.  I'm goin' with it!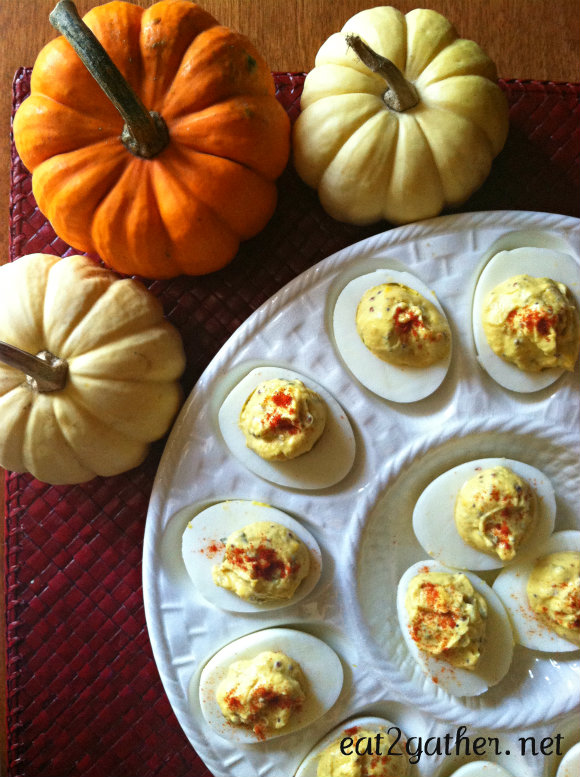 Deviled eggs are my brother-n-law and my Cece's favorite pre-dinner snack.  Eric actually makes a dang good deviled egg.  This recipe isn't his, it's mine, but we no doubt will have Eric's deviled eggs on Thanksgiving Day for a little pre-dinner nibble.
Do you serve appetizers or nibbles before Thanksgiving dinner?
It's not like we won't have enough to eat….I think, it's sort of a stomach stretching ritual.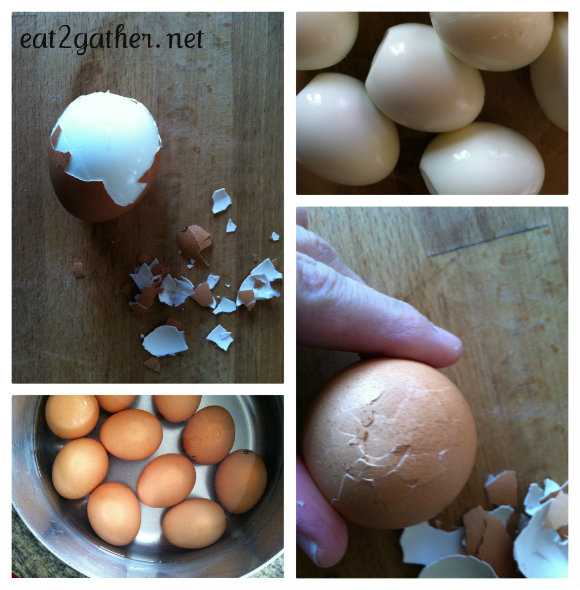 You will want to start out by hard boiling 8 large eggs.  Don't feel bad if you aren't sure how to hard boil an egg.  It's really easy.  Fill a pan half full with water, get the water boiling, carefully lower the eggs into the boiling water, boil for 10 minutes, remove from heat, cover, let stand for another 10 minutes.  Drain water off eggs, and cover with freezing cold tap water, let sit for 10 minutes.  There you have it!  Works everytime!

Peel eggs, and cut them the long way, directly down their purdy little middle.  Remove the yolks into a bowl.  Add 1/4 cup minced sweet and spicy pickle (like Famous Dave's) , 1 tablespoon stoneground mustard, 1/2 cup mayonnaise, 1/8 teaspoon celery seed, 1/4 teaspoon salt, 5 turns of a  pepper mill, a dash of garlic powder, and a dash of cayenne pepper.  Using a fork smash all of this together until there are no lumps and mixture is creamy.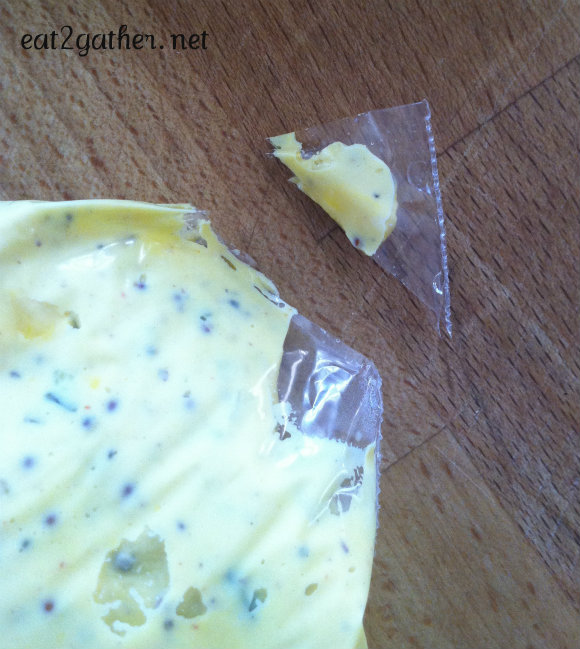 Spoon the deviled egg mixture into a Zip-loc bag, and snip one corner.  This is my favorite piping bag.  So easy and no clean up afterward, just throw it away!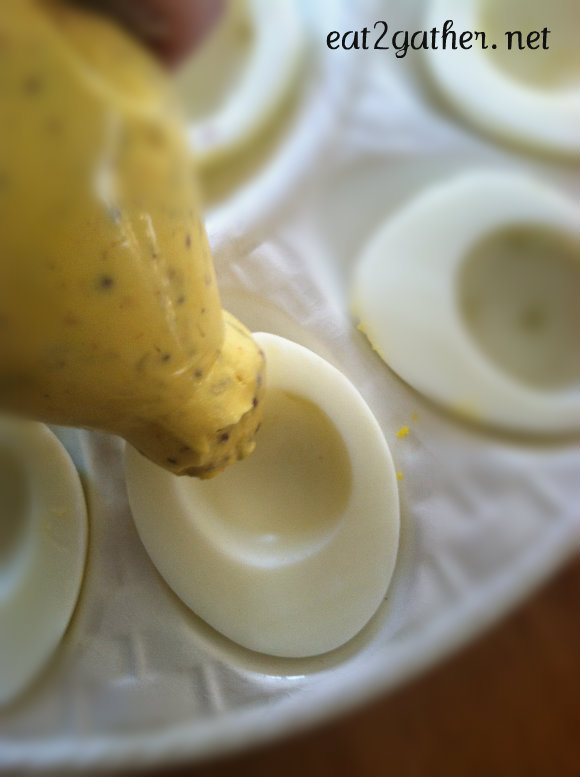 If you have a deviled egg dish place the egg halves into it, but if you don't, any plate or platter will do just fine!  Pipe the halves full of egg mixture letting it mound up.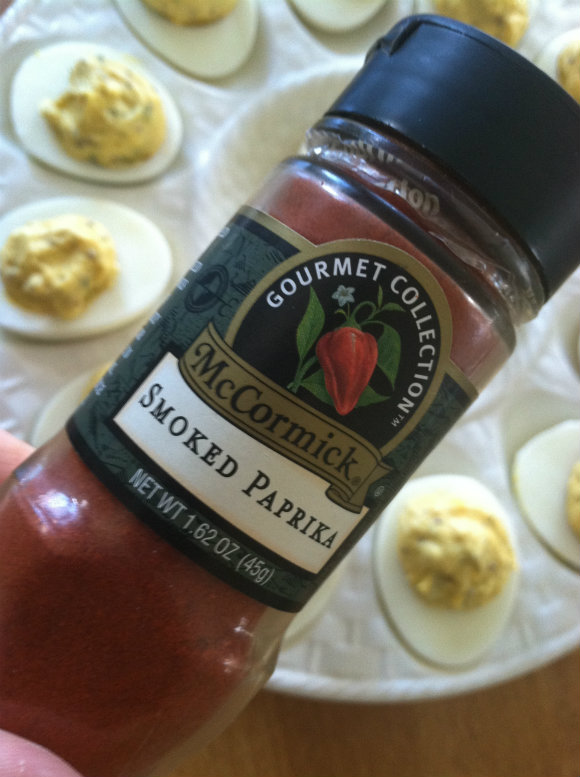 Smoked Paprika!  Such a lovely spice… I don't leave home with out it.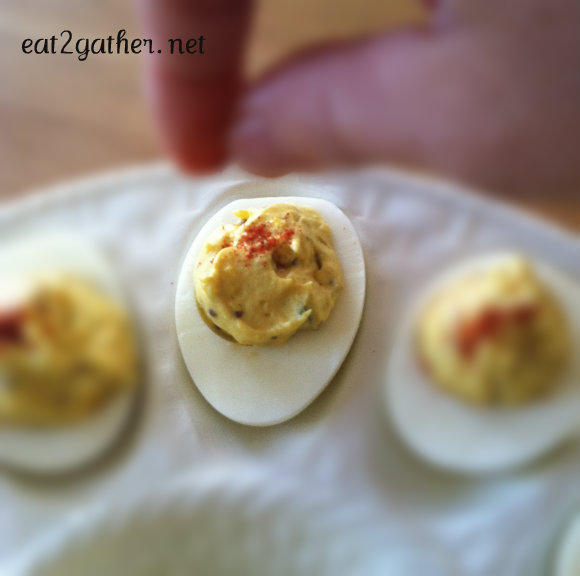 Just a pinch of paprika will do ya!  Smoked paprika not only adds that lil sumthin, sumthin, but it makes the eggs look purdy too!
So there you have it good ol' fashioned deviled eggs!
[print_this]
Deviled Eggs
makes 16
8 Eggs, hard boiled
1/4 cup chopped Sweet & Spicy Pickles
1 tablespoon Stoneground Mustard
1/2 cup Mayonnaise
1/4 teaspoon Salt
1/8 teaspoon Celery Seed
5 turns of the Pepper Mill
a dash of Garlic Powder, and Cayenne Pepper
Smoked Paprika, for garnish
Hard boil eggs. Peel eggs, and cut them in half the long way. Place yolks in a bowl. Add pickles, stoneground mustard, mayonnaise, salt, pepper, celery seed, garlic powder, and cayenne pepper. With fork mash the yolks and mix ingredients together until smooth. Spoon into a zip-loc bag, clip corner and pipe deviled egg filling into egg halves. Garnish each egg with a pinch of smoked paprika.
Note: If you don't have smoked paprika on hand regular paprika will do, or a crack of fresh ground pepper is nice also!
[/print_this]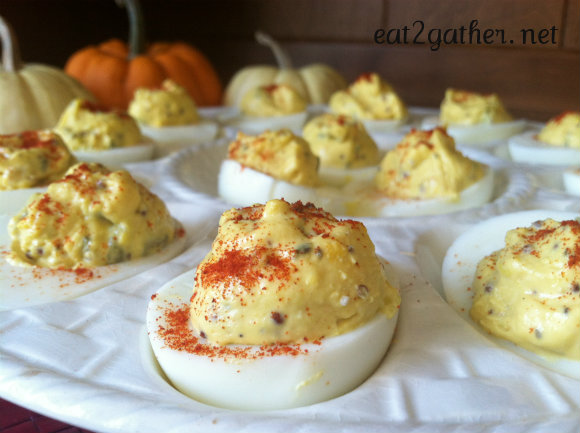 You can not go wrong with perfectly simple Deviled Eggs!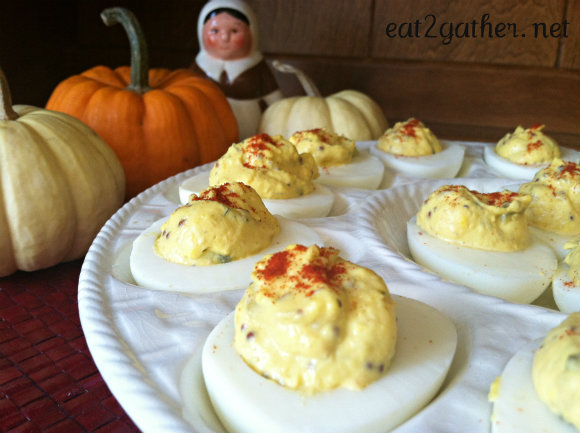 Look who photo bombed my egg picture shoot!  Rascally Pilgrims….I wonder what they're going to be up to this year.
Are you thinking about Thanksgiving Dinner already?  Tomorrow I'll show you some of the loveliness I found to inspire your Thanksgiving Feast!  And you can link-up  your families favorites too!