Meals 4 Sharing Fridays: Teacher Appreciation
It's teacher appreciation week.
I realize maybe I should have put this M4S up last week, but I was torn over wanting to share food with a Mexican flare for Cinco de Mayo, and really any time is a good time to show teachers appreciation right?!
Meals 4 Sharing Fridays is about sharing how you love others through the gift of food.   
LINK UP your favorite RECIPES and IDEAS below!
The elementary school that my kids go to has a wonder mom, that four times a year, organizes a lunch for our teachers.  Which is no small task, she makes sure the teachers are fed like Kings and Queens.  The teachers look so forward to these luncheons. It shows them our appreciation, it encourages them,  and they take time to go down and eat together, when otherwise they may just skip lunch and do work.
It starts with the volunteer handbook at the beginning of the year, people can sign up to help with the teachers luncheons and then Diane plugs all of their names in to  Volunteer Spot.  Volunteer Spot is a great resource for organizing team meals, or any large scale menu.   Here are a few of the food themes she has done: baked potato bar, soups with breads, pasta,  mexican taco bar, salads bar, chili dogs with all the fixings.  And there is always beverages and lots and lots of goodies.
If your school doesn't have a truck load of parent support like mine does…..it doesn't have to be a whole luncheon.  How about baking some of those cinnamon rolls and bringing them to the teachers break room before school.  Call another mom and ask her to bake some too. Enlist others to be a blessings.
How do the parents and children at your school show appreciation for their teachers?
Teachers luncheons build a sense of community. We are all seeking community in the this fast paced lifestyle. We certainly owe it to our kids to show them we care about their teachers by finding ways to  bless and encourage  them.
Today I am doing my very small part by making this salad for the teachers.  It's one of my favorites!  I hope they like it too.  The rest of the meal planned for them will consist of more salads, a baked potato bar, and goodies.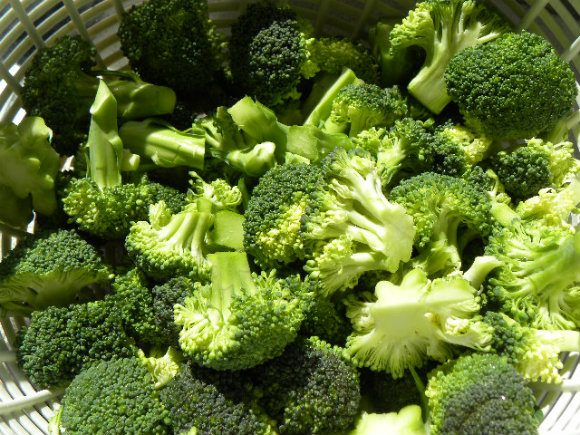 I start out by trimming, and washing 3 heads of Broccoli.  Cut the broccoli into bite sized pieces.  Set in colander to let water drain off, or lay broccoli out on paper towels.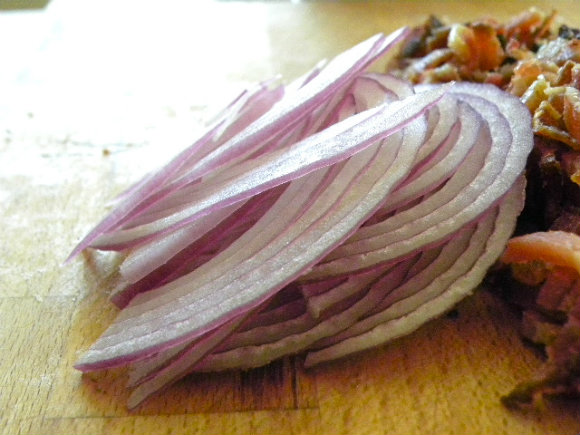 Next I slice 1/2 of a medium Red Onion thin, approximately 1 cup.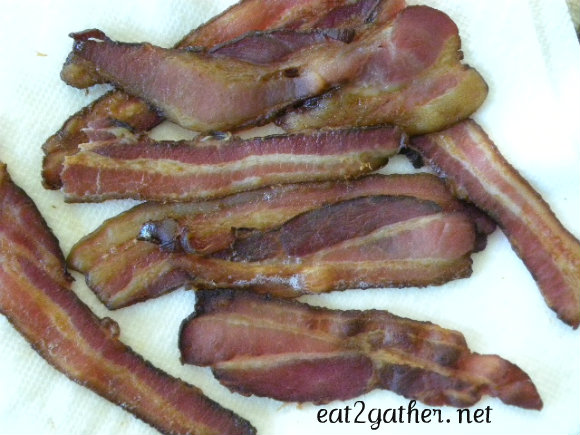 Fry  1 pound of Bacon, you really only need 8 slices, but hey! a girl needs a snack now and then!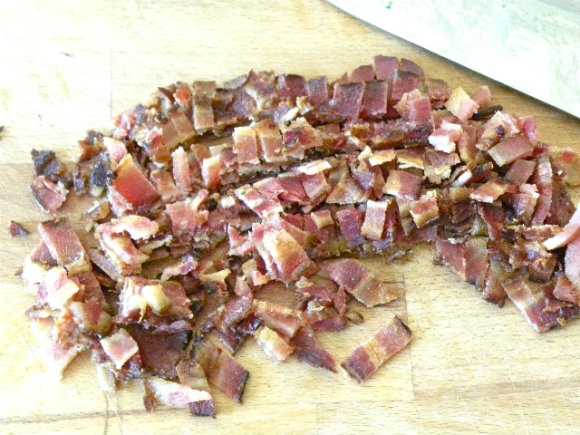 Chop bacon up into small pieces.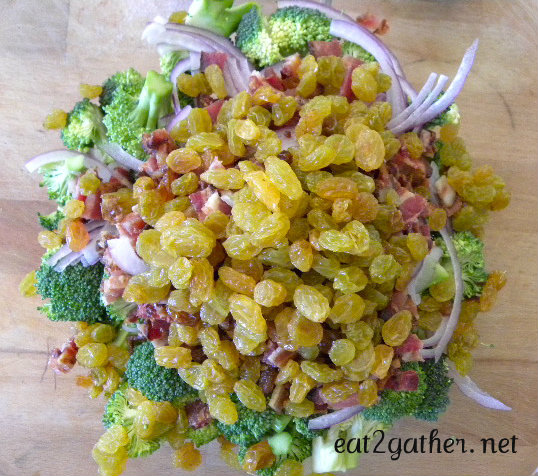 Combine broccoli, bacon, red onion, and 1 cup Golden Raisins in a bowl.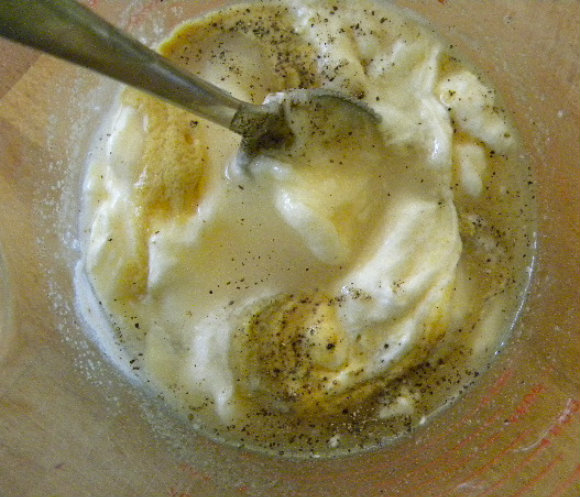 In a separate bowl combine the ingredients for the dressing.  1 cup Mayonnaise, 1/4 cup Sugar, 2 tablespoons Vinegar, 1 heaping tablespoon Dijon Mustard, and salt and pepper to taste whisk until smooth, pour over salad combine, cover and refrigerate for 1 hour before serving.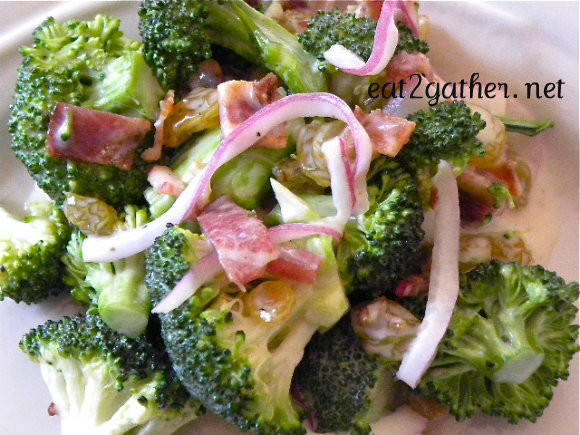 I could eat this salad everyday!  It's crunchy, sweet, and salty from the bacon.  I love if there are leftovers because it's one of my favorite lunches, just for meeee!
[print_this]
Broccoli Salad
3 bunches of Broccoli, cleaned and cut into bite sized pieces (approximately 5 cups)
8 slices of Bacon, fried and chopped small
1 cup Red Onion, sliced thin
1 cup Golden Raisins
1 cup Mayonnaise
1/4 cup Sugar
3 tablespoons Vinegar (white or cider)
1 heaping tablespoon Dijon Mustard, more if you desire
salt and pepper to taste
Clean and wash broccoli, pat dry or let drain, cut into bite sized pieces. Combine broccoli, onion, chopped bacon, and raisins in serving bowl. In separate bowl combine mayonnaise, sugar, vinegar, and dijon mustard whisk to combine, pour dressing over vegi's combine, cover, and refrigerate for 1 hour before serving.
[/print_this]
So many of you were pinning and posting all the creative ways you were appreciating teachers this week, I thought I'd share a few!
Fun Relaxation Beach Bundle can be found here.
Lisa Storms has some incredible teacher gift ideas on her site! Check them out here.  Very clever!
Sheek Shindigs has some super cute teacher gift ideas here. 
Take Them a Meal's pinterest boards are also a great resource.
Oh if you are a Cake Pop maker, which I am not, I'm a cake pop eater, but any way these Cake Pops from Bakerella would be super cute at as a Teacher Gift or at a Teachers Luncheon.
So now it's time to  SHARE  your FAVORITE RECIPES!  Here's how……
1. Click on the Add link below then Add the permalink from your post.  Please do not link your websites homepage.
2. Select the photo you wish to link to your site and include the title of what you are sharing!
3. Create a link to Eat2gather.net within your post, to share all the great recipes with your readers.  Please feel free to grab my  blog button from the sidebar.  If you share the button on your sidebar or in your post I will hug you and kiss you!!  Well not literally, but maybe if I happen to run into you. (wink)