It took me nearly 17 years to get this pie right…Oh Golly!  What am I saying…don't let me scare you away from trying your hand at Butterscotch Pie.  You see I'm a little antsy, and spazy, sometimes.  I tend to have 20 things going at the same time, all in different directions.  Usually when I have a problem with a recipe it's because I rushed through it, or got distracted by something else.  That was my exact prob-lemO with Butterscotch Pie.
Butterscotch Soup in a Crust with a floating Meringue…would have been a better description of my previous efforts at Butterscotch Pie.
I had the added pressure of it being my Kenny's absolute favorite pie. UGH!
AND my Mom is the Queen of Cream Pies, so that was an added pressure cop out.  I just always thought it was not my thing, cream pie making…but I kept trying.  Now I want to share with you the cream of my efforts!
So have NO FEAR!  You too can make a your honey a Butterscotch Pie….no prob-lemO.
Are you ready?  It really isn't hard you just need a little time and no distractions.  Seriously, having time and no distractions is a beautiful thing, it's healthy, making a Butterscotch Pie is good for your health! It will calm you and lower your blood pressure.  It's a proven medical fact that people who make cream pies live longer. My husband is a physician I can make crack pot claims like that, because you know I too am a physician by osmosis.
Did I say that this pie is buttery, rich, creamy, and amazingly scrumptious?  Good Heavens how could I forget to mention those minor details?  It is well worth the effort.
Baby steps.…here we go….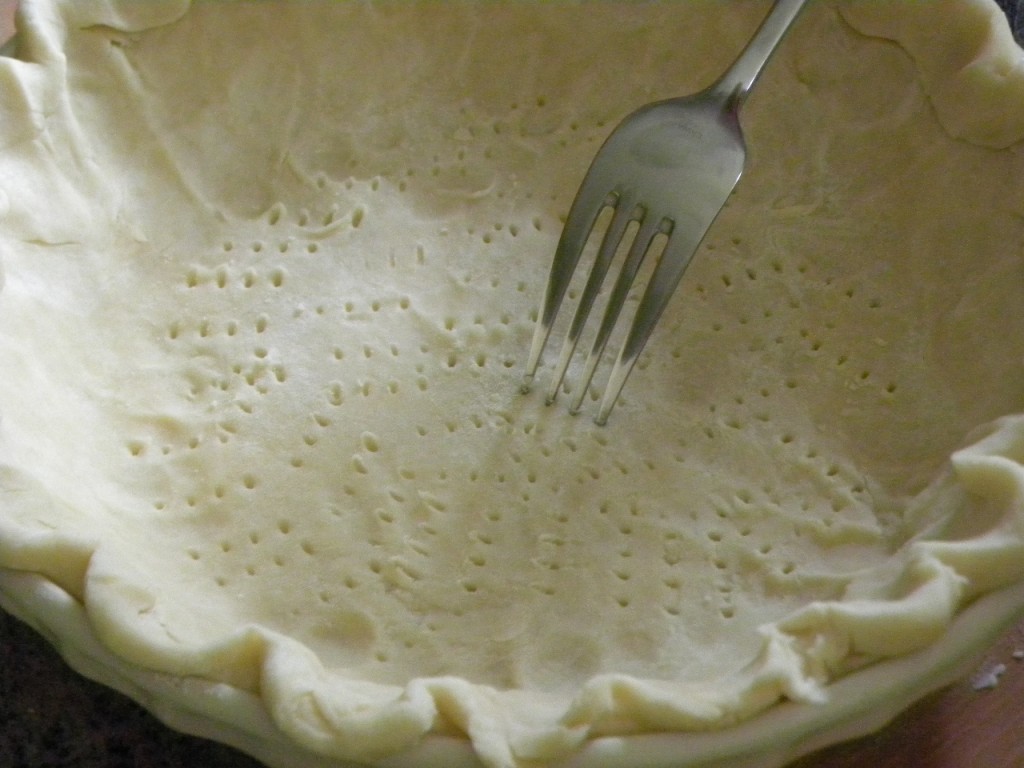 First you will want to make a pie shell so you have a home for your cream filling. If you want a refresher on Pie Crust you can go here, or here.  Or you could buy one.  But I say if you're going to make the effort to make pie…go all out baby, dive in head first with all you got….make your own crust.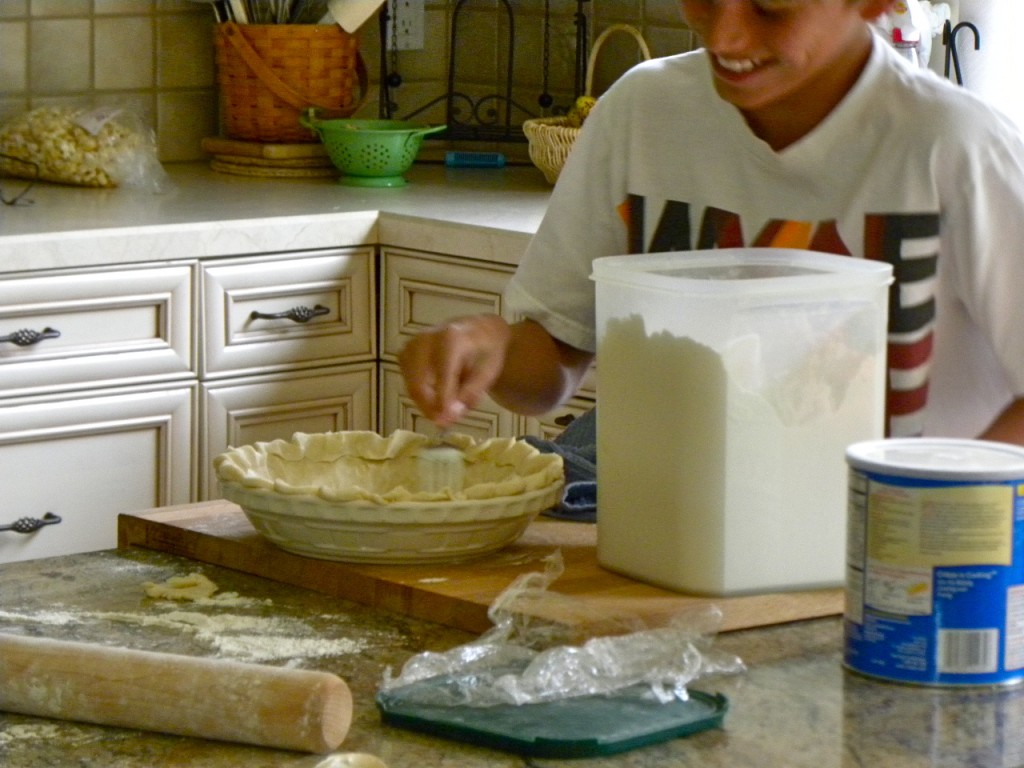 I enlisted my 3rd child to help with the hole poking. He did so happily as you can see. He is such a happy camper. I just love that kid. I wouldn't trade him for all the pies in the world!
After you get your pie shell baked and ready then you can start on the really good stuff, the filling.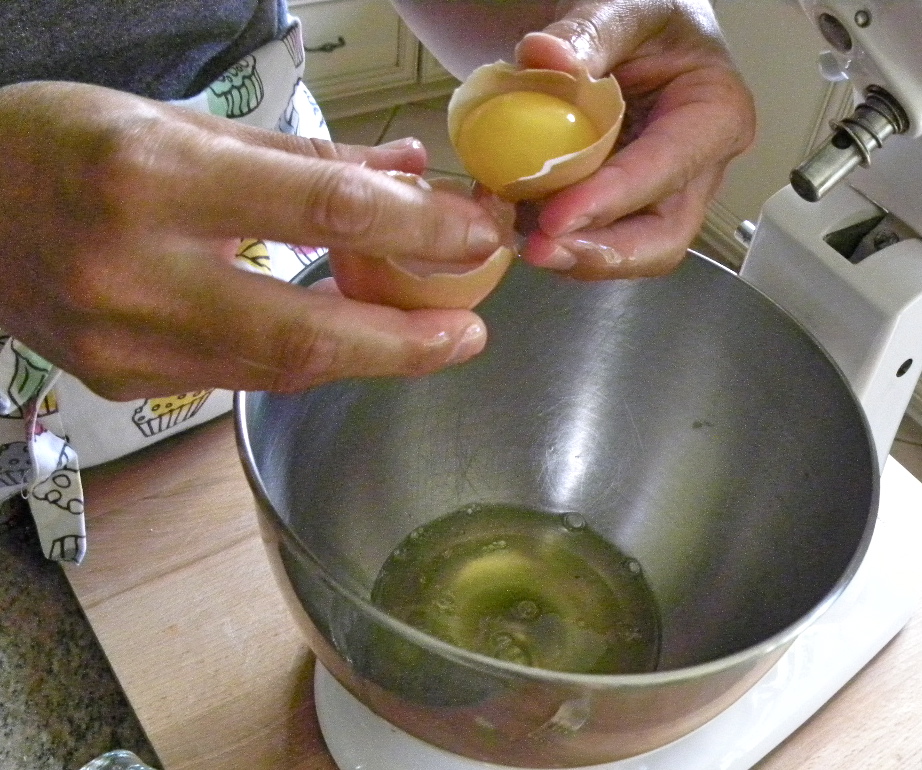 Separate 5 eggs, putting the whites in a mixing bowl to be used later for the meringue.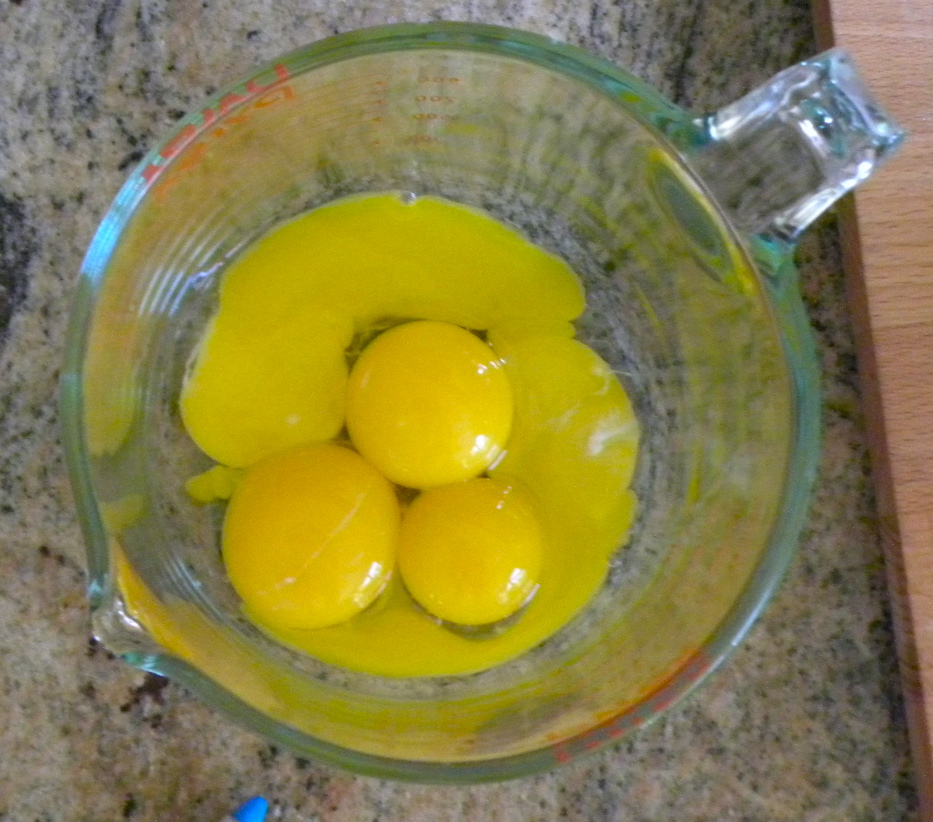 The yolks can be plopped in a measuring cup or some sort of bowl that you can pour easily from will work best.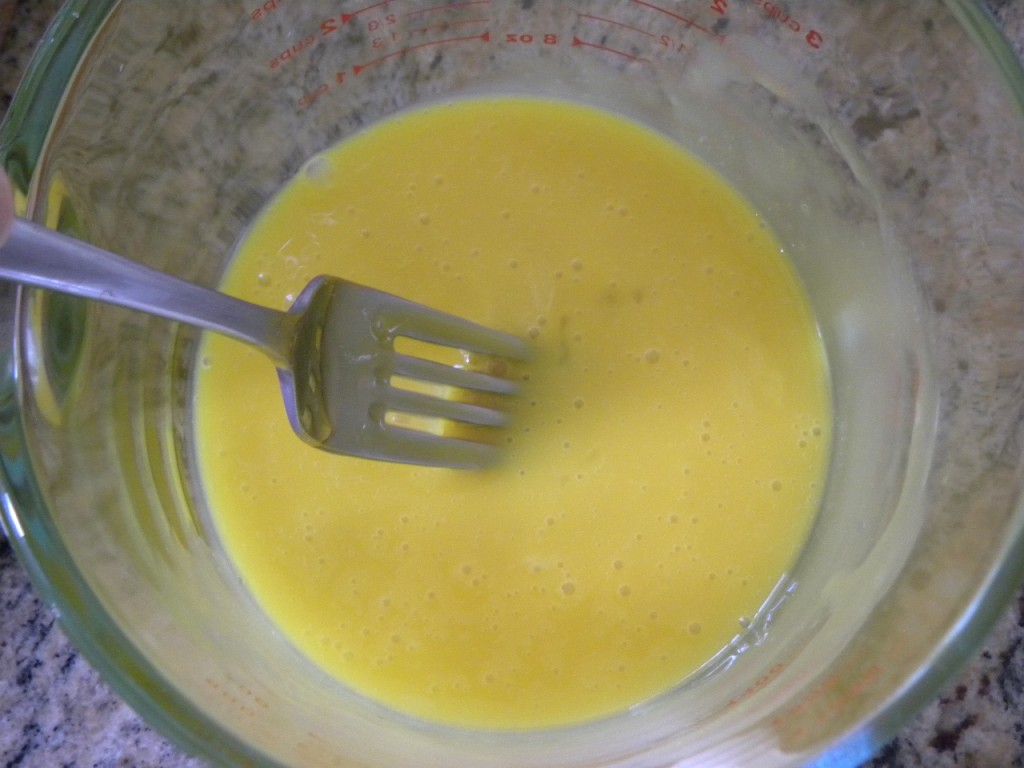 Give the eggs a whisk…..now you can get out a sauce pan and move over to your stove top,  leave these two alone for a minute….to mourn their separation.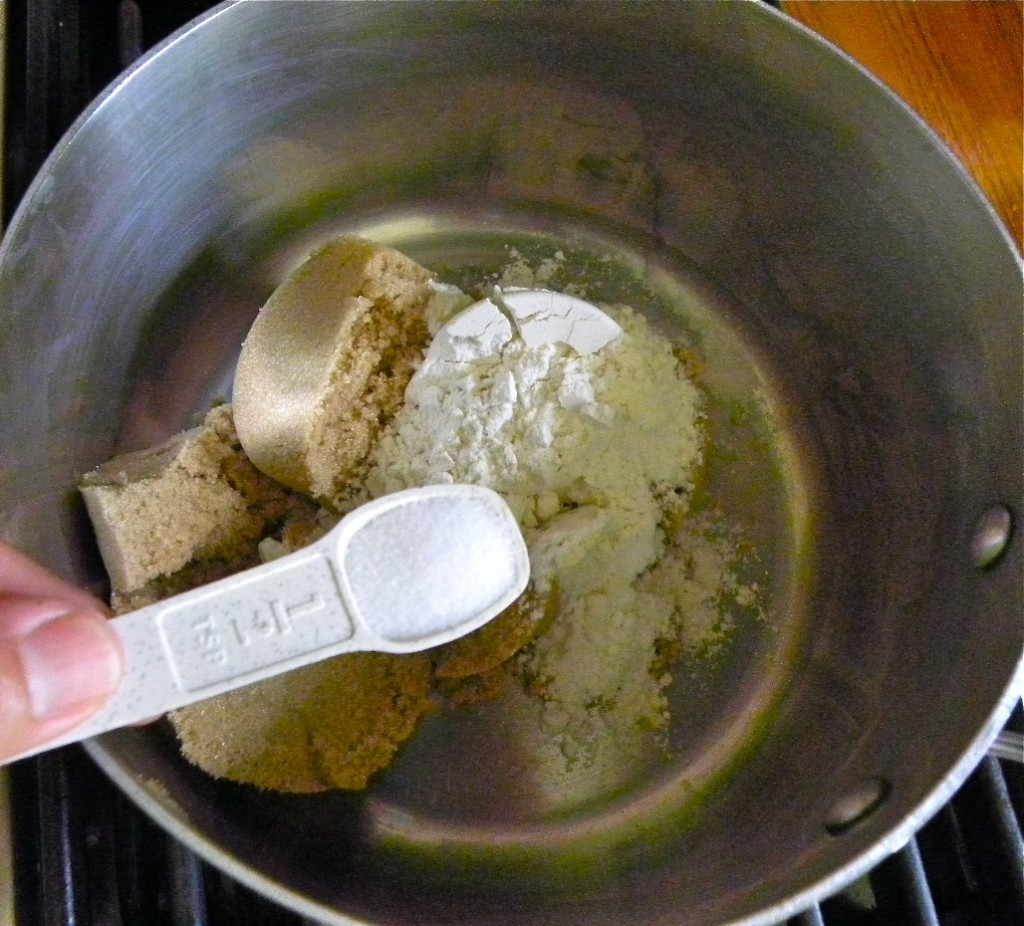 Add 1 1/2 cups Brown Sugar, 1/3 cup Flour, and 1/2 teaspoon salt to the pan.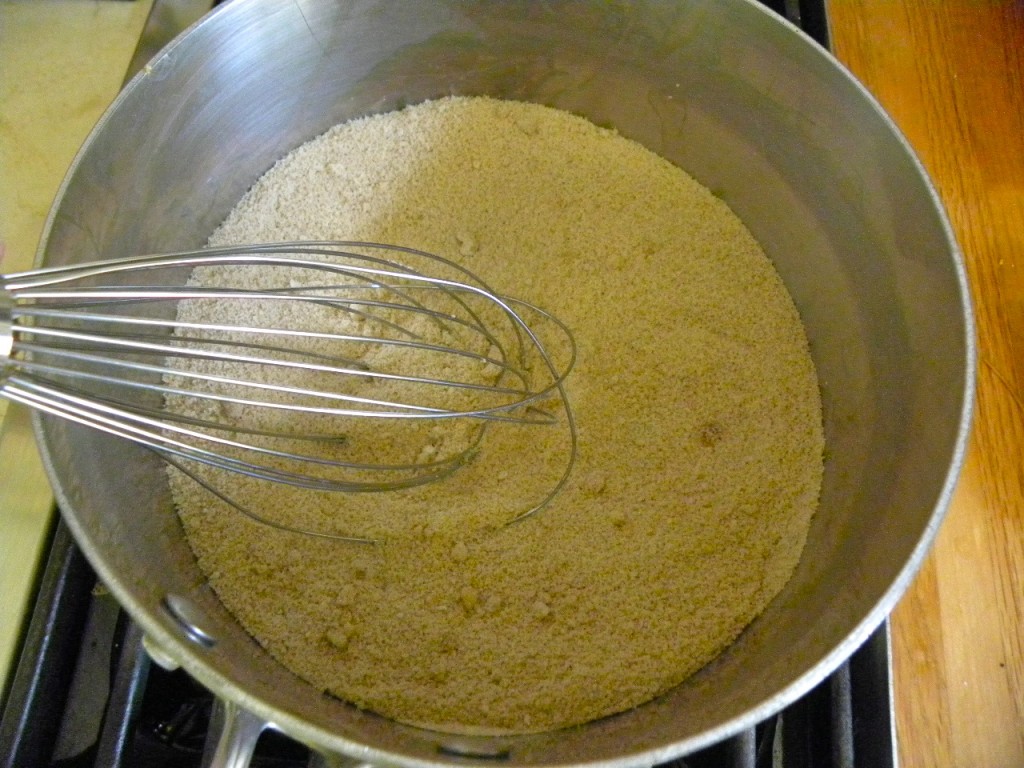 Using a whisk combine the ingredients breaking up any large clumps of brown sugar with fingers if need be.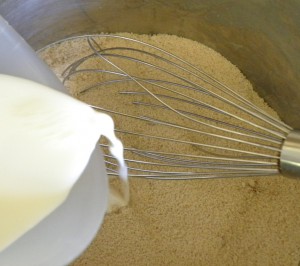 Measure out 2 1/4 cups Whole Milk. You must use the fat stuff.  Skim will not cut it, if you are going to make cream pie, MAKE CREAM PIE for goodness sakes!        (Ooops excuse me, bang..ooOUCH…I just tripped getting off my cream pie soap box.)  So now as I was saying measure out 2 1/4 cups whole milk, turn the heat on medium high, and slowly pour in the milk as you whisk to combine. Keep whisking, don't stop whisking. You may need to turn down heat to medium depending on your stove.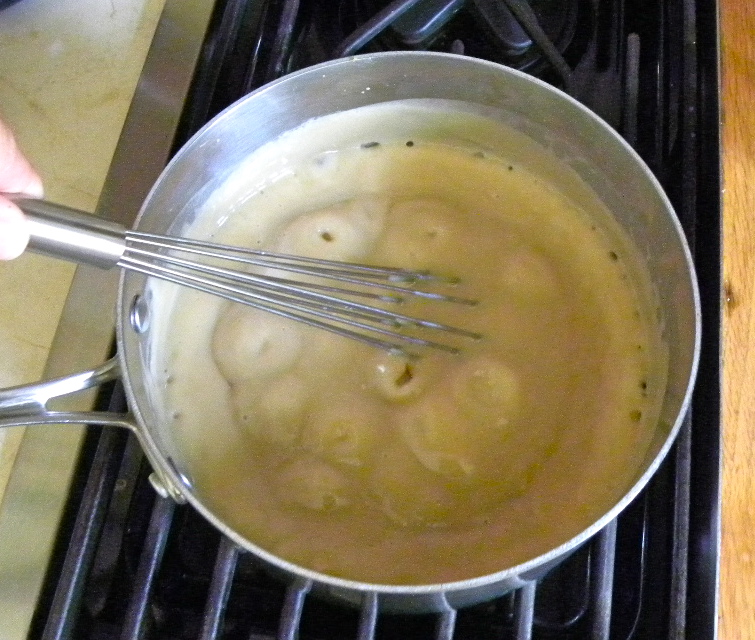 See the bubbles…keep whisking…it's getting thick, smooth and bubbly.  Cook at a low boil for 2 minutes.  Now remember the egg yolks you left alone to ponder their recent separation…go fetch them.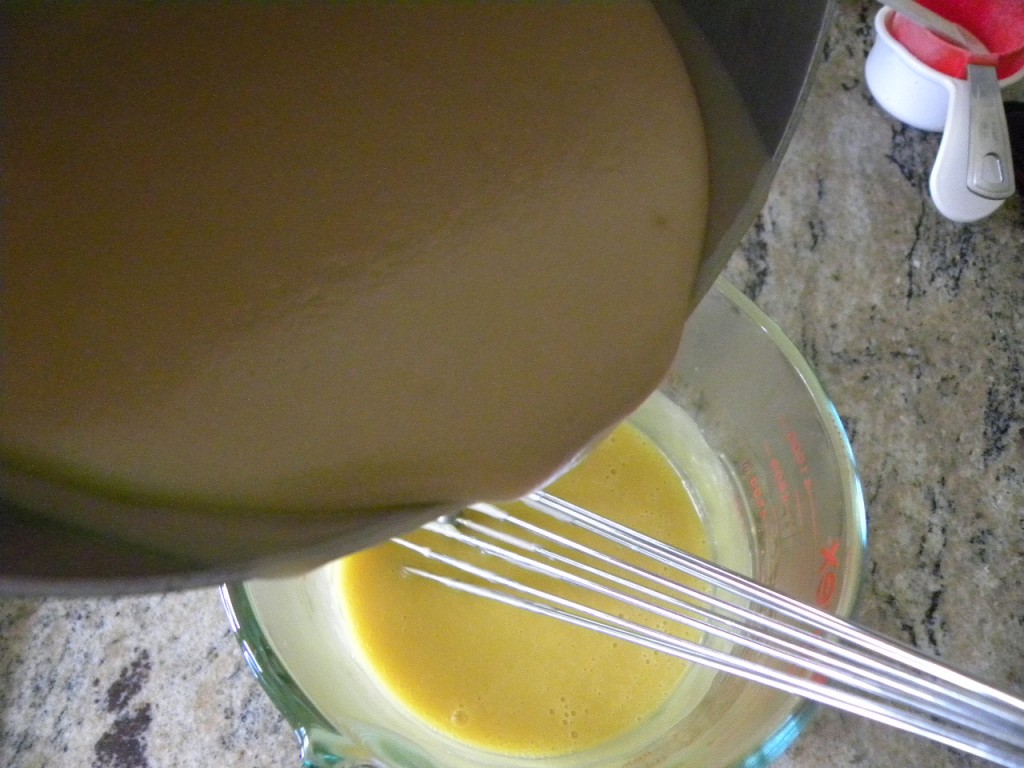 You might want to ask one of your kiddos to help you with this step, because it involves a few hands. This is called tempering. You need to temper the egg yolks with a little bit of the hot pudding, because if you simply poured the egg yolks into the pudding you would have scrambled eggs in your butterscotch pie filling…EWW..not purdy.  Pour a little bit of pudding in the eggs yolk, while at the same time whisking vigorously (this is where extra hands come in handy, unless you can be speedy quick) pour a little more still whisking vigorously.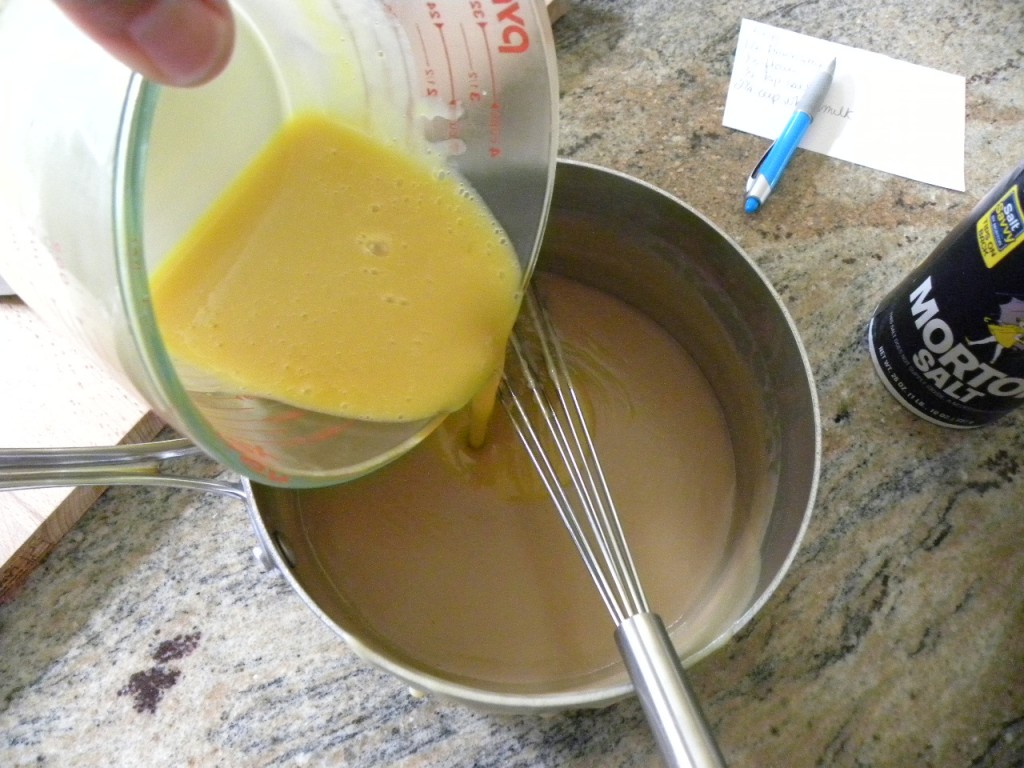 NOW pour the tempered egg yolks in to the cream pie filling, whisking the whole while.   Return the filling back to medium heat on your stove top.  Cook at a low boil for another 2 minutes.  Don't stop stirring, you don't want your filling to burn on the bottom….this was one of my old mistakes.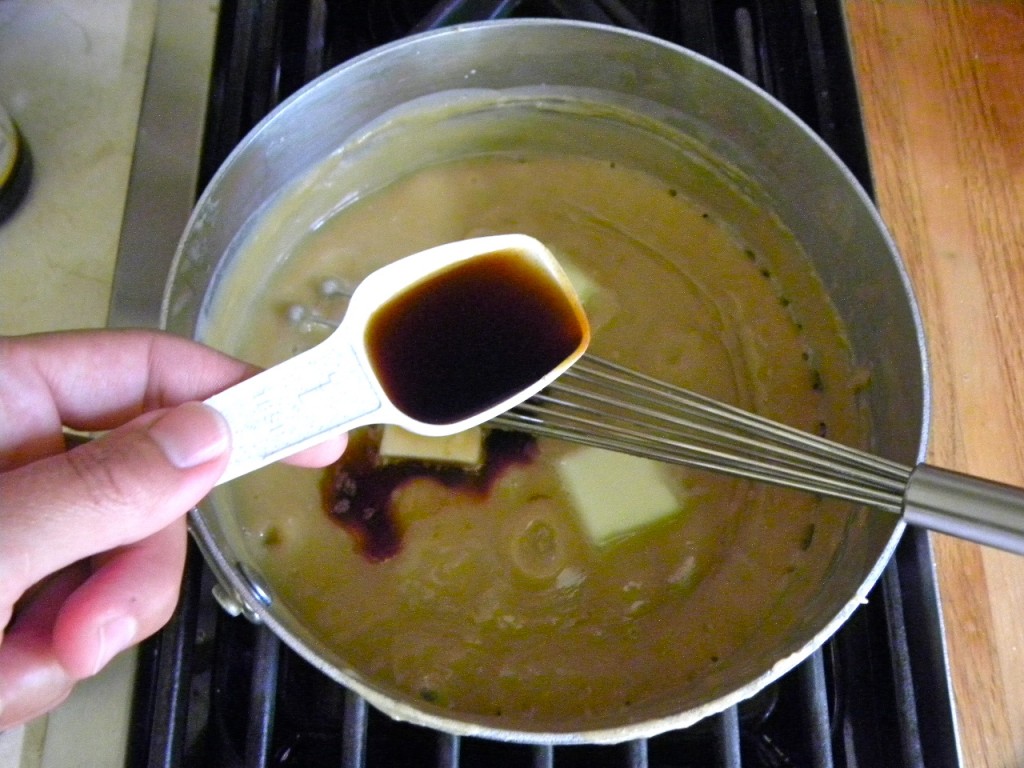 Now it's time to add 3 tablespoons Butter, room tempurature, and 1 tablespoon Vanilla. Return to your vigorous whisking exercise,  cook for 3 more minutes over medium heat.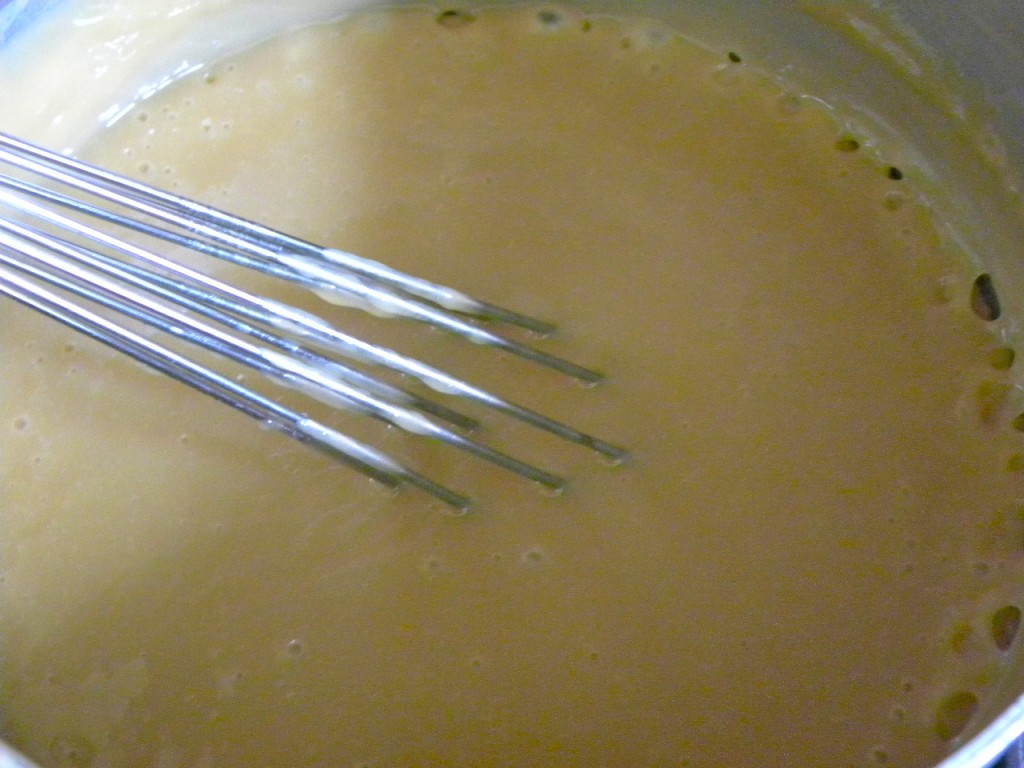 Filling should be bubbling around the edges, thick, like pudding…which is what it really is…butterscotch pudding.  Remove from heat.  Now it's time to revisit your egg whites.
Meringue 101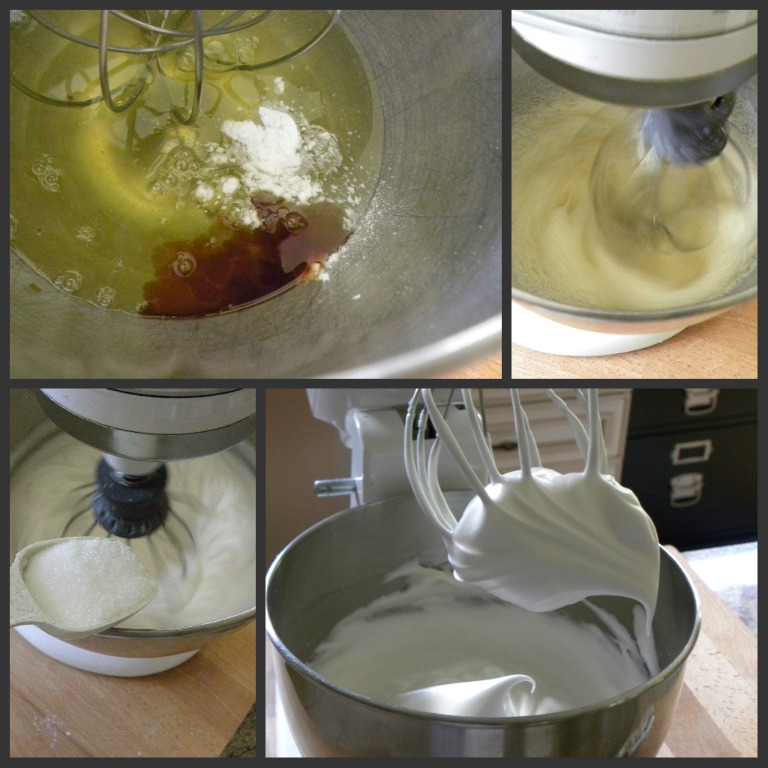 I am by no means a master meringue maker, but you don't need to be….it's actually pretty easy.  It can be done with four simple ingredients. Egg Whites, Cream of Tartar, Vanilla, and Sugar.  I have a stand-up mixer, but if you don't no biggy think of it as part of your work out regimen.
1.  Add an extra egg white to your bowl.  Discard the yolk.  So now you have 6 egg whites at room temperature.
2. Add 1 teaspoon vanilla, 1/2 teaspoon cream of tartar to the whites.
3. Mix at high speed, when the whites start looking foamy start to gradually add in the 6 tablespoons of sugar.
4 Continue to beat egg whites on high speed until they form stiff, glossy peaks.  This may take 5-10 minutes.
Now it's time to put it all together.  Preheat your oven to 350 degrees.

Pour the still hot/warm filling in pre-baked pie shell.  Spatula licking is encouraged in our home!
Now its time to pile the meringue HIGH.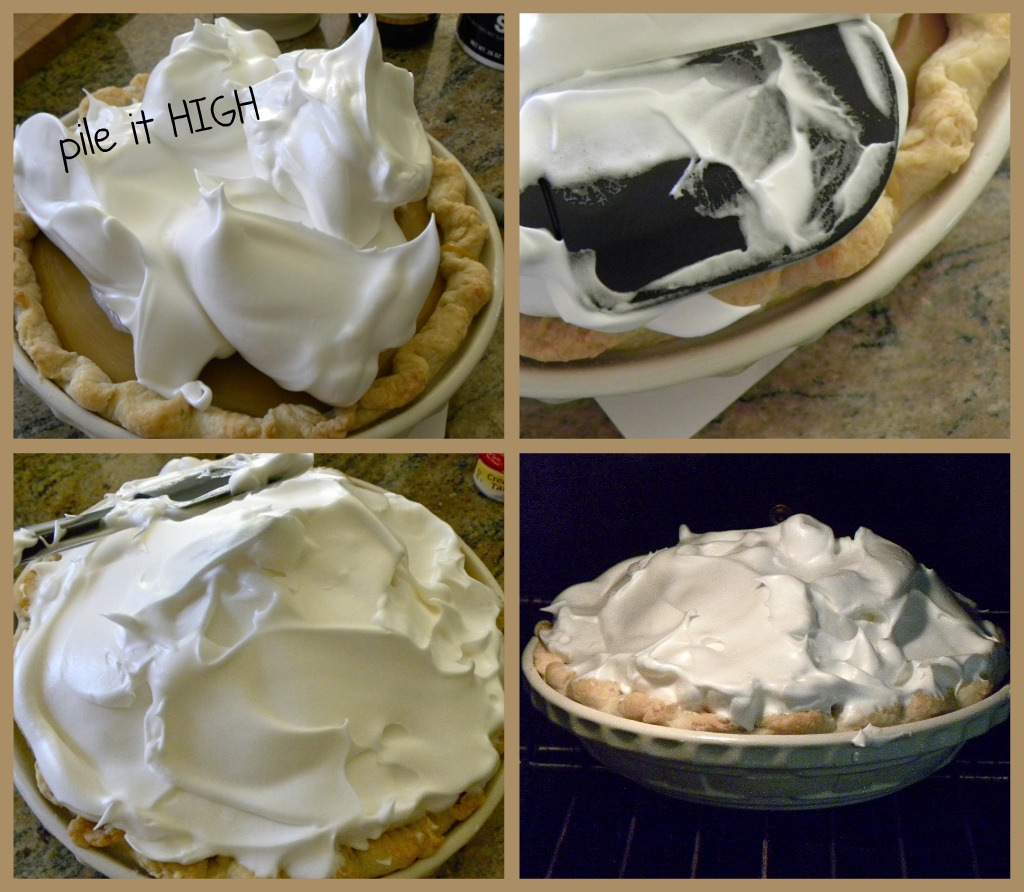 Pile the meringue on top of the hot filling.  Gently smooth the meringue to all the edges, sealing the meringue to the crust.  No pie filling should be visible.  Pop this baby in a 350 degree oven for 15-20 minutes.  Or until your pie looks like this……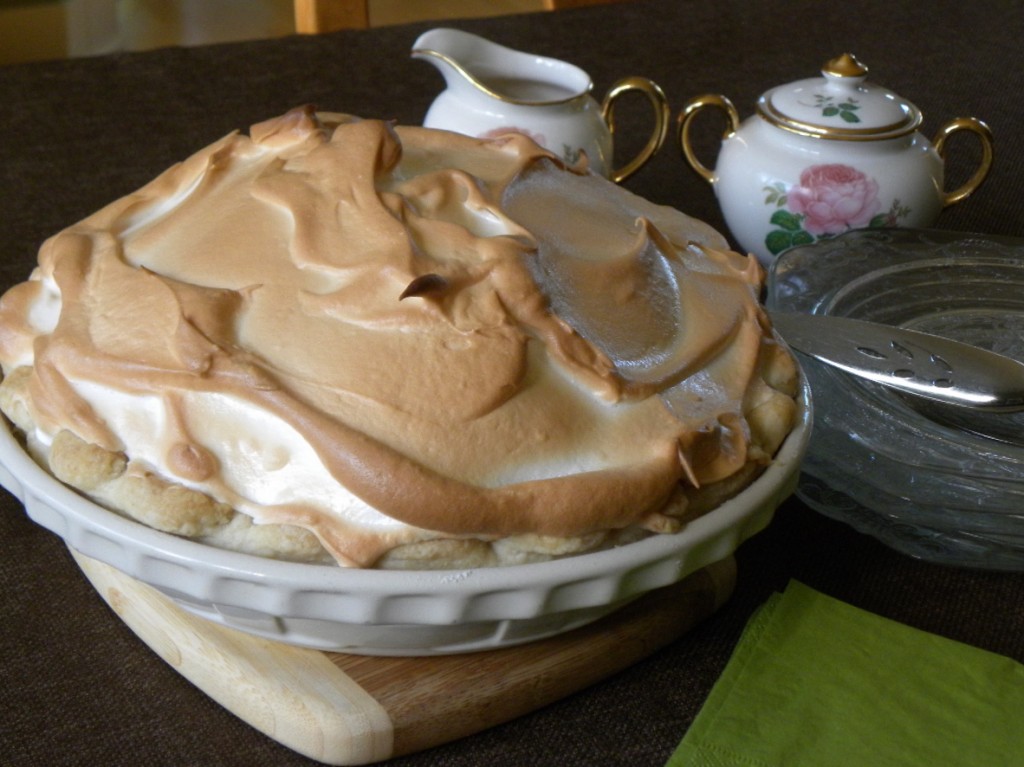 There you have it!  Let the pie cool completely before serving.  If you cut into your pie while hot you could have a runny mess, and if you try to speed up the cooling process by placing your pie in the refrigerator the condensation from the hot pie and the cold refrigerator will do nasty things to your purdy pie.  Pie Advice: be patient with your cream pie, give it a good 2-3 hours to cool before cutting or placing in refrigerator.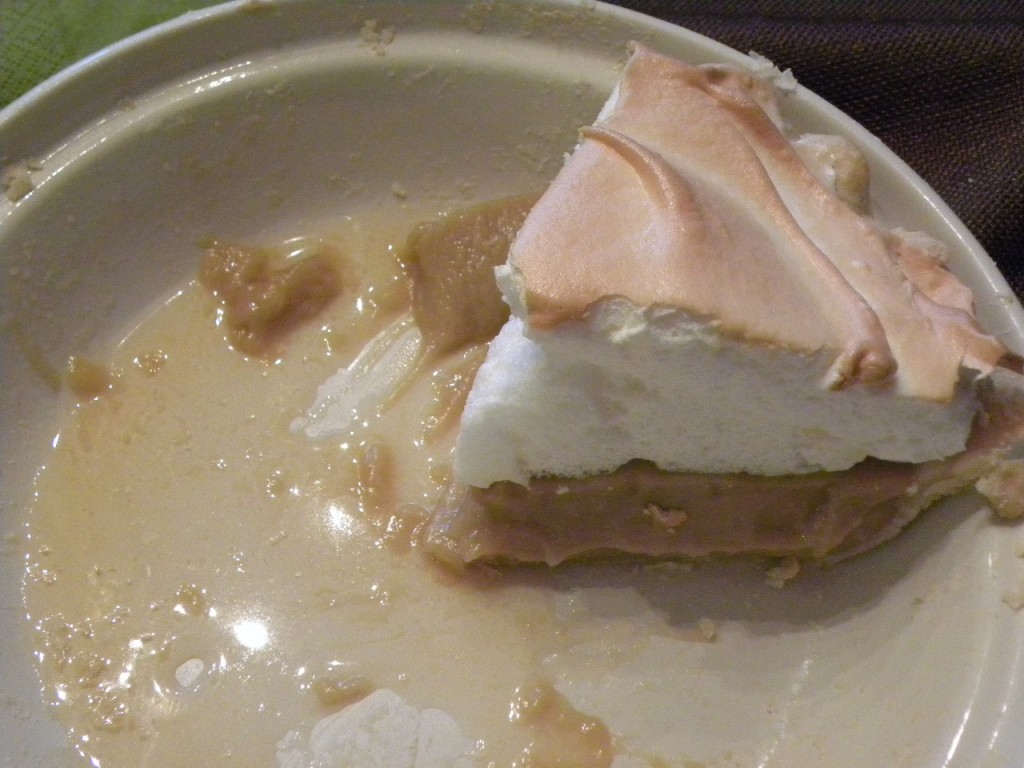 Once sliced this pie did a vanishing act….two seconds later this piece was gobbled up.  I didn't even get the chance to take a proper picture…Sheesh! Back off people it's just pie!  If you do happen to have any leftovers store them in the refrigerator!
Cheers to Pie!
[print_this]
Butterscotch Cream Pie
1 9″ prebaked Pie Crust
5 Eggs separated + 1 extra Egg White for Meringue
1 1/2 cups Brown Sugar
1/3 cup Flour
1/2 teaspoon salt
2 1/4 cups Whole Milk
1 tablespoon Vanilla extract
3 tablespoon Butter, room temperature
Meringue
6 Egg whites, room temperature
1 teaspoon Vanilla extract
1/2 teaspoon Cream of Tartar
6 tablespoons granulated Sugar
Preheat oven to 350 degrees.
Prebake one 9 inch pie crust.  Separate 5 eggs.  Whisk egg yolks.  In medium sauce pan add brown sugar, flour, and salt, combine so that there are no lumps.  Turn stove top on medium-high heat gradually add in milk whisking continuously.  Bring pie filling to a low bowl, the entire time stirring.  Cook at a low bowl for 2 minutes.  Temper eggs yolks with filling, add a little bit to the yolks while whisking yolks, then add tempered egg yolks back in to pie filling, never stopping whisking.  Bring back up to low boil for 2 more minutes, then add room temperature butter, and vanilla, whisk until incorporated, continue to let cook at low boil for another 2-5 minutes or until pudding is thick.  Remove from heat to prepare meringue.
Meringue separate one more egg, discard yolk, add white to the other 5.  Add in vanilla and cream of tartar, beat on high speed.  When whites start to froth gradually add in sugar, slowly one tablespoon at a time.  When whites form stiff, glossy peaks the meringue is finished.  This could take 5-10 minutes.
Pour hot/warm pie filling in prebaked crust, pile the meringue on to p of filling, carefully smooth meringue to the edge of the crust to form a seal, no pie filling should be showing.  Place pie in oven and bake at 350 degrees for 15-20 minutes or until meringue is golden.
Let pie cool completely before cutting, store any leftover in a refrigerator.
Enjoy!
[/print_this]