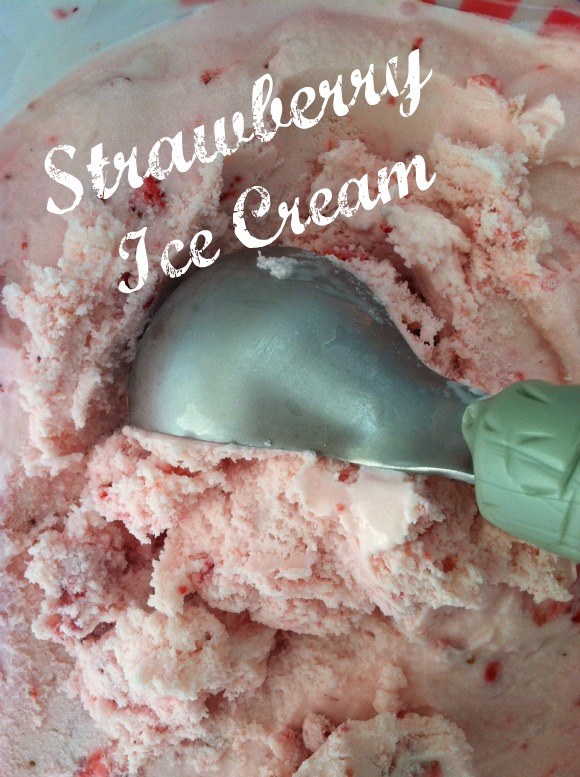 This strawberry ice cream recipe is so fresh and creamy, it tastes and smells like summer!  The recipe only has 4 ingredients.  You will need an ice cream maker.  If you don't have an ice cream maker I'm sure someone you know does…go borrow it!
Did you just lick the screen?
Seriously….
Get a cone!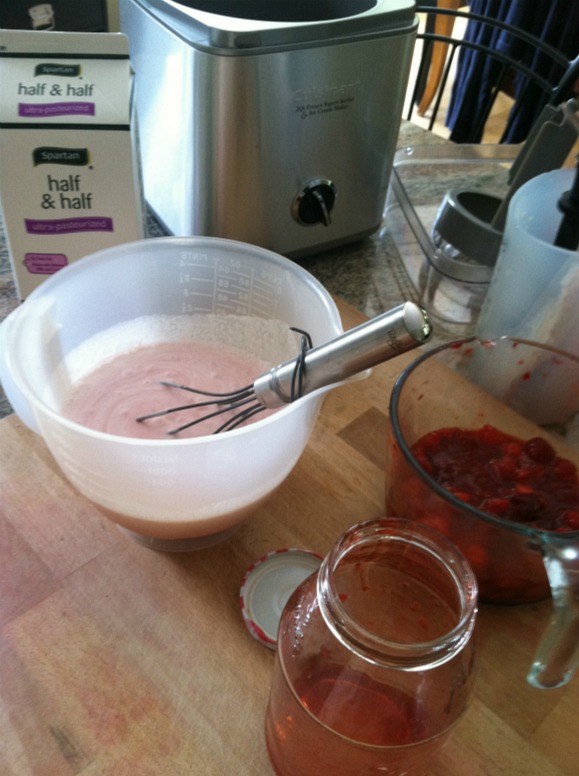 This is it. Heavy whipping cream, half and half, strawberry jam, and fresh strawberries.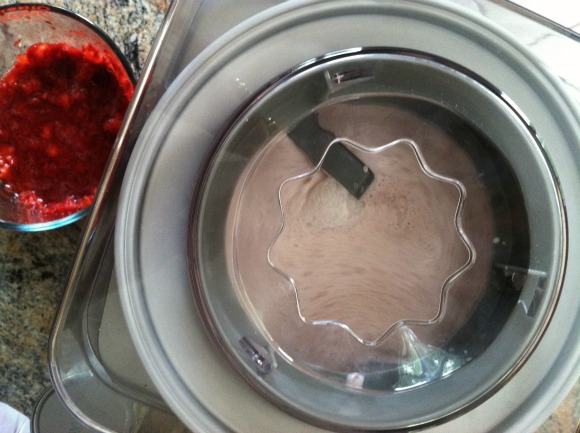 Pour the mixture in the ice cream maker, and let it do its thing.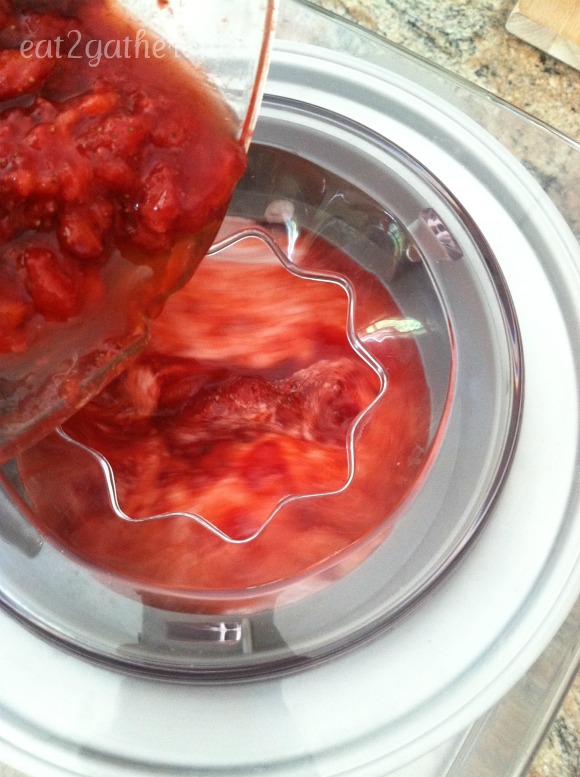 When the ice cream starts to thicken, about 30 minutes in to the churning process, add in fresh smashed berries.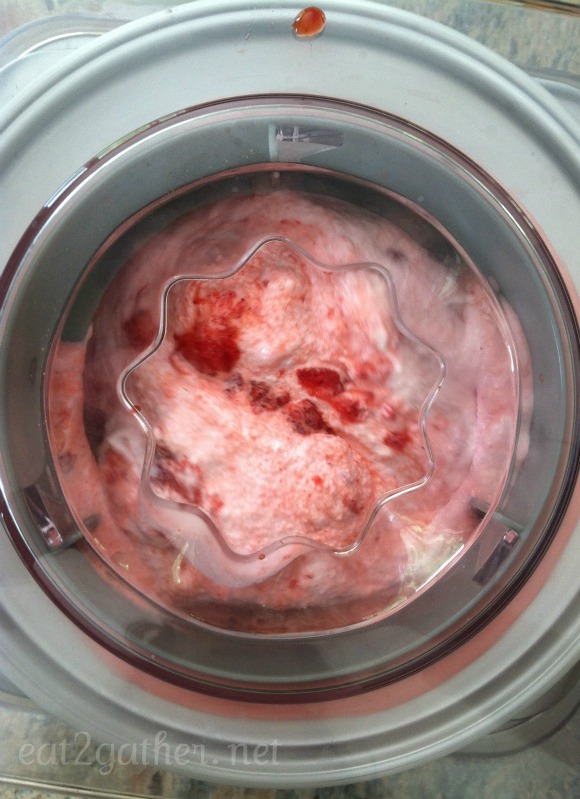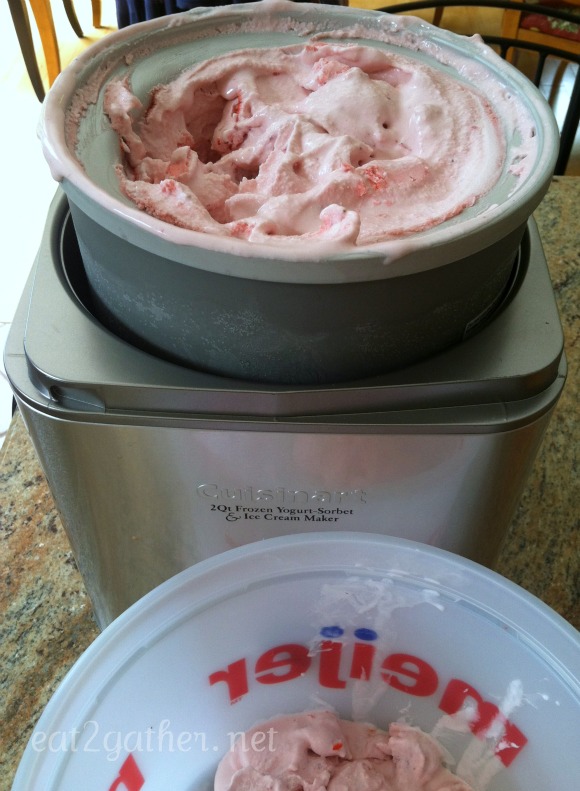 My family loves ice cream shakes, I make them nearly every night.   It's a bit more cost effective to purchase the ice cream this way, because it takes so much ice cream to make shakes.  The containers are perfect for storing homemade ice cream! And for picking the berries to make it!  I have to admit I lost control of this ice cream, it started to rise up out of the container, and over the edges….no biggy.  More ice cream for me to lick from the paddle!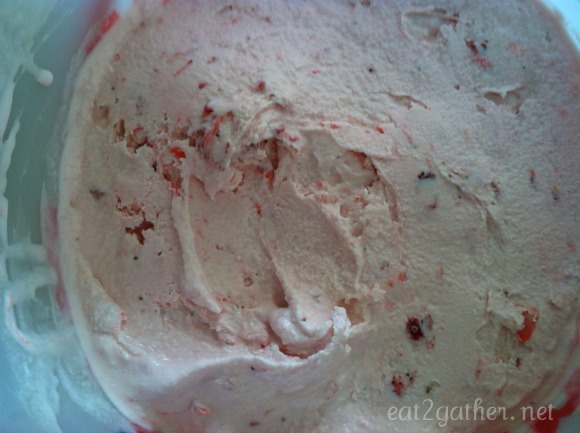 Do I really need to say anything about this? Feast your eyes….
Cream and fresh strawberries.  Done.  Drool. Perfection.  It's summer in a bowl.  Scoop it over a warm brownie, let it melt over the brownie so you have strawberry brownie soup.  That's comfort food people.

[print_this]
Easy Strawberry Ice Cream
makes 1 gallon
2 cups Heavy Whipping Cream
2 cups Half and Half
1 1/2 cups Strawberry Jam (I used my homemade, but Smuckers works too!)
2 cups smashed unsweetened Strawberries
Whisk together heavy cream, half and half, and strawberry jam until jam is fully incorporated. Pour in to ice cream maker and freeze mixture according to your ice cream makers instructions. When ice cream starts to thicken, after about 30 minutes, add fresh smashed strawberries to the mixture, let ice cream maker churn and finish freezing.
Serve immediately (it will be soft, but sometimes it's hard to wait) or transfer ice cream to a freezer-safe container and allow it to harden for several hours.
Enjoy!
[/print_this]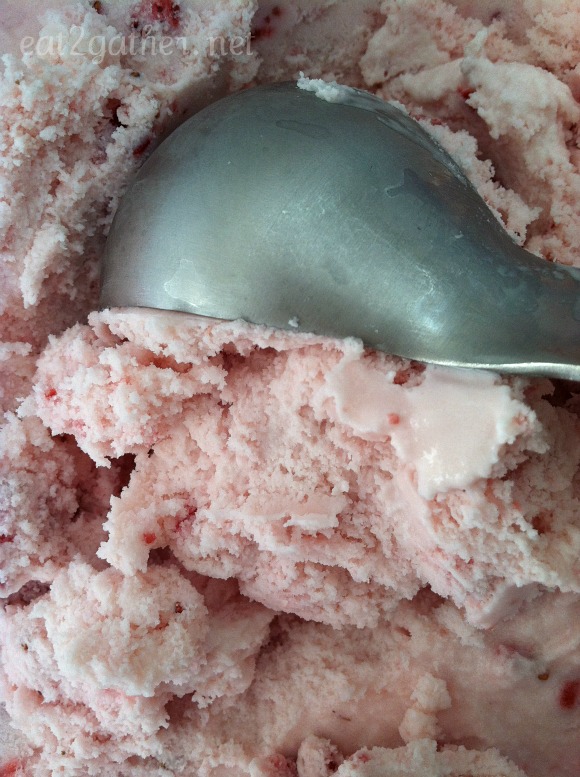 Scoop-er-up!!  You are so welcome!  No problem, anytime!  This is what I am here for…….here to serve you with easy deliciousness!
I realize this ice cream is lacking the egg step (custard), which most ice cream recipes have, this step does give ice cream a pudding like texture.  But have no fear this Strawberry Ice Cream is fresh, creamy and none too sweet letting the flavor of the strawberries shine through!  I so hope you try it,  love it and share it!!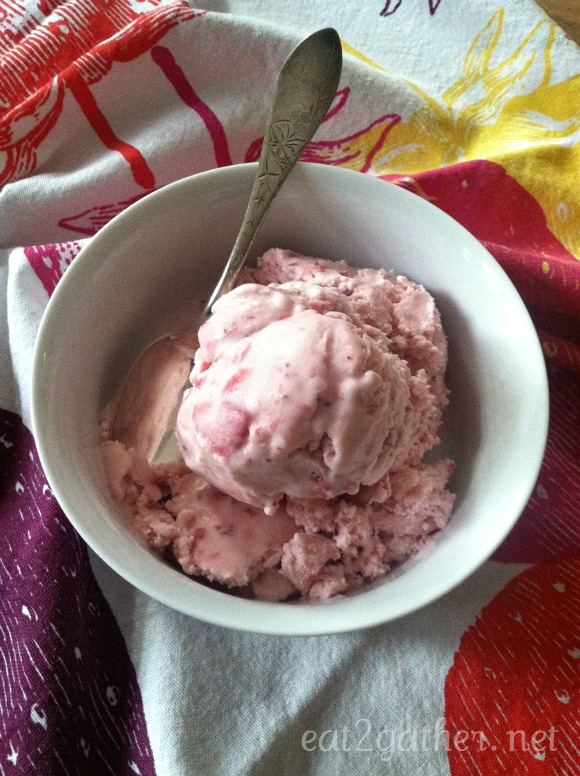 Do you make homemade ice cream?  What's your favorite flavor?
xoxox, Sheila
Pssst… Hop on over to Amy & Robyns they are sharing their favorite ice cream recipes weekly  in their Ice Cream Sundays series! You DO NOT want to miss it!