Better late than never….
I can't believe it's been a month since I traveled to Austin, TX to meet up with my friends of the foodie sort.  I've been wanting to share my trip with you, but sheesh where do a month go? (month and a half to be exact!)
I got home from Austin and life smacked me in the face….in a good way!
Last year after I attending Blogher Food in Seattle, I was pretty sure that I would not be going again, at least for a couple of years.  It's just too hard to get away the first weekend of summer…but then all the buzz started going around about who was going, and I so wanted to meet up with this lady, and of course this lady, and well I'd never been to Austin and always wanted to go.  Then these ladies invited me to stay in a condo with them, and well seriously who could pass that up!!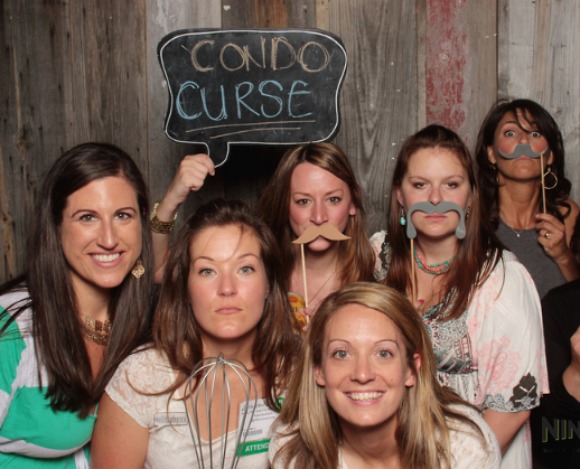 From left to right Liz, Katie, Laurie, Lauren, Megan….and yeh well that's me in the corner, in case you didn't recognize me with the MOOstache'.  I only knew Liz in real life, had never met the other ladies….I was a little bit nervous, mostly because I knew I was gonna be the old lady of the bunch.  I can't believe I was nervous!  Oh my goodness was sweet, dear girls…. er women…these chicks are 😉
Why the condo curse?  Hmmm how do I explain this…..it really wasn't a bad thing.  It was a blessed curse, if there is such a thing.  Everyone who stayed in the condo won something or had something fun happen to them while we were in Austin.  So no curse really…it was all good!
So yes I was caught up in the whirlwind of hub-ub called Blogher Food.  I can not deny it.  I did not want to miss out!  The weekend started out with a bang!  I met up with Laurie (she's in the photo above, she has the blond mustache) at the airport.  Laurie's blog is Simply Scratch, she is also a Mitten girl…so we had an instant "known you forever" connection, she's luverly! We were so excited to see each other and relieved to be on the ground safe and sound in Texas that we forgot to take a picture!  We arrived at the condo 411 1/2, somewhat reminiscent of Harry Potter…..our condo was around the corner from the main conference facility.  It was on 6th street.  There are a few drinking establishments on 6th street. Our condo happened to be directly above a particularly lively establishment.  Remember the days when your evening didn't start until 11pm? Well yup that's what was going on…we were heading up the stairs after a long day of socializing and the party was just getting started on the first floor under our pillows.  Shnikeys I'm old.  How do people do it?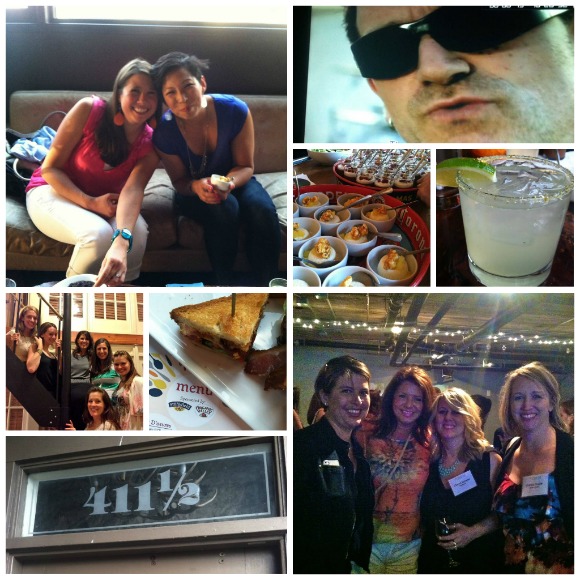 After I met up with Laurie at the airport we zipped to our living quarters for the weekend, met our roommates (that's all of us on the fabulous spiral staircase that was in the aforementioned condo) did a quick change and we all headed out in different directions.  First stop for me was the Stonyfield Party, (hosted by Liz, Brandy, Amelia) we were served scrumptious finger food.  It was awesome to meet the Stonyfield people, I always feel good about feeding my family Stonyfield products. Second stop, the Tasty Kitchen Party, I practically ran to!  I could not wait to meet up with the two lovelies in the upper left Alice and Desiree.  I also got to catch up with Ree, Betsy, Catherine, and I bumped into too many other friends there to even mention.  The food was AMAZING, the margaritas were head spinners….if you get what I'm sayin'.  And the beautymus ladies in the bottom right…well that was another party I was invited to put on by Ziplist. (From left to right Heather, Sandy, Cheryl, and Kristen….all crazy talented ladies!) Ziplist had a spread of desserts like I have never seen….omagerd my friend Nikki will attest to me hanging my face over the buffet of warm brownies for far too long!!

Yes that is Bono, and yes I did take a cab ride with him….er well a video of him that is.   I know Austin is full of surprises! My hoofs where killing me and I was unsure of how far I had to walk back to the condo so I flagged down a cab, and ended up in a cab full of flat screen TV's playing U2  videos.  Crazy.
I as I'm writing this post I'm realizing why it has taken me so long to sit down and get it out…there is just too much people!   Too much fun. So many awesome parties and meeting up with "old" food blogger friends and finally meeting people I have admired from afar.  So because I'm afraid that this post could turn into a novel, I think I will attempt to tell the rest of this story in as few words and more pictures as possible.  Thank you for your patience up till this point. Amen.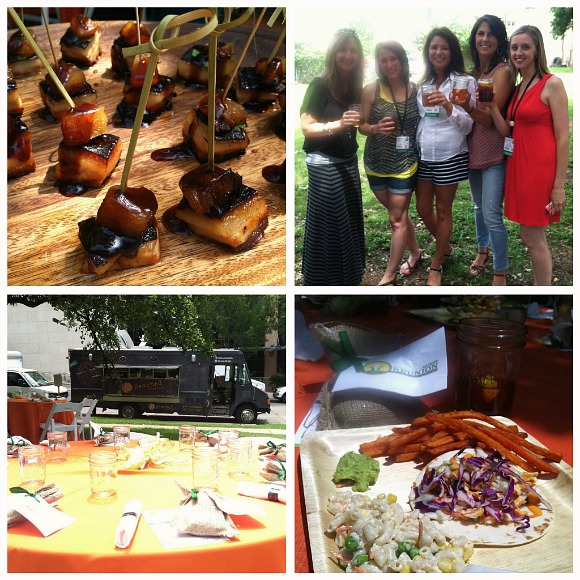 Iowa Corn Quest Lunch~ Food by the Peached Tortilla food truck
The purdy petunias in the picture are from left to right Brenda, Cassie, Sandy, Me, Ali.
I might have eaten my weight in the pork belly and peach bbq bites. I am literally slobbering all over myself as I write thinking about them!  ( I wonder if they ship them.)
Thank you to the Iowa Corn Growers Association for gathering such a wonderful group of women together around the table. It was truly one of the highlights of my visit to Austin!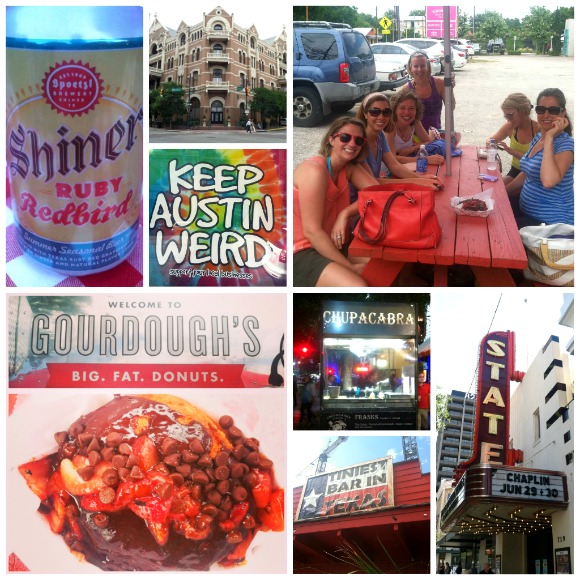 Just a few sites from my walks around Austin.  Gourdough's Big Fat Donuts is….close your eyes and ears children, orgasmic.  Truly.  I literally had a Meg Ryan moment right there at the picnic table.  Best darn donut I have ever had, and this girl has had her share of doughnuts…believe me!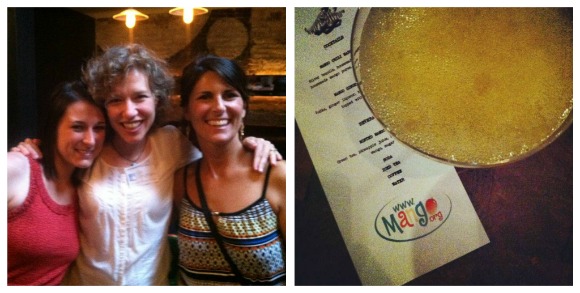 Cassie, Sara, and I met up at the Mangolicious party put on by the Mango Board.  Yes there is an organization dedicated to Mangos, and do they know how to dish up mangos.  Do you love mangos, like I love mangos?  My favorite dish that was served to us involved brussel sprouts, mango, and bacon.  Strange but true.  I really need to share that recipe with you soon!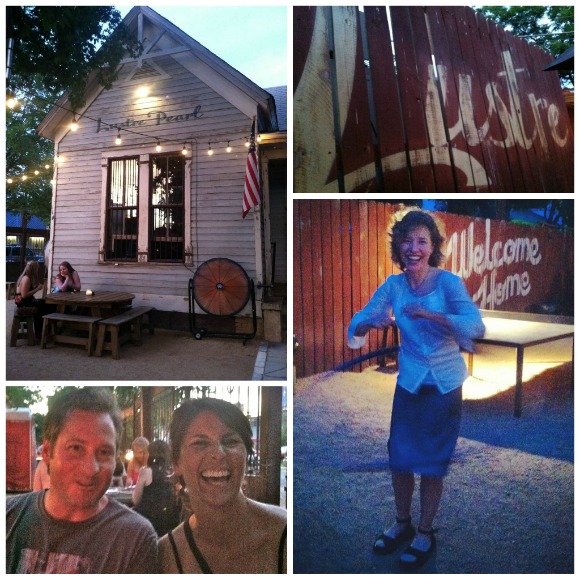 Only my gal Sara would find this joint.  The Lustre Pearl was a ping-pong hoola-hoop bar.  Yup.  Sara's husband Brad and I just sat and watched as she hoola'd her sweet heart out.  This girl has boundless energy.  If you're in Austin and looking for a fun unique place to hang out, Lustre Pearl is your place!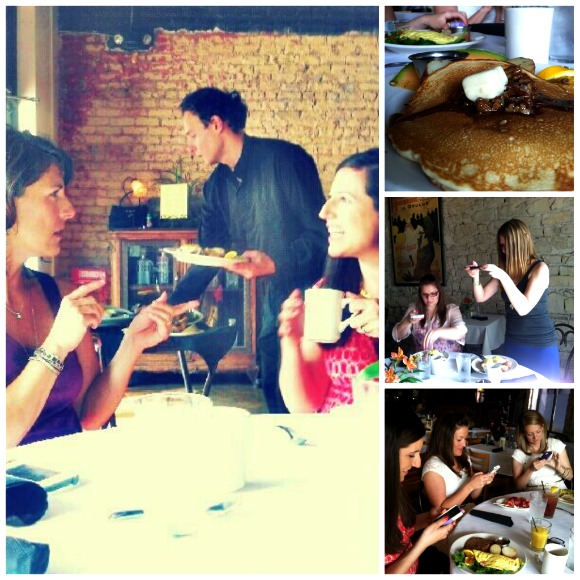 The next morning the condo cuties and I headed out for breakfast together.  Yes this is what food bloggers do at meals together….we take pictures of our meals and solve the worlds problems! HA!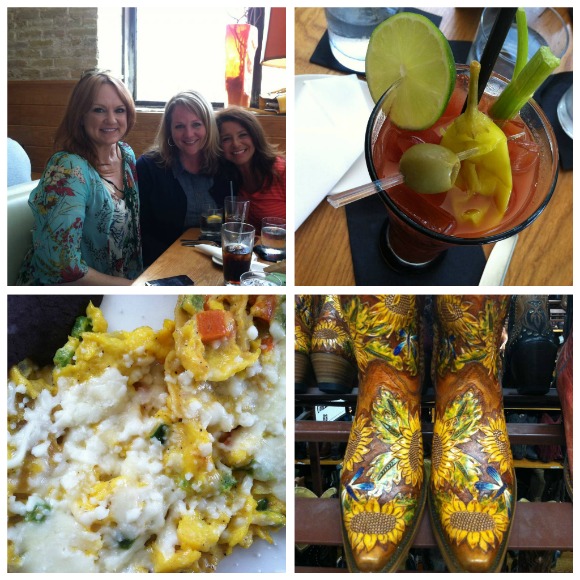 No time was left for even one stomach growl.  My girl Ree and I were in search of the best migas in Texas and we found them at The South Congress Cafe we also happened upon some lovely friends too! (Ree, Amy, Sandy)  We had to work off our migas with a little shopping….I really really wanted to get these boots!  Aren't they purdy?!  If you want to make migas for yourself you should really try this recipe. You're welcome.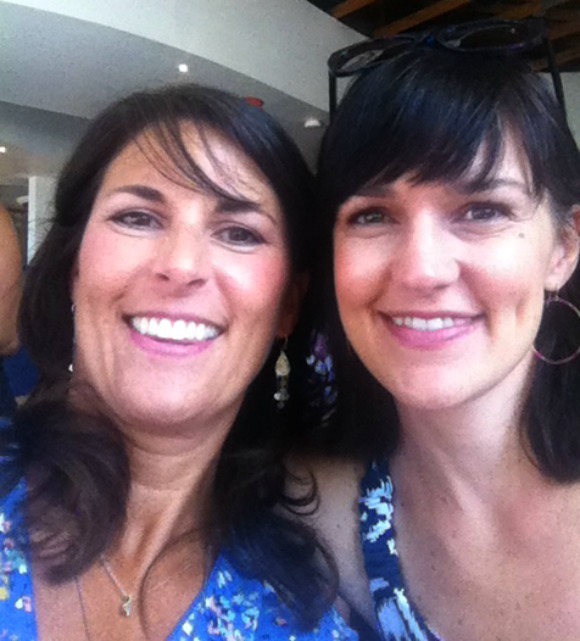 This is Ree's sister Betsy.  She is beautiful inside and out just like her seestor….but I think I look more like her than her seestor does…what do you think?  I was exhibiting to Betsy how in another 10 years her jowls will sag and her neck will look like a turkeys, she was ecstatic….she said she can hardly wait!
I was so excited to meet up with my friend Jenny from the American Dairy Association MidEast at the Taste of Ohio Wine & Cheesecake Pre-party.  You can see her there in the middle picture explaining the amazing pairings of wine and cheesecake they had prepared for us…Omagerd can you say "roll me out the door!".  What an amazing event, they sent us away with all sorts of goodies and when I returned home I received a beautifully engraved cake server to remember my ADA MidEast friends by!  Thanks ya'all!
Yes I said pre-party this was the party before THE big BlogHer Food closing party put on by Jaden, Ree, and Elise.  It's always jaw dropping.  This year was probably the most jaw droppingest by far.  Great food, entertainment, and more time to hang with the gals!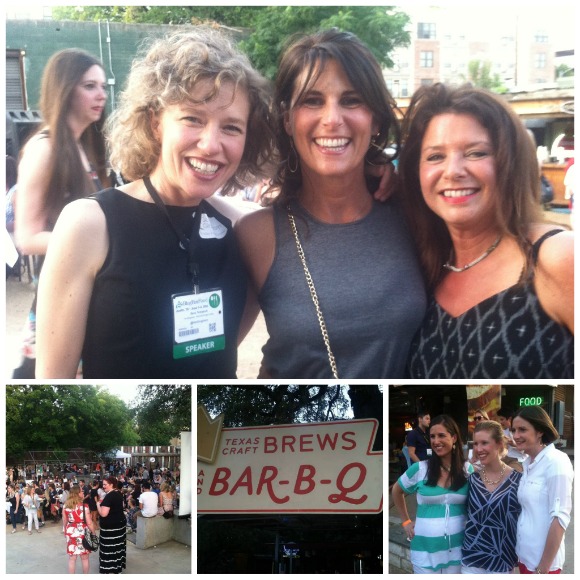 Blogher Food 13 Closing Party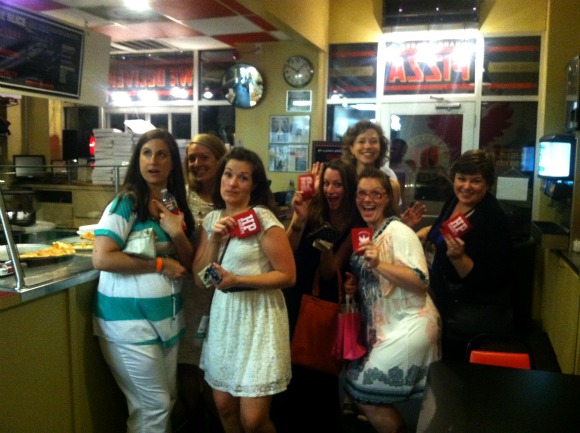 It was time for the cursed condo cuties to head home…our dogs were tired.  But Heh! There's pizza, and it's hot and ready.  Must stop…just one slice won't hurt!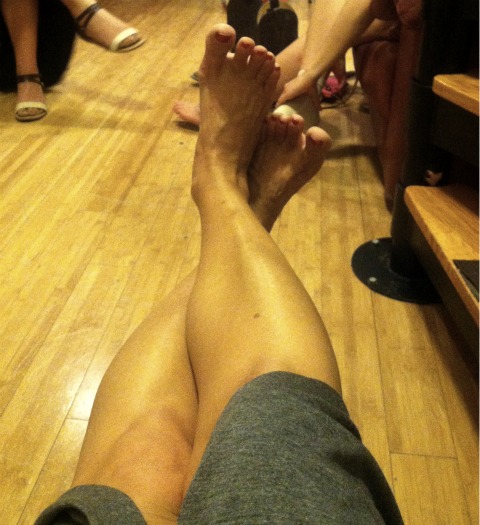 OOhg! my dogs were tired…and I still had the next morning to go.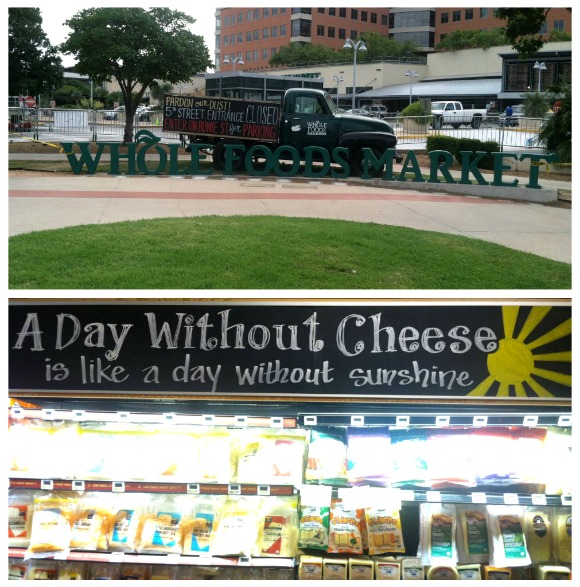 You absolutely cannot go to Austin without visiting the mother of all WholeFoods stores.  We spend half the day in this place.  I took a million pictures.  It's not even funny.  I hate to bore you anymore so I will just end with this.
A day with out cheese is like a day without sunshine. 
Amen.
I can't wait to get back to Austin.  Believe it or not I actually left out a few details about this trip…I know there's a lot to do and see and EAT in this town!
Thanks for stopping in and catching up!
xoxox, Sheila
P. S. Just found out that Blogher Food 14 is in Miami, Florida.  Heel Click.