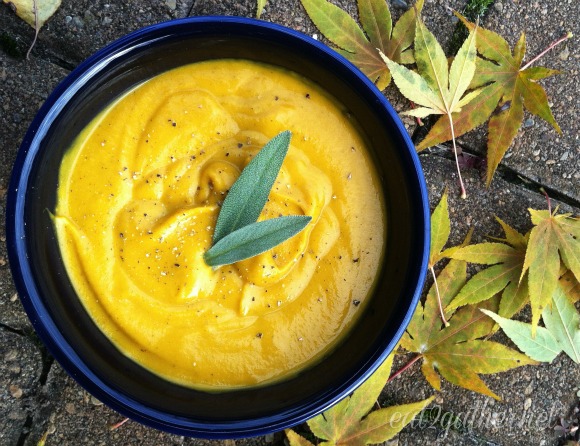 Thanksgiving week is here.  Somehow it snuck up on me this year.  One thing I'm thankful for is that my family does not like to mess with the menu.  So that makes it easy for my sister and I, because there's really no planning, we know the menu like the back of our hand.   Try new recipes on Thanksgiving?  Are you crazy?  We like what we like and we don't really want any surprises.  Over the years a few new recipes have snuck in.
I'm thinking this Roasted Butternut Squash Soup recipe might need to sneak in.
I love butternut squash, especially roasted!
The best thing about this soup is it can be made two days ahead of time and warmed up.  What better side dish for Thanksgiving Day than one that can be gotten out of the way two days in advance.

My littlest told me that this soup tastes like Thanksgiving in a bowl!  Well that just sealed the deal right there. A new side dish will be brought up for discussion.  The thing is when we add a new side to our Thanksgiving Day table we never ever drop one. These are some tough decisions folks….seriously.  We have a problem Houston.
Does your Thanksgiving menu change from year to year or does it stay the same?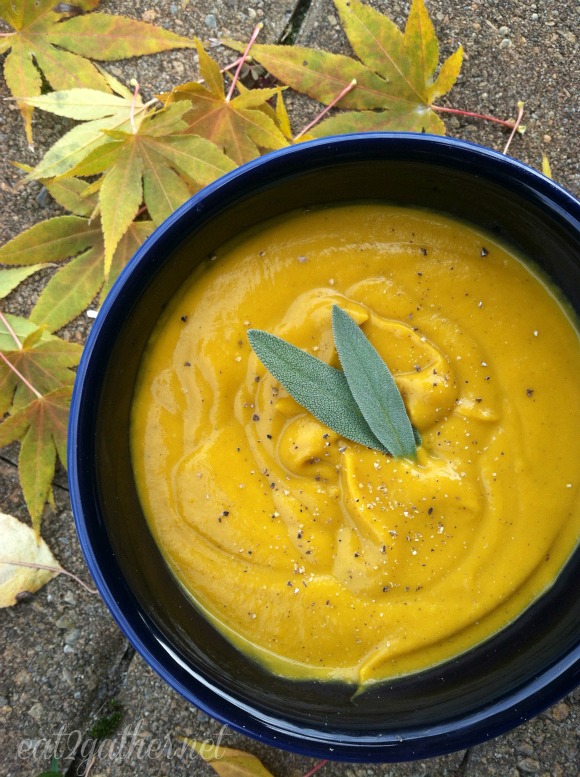 [print_this]
Butternut Squash Soup
4 servings
1 Butternut Squash
1 tablespoon Olive Oil
3 tablespoons Butter
1/4 cup diced Onion
1/2 teaspoon Rubbed Sage
1/4 teaspoon ground Thyme
1/8 teaspoon Garlic Powder
2 cups Vegetable Broth
1 tablespoon Brown Sugar
1/2 teaspoon Salt or to your taste
Preheat oven to 400 degrees.
1. Cut butternut squash in half and scoop out the seeds. Cut the skin off the squash and cut the butternut squash into cubes. Toss cubes with olive oil and spread on a baking sheet, bake for 30 minutes at 400 degrees.
2. Melt butter in a sauce pan add onion cook until onion is soft and starts to brown then add sage, thyme, and garlic powder cook an additional minute .
3. Add roasted squash and butter onion mixture to your blender with 2 cups vegetable broth, blend until smooth. Pour back into saucepan add brown sugar and salt to taste, bring to a simmer and serve.
Note: This soup freezes well, it also is easily doubled or if you just want to stretched it one more serving you can easily add more broth.
[/print_this]
Happy Thanksgiving! XOX, Sheila