Chicken Marbella and I go way back.  Nine years to be exact.
It all started when I saw a blurb in the local newspaper, the world famous cookbook author Julee Rosso was going to be signing copies of her  newly revised Anniversary edition Silver Palate Cookbook along with a cooking demonstration at my favorite book store.  I didn't  have any of her cookbooks, at the time,  but they were on my list.  So I called my friend Cheryl and invited her to meet me at the book store and the rest is history.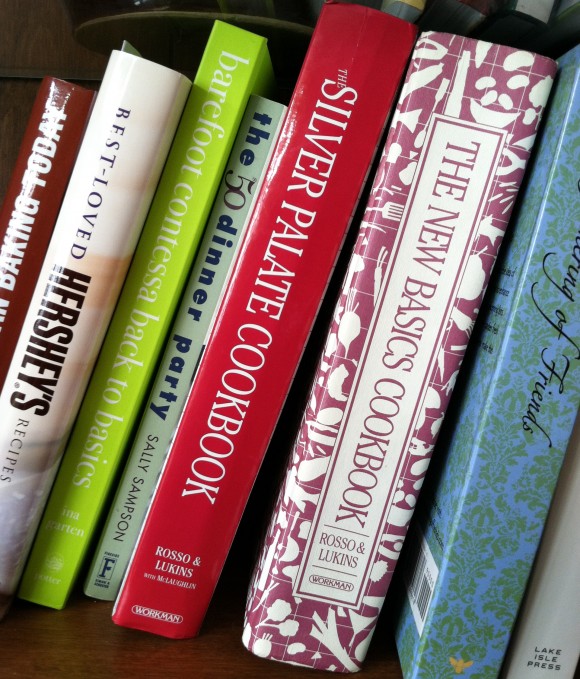 It was a wonderful evening. During Julee's cooking demonstration….which was actually a baking demonstration I had a sort of life changing moment in regards to my love of all things from the kitchen.  It went like this:  She made chocolate chip cookies (of all things).  I was a little disappointed at first.  "Like really Julee couldn't you choose something a bit more challenging for us."  What I realized later is….. it's never just a chocolate chip cookie, there is always something to be learn.  I had made chocolate chip cookies similar to the ones she made no less than a thousand times in my life, but I realized I didn't know everything there was to know about baking chocolate chip cookies.
I thought I did.
But I didn't…..
Are you asking yourself, where does Chicken Marbella fit into this whole life changing chocolate chip cookie story?  Or are you just wondering what the heck I had learned about chocolate chip cookie's that I did not know before? I'll get to back to the cookies, and get on with the chicken.
At some point in the evening someone asked Julee if she could cook only one recipe from The Silver Palate which one would it be.
Her answer…Chicken Marbella.
I went straight home with my new lovely signed  copy of The Silver Palate cookbook opened it up to Chicken Marbella with all the intentions of making it as soon as possible, and then I saw it….
Noooooooo, IT CAN'T BE!  Capers, olives, a whole head of garlic all three things that my husband despises.  I know, I know I realize how could I marry such a man?!!! Believe me he has many redeeming qualities that over shadow the fact that he doesn't eat olives or garlic (if he can help it).  I've tried to sneak them in…it's always a no go.  So I closed the book, and silently mourned the fact that I would probably never make Chicken Marbella for my family.  Now and again I would hear the recipe brought up in conversation.  It's my sisters boss's go to recipe, my sister raves about it when her boss makes it.  Once or twice a year I would open up to page 105, and drool all over it and then move on and make something else.  Then recently I was reading a magazine interview with Julie Bowen (Claire Dunphee on Modern Family)  at the doctors office, she said when asked about her cooking skills that her go to recipe was Chicken Marbella.
I slammed the magazine shut and hollered "that's it I'm making Chicken Marbella whether he likes it or not!!!" I got a few looks from everyone in the waiting room.  The women next to me moved over a seat, and the nurse called me back to a room immediately.  Who cares what they think.  Those people have no idea the pain and anguish I have gone through from not making this recipe for 9 years.  That is restraint people.
So I did it.   I made Chicken Marbella with only one tiny alteration, I toned down the garlic.
Once again my life was changed.  Only this time it was with chicken not cookies.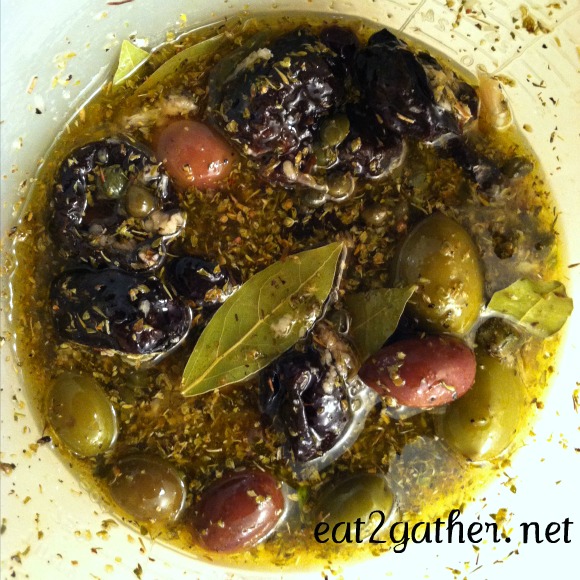 Is that not gorgeous?  This recipe is so easy.  Just mix the ingredients for the marinade together, pour it over the chicken, making sure every piece gets coated it the lovelyness and pop it in the refrigerator for at least 24 hours.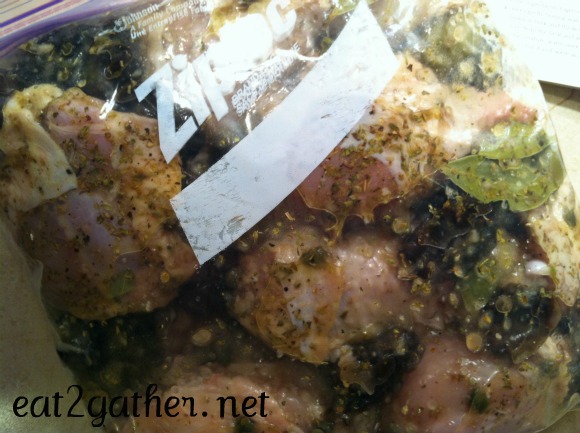 I marinated the Chicken Marbella in a Zip-loc bag and because our schedule is so unpredictable it ended up marinating for 3 days before I had a chance to make it for dinner!  Yikes.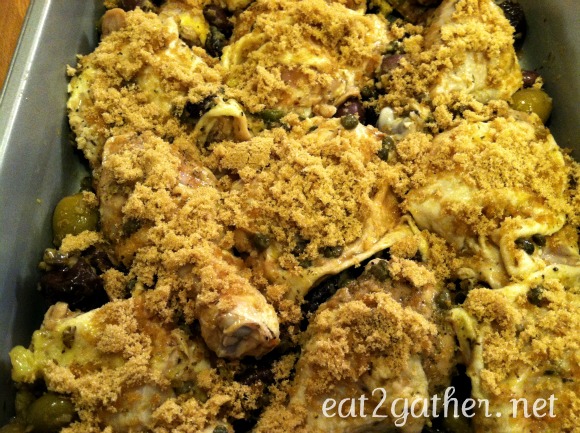 After marinating the chicken in olives, garlic, plums, red wine vinegar, capers, bay leaves, and other spices for nearly a decade ; ) I removed it from it's marinating slumber placed it in a single layer in a baking dish making sure the olives and plums were stratigically placed around the chicken.  Then I sprinkled the chicken with 1 cup of  brown sugar, drizzled white wine between the pieces, popped it in the oven at 350 degrees for 1 hour.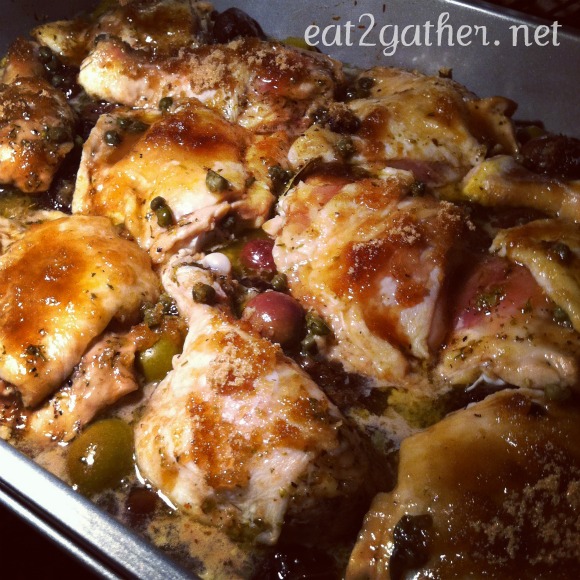 The recipe calls for basting…so I opened the oven twice, scooped some of the juice up with a spoon and drizzled it over the chicken pieces shut the door and let it baked to it's heart content!  O my heavens to Betsy…let me warn you the smells that were wafting out of my kitchen while the Chicken Marbella was baking were 5 star!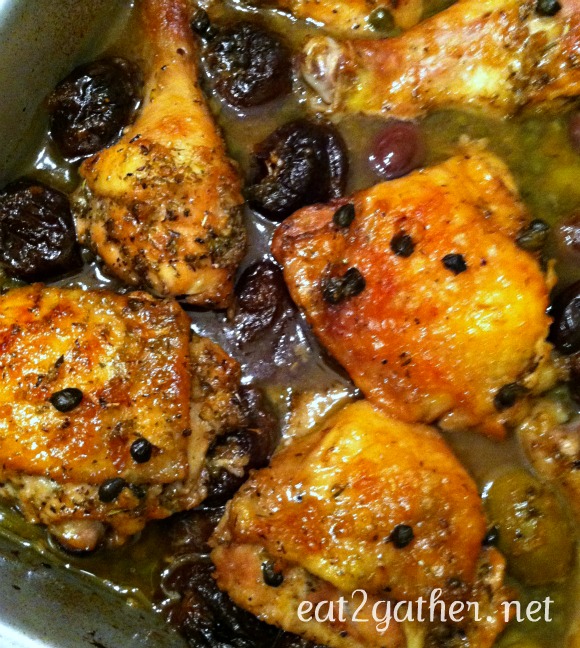 Pictures do not do this dish justice….trust me you have got to try it for yourself, even if you have a capergarlicolive hating individual in your home.  Kenny actually loved it.  He said he couldn't really taste the olives, and a few days later I told him there were 7 cloves of garlic in it, he nearly had a cow, but then confessed he didn't really taste the garlic, and it didn't come back to haunt him the next day….the garlic that is.  He loved it.  All four kiddos gave it a thumbs up and they told my dad who ate with us that he couldn't have the left overs(which I always give him)…selfish sob's, that's what my dad said, not me.
I simply served the Chicken Marbella with rice pilaf, a green salad and ice cream with, you guessed it, chocolate chip cookies for dessert.  No lie.  But I didn't get the whole coincidence of the cookies until I sat down to write this post.  Funny how life turns back on itself isn't it.
[print_this]
Chicken Marbella
source: The Silver Palate Cookbook
(only slightly adapted)
Marinating over night or even in my case for 48hours is essential to the moistness of the finished dish. The leftovers if you have any are even better than the first day. This recipe is ingenious!
1/2 cup Olive Oil
1/2 cup Red Wine Vinegar
1 cup pitted Prunes
1 cup pitted Spanish Green Olives
1/2 cup Capers, with a bit of the juice
6 Bay Leaves
7 cloves of Garlic, peeled and minced (original recipe calls for 1 head of garlic)
1/4 cup dried Oregano
course Salt, and freshly ground Pepper to taste
8-10 pounds of bone-in Chicken pieces
1 cup Brown Sugar
1 cup dry White Wine, I used Chardonnay
1/4 cup fresh Italian Parsley (flat-leaf) or fresh Cilantro, finely chopped
1. Combine the olive oil, vinegar, prunes, olives, capers, and juice, bay leaves, garlic, oregano, and salt and pepper in a large bowl. Add the chicken and stir to coat. Cover the bowl or store in a heavy duty Zip-loc bag overnight or for up to 2 days in refrigerator.
2. Preheat oven to 350 degrees F.
3. Arrange the chicken in a single layer in one or two large shallow baking pans and spoon the marinade over it evenly. Sprinkle the chicken pieces with the brown sugar and pour the white wine around them.
4. Bake, basting once our twice with the pan juices, until the thigh pieces yield clear juice when pricked with a fork. Bake time is approximately 1 hour give or take 10 minutes.
5. With a slotted spoon, transfer the chicken, prunes, olives and capers oa serving platter. Moisten with a few spoonfuls of pan juices and sprinkle generously with the parsley or cilantro. Pour the remaining pan juices in to a gravy dish.
I served this with Rice Pilaf, and a salad. Simple as that and beautifully enough!
Note: Chicken Marbella is good hot or at room temperature. When prepared with small drumsticks and wings, it makes a delicious appetizer.
To serve Chicken Marbella cold, cool to room temperature in the cooking juices before transferring the pieces to a serving platter. If the chicken has been covered and refrigerated, reheat it in the juices, then allow it to come to room temperature before serving. Spoon some of the reserved juice over the chicken.
[/print_this]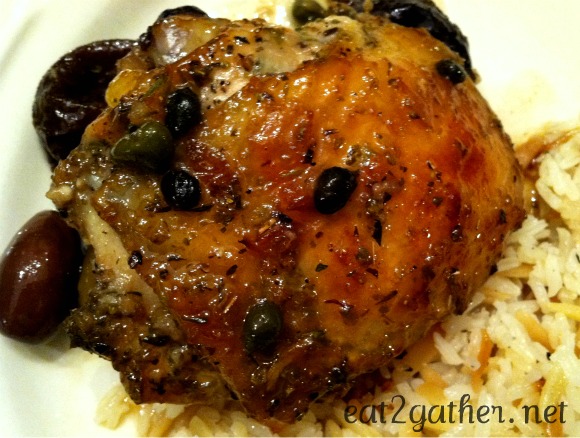 Sweet sticky prunes, delectable briny flavors with the perfect mix of herbs and spices Julee wasn't fibbing this recipe is one not to be overlooked!
Here's what I learned about baking cookies that I did not know at the time. 1. Bake cookies on parchment paper. I had never used parchment paper to bake, now I am never with out it!  2. Take cookies out when they look slightly underbaked, then leave them on the baking sheet  for 5 minutes or so.  The cookies continue to bake, without over baking.  Cookie perfection!
Bon ApetitO'