This recipe is a great make ahead meal option for brunch, breakfast, or a light dinner. Mediterranean Breakfast Tarts are full of bright flavors and super adaptable!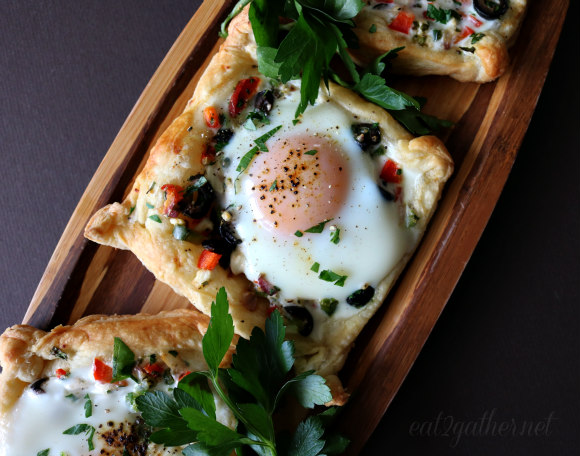 We are a breakfast eating bunch around here!  Breakfast for breakfast, breakfast for lunch, breakfast for dinner, and even for a late night snack! These breakfast tarts are so easy, but look so fancy don't you think?!  I'm thinking Mothers Day brunch…you might want to make this for your favorite motherly figure, or slip a link to your family…hint, hint.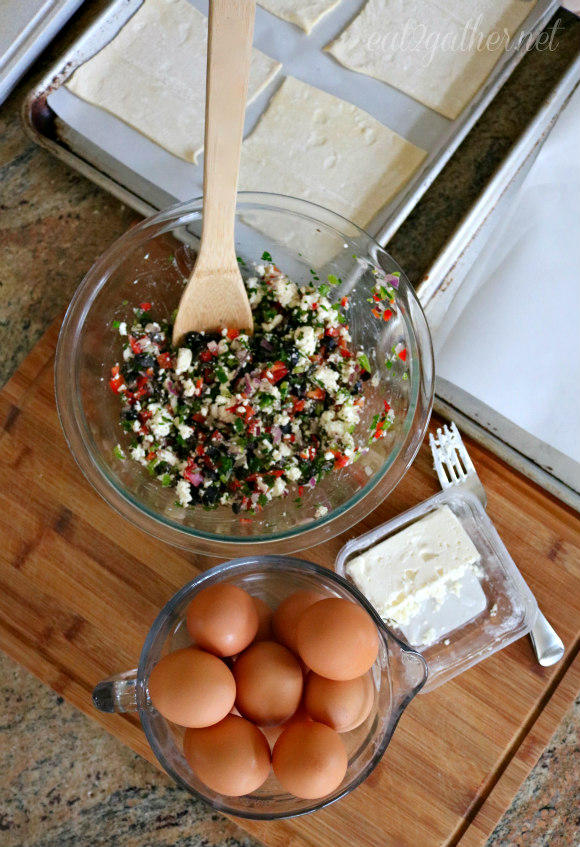 There is a tiny bit of prep, it can actually be done the night before.  Mix together feta cheese, onions, peppers, olives, and spices; store in refrigerator over night, thaw pastry dough in fridge over night, Voila, just a little assembly and you are good to go!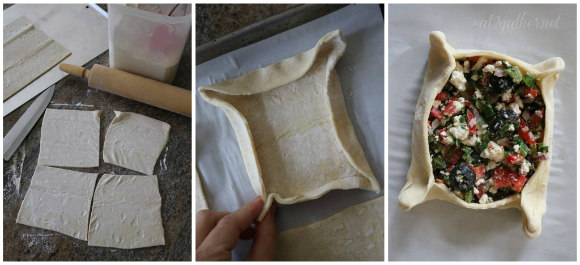 Cut each sheet of pastry dough into four squares, pinch corners together like so (making a shallow box), fill with Mediterranean filling, bake for 10 minutes remove, brush pastry with egg white and water wash, crack an egg in the middle of your tart, return to the oven, and bake for another 10-12 minutes or until white of egg has set.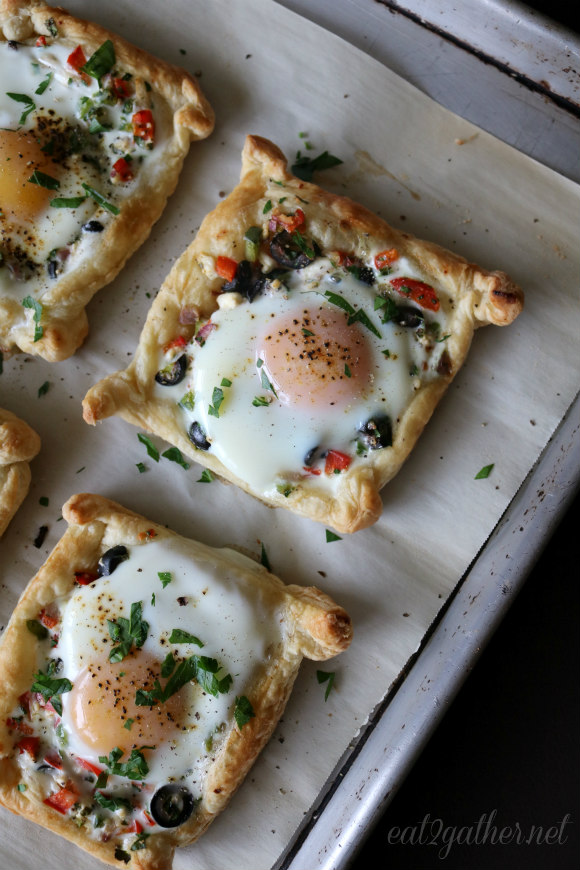 Sprinkle with Greek seasoning, and chopped parsley and you are as good as gold!!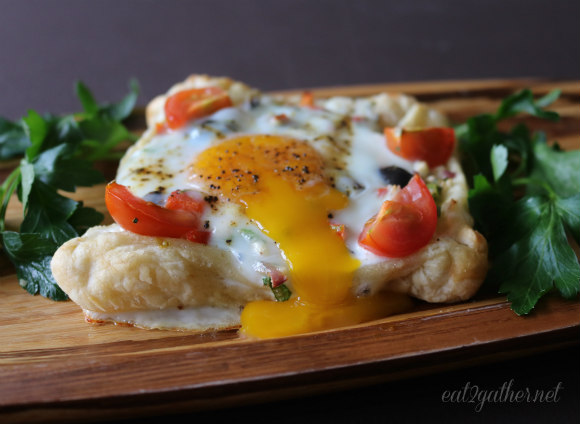 Oh My My My….come to momma!  I put the leftovers in a zip loc bag, stored in fridge, and we ate them for lunch the next day!!  The egg was no longer runny but they were every bit as good!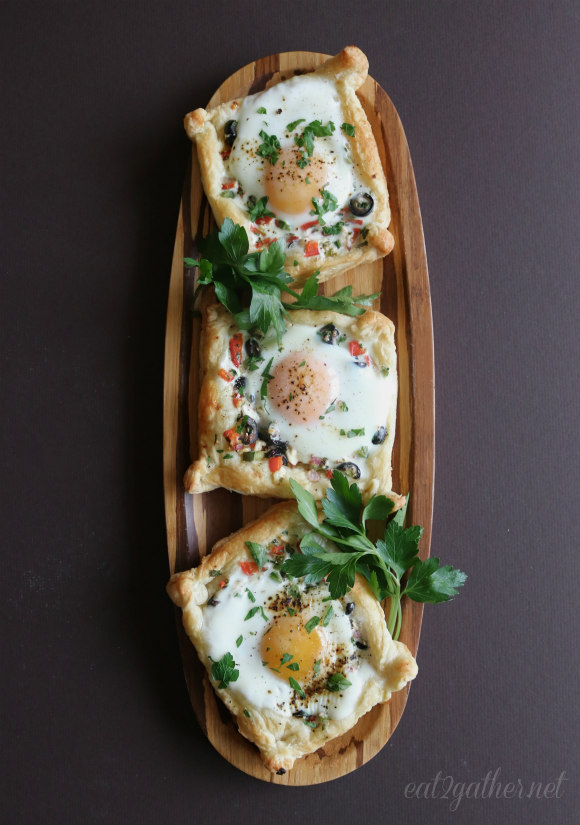 Please get creative with this recipe!!  Don't like olives, leave them out.  Love olives?  Add more.  Chopped artichoke hearts would be divine!  More cheese would be nice.  I added some diced tomato on top of a few of the tarts.  I did not add tomato into the vegetable cheese mixture because I was afraid it would let off too much moisture and make the pastry soggy.  So if you want tomaters sprinkle them on the top before the second baking.
[print_this]
Mediterranean Breakfast Tarts
Servings: 8
Level: intermediate
Kid friendly:This would be a great recipe to have kids help with! 
Prep time: thaw pastry 30 minutes, ingredient prep 15 minutes
Cooking time: 20 minutes
1 17.3 ounce package frozen Puff Pastry, (2 sheets)
1/2 cup Red Bell Pepper, finely diced
1/2 cup Green Pepper, finely diced
1/2 cup Red Onion, finely chopped
1 2.25 ounce can sliced Black Olives, drained and rough chopped
1/4 cup chopped fresh Parsley
1/2 teaspoon Greek Seasoning Blend, plus a few dashes for garnish
4 ounces cows milk Feta Cheese, crumbled
8 Cherry tomatoes, quartered
8 eggs
1 egg white, whisked, for egg wash on pastry
Preheat oven to 400 degrees and line two baking sheets with parchment paper.
1. Allow puff pastry to thaw for 30 minutes. Roll pastry dough out just slightly on a floured surface, cut each sheet into 4 squares, place four squares of puff pastry on each baking sheet.
Crimp the corners of the pastry squares together folding each side up slightly creating a shallow basket.
2. Toss peppers, onion, black olives, parsley, cheese, and Greek seasoning together in a bowl. Divide filling into 8, measures to be approximately a scant 1/4 cup, place filling into each pastry basket spread to cover. Place in preheated 400 degree oven for 10 minutes.
3. Remove from oven and brush edges of pastry with egg white, then crack an egg into each basket, being careful to keep egg from running out. Give each egg a dash of Greek seasoning blend. Add cherry tomato quarters if desired. Return to oven and bake for another 10-12 minutes.
Remove from oven and serve immediately.
Enjoy!
Note:  Wrap any leftover tarts in plastic wrap and refrigerate, warming in the microwave for a minute when ready to eat.
[/print_this]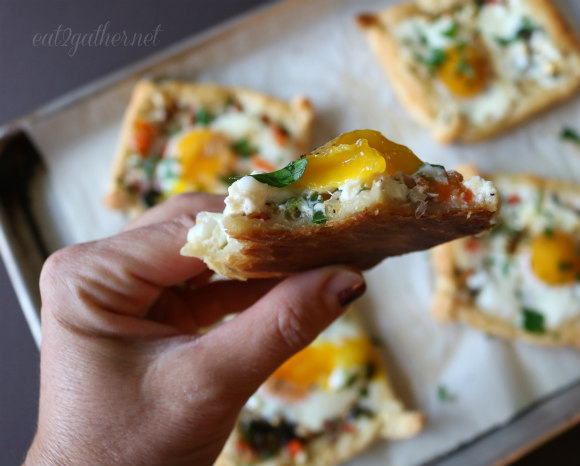 Fork is suggested but not required!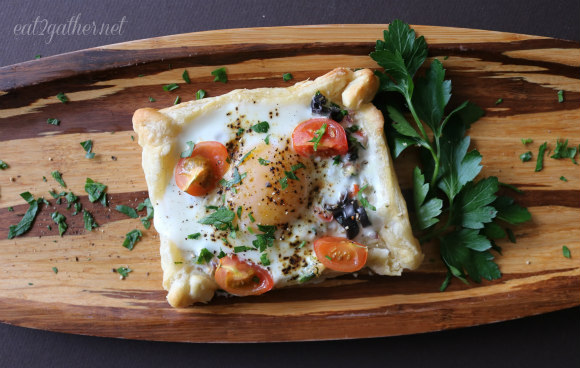 Are you a breakfast anytime all the time kind of person(like us), or do you prefer your eggs only in the morning?  I'm thinking you need to give this little cheesy, egg brekky tart a try soon!  This weekend?  Sounds like a date!
What you up to this weekend?  We are finally getting some nice Spring weather here in Michigan, so I am hoping after Cece's lacrosse game on Saturday morning we will be able to get some yard work done!  I hear tell that certain parts of the country might get a few snow flakes yet, oh golly I sure hope Michigan is done with the snow!
Have a good one! XO, Sheila
Disclaimer:  I am proud to be an ambassador for the United Dairy Industry of Michigan.  Thank you for helping support Eat2gather by supporting your local dairy farmers!