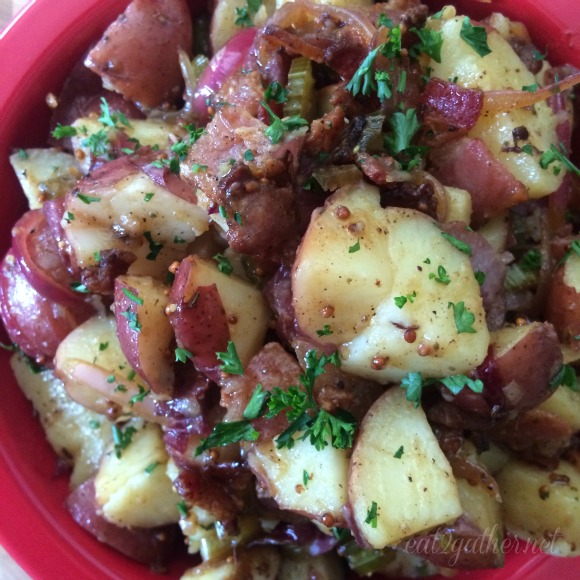 So I may or may not have told you that my dad moved in next door to us.  So now I have in laws on one side….the south side , and my father on the north side.  We're the Mason Dixon Line.   Not that north, south, or Mason Dixon mean anything; we're not like having a civil war here or anything!  Just trying to give you the lay of the land.
So ya, we moved my dad near us and my Seestor and her hubs moved into the house we grew up in and completely renovated it.  Made it like all new and awesome.  Which it needed in a bad way.  They got a new house with land, and we got a new neighbor.
Having my dad so close has been a bit of an adjustment.  Not in a bad way.  Just in a way.  I think it has been harder for my dad.  He had lived in the same square mile his entire life until last spring.  He had never had neighbors, like real next door type neighbors because he lived in the country.  So this has been interesting.  For example:  his new house has many beautiful maple trees, and when the leaves started falling he just thought he could wait until every last leaf dropped until he raked, or maybe he might just wait till the spring to rake.  Ahhhhh well not so much, because they kept blowing in to his neighbor's yard and she was trying to keep the leaves from piling up….trying to stay on top of it, and the fact that my dad was ignoring his leaves didn't quite settle very nicely with his new neighbors.  Insert neighbor lady ripping her hair out emoji.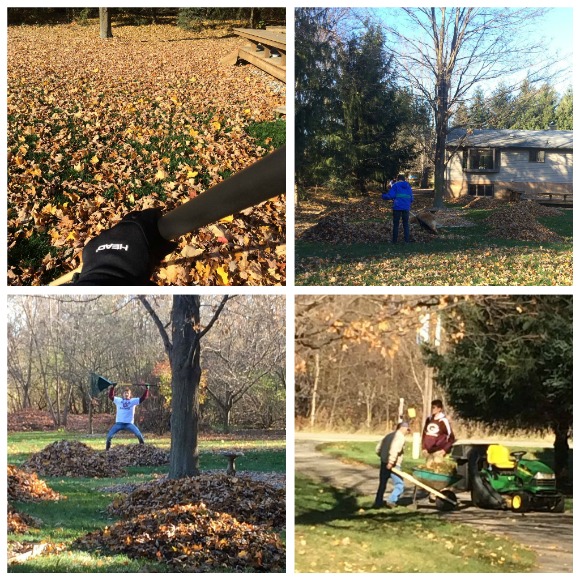 Enter the people pleasing oldest daughter.  After mentioning to my dad a few times, that he might want to put the Ol rake to some good use, without him really getting a hint that the leaves could absolutely not wait until the last one fell, I took matters into my own hands, and my children's.  Because I can be super passive aggressive like that.  By the time we were able to get over to my dads the entire yard was calf deep in leaves!  Meanwhile I also have 2.5 acres of leaves needing to be raked at my house, luckily my brother and sister-n-law are easy going and would not mind if we waited until Spring!  Not that we are going to, in case anyone wondered.
Here's a little picture of what it looks like for my dad as he walks through his backyard to my house…just to give you a little perspective.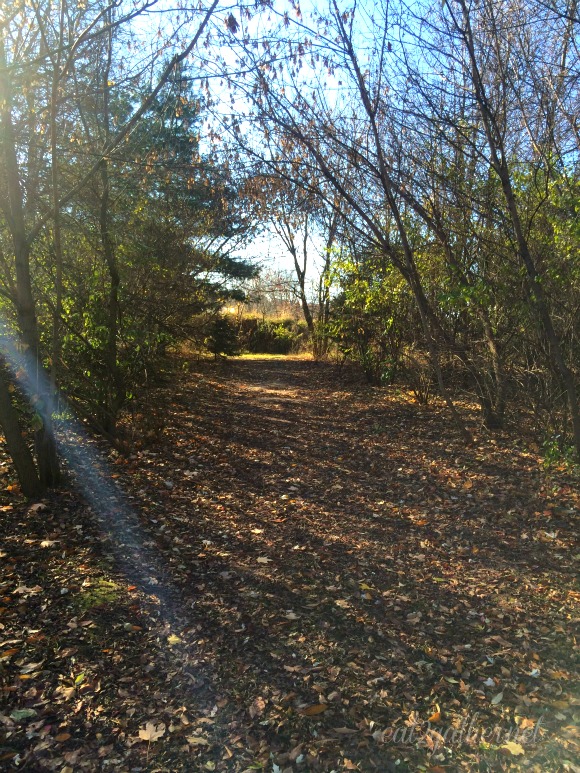 Walk straight out back door, through backyard and down this path.  It's the only path, so you'll have no trouble finding it. Go straight till you hit a wall of dirt and weeds, a berm, then take a sharp left unless of course you are adventurous then you can crawl over the berm.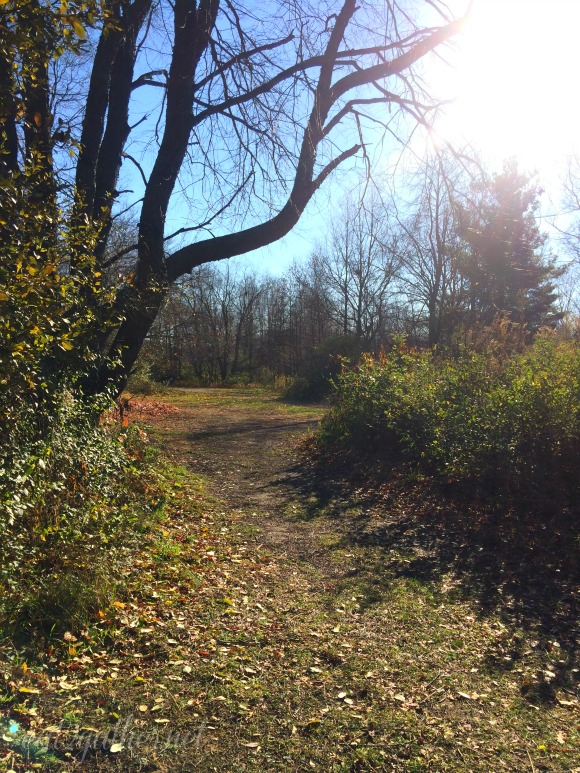 After the sharp left you will see this little path, at the end of the berm take a very sharp right hand turn.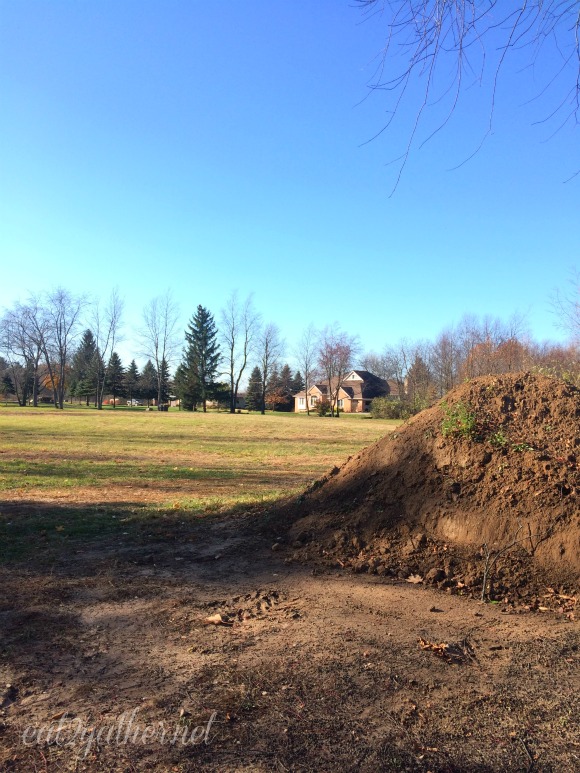 Voila! Just around the dirt pile lies our house and then to left of it is my in laws home.  They are smack dab next door. Where as you can see my dad is kind of over the berm and through the woods.
My back yard raking leaves, now that my dads yard is done, is where you will likely find me…..for days.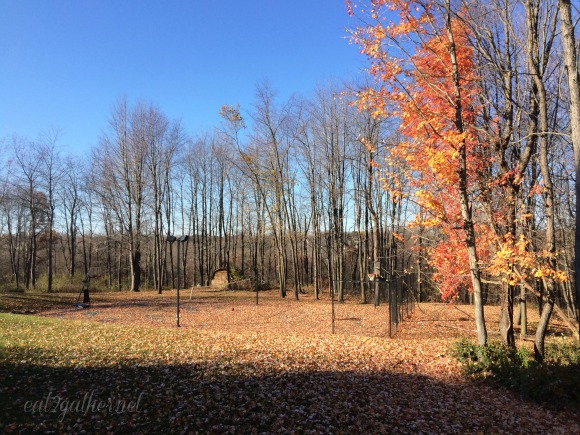 It has been fun having my dad close.  My kids think he is hilarious.  Which he is, but not because he tries to be.  Did you ever watch the T.V. show All in the Family as a kid?  Well…..there ya go, my dad is a rough version of Archie Bunker.   And Ken is Meathead…bahahah, not really, not really at all.
5 reasons it's good to live near family.
1. If you can't get high-speed internet, but they can you can go to their house and download stuff without paying for extra giggashmigga's.
2. When you have leftovers there is always someone who will eat them.
3. If you go away on vacation and forget that you have animals that need to be cared for, it's easy to call your relative/neighbor and have them come take care of your pets without bringing your forgotten pets to another location, or worse yet having pet social services called on you cause you forgot them and they are barking and such.  Not that this has ever happened……only sort of.
4. In this crazy busy world we live in its much easier to stay in touch with family when you live next door to them. Obviously.
5. If a certain family member does not generate enough trash to merit garbage pick up you can share a bin, or the aforementioned person can just come slamming into your house at various times of the day and throw his garbage in your kitchen trash can, cause this works too.
Extra bonus reason and really the best reason of all.
6. Having family right next door is just the best case scenario for all involved.  Amen?  Amen!  My kids have always had their cousins close by for playmates, and now they have their grandpa close by to help with his yard work and cleaning his house for him, and using his internet at all hours of the day.
Now some of you might say….UH are you crazy, I could never live that close to my family, and well I will tell you there have been some bad times but mostly good and the good WAY outweighs the bad!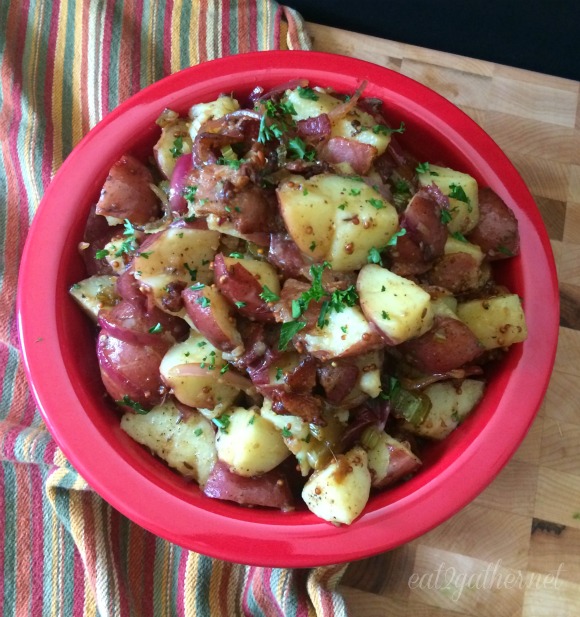 So what does all this have to do with German Potato salad?
Well, let me tell ya.
One day my dad stopped by with his trash and mentioned that he could not find German Potato salad at any of the deli's around here.  (Mind you he's getting used to his new surrounding….this has been hard for him.)  And to this I said, "Dad I can make you German Potato salad for heavens sakes!!"
So I did.
And I thought to myself, why don't I make German Potato Salad more??  It has many of my favorite flavors, bacon, vinegar, mustard, sugar….potaters!  What's not to like?!  And after a summer of cold mayonnaise laden potato salad, this warm tangy version is just what everyone needs!!  This German Potato Salad is seriously addictive warm or cold!
I hope you try this recipe!  Have great weekend.
With love and leaves, Sheila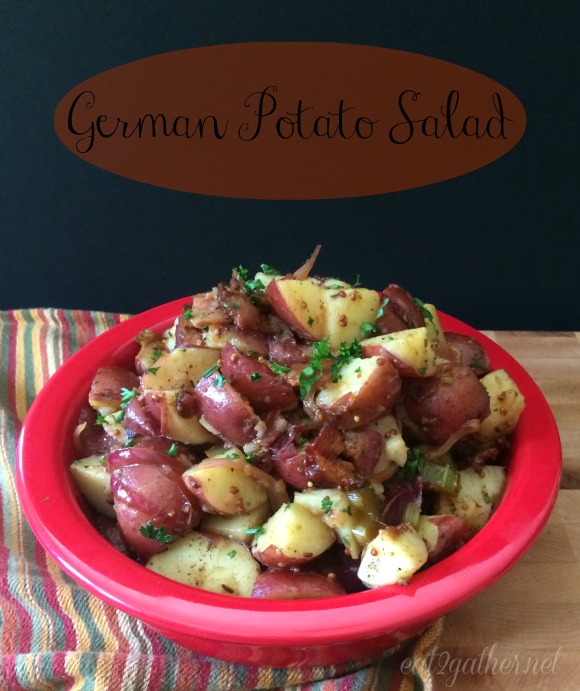 [print_this]
German Potato Salad
serves 8
3 pound bag small Red Potatoes, boiled until fork tender
8 slices Bacon
1 small Red Onion, sliced
2 stalks Celery
1/3 cup Apple Cider Vinegar
1/4 cup Brown Sugar
2 tablespoons Stoneground Mustard
1 teaspoon Caraway Seeds
1/2 teaspoon Celery Seed
Salt and Pepper to taste
1 tablespoon fresh chopped Parsley
1. Cut boiled potatoes into bite sized pieces and place in a large bowl set aside to cool.
2. Cut bacon slices into 1/2 inch pieces, fry in a skillet over medium high heat until brown and crispy. Remove bacon with a slotted spoon to a plate lined with paper towel. Reserve bacon grease.
3. Add onion and celery to hot bacon grease (over medium low heat), sauté until soft and starting to caramelize, about 5 minutes.
4. Add apple cider vinegar, mustard, and brown sugar to skillet with onions and celery, stir and allow mixture to bubble up and thicken. Cooking time about 1 minute. Remove from heat and add caraway seed and celery salt.
5. Combine potatoes, bacon, and sauce from the skillet; fold mixture together. Taste. Add salt and pepper to your taste.
Garnish with chopped parsley.
Serve warm or store in refrigerator and eat cold.
Enjoy!
[/print_this]