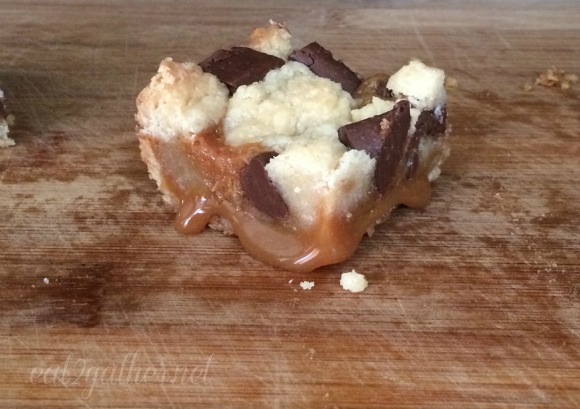 I originally had these bars at book club sans chocolate chunks.  They were pretty amazing, however I knew with chocolate they would be flipping' awe-sssSUM!  You know that moment when you take a bite of something and it's so good, you need to pause, close your eyes, and thank the Lord above for taste buds?  Yah….that's what I'm talkin' bout with these salted caramel chocolate chunk bars, they're going to make your world go all slow-mo.
You heard me.  Slow. MO.
You know how sometimes you read a food blog and they go on and on about how yummy, and delicious, and scrumptious, and perfectly delectable and amazing their cookie of the day is?  And then like it's just a regular ol cookie with pretzels in it or whatever…..ya well this is not one of those blog posts cause, wait for it…..
1 pound of butter
50 caramel candies
chocolate chunk pieces
You do the math.  Ok I'll do the math.  I DID the math and it equalled perfectly delectable scrumptious yumminess!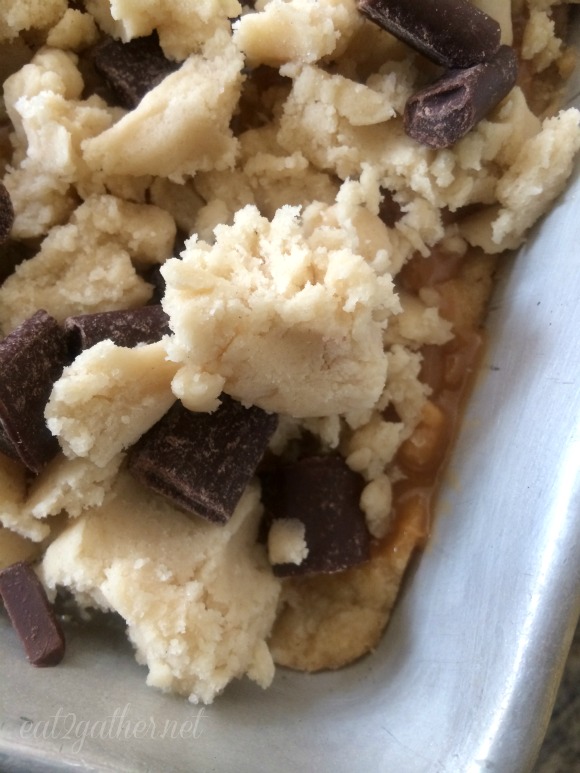 These bars take a few steps, they aren't as easy as these bars, but believe me the steps are worth it! Bake a third of the shortbread in the pan, melt the caramel pieces, then crumble the rest of the shortbread + chocolate chunks over the melted caramel and bake again.  See a few steps, but nothing too complicated!!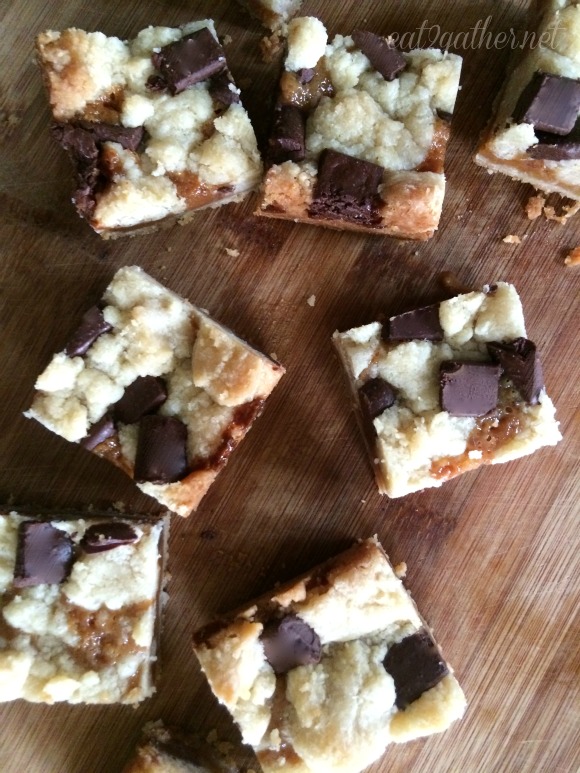 Honestly the hardest part is allowing them to cool so you can cut them into nice little squares.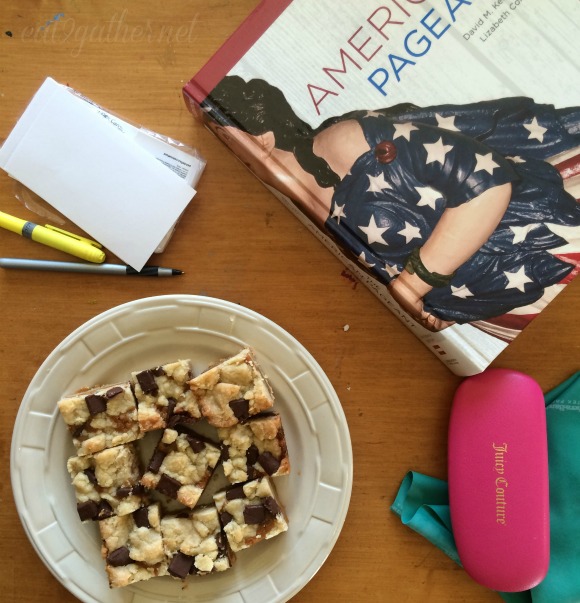 What do you see here?  School has been kicking every booty in this house.  Between college essays being finished off, a tough load of classes by all, plus other various sports, another child taking drivers training, scads of fall yard work to be done, there hasn't been too much time for fun….which as a mom of three teens I want them to have fun, but not too much if ya know what I mean.  I do think a sweet treat is always a good spirit lifter.  A delicious little nibble and a glass of milk to get them through it!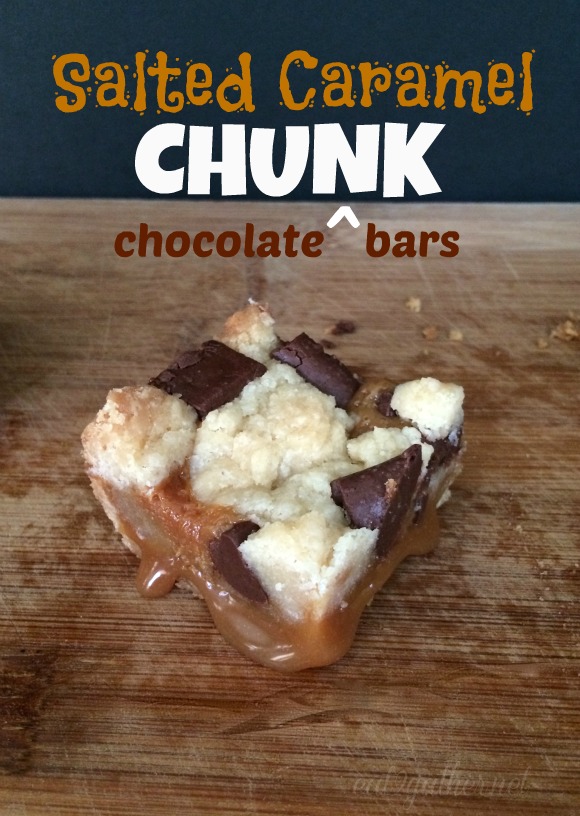 [print_this]
Salted Caramel Chocolate Chunk Bars
9×13 pan makes approximately 30 bars depending on how you cut them 😉
4 stick Butter (1 pound), room temperature
1/2 cup Granulated Sugar
1/2 cup Brown Sugar
1 1/2 cups Powdered Sugar
2 teaspoons Vanilla
4 cups Flour
1 14 ounce bag Caramel Candy Cubes, unwrapped (approximately 50 candies)
1/3 cup Half and Half
1/2 tablespoon Sea Salt
1 cup Semi Sweet Chocolate Chunks (I used Nestle brand)
Preheat oven to 350 degrees, and spray a 9×13 baking pan lightly with cooking spray.
1. Place butter and sugars in mixer, beat until creamed. Scrape down sides of mixing bowl and beat another minute. Add vanilla and beat another 30 seconds. Gradually add flour a half cup at a time. Dough will become thick like cookie dough. Take one-third of the dough and press into the bottom of pan. Place in oven and bake for 15 minutes. Place remainder of the dough in the refrigerator. (this will help it get crumbly)
2. Unwrap caramels and place them in a medium-sized glass bowl pour half and half over caramels, place in microwave and gradually melt on high at 30 second intervals stirring in between each until caramels are melted and smooth.  This step takes about 3 minutes. (or 6 x 30 seconds)
3. Remove bottom crust from oven pour caramel over crust and spread evenly with spatula, sprinkle sea salt evenly over caramel. Remove dough from refrigerator, crumble half of the dough over caramel. Sprinkle chocolate chunks evenly over bars, as well as the remainder of the dough. Return bars to oven and bake an additional 30-40 minutes or until bars just start to get a little brown on top.
Place pan on a cooling rack allow to cool for 1 hour before cutting into squares.
Note: These bars cut much easier if allowed to cool completely and then place them in the refrigerator for 15 minutes. Store bars in an airtight container.
This recipe was adapted from this recipe from the blog Cookies and Cups.
[/print_this]
Do you ever bake your family a special treat to help get them through a particularly hard or busy week?  What's their favorite?
XO, Sheila
PS not that I'm thinking about Christmas or anything…since we haven't even had Halloween yet, not that Halloween ranks anywhere near Christmas in my book, so in that case I guess it's ok if I'm jumping ahead to the Lords b-day and skipping over the devils holiday Phew run on sentence, string of thoughts.  My point of this whole post sancript was that these bars would be the perfect addition to your holiday cookie baking list.  It's good to have one bar on the plate right?!