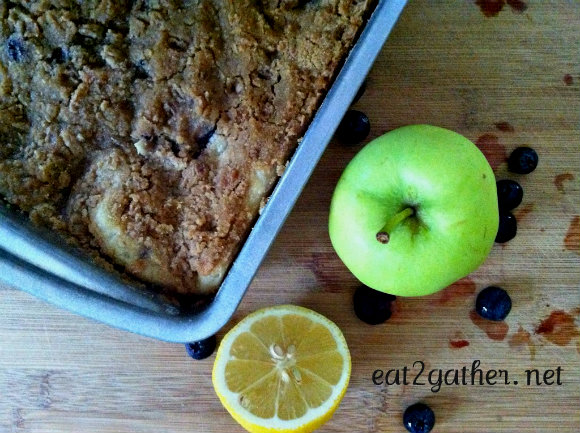 Blueberries and apples are two of my favorite fruits for cobbler…so why not put them together?! Honestly it's hard to come up with a fruit combination that wouldn't work well in cobbler.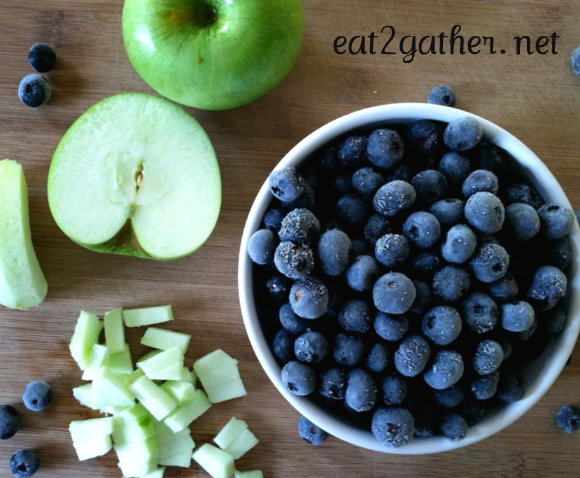 Peach-Cherry, Pear-Cranberry, Raspberry-Blackberry, Strawberry-Rhubarb…you could keep it pure, and stick to one fruit at a time.  I'm not going to lie, I can't pick a favorite I like all of the above.  I do not play favorites when it comes to cobbler.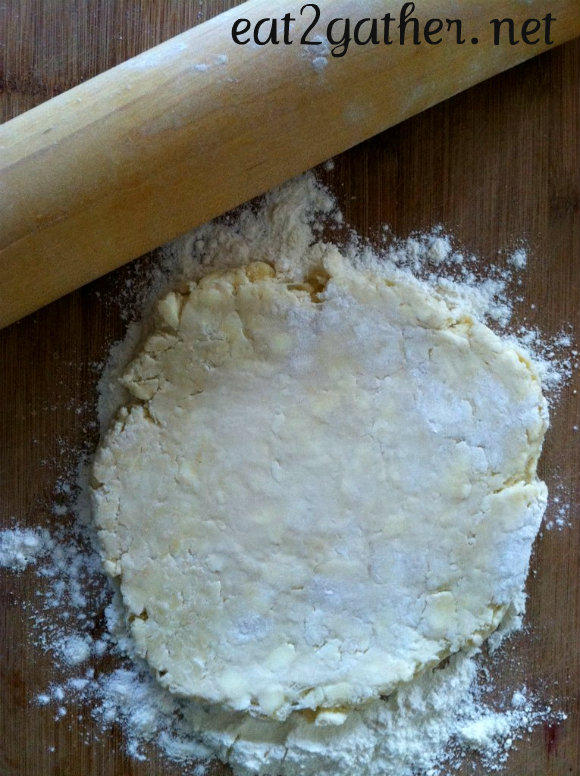 First you need to whip up the buttery crust.  See the purdy lil' chunks of butter?  That's what you call a thang of beauty! Pure unadulterated buttery beauty, which when you unadulterate crust it makes it flaky.  Like me.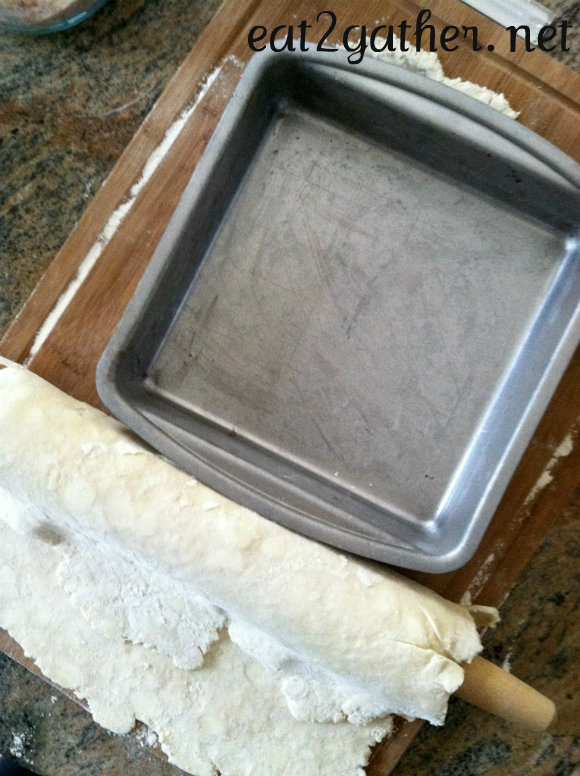 It may seem tricky, rolling out a crust to fit a square pan…but it really isn't.  Remember this is cobbler so you can cobble it, it doesn't need to be perfect.  That's part of the ease of it, just flop it in there.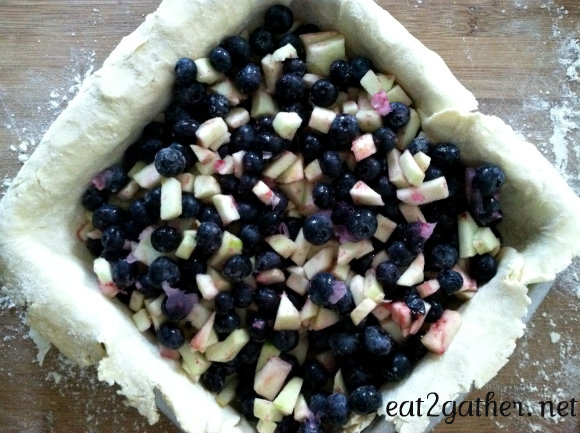 Dump what ever fruit you like into the crust.   Approximately, 5 cups works best for a 8×8 cobbler.  Here I chose apples and blueberries with a squeeze of lemon to keep the apples from turning brown.
I will say this: I do not add any spices or flavorings to the fruit, just a little squeeze of citrus to keep the fruit from turning brown. The butter from the crust and the spices from the crumble add the perfect amount of flavor with out coving up the flavors of the fruit.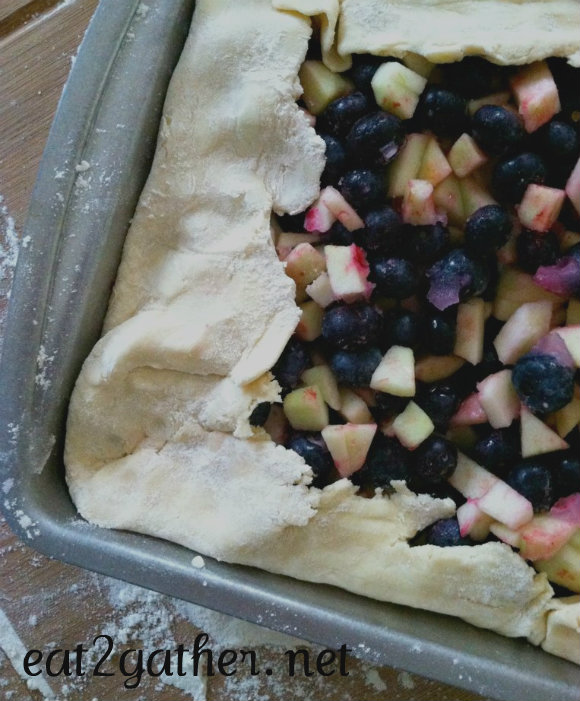 Fold the crust back over the fruit.  No special method is needed, just flopper over.   There may be more in some spots than others, no worries the crumble topping will cover a world of hurt.  Quite literally.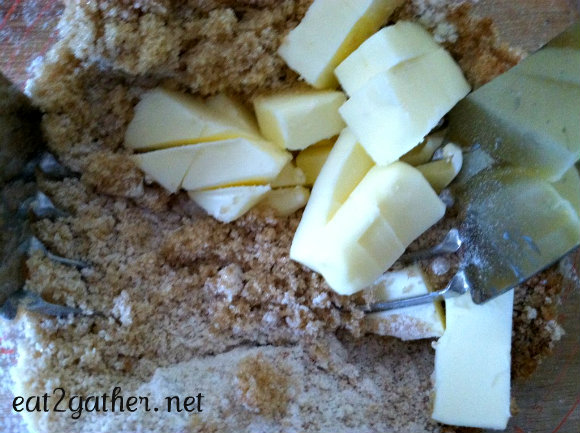 Now combine the crumble ingredients and cut the butter in with a pastry cutter until it's the consistency of oatmeal.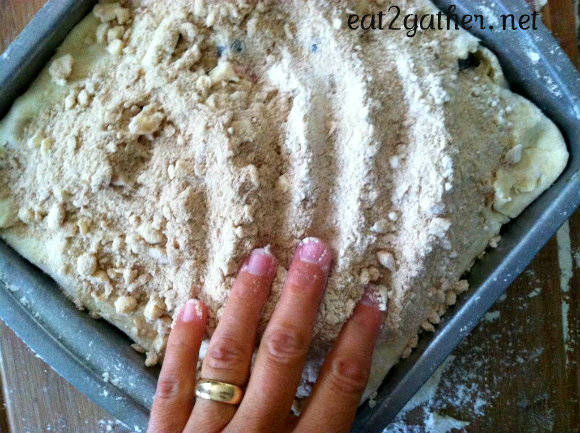 Dump the crumble on top, then put your phalanges to use spreading it to every corner of the pan.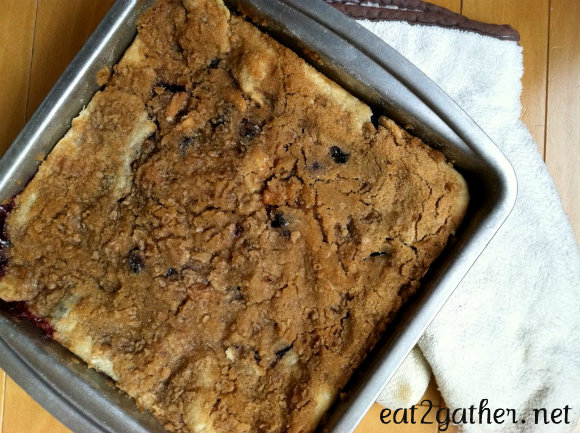 Pop cobbler into a 375 degree oven, for 45-60 minutes.  Baking time may vary if you are using frozen fruit.  When the cobbler is crispy, golden, and the fruit juices are bubbling, it's done.  Let it cool for 10-15, if you can wait.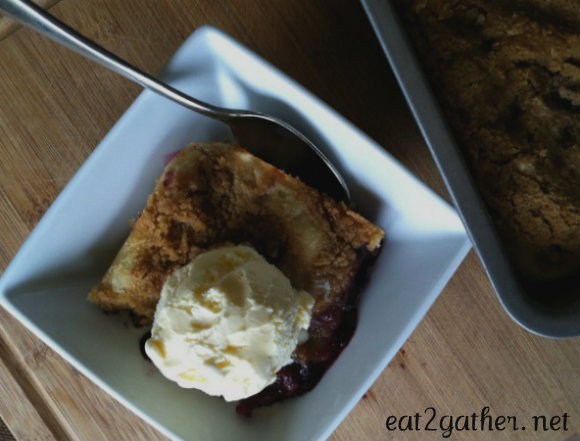 Then lay a generous load of vanilla ice cream right on top, and dig in.  Vanilla is my personal favorite, but I think it's fun to get crazy and serve cobbler with cinnamon, caramel, or ginger flavored ice creams as well.
[print_this]
Blueberry Apple Cobbler
makes an 8×8 pan
Crust:
1 cup Flour
1 stick butter
1 teaspoon Sugar
1/2 teaspoon Salt
1/2 cup ice cold Water
1/2 teaspoon Distilled White Vinegar
Filling:
2 Granny Smith Apples, peeled, cut, cored, and diced (any firm tart variety will do)
3 cups Blueberries, fresh or frozen
1/2 Lemon, juiced
Crumble Topping:
1/2 cup Flour
1/2 cup Brown Sugar
1 teaspoon Cinnamon
1/4 teaspoon Nutmeg
1/4 teaspoon Salt
4 tablespoons cold Butter
Preheat oven to 375 degrees.
Crust: Combine flour, sugar, and salt in a bowl. Cut butter into flour mixture with a pastry cutter, until the consistency of oatmeal. (It's ok to have some bigger chunks of butter, this makes for a flaky crust.) Add vinegar to ice water, drizzle water into flour butter mixture. Use a fork to pull dough together. Try not to handle dough too much, pat into a disc, cover with plastic wrap and place in refrigerator for at least 15 minutes. (Crust can be frozen, or kept in refrigerator for up to 1 week.)
Filling: Peel, core, and dice 2 granny smith apples.  Toss diced apples, and 3 cups blueberries together with the juice of 1/2 lemon in a bowl. Set aside.
Crumble Topping: Combine flour, brown sugar, cinnamon, nutmeg, and salt in a bowl.  Using a pastry cutter cut in 4 tablespoons of cold butter into dry mixture until it's the consistency of oatmeal. (Feel free to get creative with your crumble crust by adding chopped nuts, or oatmeal. I suggest 1/3 cup if you do.)
Assembly: I like to use a square 8×8 baking pan, but you can use a 9″pie plate. Roll crust out into desired shape, big enough to fit in pan with plenty of crust hanging over sides. Pour fruit into crust. Fold access crust over fruit. Spread crumble mixture all over the top of cobbler. Place in preheated 375 degree oven, and bake for 45-60 minutes, until crust is golden and fruit is bubbling.
Serve warm with vanilla ice cream.
[/print_this]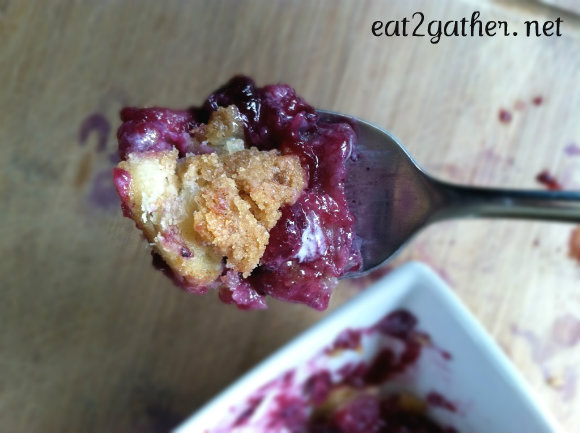 If there happens to be any cobbler left over, this is what you do, the next morning.  1. Quietly scuff out to the kitchen, as to not wake the other cobbler gobblers in your home.  2. Position yourself facing kitchen entrance, with cobbler leftovers between you and the door. (You never want to have your back to a hungry, half asleep, cobbler gobbler.)  3. Grab a fork, assume the cobbler gobbler position, now go to town baby…that's right you earned it.  It's aaawwl yurs.
Enjoy!
Signed, the reigning cobbler gobbler Queen