Rosemary Apple and Cheddar Flatbread with Walnuts
Rosemary Apple and Cheddar Flatbread is like a perfect bite of autumn!  Buttery flatbread topped with caramelized onions, tart but sweet apples, sharp cheddar cheese, a drizzle of olive oil and a smattering of sea salt and rosemary.  You won't be able to stop at one piece!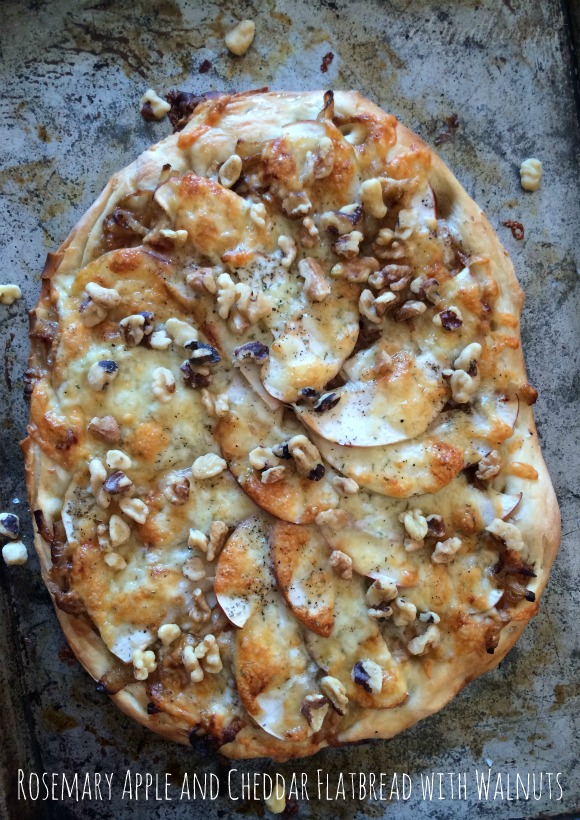 One of my favorite things is a slice of apple topped with cheese!  Another one of my favorite things is a flatbread pizza.  What could be better than mixing the two together?!  Nothing.  Nothing could be better!   Except maybe world peace and well….hmmm since that ain't happening I'll opt for the flatbread!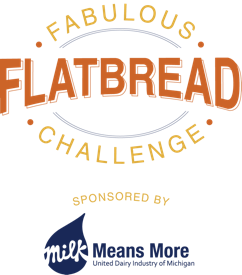 I'm joining several other bloggers this week in the Fabulous Flatbread Challenge!! Sponsored by the United Dairy Industry of Michigan.  Not only are we bringing you fabulous flatbread ideas there is also a FABULOUS GIVEAWAY involved!  Head on over to RachelCooks.com for all the details!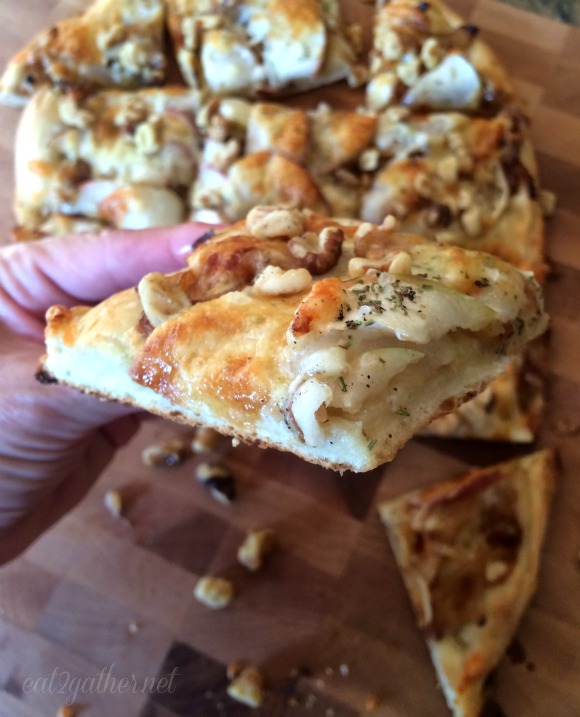 No forks needed, just cut into small easy to handle squares and everyone can grab a piece.  Just be prepared you might need to make more than one!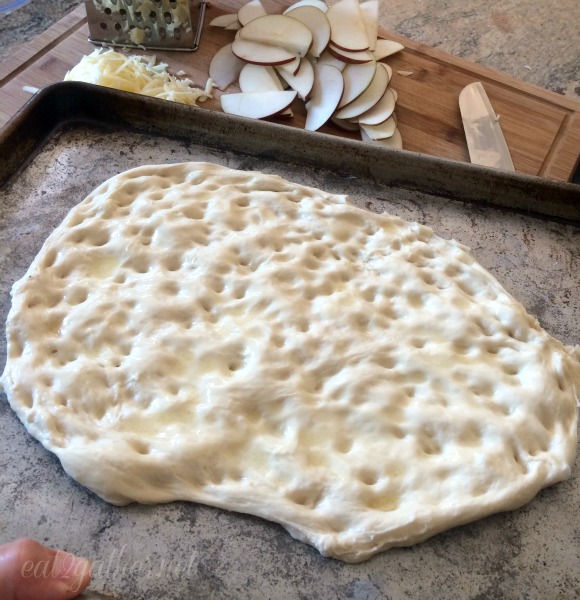 I like to keep frozen bread dough on hand.  It takes a couple hours to thaw, so you do need to think a bit in advance, but once the dough has thawed just spread it out on a baking sheet, pre bake it for 5 minutes to get the bread a nice crisp goin and then top it!
(p.s. I also love to use naan bread to make flatbreads, no thawing required.  Naan bread can be found in the deli section of your grocery store or at Costco in the refrigerator section.)

There you have it!  Cut into easy to pick up squares, all you need now is a glass of Charddonay….or milk!  Pick your poison 😉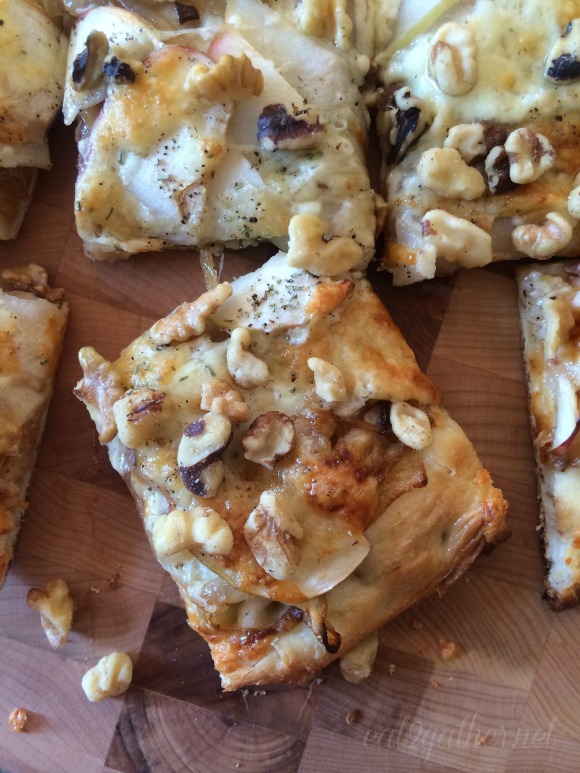 I honestly could not stop eating this flatbread.  The crunch of the buttery bread topped with the savory caramelized onions and the sweet crunch of the apple finished off with the earthy flavor of the rosemary and walnuts!!  Like autumn in my mouth….Mmmm itsh shmow gouda!  Ooopsh excuse me,  my mouth was full.
[print_this]
Rosemary Apple and Cheddar Flatbread with Walnuts
makes approximately 12 appetizer sized servings
1 loaf frozen White Bread Dough
1 tablespoon Butter, melted
1 large Sweet Onion, caramelized
1 Apple, cored and sliced thin
4 ounces Sharp White Cheddar Cheese, grated
1/4 teaspoon Sea Salt
1/4 teaspoon crushed Rosemary
1 teaspoon Olive Oil
1/3 cup chopped Walnuts
**garnish with chopped fresh rosemary if desired
Preheat oven to 450 degrees.
Thaw bread dough. Drizzle olive oil on a baking sheet then roll dough into an oval shape and place on baking sheet. Poke fingers down into dough making dimples in the dough, brush with melted butter. Place in preheated oven for 5 minutes. Remove and spread caramelized onions over flatbread, place apple slices evenly over onions, sprinkle with cheddar cheese. Combine salt and rosemary in the palm of your hand and sprinkle evenly over the flatbread.
Bake in 450 degree oven for 12-15 minutes or until cheese is bubbling and starting to brown. Remove and drizzle a teaspoon of olive oil over flatbread and sprinkle with chopped walnuts. Cut into small pieces and serve!
Enjoy!
[/print_this]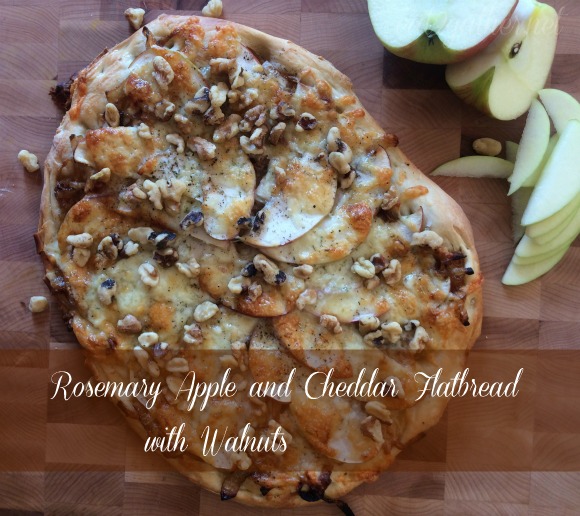 Don't let your drooling stop you from trying all the other fabulous flatbreads in the challenge!  Come join the Fabulous Flatbread Challenge at Rachel Cooks sponsored by United Dairy Industry of Michigan — Win prizes!
 Disclaimer: This Fabulous Flatbread post and giveaway was sponsored by the United Dairy Industry of Michigan.