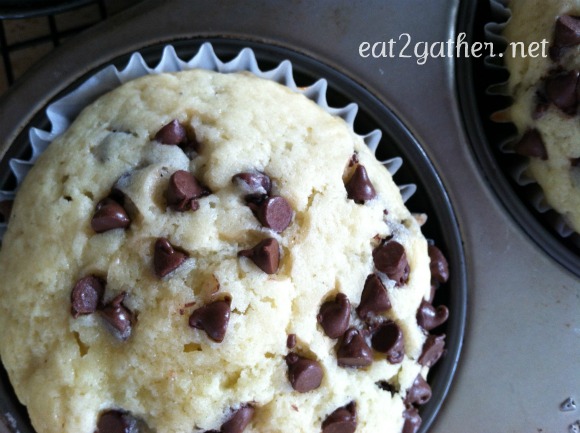 These muffins are for my boys.  They love all things chocolate chip, so I decided to make them an after school treat packed with just that!  They both happily  grabbed a chocolate chip muffin and headed off to do their homework.  I went down a bit later to ask them what they thought.  Younger son replied you need to make those all the time…nom nom nom.  Older serious son barely looked up from his homework to say "more cowbell".
What????
More cowbell.
What language do you speaketh dear son?
Haven't you ever heard that?  It's from Saturday Night Live.
Nope, you lost me.  How do cowbells have anything to do with the chocolate chip muffins?
(scowl) You need to You Tube it mom…..youtube (that's a verb now) "cowbell, Will Farrell".
Okey dokey.
So I youtubed cowbell, Will Farrell, and then I understood what he meant.  Cowbell can also be found on Wikipedia.  Who knew?  Everyone but me!  Apparently "cowbell" is a pop culture catchphrase.  Huh?  Where have I been?  So if you have had your head in a hole like me, here is the video and if you still don't get it, "more cowbell" means more more MORE MORE….More is better!
OK now I get it, he wanted more chocolate chips in the muffins.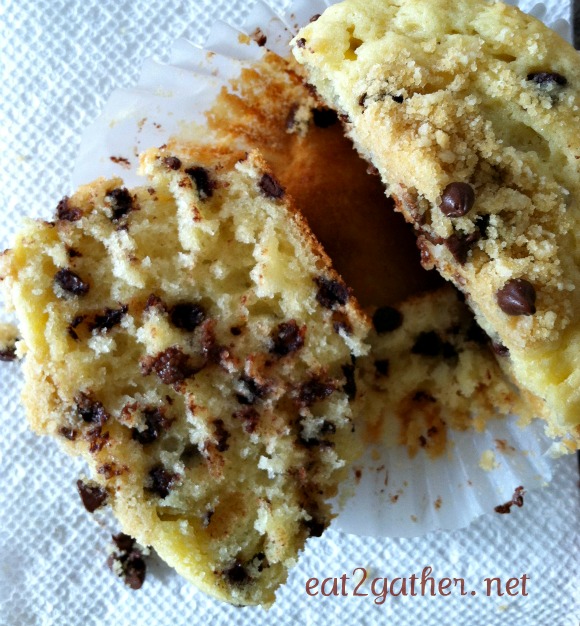 Not sure I could pack many more chocolate chips in these muffins, but next time I'll try.  I think for the average muffin lover there is plenty of cowbell in these muffins. What do you think?
More cowbell?

These muffins are my mom's coffee cake with mini chocolate chips added to them…so easy.  Here's how: Cream butter, sugar, and sour cream together, in a separate bowl combine flour, baking powder, salt, and a pinch of nutmeg, in another bowl whisk together the buttermilk, eggs, and vanilla.

Now alternate adding wet and dry ingredients to the butter mixture, at the end toss in 1 cup chocolate chips….feel free to add more cowbell if you like!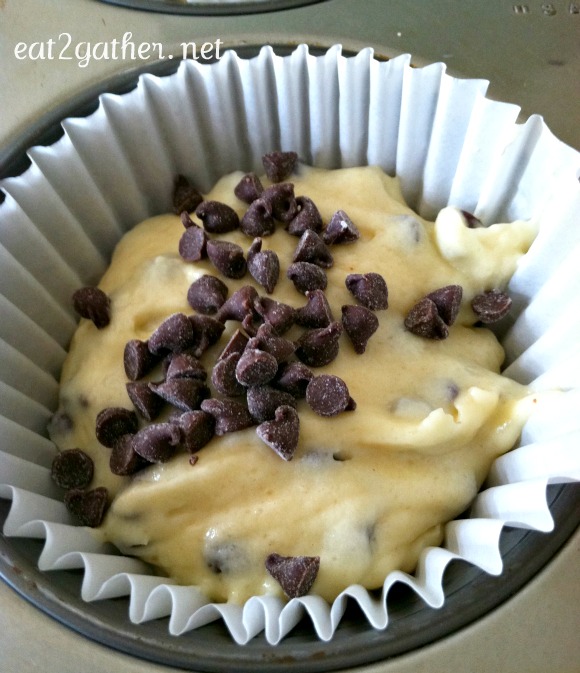 Spoon into large muffin tins, and sprinkle with a little more cowbell.  Bake in a 350 degree oven for 20-25 minutes or until muffins are just barely brown, and firm when you push down on the middle.
[print_this]
Chocolate Chip Muffins
yields 12 large muffins, 18-20 small muffins
1 cup softened Butter (2 sticks)
1 1/2 cups Sugar
1/2 cup Sour Cream
3 Eggs
1 cup Buttermilk
1 teaspoon Vanilla
3 cups Flour
2 teaspoons Baking Powder
1/2 teaspoon Salt
a pinch Nutmeg
1 1/4 cup Mini Chocolate Chips
1. Cream together butter and sugar. Add sour cream and cream until just combined.
2. In a separate bowl whisk together eggs, buttermilk and vanilla. In another bowl combine flour, baking powder, salt, and nutmeg.
3. Gradually alternate adding wet and dry ingredients to butter mixture until just combined. No need to over mix. Fold in 1 cup mini chocolate chips. Spoon into muffins tins, sprinkle remaining 1/4 cup chips over the tops of muffins. Bake at 350 degrees for large muffins 20-25 minutes. Adjust time depending on muffin size, small muffins 15 minutes.
Note: of course feel free to add more cowbell if that is what you desire!
Enjoy!
[/print_this]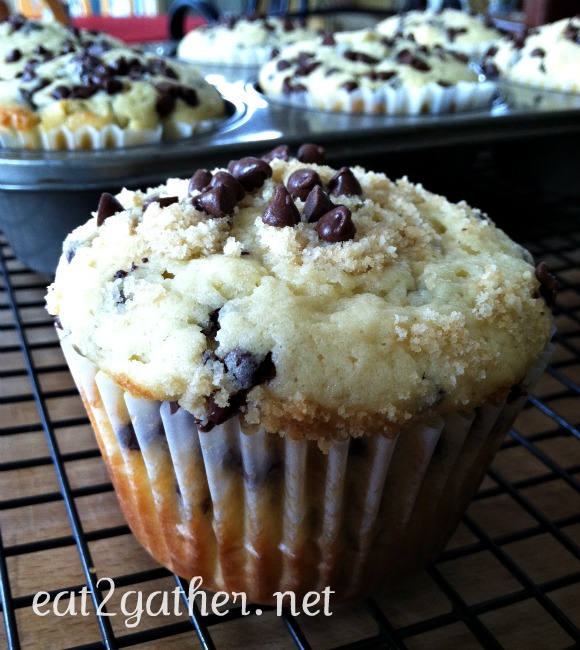 My cowbell is crumble…so this muffin has a crumb topping on it, but sometimes more cowbell isn't always better.  We agreed these muffins were best sans crumb topping.  This photo was so delicious I had to share it anyway!!
What's your cowbell?
Wishing you a "more cowbell" kinda day!
Sheila