31 days:: #2 reason 4 sharing a meal~ Baby..baby..baby…oooo
Delivering a meal to someone after they have welcomed a new member into their family IS my favorite.  I just love hearing their story, meeting their new bebs.  New momma's are some of the hungriest people you will ever meet. They're starving! This mom was, and I still am!  All the time, I think it might be an ulcer or something…anyways.
Cece's baptism. Noah 5, Ainslie 4, Luke 2 1/2, Cece 3 month.  Do you see the glazed look in my eyes?
When I get to bring a meal to someone for this reason it reminds me of the first time a meal was shared with our family.  It makes my heart go thump thump and I my eyeballs well up with big gator tears.
What to bring? The skies the limit really.  Tomorrow I'm sharing with you the recipe for, Chicken Supreme, the first meal that was given to us after Noah was born.  It tasted like Thanksgiving in a casserole.  I think I ate the whole thing, when Kenny got home from work  I told him that the goofy old lady from church never showed with our meal…sheesh.   Oh it was so good…. oh I was so hungry!  I would say stick to something you know.  A recipe your family loves.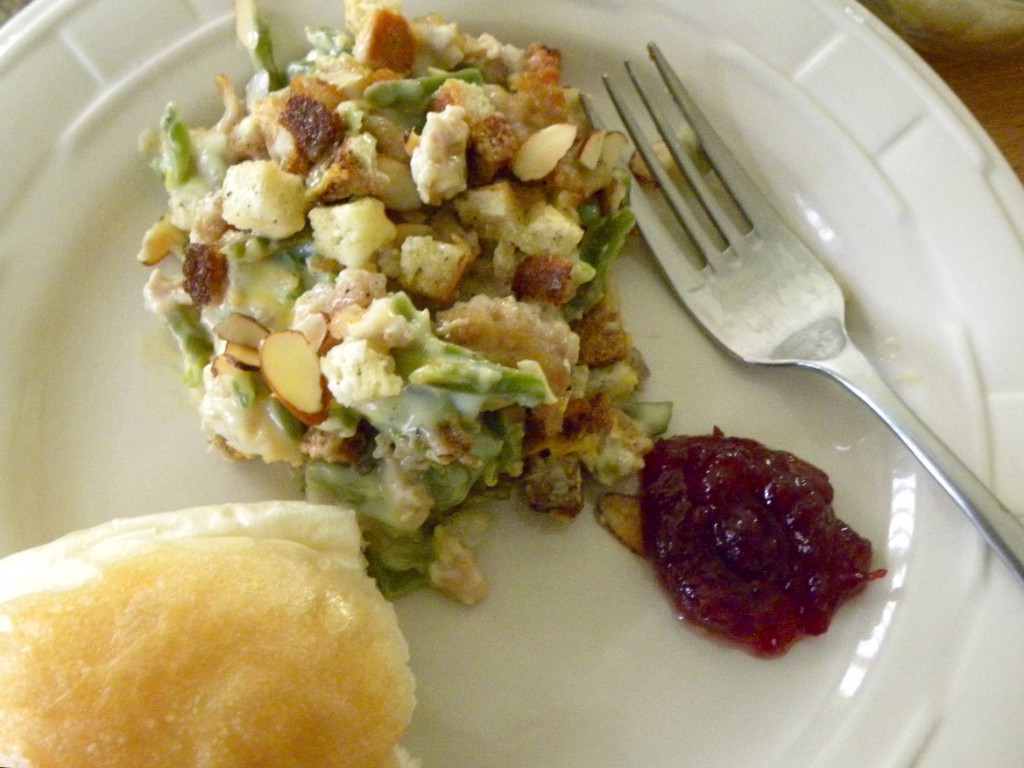 Meal Ideas: Bring them something that can be eaten at anytime of the day or night. Something like Chicken Salad is perfect.  Healthy snacks.  A vegi tray or a giant bowl of cut up fruit to accompany your meal.  Some sort of hearty baked good, like Granola Cookies, or Pumpkin Donut Muffins.  Things that new mom can grab on the go for herself and her family.  Meals that are easily reheated like Macaroni and Cheese.  (I am planning on resharing my recipe for this very soon.)
Bringing food to someone does more than feed their tummies, it feeds their soul.  Sharing a meal with another builds relationships, it feeds our hunger for community.  And in this day and age whether we want to admit it or not, we all hunger for community!
Like me the new parents may not know what they need as far as help.  I recieved this comment the other day that made my heart sing!  This is it!  This is exactly the point I hope everyone gets.
This is what Shauna had to say, get out your tissue just in case you are a sap like myself…..
Shauna says:
We're getting meals from our family & friends right now, and we're so thankful! I agree that every day is too often–every other is perfect for us. And our Cooking Club has a new baby tradition: when the new mom's ready for visitors, one of us brings dinner for everyone, and everyone else brings a freezer meal for the new mom. So we get to share a meal together and snuggle the baby and wait on the new mama–fold her laundry, clean her kitchen–and when we leave, the family's freezer is full of meals they can defrost and eat anytime. My other favorite thing is mealbaby.com–and the woman who started it lives in Naperville! I've met her a few times, and I love the site–really easy to use. I especially like that you can see what each person is bringing, so that one family doesn't get the same thing every day for a week.
OK, I want to be in Shauna's Club!  What a fabulous idea.  And it's not rocket science people.  But I never thought of that! Simply amazing, love this.  So now in case you are like me and you need a re-cap.  This could be any circle of friends you have, book club, small group, friends from high school.  When new mom is ready to have visitors, you all head over at the same time.  One brings a meal that will feed you all, so you can eat and catch up with one another while you're there together. The other people bring meals to fill the freezer for later. Also while you are there, you pitch in and help new mom out with housework, laundry, etc.!  GENIUS!   Shauna, thanks so much for letting me share your story. 1 Corinthians 12:12 pops in my mind when I think of how your friends loved on you after you brought new baby home.
1Corinthians 12:12 says this: "The body is a unit, though it is made up of many parts, and though all its parts are many they form one body." Many parts coming together to help; working together!  We all have different gifts and when we work together it's a beautiful thing!
I wanted to give you a few things to think about when bringing a meal after baby arrives:
~ If it's the first baby, then remember you are really feeding two adults.  You don't need to bring them enough to feel a large family.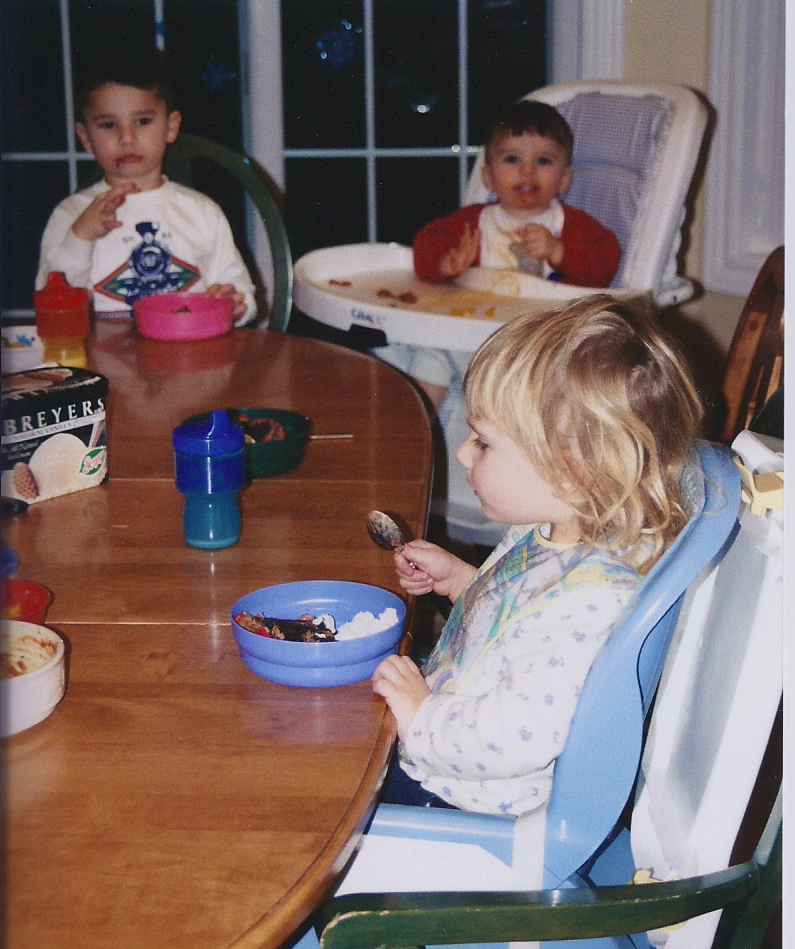 My three rascals, one in booster, and two in highchairs.
– Do they have other children?  If they have younger children make sure when you come into the home, that you make an extra effort to give attention to the older siblings. All the attention is directed at the new arrival, remember this is an adjustment period for them.  Sometimes I try to stop at the dollar store and bring big brother/sister a coloring book or a race car.  This is not necessary, actually just getting down on their level and asking them how they are doing, what they think of the new baby.  Give them praise and encouragement in their new role as a big brother/sister.  My first three kiddos arrived within a three year span, I always appreicated when someone gave my others the attention instead of the baby, it seemed to give them a new pep in their step.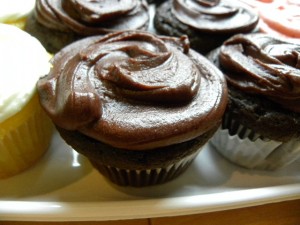 True Story: One time I brought a meal to a dear friend of mine she had just had a baby and her oldest was about 2.   Well  I decided it would be a fabulous idea to bring her 2 year old a cupcake with mountains of frosting and a football decoration on top.  He proceeded to be so geeked about the cupcake that he spiral passed it right into her purse that was hanging from a kitchen chair.  Oh good golly!  The whole inside of her purse was covered with chocolate frosting!  What the heck was I thinking,  this made me rethink my choices for little gifts for older siblings…as a rule generally steer clear of cupcakes with mountains of frosting or any other sugar laden gift.
~ Is the new momma nursing? If so is there any foods that she feels might upset the babys tummy?
~ Timing:  So you don't interrupt nap times.  Also would they like you to deliver the meal hot and ready to eat or would they rather have it uncooked so that they can cook it at their convenience.  New babies create crazy schedules!
~ DON'T give advice.  Unless it's your sister.  Then sock it to her!  Seriously, this is not time to tell your story or add your two cents on how your delivery went….blah blah blah.  The new mother/father is tired.  You are there to bring them a meal, relieve them of the task of cooking.  To bless them abundantly!  Don't make the mistake of flapping your jaw and tearing them down, when I know you were just trying to give well meant advice.  Maybe, if they ask you.  Just be careful. I speak from experience.  Hopefully I never hurt anyones feelings, but I have left and then wondered UGH!  Did I flap my jaw too much?!
Do you have a favorite meal that someone brought you after new baby arrived?
What was it?  I'm dying to hear!  Did you call later and ask for the recipe?
Don't forget to keep up with:
31 days of Meals 4 Sharing ~ a guide to blessing others through the gift of food.

If you are just popping in on my series today, here's what you missed.
Day 1 ~my Heart for Meal Ministry
Day 2~ "I'm not comfortable with bringing someone a meal"….
Day 3~ Reasons 4 sharing a meal.
Day 4~ Quick Easy Apple Sauce
Day 5~ Organizing a Meal Schedule
Day 6~ #1 reason-No reason at all!
Did you realize there are a boat load….well really a ship load, well to be more exact like an ocean liner full of other bloggers doing a 31 day series?  You can find them all here.
much LUV!
Sheila
**Another great resource for organizing a meal schedule is Mealbaby.com . They think of everything and help you put a plan together in a snap!**