I am so excited to welcome my good friend and fellow blogger Nikki to E2g today!  Let me introduce you quickly.  Nikki blogs at Seeded at the Table ~ gathering for joy and community at the table. (She formerly blogged at Pennies on a Platter until she rebranded in February) Nikki has been blogging for 6 1/2 years!  She is married with two small boys 3 years and 3 months…seriously two of the cutest boys ever, outside of mine of course 😉  Because Nikki's boys are still young there is really no other option other than eating together every night…although she admits sometimes it's hard to pull Judah her oldest away from the iPad.  Nikki enjoys getting her little guy in the kitchen to help her when time allows. She knows first hand how hard it is with kid big or small  to find the time to always get a homemade meal on the table, and has no problem resorting to take-out or semi-homemade.  I think Nikki and I are both on the same page as far as the importance of gathering loved ones around the table even if what's on the paper plate is take-out pizza!
I hope you visit Nikki's blog Seeded at the Table.  You can also follow her on Pinterest, Twitter, Facebook, and Instagram!!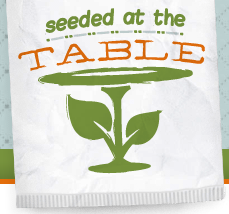 Hey guys! I'm Nikki from Seeded at the Table and I'm more than enthusiastic to be here today and help you with ideas for getting dinner to your table on those very busy nights. Thanks to Sheila, you already have great recipes available to you, but let me add a few more.
Sheila and I share a passion to gather our family and friends around the table to share a meal, or just spend time together! But, let me first get something straight. There is nothing wrong with ordering a pizza or going out as a family for your meal time every once in a while. Think about it, you're still taking time to gather and spend time together when doing this, right? But, we all know we can't afford to eat out all of the time, so cooking at home is much more budget friendly.
My favorite way to beat my dinner dilemma on busy weeknights is to make sure I have shredded chicken prepared and readily available. Yes, you can always run to the store and buy a rotisserie chicken and shred that up, but if you're anything like me, I hate going to the store. And, if I do go to the store, I never leave without first spending way more than I intended on other things. Right? You feelin' me?
SO – Once a month, I make a bunch of shredded chicken using my favorite boiling method (which also makes a GREAT homemade chicken broth). Just throw all of the ingredients listed above into a large pot and boil for at least 1 1/2 hours. One batch makes about eight cups of shredded chicken. I typically use about 2 cups in any recipe that calls for shredded chicken, so that means this one batch of shredded chicken is good for FOUR meals. (More if you end up with leftovers.)
My family is small, so you might need to make your shredded chicken more than once a month. I'll use 2 cups of it right away in a recipe, and then freeze the rest for later. I'll usually plan to have a recipe using the shredded chicken once per week, so that takes care of one meal each week of the month. This means, if I know I'm having a busy night (I know you all have said Wednesdays are tough!) then I'll plan to use my shredded chicken!
Now, let me tell you how I use my chicken. These are all easy weeknight dishes you can throw together quickly if you already have the shredded chicken ready.
My favorite is this Chicken Pot Pie. It might sound tedious, but when you use refrigerated pie crust dough and have your shredded chicken handy, it comes together in a jiffy!
My family's favorite are these Baked Creamy Chicken Taquitos. I also make these as a meal for new moms and their families because they can be stored in the freezer then baked when ready for just 15 minutes. Talk about getting dinner on the table quickly! 🙂
Shredded chicken can always contribute to a wonderful pizza! Pictured above is one of my favorites, Thai Chicken Pizza, but you can make any variation and make it fast by using a store-bought crust and pre-shredded cheese!
Lastly, another favorite for my family (and many of my readers) are these Creamy Chicken Pockets. Just stuff refrigerated crescent rolls with a chicken filling and it makes a great dish or appetizer!
Other recipes using shredded chicken:
Hawaiian Haystacks
Buffalo Chicken Bites
Buffalo Ranch Chicken Quesadillas
Green Chile Chicken Empanada
BBQ Chicken Pizza
Easy King Ranch Chicken
Cheddary Chicken Pie
Buffalo Ranch Chicken Taquitos
There you have it. My best practice for beating any dinner dilemma is to ensure I have shredded chicken on hand. What recipes do you have that use shredded chicken?
Thanks, Sheila, for hosting me! This was fun! 😉
Yummy!! An amazing round-up of great recipes as well as great ideas for preparing ahead of time, and saving money!  Nikki thank you so much for joining us for What's for Dinner Wednesdays!  If you have a blog and would like to share a recipe or tips and tricks to solving the dinner dilemma contact me!  I would love to have you…we are all in this together remember!