This delicious dip is so easy and it will surely be the hit of any appetizer buffet.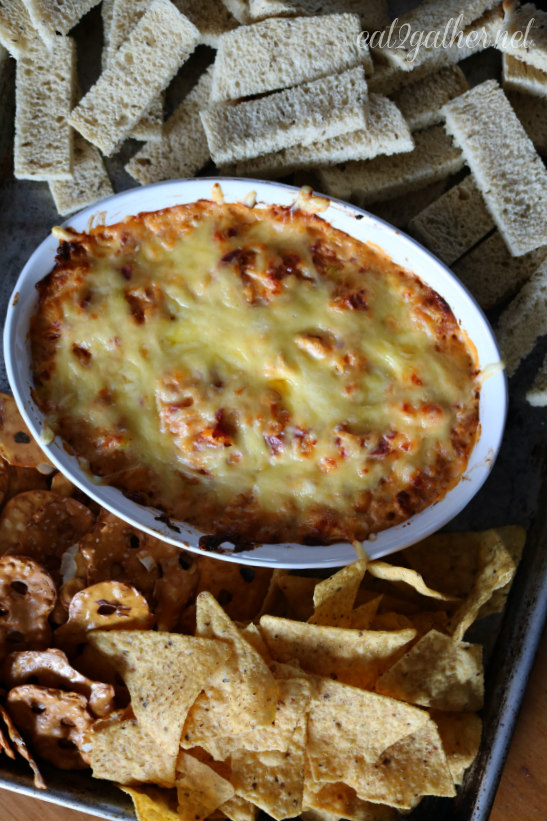 Are you ready for some FOOTBALLL?  Super Bowl 50 is this Sunday!  My husband and Super Bowl both turned half a century old this year!  While my guy loves himself some football, I love myself some snacks while watching football, and to be honest the Super Bowl commercials are really what I'm looking forward to!  Remember this one?   Sorry, I can't help it, this one still makes me laugh out loud!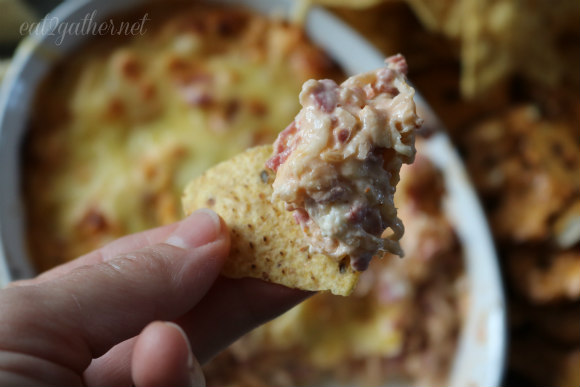 Every year I try to come up with a new dip for the Super Bowl Sunday smorgasbord. My sister was telling me about a Reuben Dip she makes, she said you pretty much mix everything that's in a Reuben sandwich together minus the bread bake it and Voila!  Oooey Gooey reuben dip!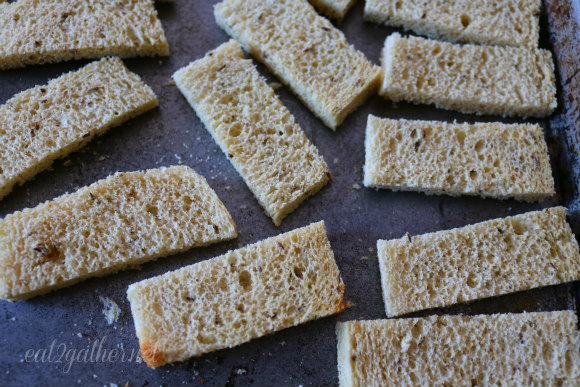 Rye Toasts
You may be saying "I've never even had a reuben", or you may even be saying "I don't really like reuben sandwiches".  Well I think you need to just give this dip a try despite your shortcomings in the taste bud arena. It's so good!  I nearly ate half the dern recipe myself while recipe testing.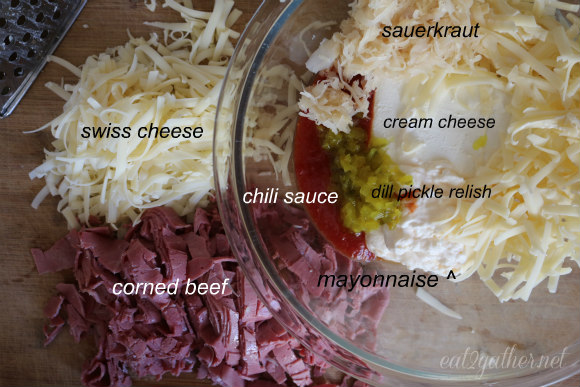 And it's easy no sautéing  not too much chopping, pretty much dump all ingredients together, mix them together.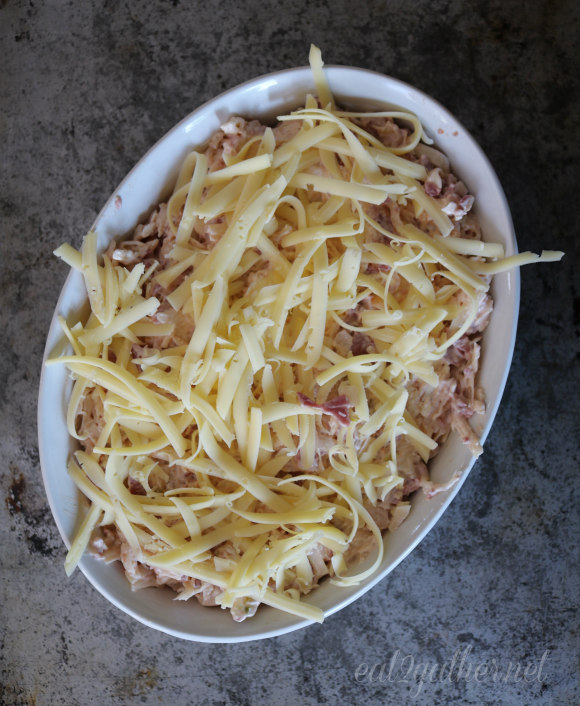 Spread dip ingredients in a baking dish, top with extra cheese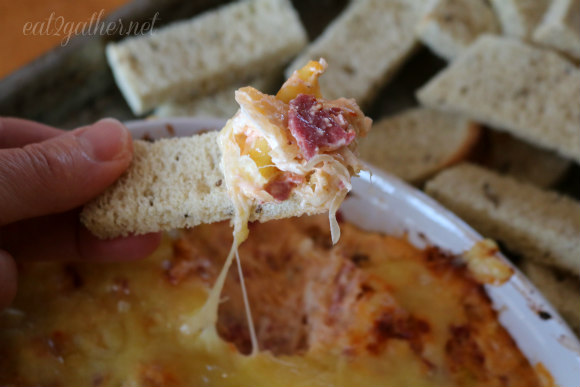 Bake and eat!!  Yes ma'am this here is some good chompin'!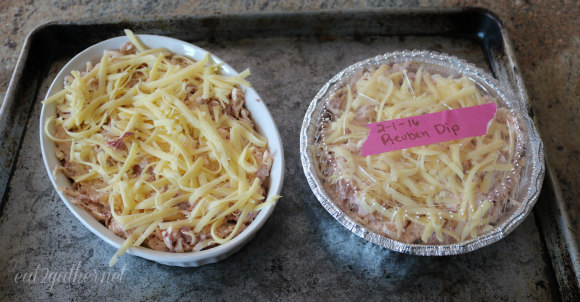 Sometimes when you are having an appetizer potluck you don't want 10 large pans of dip, they don't all get eaten, in that case, freeze half of this recipe for later and bake the other half for now!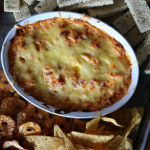 Print Recipe
Reuben Dip
Serve with rye toasts and chips for a delicious appetizer.
Ingredients
1-8

ounce

brick of cream cheese

softened

1/2

cup

mayonnaise

1/4

cup

chili sauce

Heinz is the brand I usually use.

1

tbsp

dill relish

heaping tablespoon

1/2

pound

thickly shaved corned beef

chopped

1-15

ounce

can sauerkraut, drained

see not below

2 1/2

cups

grated Swiss cheese

10

slices

rye bread
Instructions
preheat oven to 400°
Combine all ingredients, reserving 1/2 cup cheese for garnish.

Make sure ingredients are creamed together well.

Place creamed ingredients in a shallow dish, such as a pie plate or an 11×7 baking dish. Top with 1/2 cup of reserved cheese.

Bake at 400 degrees for 20 minutes or until brown and bubbly.
Rye Toasts:
Preheat oven to 300 degrees.

Cut crusts off bread and cut bread into long rectangle slices.

Place bread rectangles on baking sheet and bake for 20 minutes or until bread is dried and just starting to brown.

Allow to cool on baking sheet.

Serve warm dip with rye toasts, pretzels, and tortilla chips!
Notes
Sauerkraut: drain sauerkraut well, place in a colander or a larger strainer and press down with paper towel to remove as much liquid as possible before adding to other dip ingredients. 
Note: Split this recipe in half, bake one half, and freeze the other portion so when you need a quick appetizer you have it at the ready in your freezer. Frozen reuben dip will need to bake an additional 15 minutes.
So who are you rooting for this Sunday?  Denver or ummm who's the other team?  Oh yeah sorry Carolina Panthers.  Well, I guess you know who we will be cheering for!
Need some more APPETIZER IDEAS?  Follow my Pinterest board:
Follow Eat2gather 's board Appetizers/Party Food on Pinterest.
Or for quick reference here are a few past Super Bowl Sunday faves.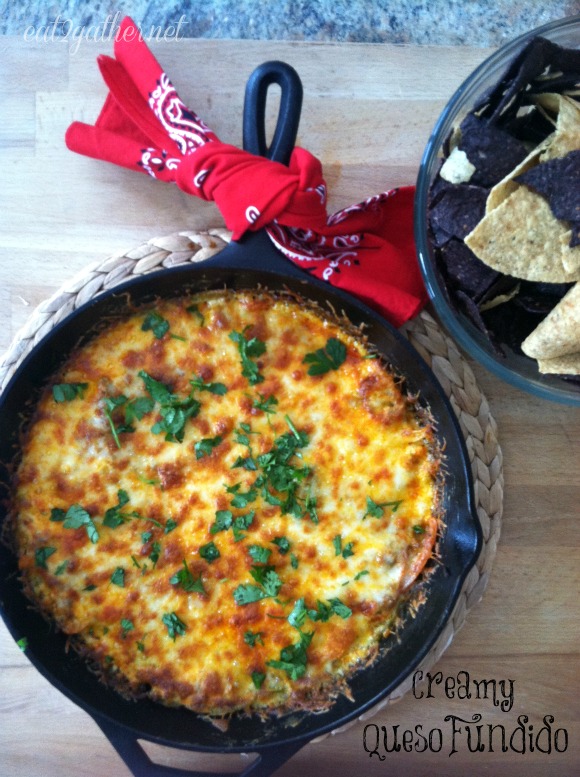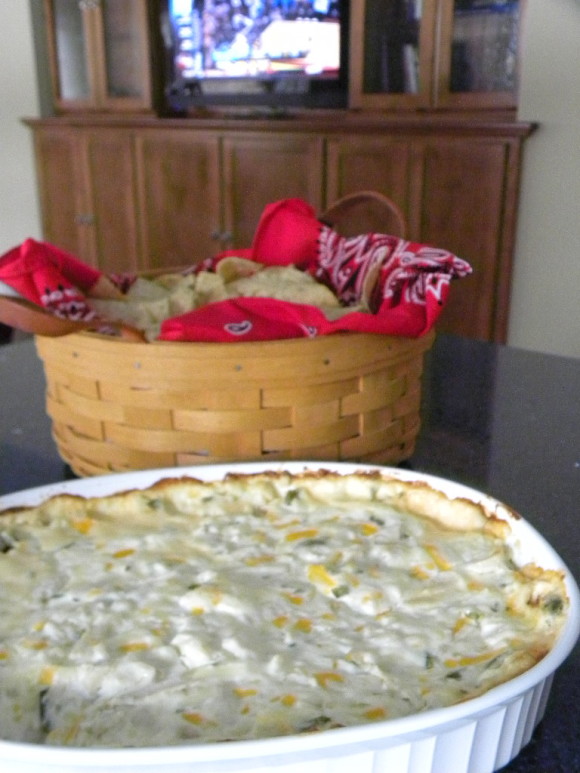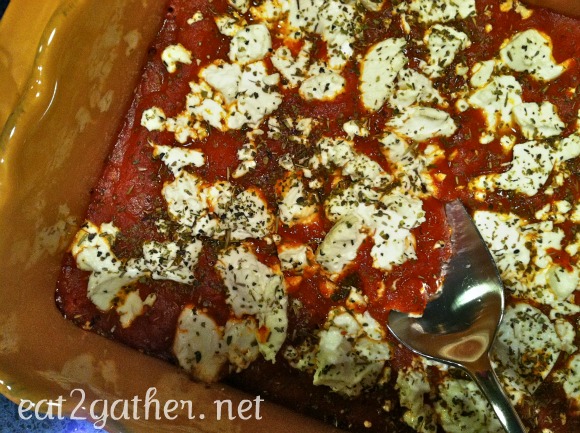 Best Dip on the planet!!!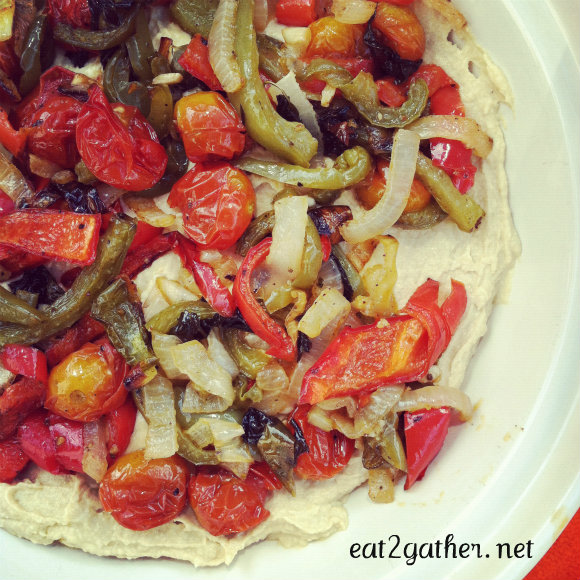 Second Best Dip on the Planet!!!
What will you be dipping your crackers in this Sunday?  Hopefully one of these dips!
Enjoy!  Have fun!  Be good! Go Team!
Sheila