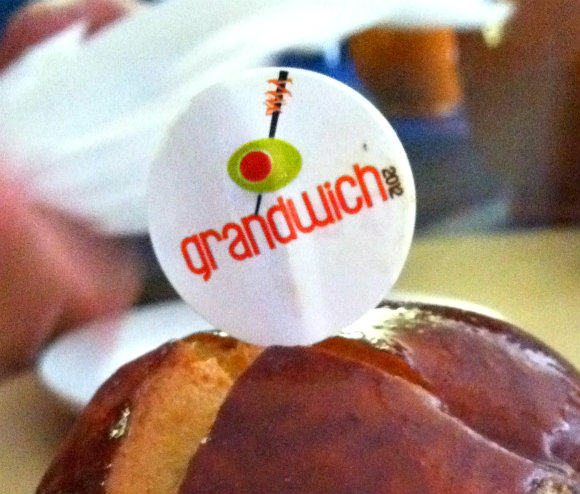 August 14th is the deadline to get your vote in for the BEST Grandwich in Grand Rapids, so I thought I'd better report my findings to you, you have 3 days to get out there and see what you think. My hopes were to be able to try more Grandwiches but shoot time got away from me…..and I might have over done it by trying 6 in one night.
Oh Mommy my tummy hurts just thinking about it.  Ever do that….think you can conquer the world and eat like a pig and then regret it for weeks afterward?
No?  You've never ever, ever done that.
Hmmm well alrighty then…..may I just say don't judge me.
Ken and I met my Seestor and brother-n-law down town for our Grandwich Crawl.  We had strategically planned our crawl so that we could park at my sisters place of employment and then walk from restaurant to restaurant.  I had 9 Grandwiches that I wanted to try…my sister talked me down to 5, and in the end we sampled 6!  Now mind you, we each didn't eat 6 whole sandwiches!  We either split them 4 ways, or if they were small each couple split one.
So with out further ado………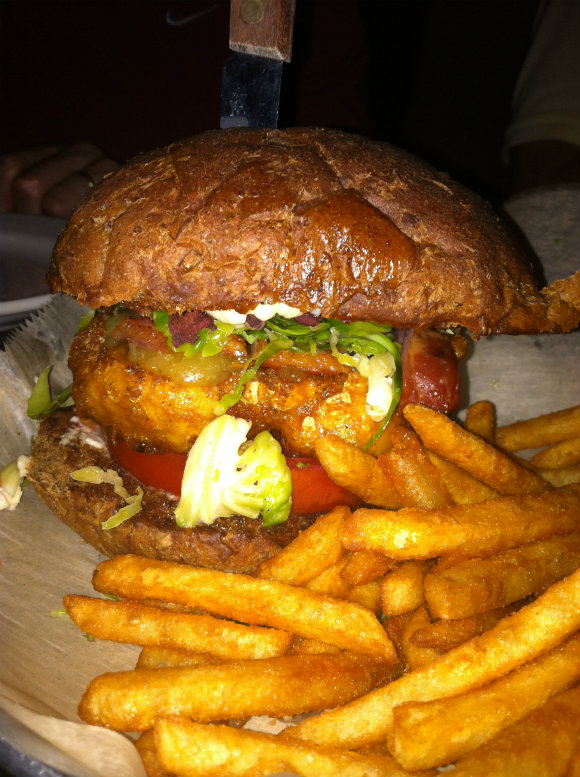 Let's start where we ended, at Stella's,  this sandwich came in second place on our list of favorites.  It was really really good.  First off because I was stuffed, nothing really sounded good, but then fact that the meat of this grandwich was a batter friend cauliflower steak topped with brussel sprout slaw sort of made me fear for the flatulence filled ride home with my hubby.  This sandwich comes in two versions vegi without bacon, and meat lovers with bacon……we said what the heck bring on the bacon!  Had we eaten at Stella's first I may have picked this as my number 1…..it's hard to say.  Stella's Grandwich the Omnivore was worth every agonizing bite!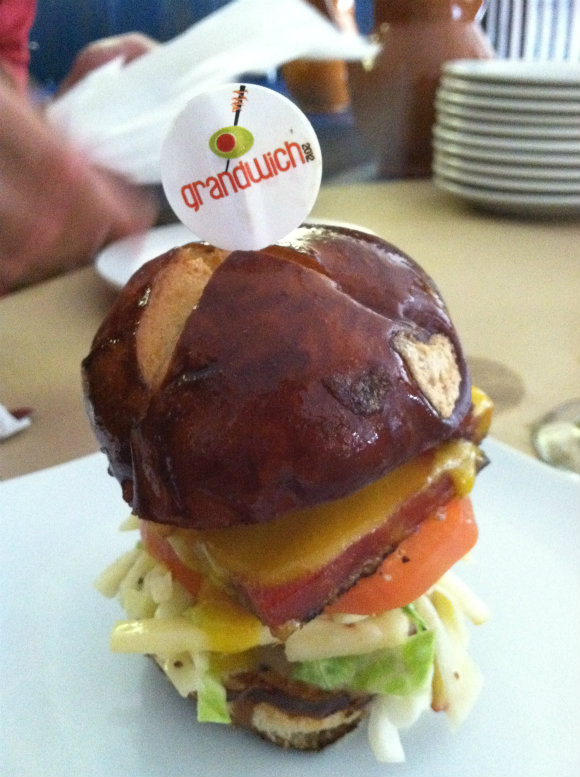 Our first stop was Sanchez, which is a tapas restaurant, thus the smallish size of this Grandwich.  I loved this one.  They had me at pretzel bun!  What is it about a pretzel but, you could serve me raw sheep's liver on it and I would think it was marvelous.  Pretzel Bun how I love thee let me count the ways…..
Mustard braised slow roasted local pork belly, tomato, homemade sweet cabbage slaw, served on a buttered pretzel bun with sea salt.  It was delicious.  I have to tell you that I also had a Mojito with my sandwich, it was the best Mojito I have ever partaken of.  I wanted another, but we needed to keep crawlen' on to the next stop.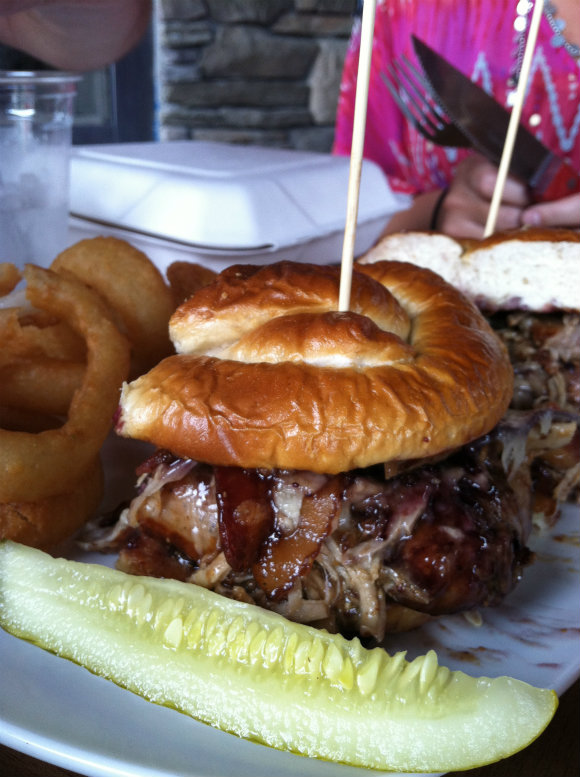 The Grandwich at Grand Woods Lounge is called The Politician.  Can you you say "Senator may I please have another"!  Pulled pork, blueberry chutney, white cheddar, onion marmalade, um yeh and bacon!  We split this one four ways.  It was more Grandwich than this gal could handle on her own.  As you can see it was served up on a generous pretzel bun.  This Grandwich is definitely on the top of our "you gotta try it" list.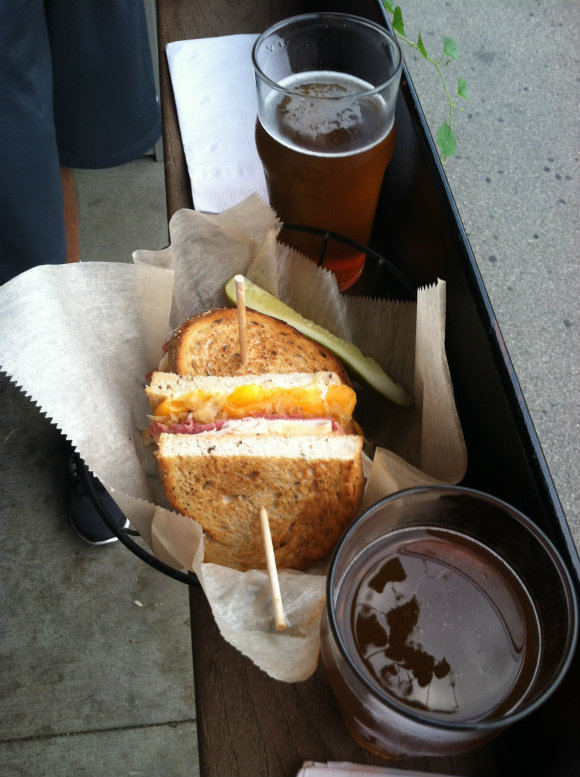 Founders Brewing Company chose to submit a glorified Reuben as their Grandwich.  Don't get me wrong, this girl loves herself some Reuben, and I don't mean Joseph with the coat of many colors big bro!  But this Reuben was just nothing special.  There is alot you could do with a Reuben sandwich to take it up a notch, to bring it up to Grandwich worthy status, but this did none of those.  Wat wat waaaaa…sorry Founders you did not get my vote.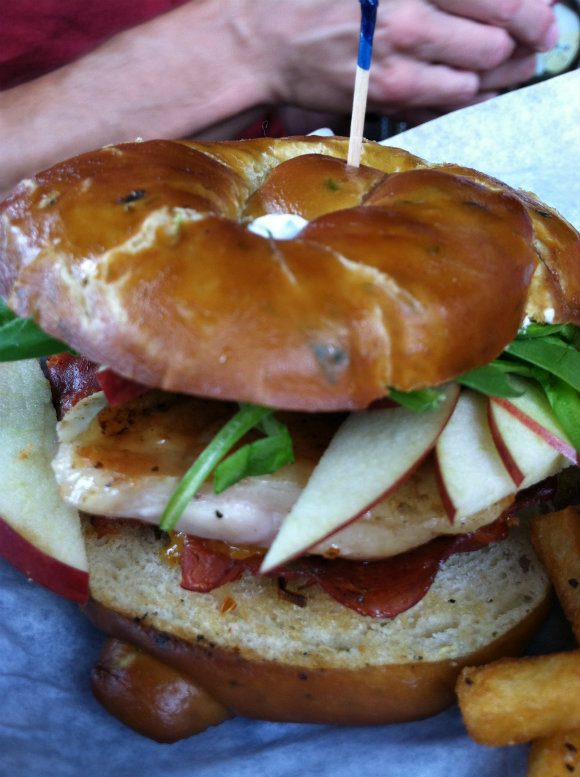 I like to think I'm a girl about town…but in reality there are dozens of restaurants in this town I've yet to try and Hopcat was one of them.  I loved this place.  It's a bar, but with lots of nice natural lighting, and a great menu and an incredible beer selection.  Hopcats Grandwich was a marinated chicken breast served on a jalepeno cheddar pretzel bun, the chicken breast was piled high with all sorts of good toppings, but we agreed it was the french fries that stole the show from this grandwich!  Hopcat, what do you put on your fries?  Heaven help me they were so addicting.  Ken and I can't wait to go back to Hopcat and give some of their other menu selections a try.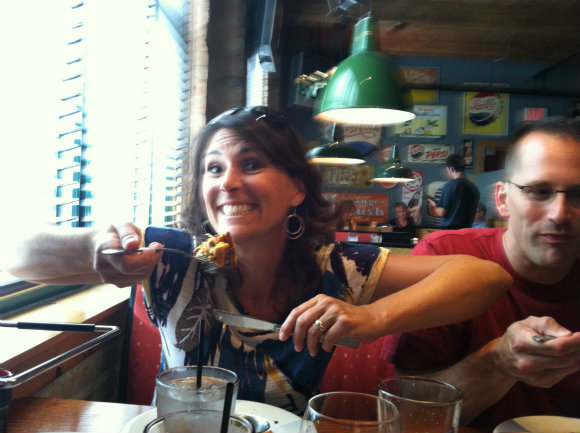 I saved the best for last. Bobarinos in the B.O.B..  As you can see I am thouroughly enjoying myself, totally taking my husband out as I chow down on our number one Grandwich pick.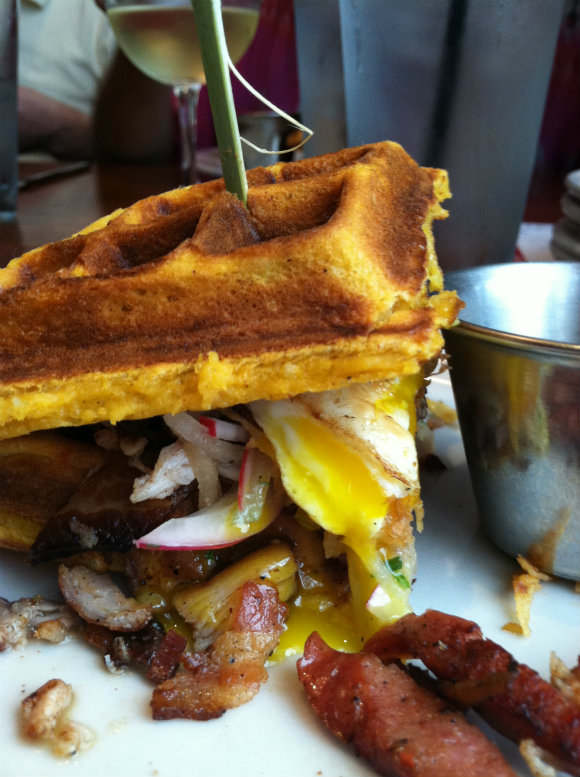 Can you even believe this thing?  Smoked chicken on a sweet potato waffle, crispy potato, Frank's Hot Shots, fried farm egg, Michigan maple Louisiana style hot sauce, pear & onion slaw and Delski's smoked bacon!  Did you get all that?  Seriously??!! In the words of of Guy Fieri this sandwich took me straight to Flavor Town baby!
I'm usually the one in this house that dreams of food, but Kenny told me the other day he was dreaming of getting back to Bobarinos so he could sink his teeth into this luscious sandwich again.  I loved the Michigan maple Louisiana style hot sauce it made this sandwich a step above the rest.
All four of us agreed that the winner of all six Grandwiches we tried on our crawl was Bobarino's Smoked Chicken & Waffles.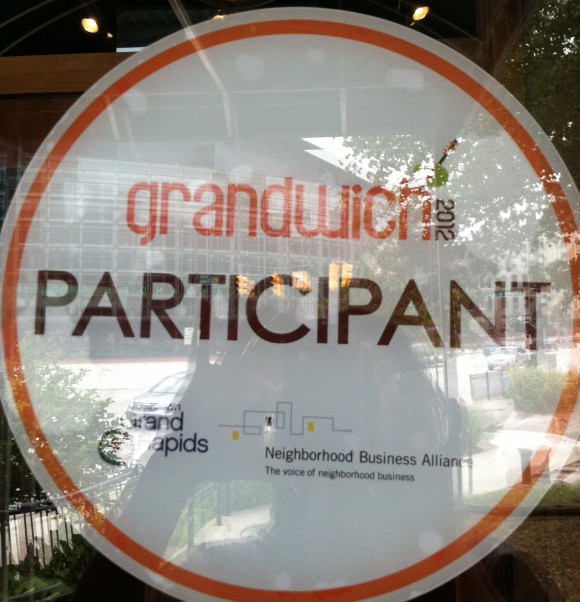 Have you been out and tried any of the Grandwiches?
Are you wondering exactly how many sandwiches we each consumed over the course of an evening?  Keep in mind, we walked from place to place (yes I am justifying).  Because we shared six different sandwiches between four people, it ended up we each only ate 2 1/4 sandwiches.  Well and then did I mention we had a few drinks along the way….oh so filling, oh I need to work out, oh I couldn't wait to get into my stretchy pants at the end of this evening.  When Kenny and I finally flopped our stuffed selves into bed we were miserable.  But it was so much fun, we said we would do it all over again!
We actually were hoping to get a few more grandwiches eaten before August 14th, but it doesn't look like that's going to happen.  While on our Grandwich Crawl we were given recommendations from others about entries they and tried and what they thought.  We heard Skywalk Deli over and over again.  I personally wanted to give Brewery Vivant, Bartertown Diner, and Rockwells  Grandwiches a try.
Good Luck to all the restaurants that participated.  May the best Grandwich win!
Have a great weekend!
Cheers, Sheila