disappearing Peanut Butter Balls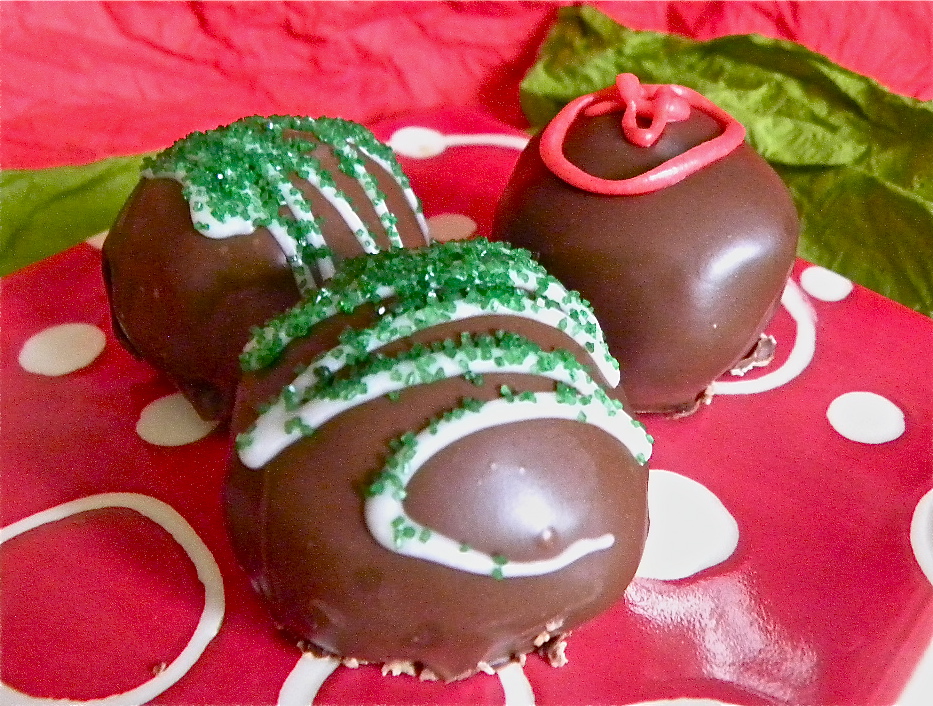 Yeah! Another no bake Christmas treat to share with you.  It was given to me by my good friend Kim years ago, and it has become a Christmas tradition in our home now too.   There are many versions of this treat, and if you live south of the border (the Michigan border that is), these tasty morsels are called Buckeyes after a nut that falls from a Buckeye or Horse Chestnut tree.  There are a few elements that set these Peanut Butter Balls apart from the Buckeye Candy.
1. Mine have a secret ingrediant that gives the peanut butter center a delicious crunch.
2. The peanut butter filling in mine is airier than the Buckeyes, not too sweet.
3. My peanut butter balls are completely bathed in chocolate.  There isn't a single bit of peanut butter filling peeking out.
I'm telling you Buckeyes once you make these babies you ain't goin back!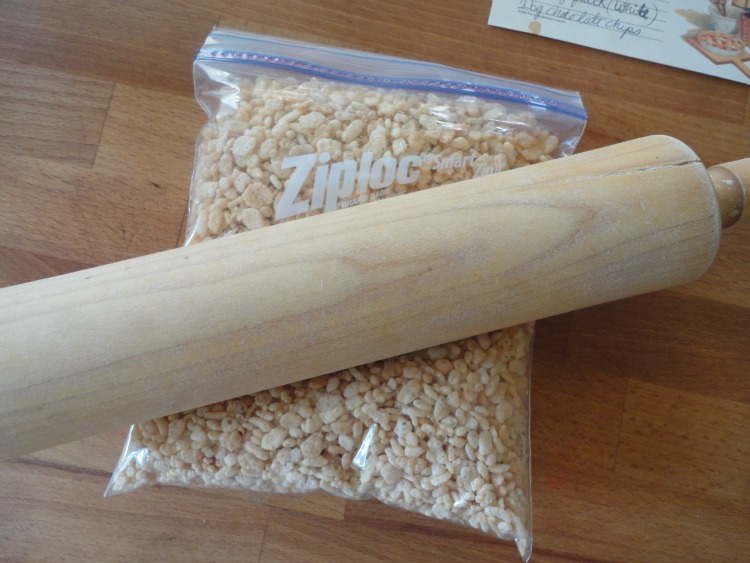 So here's the secret ingredient….crushed Rice Krispie cereal!  Measure out 3 cups of Rice Krispies, or Rice Krippies as my kiddos used to say, put them in a Zip-loc bag and crush them with a rolling pin.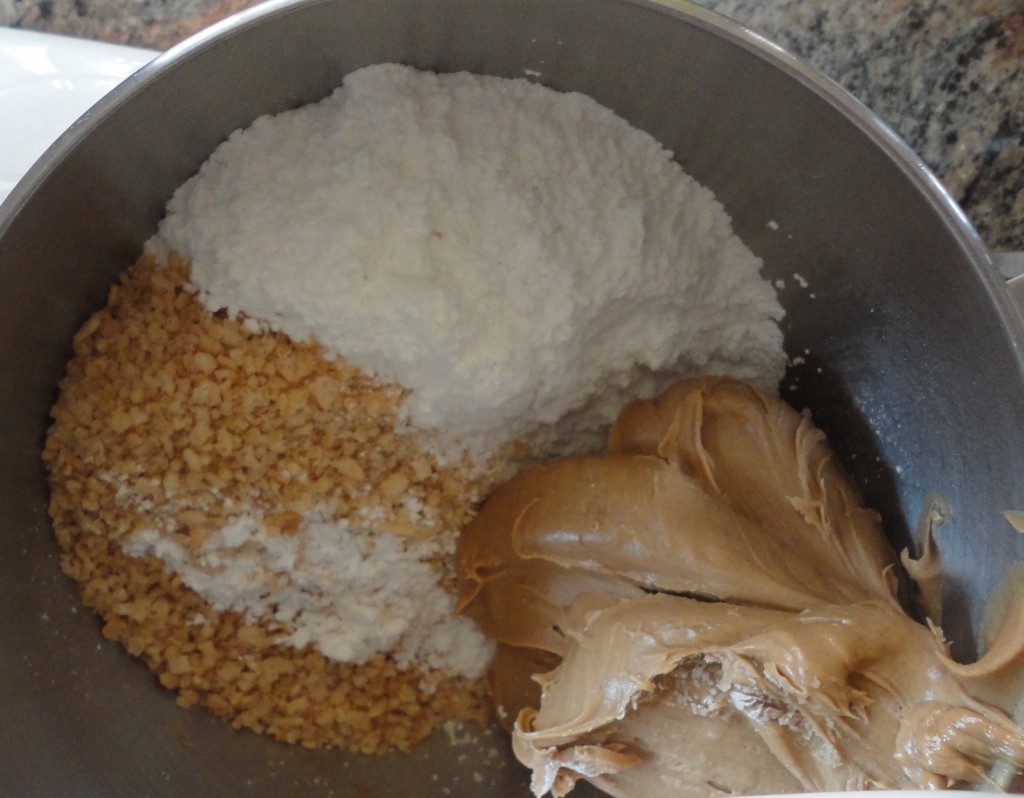 Mix crushed Rice Krispie cereal, 1 pound Powdered Sugar, and 2 cups smooth Peanut Butter in your mixer.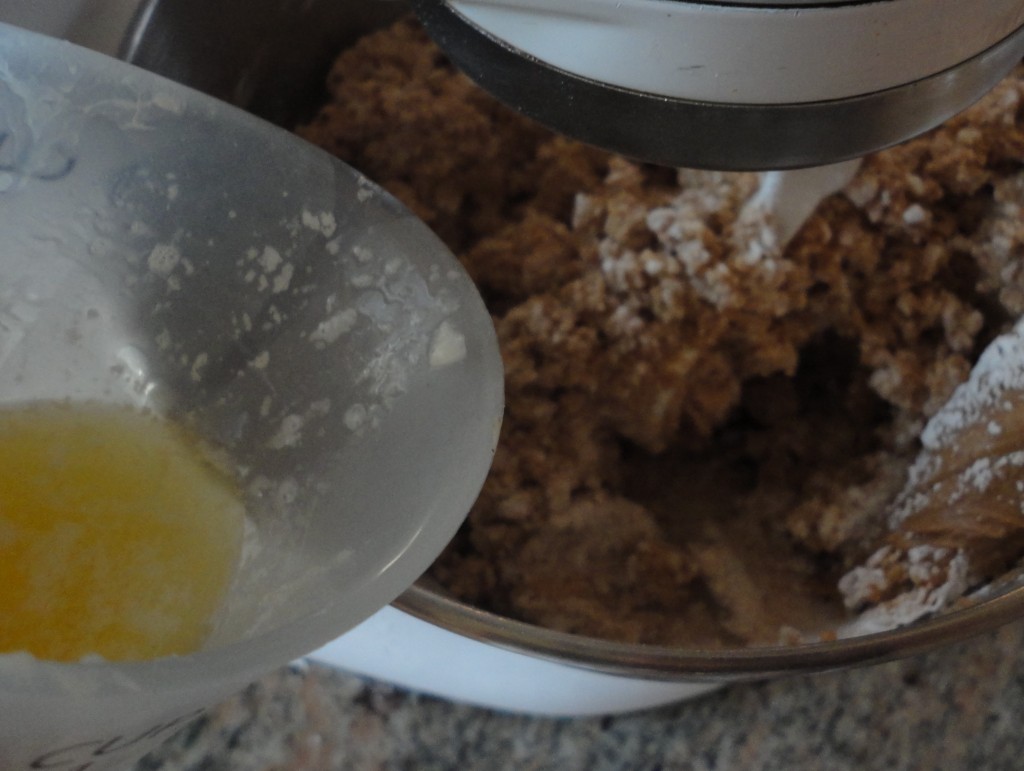 Gradually add 1/2 cup melted Butter as the krippies are mixing.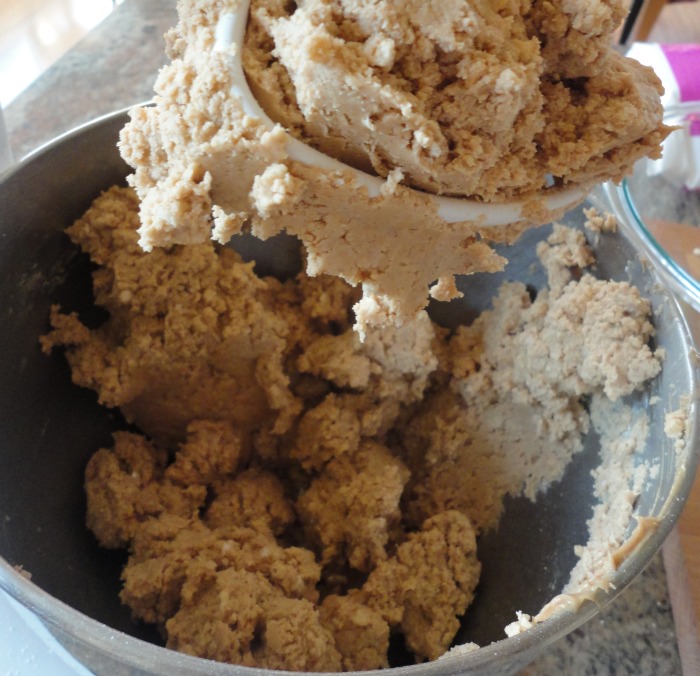 Continue to mix until all the ingredients are incorporated thoroughly, and the filling looks like the above picture, about 2 minutes on medium speed.
Now the fun begins!
Roll um Roll um Roll um….get those babies rollin
Scoop um up, Get up out!

If you have a melon baller use it to scoop out the filling, plop it in your hand…not your pie hole, and give it a quick roll in the palm of your hands.  Set it on a baking sheet and keep it going until all the filling has been scooped and rolled.  This will make approximately 50 pieces.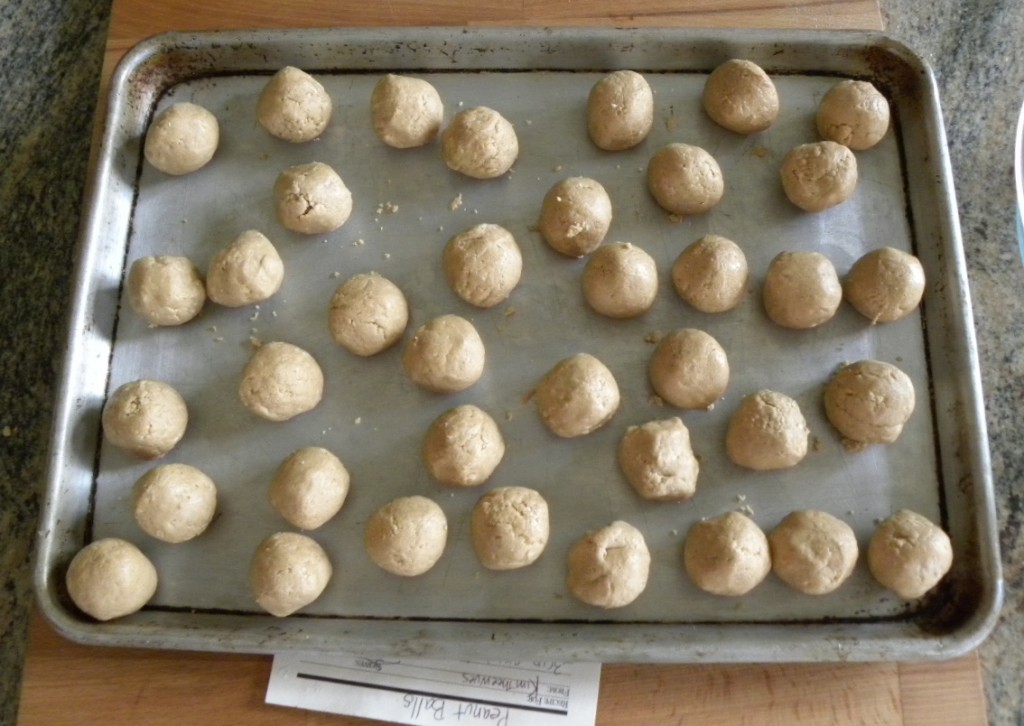 At this point I pop them in the refrigerator for 30 minutes while I melt my chocolate.  Or you can leave them in the refrigerator up to a day before you give them a chocolate bath, this will allow time for laundry, laundry, grocery shopping, present wrapping, and well chocolate melting.

So all your peanut butter balls are rolled and chillin' in the fridge.  Now it's time to prepare the chocolate coating.
In a glass bowl pour 2 cups Semi Sweet Chocolate Chips, add 1/2 packaged White/Vanilla Candi Quik (4 squares).  Melt in the microwave on High for 30 seconds remove and stir, repeat until chocolates has completely melted 60-90 seconds.  Be careful to not over cook, this could cause chocolate to become dry and crumbly.  It's ok if there a couple lumps of chocolate after you remove from microwave.  Stir with spatula until chocolate coating is smooth.
Now things get a little messy…but oh so good.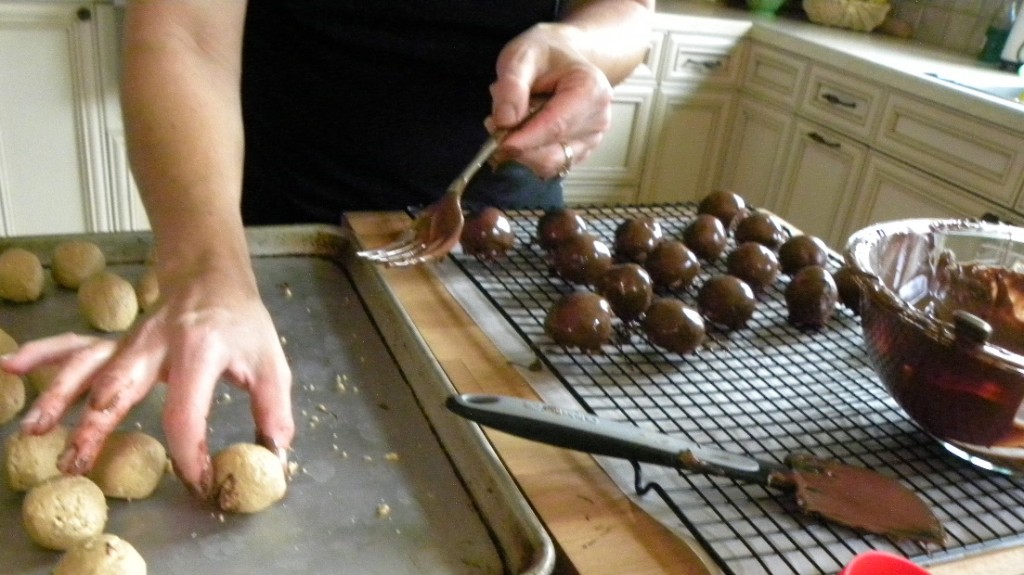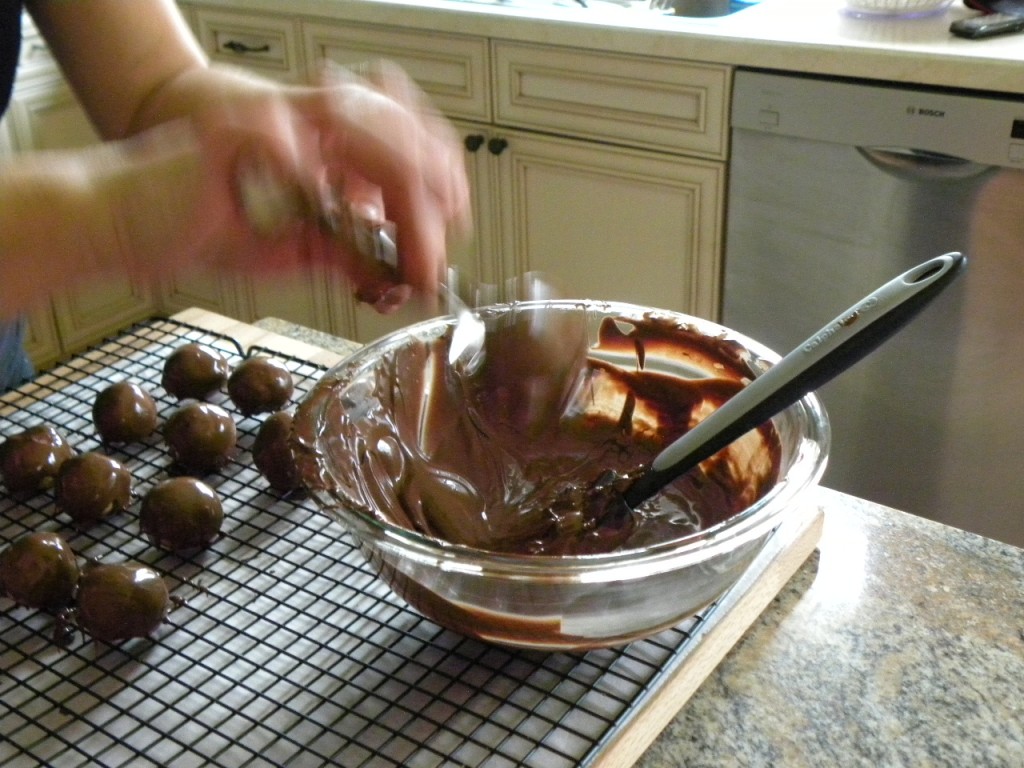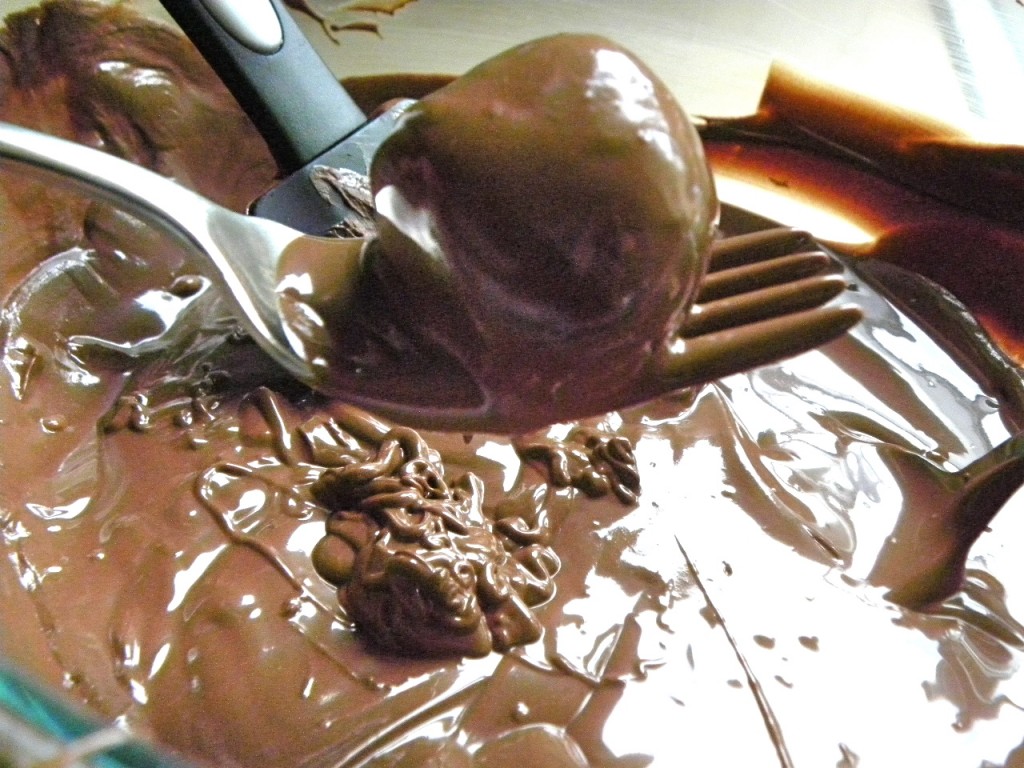 This is my method, but please feel free to do it your way if you already have a chocolate coating technique.
– I like to start out By dipping the fork in the chocolate, then setting the peanut butter ball on the fork.
– Then I take a spoon full of melted chocolate and pour it over the top of the peanut butter ball.
– Tap the fork on the edge of the bowl to knock the excess chocolate off.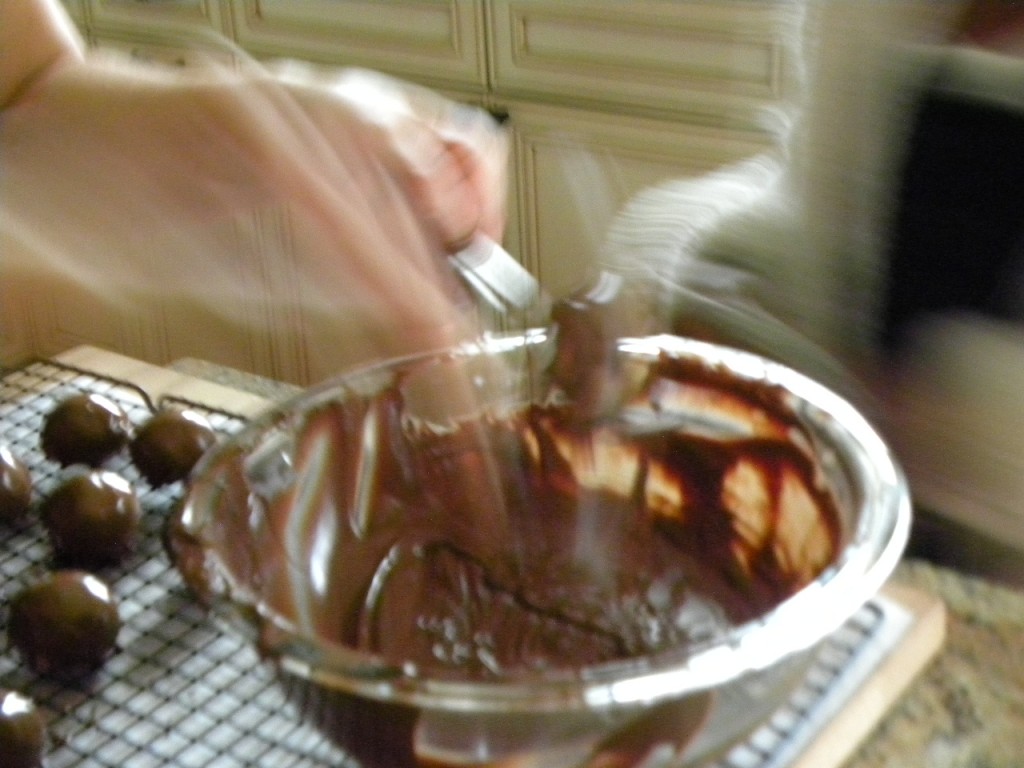 This is me dipping balls at lightening speed, like Shazam!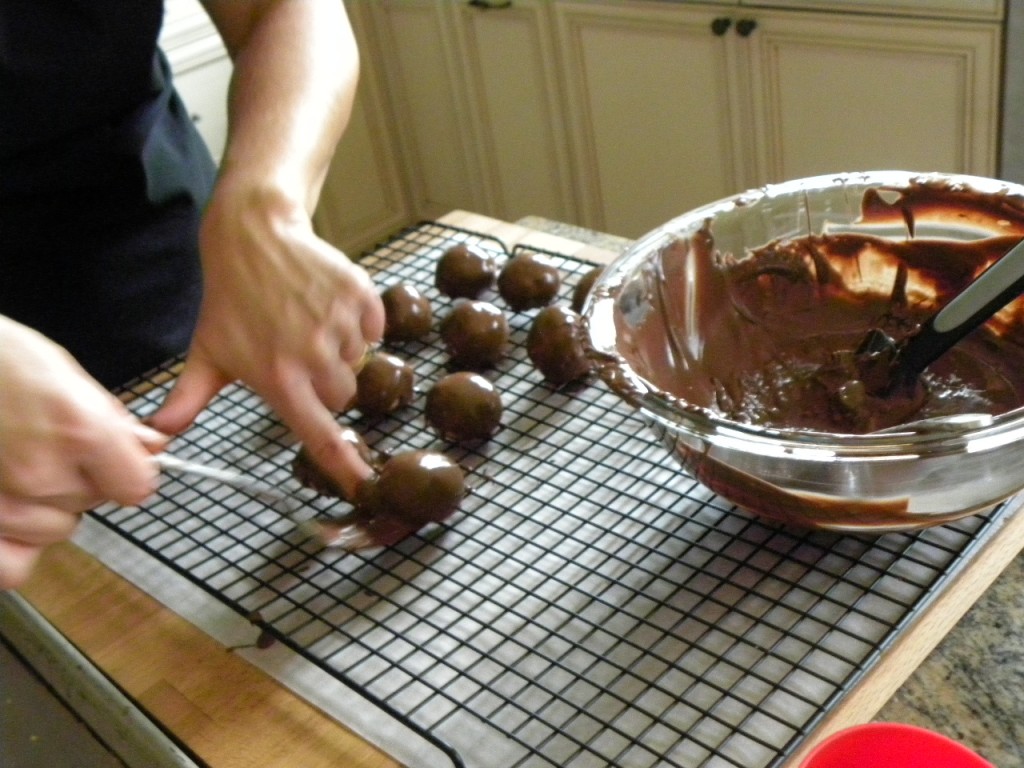 Then scoot them off on to parchment paper.  DO NOT do as I do!  DO AS I SAY! Because as you see in the picture I have the parchment underneath the cooling wrack.  Numbskull move.  They dried and stuck all in the grid, and were a pain to remove.  Numbskull.  So like I said, remove the chocolate coated balls on to parchment paper.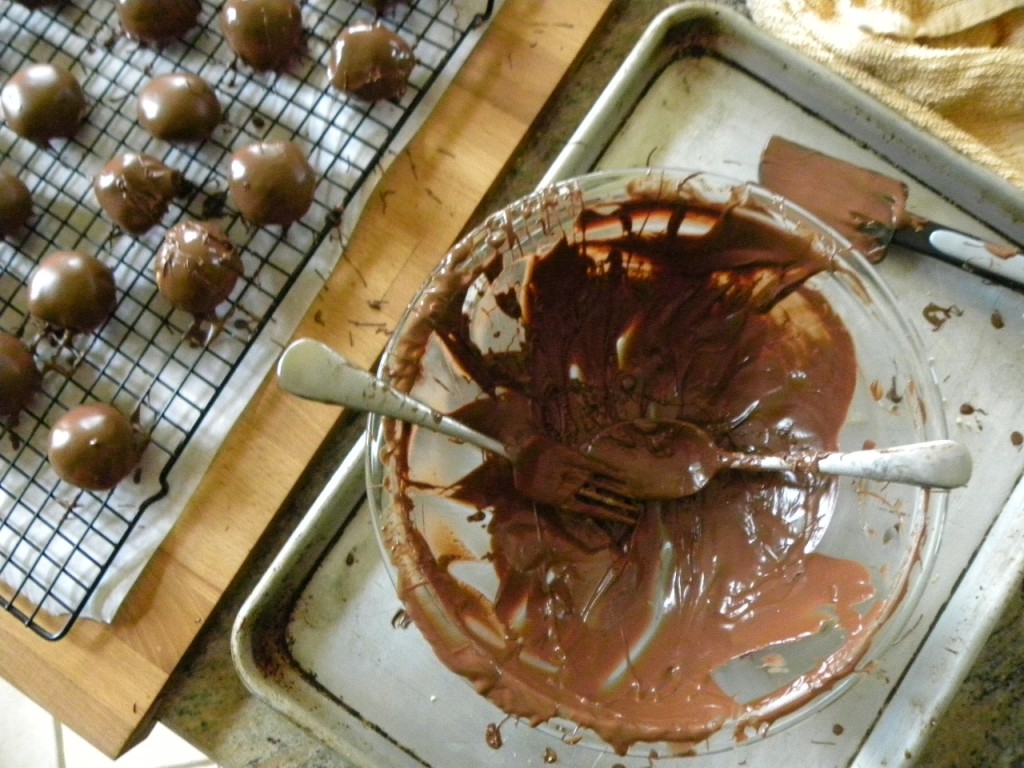 Nearly every bit of chocolate coating will get used, so be prepared to do a little scraping.  One year I was an enormous glutton for punishment and I doubled the chocolate coating and double dipped the balls.  I have to say gluttony has a really been given a bad wrap most days, cause the double dipped peanut butter balls where just shy of heavenly!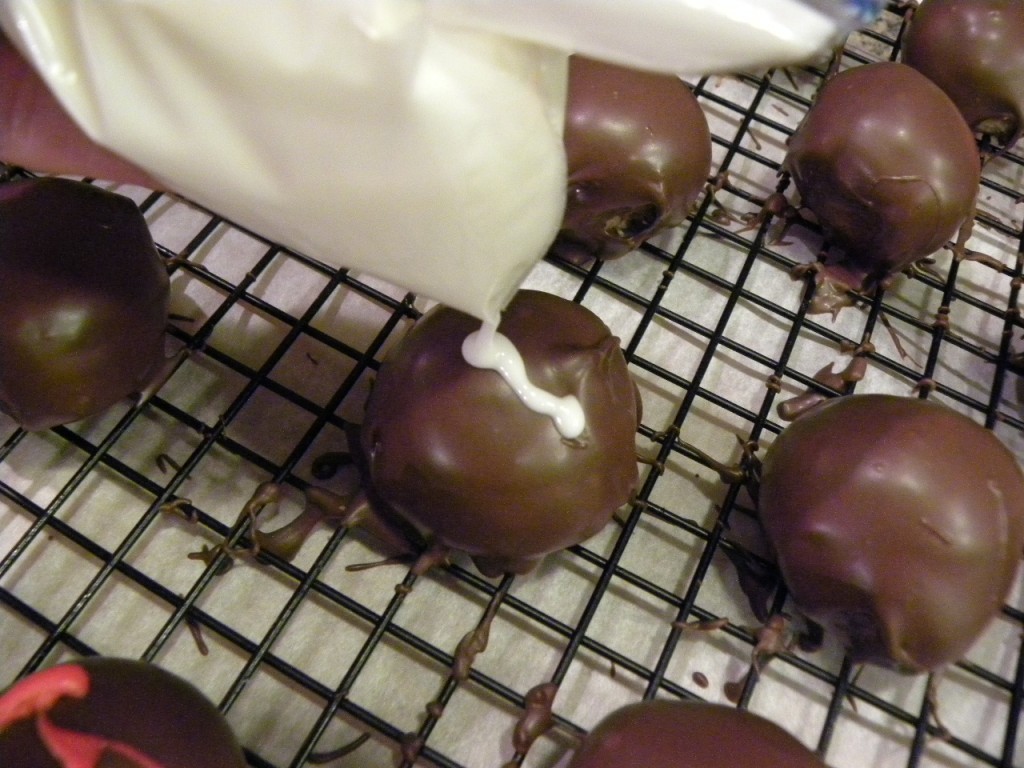 If you want to decorate your peanut butter balls here is how you do it:
Melt one square of White Candi Quik with 1 teaspoon Vegetable Oil  for 30 seconds on high in the microwave, stir until smooth.  Add food color if you like or drizzle white chocolate over ball and immediately sprinkle with colored sugar or sprinkles.
I have made these peanut butter balls for all occasions and decorated them.   One year I made them for tailgating before my nephews football game and put the school letter on the top with colored chocolate.
[print_this]
Peanut Butter Balls
makes approximately 50-60 balls
peanut butter center:
3 cups Rice Krispies, measure and then crush
1 pound Powdered Sugar (3 1/2 cups)
2 cups smooth Peanut Butter
1 stick of Butter melted (1/2 cup)
chocolate coating:
1 bag Semi Sweet Chocolate Chips (2 cups)
1/2 package White Candi Quik
-Measure 3 cups of Rice Krispie cereal and crush with a rolling pin. Add crushed Rice Krispies, powdered sugar, and peanut butter to mixer. Begin to mix on medium speed, slowly drizzle melted butter in, continue to mix until filling is completely incorporated, about 2 minutes. Using a melon baller, scoop out filling and roll in to balls in the palm of your hand, set them on a baking sheet. Chill peanut butter balls in refrigerator for 30 minutes or up to 24 hours.
Chocolate Coating: Melt 2 cups of semi sweet chocolate chips with 1/2 package  white candi quik in a glass bowl in your microwave at 30 second intervals. Do not microwave longer than 90 seconds all together, chocolate will continue to melt even after done microwaving. Stir with spatula until smooth.
-Lay parchment or waxed paper on counter.
-Dip fork in chocolate coating, set peanut butter ball on fork, spoon chocolate coating over peanut butter ball.
-Tap fork on side of bowl to knock off excess chocolate.
-Scoot chocolate covered ball on to parchment paper and repeat
-Allow 1 hour for chocolate to set up well.
Peanut Butter Balls will last up to 2 weeks if kept in an airtight container.
Enjoy!
[/print_this]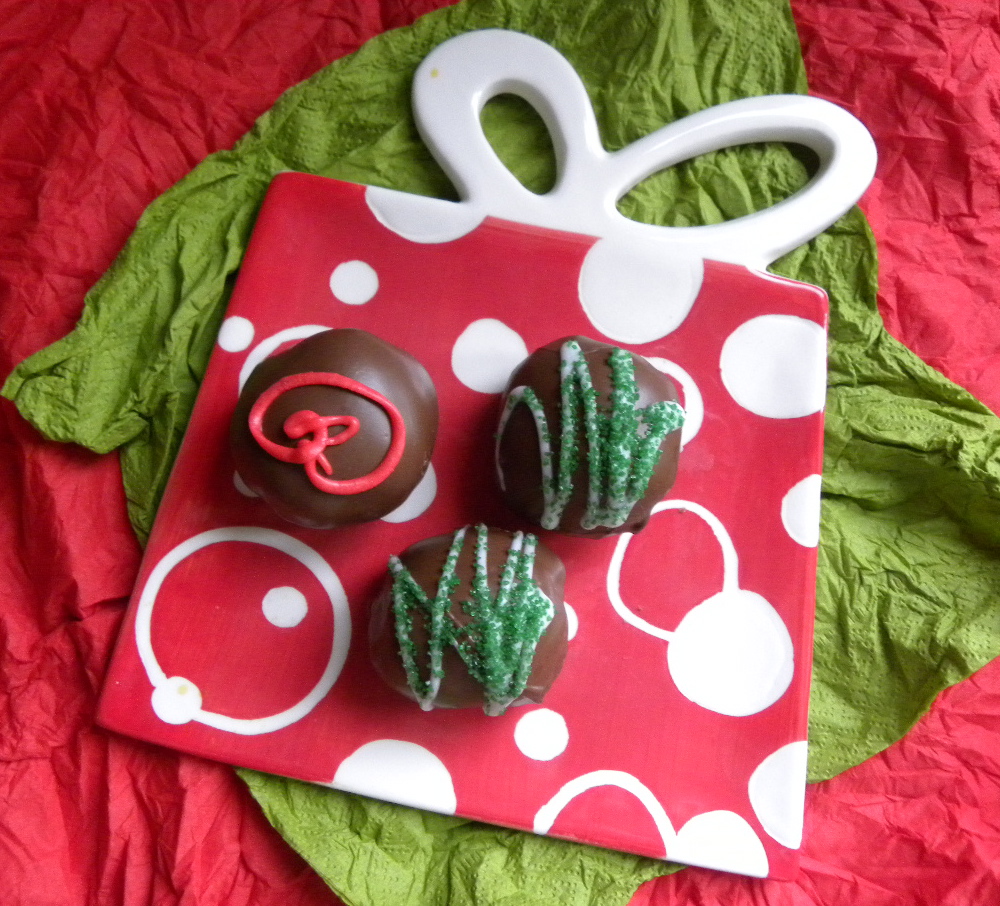 Whatever the occasion I hope you give these delicious morsels a try.  I promise your friends and family will be begging you for more!
Have a luverly day,
Sheila
(better known in Latin as erectus numbskullus)