My family has one speed, mach speed.  So in order to show them how much I love them sometimes it has to be in the little things, like with these melt in your mouth bite sized breakfast muffins that they can grab as they run out the door.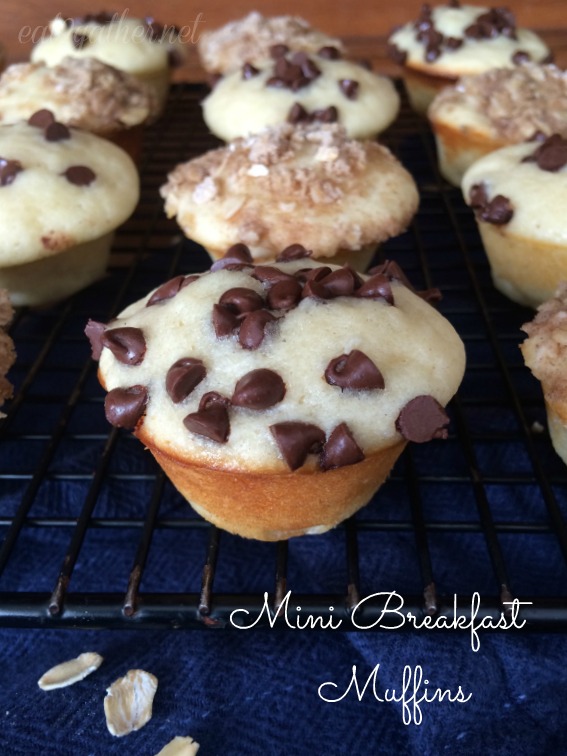 We've never been a family that gets all goo goo ga ga over Valentines Day, we like to find ways to love on each other the whole year through.  My husband and my kids all love it when I bake for them, and even though I bake on a weekly basis, it still puts big smiles on their faces and I usually get a hug or two as a bonus!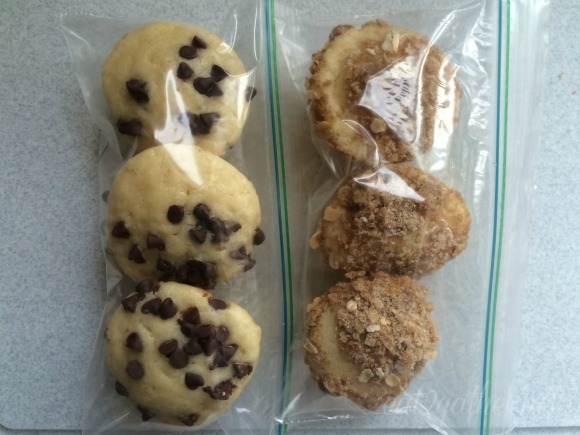 Three of these tasty morsels fit perfectly into a snack sized zip-loc baggy, once you've baked them, and let them cool completely, pop mini muffins in snack bags and freeze for quick breakfasts, lunch box treats, or after school snacks!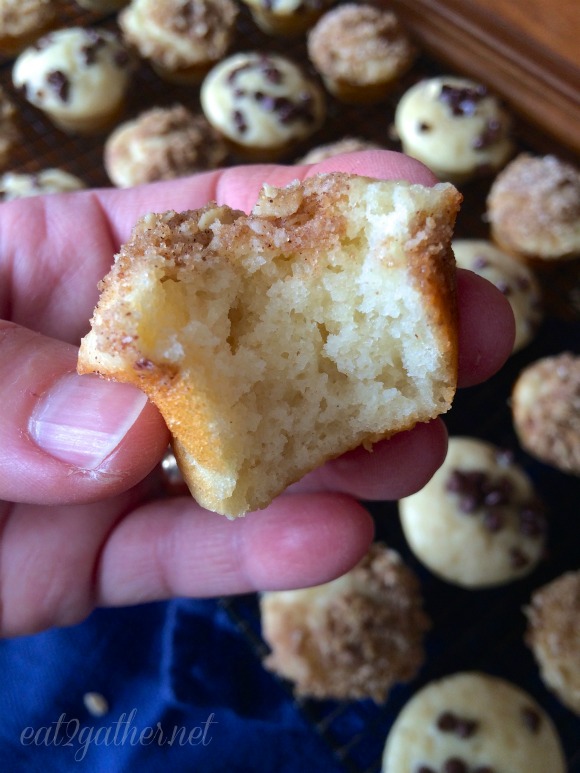 My kids love my Chocolate Chip Muffin they are so decadent, buttery, and full of chocolate chips!  I have had readers ask in the past how they could cut the calories in this recipe so that got me thinking….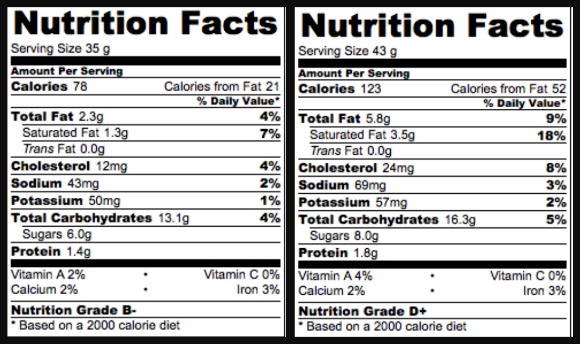 by cutting the butter in half, adding 0%fat Vanilla Greek Yogurt from Stonyfield, using skim milk instead of buttermilk, and cutting the sugar by one-third I was able to shave off a few calories and none of the yumminess. NOW I realize that these muffins would not be considered a "healthy" breakfast, I just wanted you to see that by getting a smallish bit creative I was able to cut down on the calories without loosing even a smidgen of the nommy factor.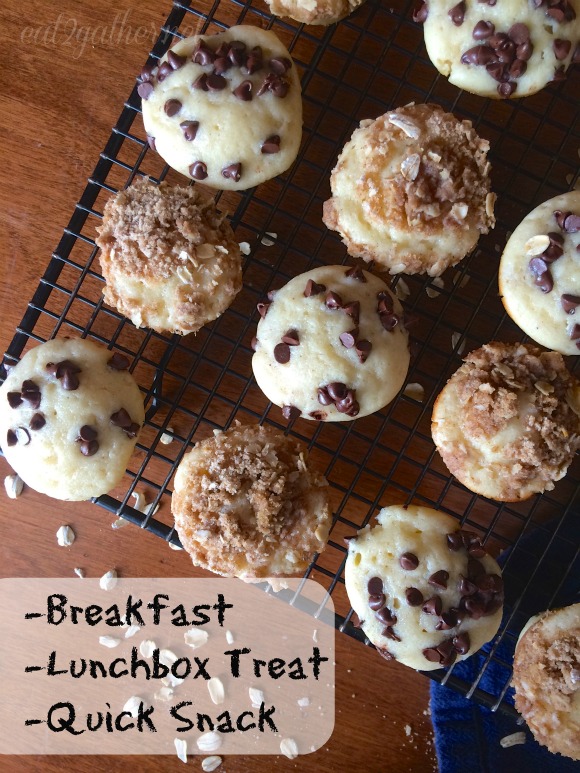 I love using Stonyfields 0% fat Greek Yogurts in replace of sour cream.  I use greek yogurt for baking and as a topping for my tacos, soups, and chili.  It's so creamy and spoon lickin' good!  One of my goto breakfast is Stonyfields 0% fat Vanilla Greek Yogurt with granola.  I love it!  Who needs bacon, I DID NOT JUST SAY THAT!!  I may or may not crumble a little bacon in there once in a while.  LOL….lol yourself!   I just googled it, bacon granola is actually a thing.  Dang!  I thought I might be on to something there.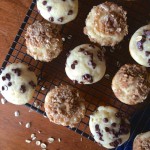 Print Recipe
Mini Breakfast Muffins
makes 48 mini muffins, or 24 regular sized muffins
Ingredients
1/2

cup

Butter

softened

1

cup

Sugar

2

Eggs

1

cup

0% fat Vanilla Greek Yogurt

I use Stoneyfield.

2 1/2

cups

Flour

2

teaspoons

Baking Powder

1/2

teaspoon

Salt

1

cup

Milk

3

dashes Nutmeg
Toppings and add ins
1/2

cup

Mini Semi-Sweet Chocolate Chips

OR

1/2

cup

Flour

1/2

cup

Old Fashioned Oats

1/2

cup

Brown Sugar

1

teaspoon

ground Cinnamon

1/4

cup

cold Butter
Instructions
Preheat oven to 350 degrees, grease mini muffin pan with non-stick cooking spray.

Cream together butter and sugar with mixer until fluffy about 3 minutes. Add eggs one at a time and mix until completely combined and fluffy.

Add yogurt and mix about 10 seconds, doesn't need to be completely combined.

Combine flour, baking powder, and salt alternate adding dry ingredients and milk to the wet ingredients. When ingredients are completely combined add a few dashes of nutmeg and give mixer a few more turns.
Crumb Topping
For the crumb topping combine flour, oats, brown sugar, and cinnamon together in a bowl cut cold butter in with a pastry cutter until there are no pieces larger than the oats. This will take a few minutes. If you'd rather you can do this in a food processor.

Spray mini muffin tins with non-stick cooking spray spoon batter into muffin tins filling them about 3/4 full. Sprinkle either mini chocolate chips or crumb topping over batter.

Bake in a preheated 350 degree oven for 15 minutes. Remove and allow to cool for 5 minutes remove muffins from tins to a cooling rack and repeat until batter is gone. Should make 48 mini muffins and 24 regular sized muffins.
Notes
These little muffins freeze extremely well and are great for lunches. Once they are cooled place three in snack bags zip them up tight and place them in the freezer for lunches, on the go breakfast or a quick snack.
Enjoy!
Sheila
For more great ideas and recipes follow Stonyfields Facebook, Twitter, and Pinterest accounts!!
Disclaimer:  As a Stonyfield Clean Plate Club partner, I was compensated for writing this post as part of my agreement with Stonyfield.  As always all thoughts are 100% my own, I only work with products I love and want to share with my readers!  
For more tasty and toolicious muffins follow my MUFFIN MADNESS Pinterest board -> Follow Eat2gather 's board Muffin Madness on Pinterest.