Peanut Pretzel Cookie Caramel Corn
Now that's a mouth full!
Do you ever get a hankerin' for something, but you just can't put your finger on what it is?  It makes me kind of ornery when this happens.  I had this sorta hankering last Friday.  We were going to be  tailgating for the homecoming game.  I wanted something salty, caramely, and peanut buttery, with perhaps a titch of chocolate thrown in.  But what?  Scotcharoos sounded good, but everyone always makes Scotcheroos.  Caramel corn?  Maybe…..but it couldn't be just any ol caramel corn.  I headed to the store.  I was on a mission!  I threw about thirteen different salty, peanut type products in my basket, and then just before I checked out I decided that I only needed three of them, the rest I nautily jammed onto a end cap, quickly looking over my shoulder and ducking around the corner.
Dear Grocery store cleaner upper person,
I'm so sorry for my compulsive juvenile behaviors.
Signed,
Crazed hungry blogger on a misson.

Here's what did make it to the check out.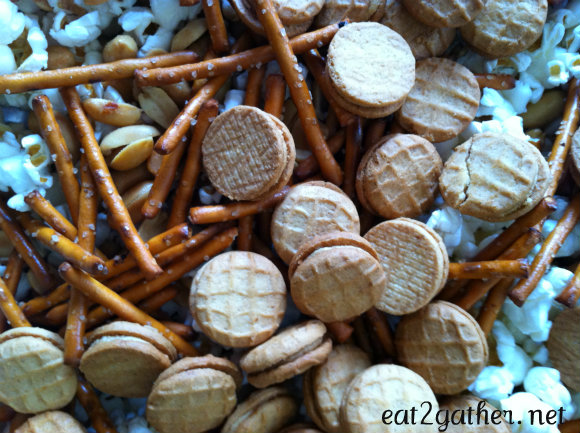 I wasn't sure how the cookies would hold up to the caramel and being baked, but they were so dang good!  Who wouldn't love caramel covered Nutter Butters?  (say that 10x fast!) If it's you don't tell me.  I don't want to have to judge you.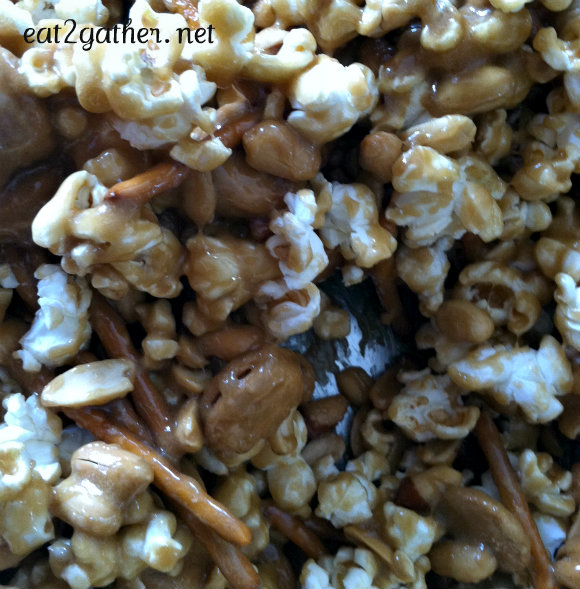 I came home, dumped all the lovely ingredients in a roasting pan, tossed together my caramel corn recipe.  It's so simple!  Seriously, I should make this stuff more. Poured the caramel over the potpourri of lucky ingredients.  Popped it in a 250 degree oven for 30 minutes, gave it a stir half way through.  When baking time was done, I poured it out onto a parchment line counter top so it could cool for a minute or two.
My taste testers arrived on the scene shortly after I dumped it out on the counter.  I was getting ready to melt milk chocolate to drizzle over the caramel corn, but my panel of PROfessionals advised against it.
"It's so good the way it is….it's over the top!  Don't drizzle it with chocolate!  That would push it over the edge.
Now I'm all about pushing things over the edge….but I took their advise and kept it simple.
However, I've been in mental turmoil over my decicion ever since.  I think I need to make another batch just so I can put my mind at ease.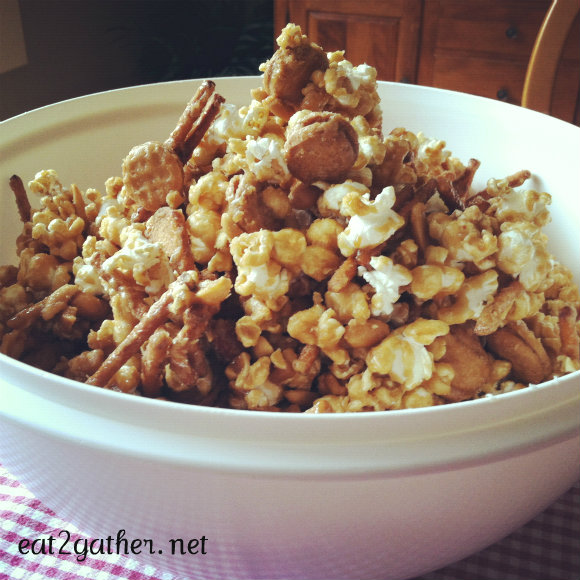 This giant tupperware bowl of Peanut Pretzel Cookie Caramel Corn disappeared!  It was gone baby…gone, gone, gone!  So good!  So fun!  I hope you give it a try….let me know if you do the drizzle.  Or maybe I don't want to know…..just keep it to yourself.
[print_this]
Peanut Pretzel Cookie Caramel Corn
8-10 cups popped Popcorn, plain
1 cup salted Cocktail Peanuts
2 cups Mini Nutter Butter Cookies
2 cups Matchstick Pretzels
1 cup Butter
2 cups Brown Sugar
1/2 cup Corn Syrup
1/2 teaspoon Salt
1 heaping teaspoon Baking Soda
Preheat oven to 250 degrees.
Layer popped popcorn, peanuts, pretzels, and nutter butter cookies in a large roasting pan.
Melt butter in saucepan, add brown sugar and corn syrup, stir continuously until caramel comes to a low boil. Stir in salt. Let cook at a low boil for 3 minutes. Remove caramel from heat and stir in 1heaping teaspoon of baking soda, watch the fun foaming action.  Stir well, making sure baking soda is completely incorporated.  Pour caramel over top of the popcorn mixture, gently toss to combine. Place pan in preheated oven for 15 minutes, remove from oven and gently turn caramel corn over in pan with a spatula scraping the caramel off bottom of pan on to the top of the mix. Pop back in to the oven for another 15 minutes.
Remove from oven spread out onto parchment paper or cookie sheets to cool.
Enjoy!
[/print_this]