Hello! And welcome to E2g's weekly series Dinner Dilemma.  Dinner Dilemma is the place where I share all my "goto" dinners.  All of the recipes in this series are tried and true family favorites.  Have you come to the end of the road when it comes to what to make for dinner?
Look no further! Dinner Dilemma to the rescue!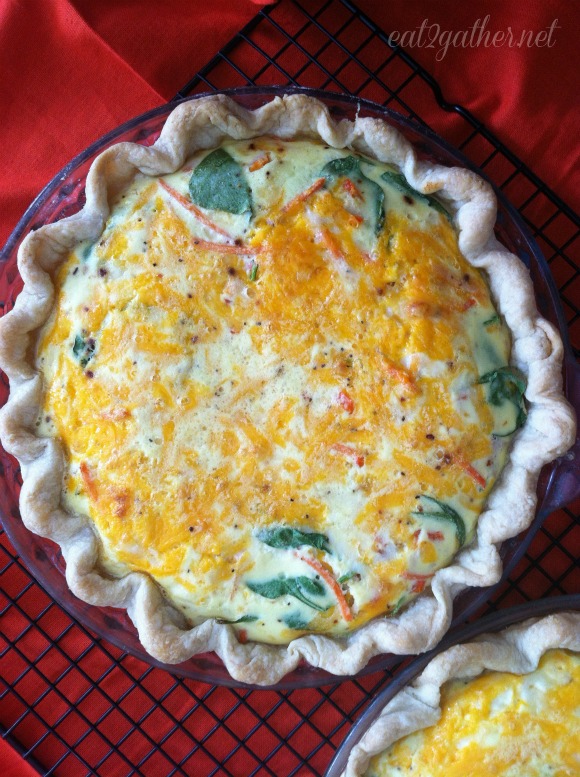 One of our favorite meals is quiche.  Everyone in my home loves it.  One of the reasons I love it is because it's an easy one dish meal!  I've made quiche forever, just a simple recipe with eggs, half and half and cheese and what ever else I had on hand leftover bacon, mushrooms, onion, carrots, spinach you name it, it would get tossed in.  Then a little over a year ago I bought the Savory Sweet Life cookbook by Alice Currah (psst if you don't have it you should) and I made her Spinach Ricotta Quiche, it was pretty much life changing for our whole family.  The ricotta is the kicker for this quiche, it makes it light and it gives it that extra pizzazz!  The ricotta quite simply makes this the perfect quiche.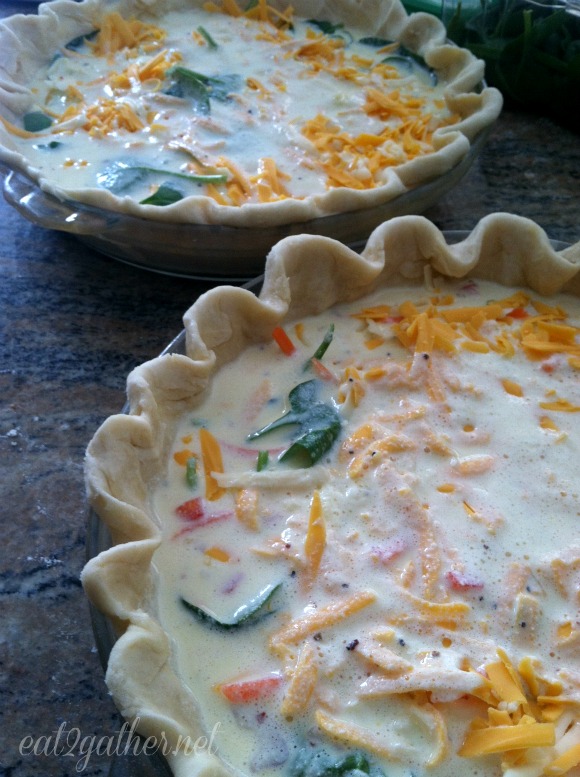 I make my version of this quiche at least once a month.  One just isn't enough for us so I make two, the leftovers are easily eaten for after school snacks or for breakfast the next day.  Quiche never ever goes uneaten round these parts!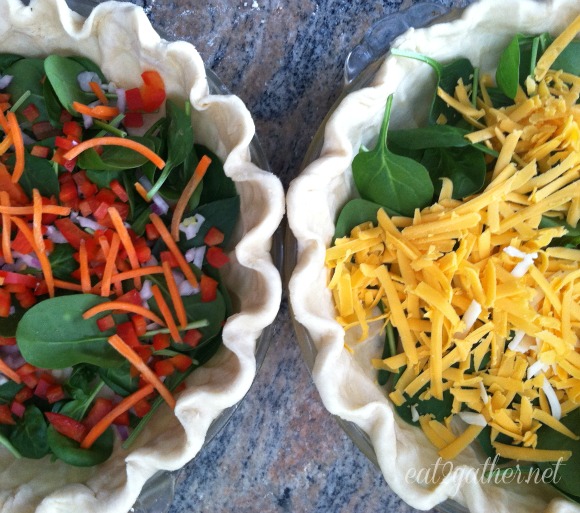 So here's my version. It's easily cut in half if need be so don't let the two pie thing scare you!
[print_this]
Perfect Quiche
adapted from Alice Currah's cookbook Savory Sweet Life
makes 2 quiches
1 recipe Pie Crust or store bought crust (2 crusts)
8 eggs
1 cup Half and Half (any milk will work)
1 15 ounce container Ricotta Cheese
1 teaspoon Salt
1 teaspoon fresh ground Black Pepper
1/2 cup finely chopped Onion
1/2 cup finely chopped Red Bell Pepper
3/4 cup Matchstick Carrots
3/4 cup thinly sliced Mushrooms, white button or mini bella
2 cups fresh Baby Spinach
2 cups grated Cheddar Cheese
Preheat oven to 375 degrees.
1. Roll out pie crust and place in pie plate or a tart pan works too. Crimp the edges and using a fork poke a few hole in the bottom of the crust.
2. In a large mixing bowl (or a stand mixer) add eggs, half and half, and ricotta cheese beat until eggs are a light and airy, about 3 minutes on medium high speed.
3. Divide vegetables up and lay them evenly over the bottom of each crust ending with the spinach and sprinkling the cheese evenly on top.
4. Pour egg into pie crusts, making sure to make each pie even. It's ok if some of the vegetables and cheese peek out of the egg, just push them down into the egg mixture with a spoon.
5. Place quiches in preheated oven and bake for 45 minutes. The center of the quiche should not jiggle, it should be firm when lightly pressed in the center of th the pie. Allow pie to cool for 10 minutes before serving.
Note: You can also make this quiche with meat. I often will toss in chopped up ham, bacon, or sausage. Really any and all combinations will work. I often go back to the basics and only add spinach. I pretty hard to ruin this quiche!
Enjoy!
[/print_this]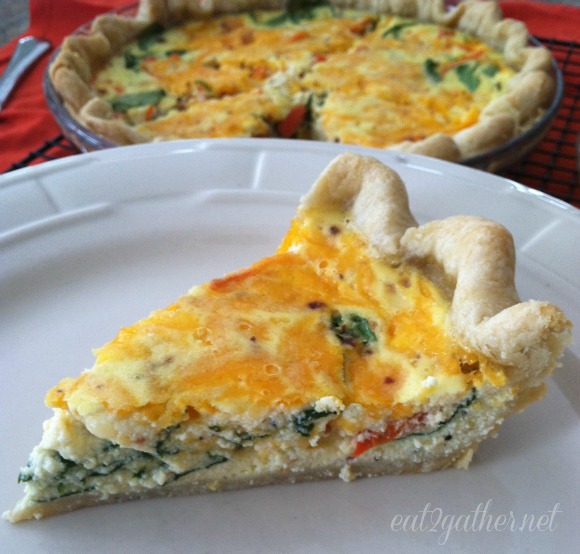 On busy nights this meal is perfect.  It's packed with good things and my kids can eat at different times if we need to, quiche is perfect served at  room temperature.  If I have time I add some greens or some fruit on the side (psssst this also make for a great brunch menu!).
For more dinner dilemma recipes follow the Dinner Dilemma pinterest board, and for previews of whats to come follow me on instagram and twitter!
I hope you're staying out of the cold!
to your table with love, Sheila