Last Saturday I had the pleasure of meeting with 20 other food bloggers, at Taste of Mi!  I had been looking forward to this day for the last 3 months!  I had such an awesome time.  I can't even begin to tell you!  Sometimes as a blogger, and if you are one I'm sure you will understand, I feel isolated.  I have plenty of close friends, but only one of them has a blog, and it's not a food blog.  So on a day to day basis I do my cooking, and writing thing.  I read other peoples blogs, I comment, but I never, or rarely get to have face to face conversations about food and blogging with others.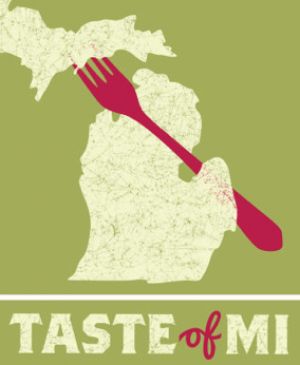 Fact about me: I'm a very social person.  I love entertaining and going out and getting together with people.  I even love just sitting at my kids games and chatting with everyone around me.  I love people.  I'm a hugger too….stand back if I meet you you're getting hugged.
Online relationships are fun, and fine, but there ain't no chattin' or huggin going on!
So when I received an email from Rachel that her and Liz where organizing a little blogger get together in Grand Rapids.  I put both hands in the air and said ME ME ME!  I'm there!  What started out as a get together turned into an all day event.  You can read the stats on Rachel's blog.  And if you'd like to know more about the event and the city it was held in check out Liz's blog.
So now with out further ado here is the day through my eyes with the help of my iPhone.  (My only regret is that I didn't bring my camera, and didn't take enough pictures with my phone….oh well, I was too busy gabbin')

We started the day out at Fulton Street Farmers Market.  Not only did we get to peruse the lovely wares from local farmers and food artisans we also were fed an amazing breakfast from the Silver Spork Food Truck.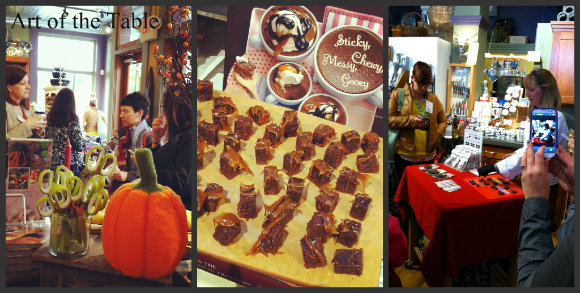 From the farmers market we headed indoors out of the rain to Art of the Table were we were greeted by their lovely staff with all sorts of deliciousness, and a special chocolate presentation from Patricia of Patricia's Chocolates.  Upon leaving Art of the Table handed us each a bag full of all sorts of Michigan made goodies.  Thank You!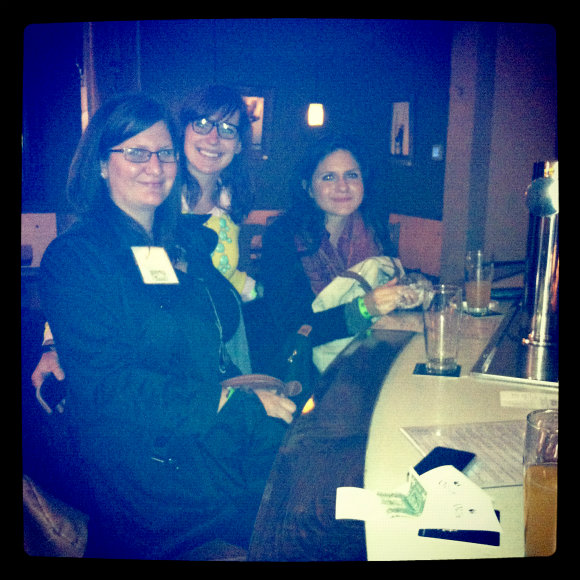 We had a little extra time between our Art of the Table visit and lunch, and since I was chauffeuring 5 lovely bloggers around in style, in my Honda Odyssey, I thought I had better show them some of the finer areas of Grand Rapids.  I gave them a mini tour and then we stopped off at the in Cherry St. Neighborhood.  One of my favorite places to hang out!  Ashley, Jessie, and Claire decided it was 5 o'clock somewhere, and enjoyed a mug from my favorite brewery in town, Brewery Vivant.  I miss you gals!

 Rowsters Coffee very generously gave each one of us 1 1/2 pounds of their house roasted coffee beans.  I had been by this shop a million times and never stopped.  It was lovely.  They roast all their beans right in the middle of their store, for all to see.  I do believe heaven smells like Rowsters!  Thanks again to the wonderful staff for filling us in on what Rowsters Coffee is all about!

After our mini tour of Grand Rapids, we headed over to Bistro Belle Vita for lunch, and a demonstration by Liz.  Liz made us her family's Hummus recipe in the glorious new KitchenAid food processor that Megan won!  And Becca won the fancy toaster that Kitchen Aid, a Michigan based company, also gave away.  Thanks Kitchen Aid for making Taste of Mi an unforgettable event!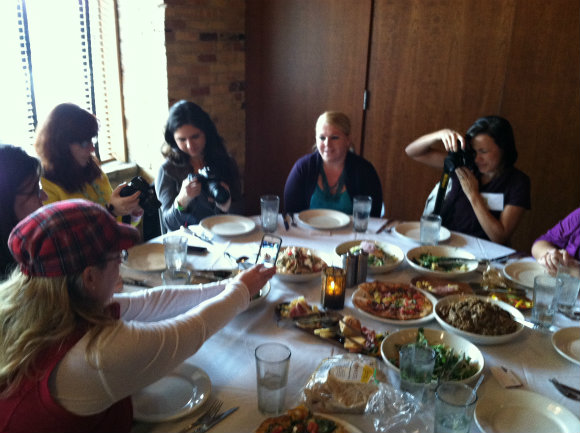 This is what a meal with a table full of food bloggers looks like.  Lots of food.  Lots of photography.  Bistro Belle Vita went above and beyond!  Our lunch was to die for!  Antipasta, Salads, Flatbreads, Risotto, Pastas, Dessert….amazing!

From the Bistro we headed straight over to Reserve, where we were greeted by Dianna from Promote Michigan.  Then we were given the low down on the Reserves philosophy of food and drink.  Peter the Reserves general manager and Master Sommelier gave us a tour of the historical building,  and the wine vault! Even the restrooms were amazing!  If you are in Grand Rapids, you have to stop into the Reserve and sit a while, and eat, and drink….of course.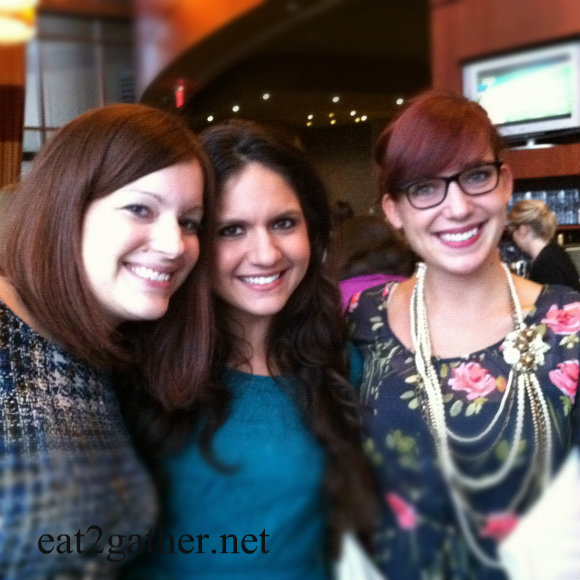 Rachel of rachelcooks.com on the far left, is the mastermind behind Taste of Mi.  She had Liz, of thelemonbowl.com did such an amazing job and organizing this event.  Thanks Rach!  The other two beauties are Ashley, and Claire, I introduced them to you earlier.

We ended the day at the Chef's table at Six-One-Six.  Each course was amazing, as was the entire day!  Before we left we were given a swag bag over flowing with over 50 products from Michigan companies!  I nearly threw my back out carrying it to the van.  I cannot say enough about what an amazing event Taste of Mi was.
I love Michigan!  The Mitten is where it's at.
Thanks again Rachel and Liz…till next year!
P.S. stay tuned I've got some scrumptious recipes coming up using a few of the Michigan products I was given!