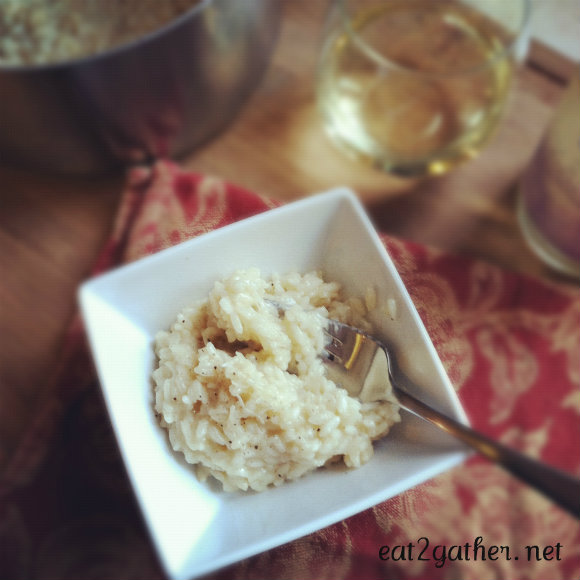 I love risotto! Scrumptious ooey gooey risotto…."you had me at risotto".   It took me a long time to get up the gutts to make it for my family. From what I had read, and seen on certain T.V. shows, it was tricky, and easy to gum up. Finally, I decided to gather  the knowledge I had accumulated and give it a go! My first risotto was mediocre at best. If you are like me and love risotto, but have been afraid to make your own because of all the tomfoolery out there. Fear no more.
First and foremost Risotto needs time.  It is not a dish to be rushed.  You need to hang out, relax.  Risotto likes to have you near.  So do not leave it to fold undies.
Risotto is a Italian preparation for a type of rice that is shorter and fatter than say 
long grain.  Arborio rice is the easiest to find,  but there are a few others varieties of rice, 
such as carnaroli and vialone nano, that are used to make risotto.  
Preparing risotto is not hard, it just takes some patience.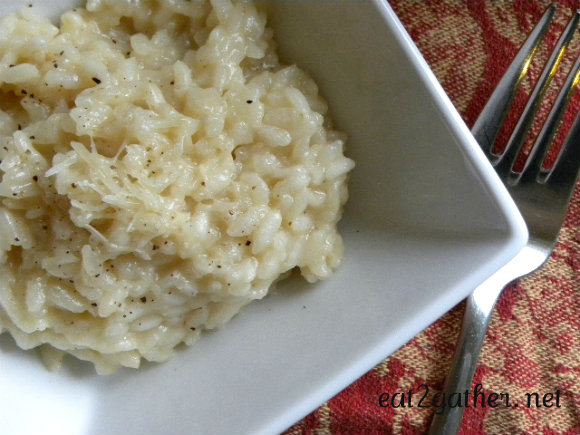 The flavor possibilities are endless when making risotto, but the basic technique stays the same.  I added a healthy amount of fresh ground pepper, salt, and Parmesan cheese to mine, but you could add whatever your heart desires.
1. Pour 2 glasses of white wine.  One for the risotto, and one for you.  This will help you relax, get to know each other, and not rush through the process…..enjoy!  Any dry to semi-dry white wine will do, use your favorite.

2. Melt 1 tablespoon butter and 1 tablespoon olive oil together in medium sauce pan.  Pour in 1 1/2 cups arborio rice, stir around until rice just begins to toast up a bit, and all the grains are covered with the fat. Add one clove of garlic crushed or minced, stir to incorporate the flavors.  Now for the good stuff!  Turn heat down low, pour 1 cup/glass of wine in to the pan, and stir. Toss a healthy pinch of salt in at this time!
I don't want to say stir constantly…maybe consistently would be a better word.  Just don't get too far away, hop your butt up on the counter drink your vino and take a deep breath, then every now and again give your risotto a swirl.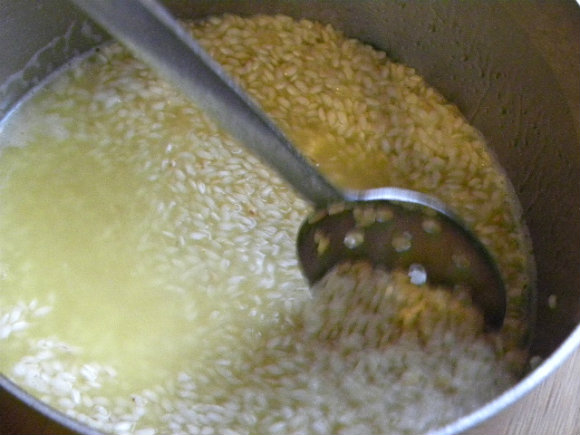 Cook slowly, stirring now and again, until all the wine is absorbed into the rice.  This will take 8 minutes of so.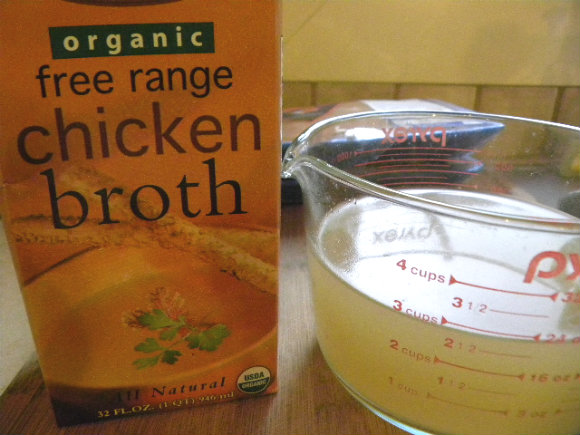 3. Next, gradually add 3 cups of  warm/hot chicken broth to the rice. ( I heat mine up in the microwave. )  Half cup to a cup at a time.  No rush.  You may need more…..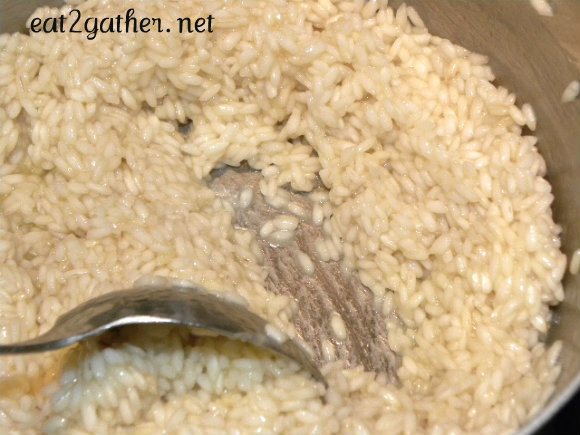 4. As the broth is absorbed into the rice gradually add more, continuing to cook over low heat, stirring ever so gently until all the liquid has disappeared.
While cooking the risotto taste often!  Not a big ginormous mouth full, just a couple grains.  The risotto may look done, but when you bite on it, it could be tough.  If you have used all three cups of broth and your risotto is still tough; this could be because you were cooking it at too high of a temperature.  The liquid is evaporating, not absorbing into your rice. Turn heat down, and add more hot liquid until al dente.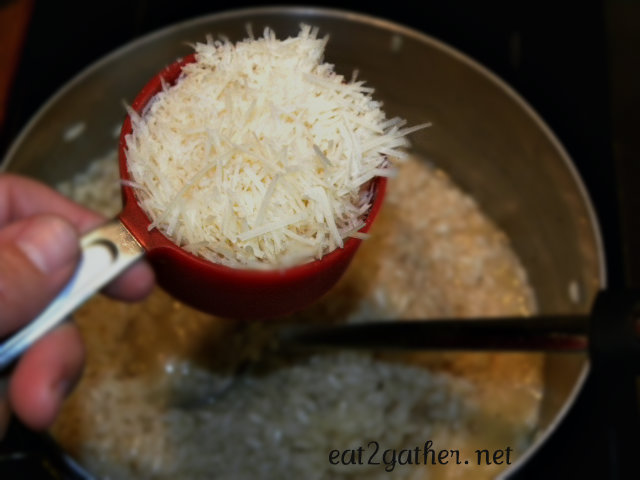 5.  When all the broth has been used and your risotto is cooked to perfection….then add your yum yums.  Mine is cheese and pepper.  Be sure to taste and salt appropriately.  What other yums could be added? Pesto, lemon zest, chopped sun dried tomatoes, sautéed mushrooms, chopped fresh herbs just to name a few.  Get creative!  Put a cover on the pan, and let sit for a few minutes, no longer than 5, and serve right away!
How can you tell when your risotto is perfectly done?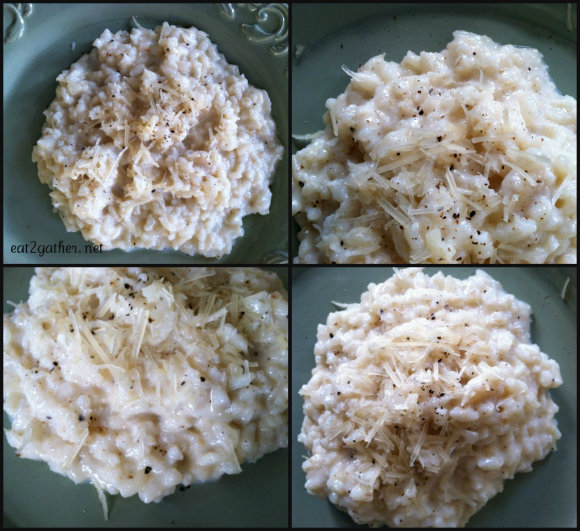 Risotto when done should be creamy, and thick but should ooze out on the plate when served.  Not runny, but oozy…does that make sense?  The rice should be al dente.  Which means it should have a bite, but should not be mushy or on the flip side crunch when you bite it.  It's hard to see, but in the picture above can you tell how the rice is oozy, and gradually spreads over time, it doesn't sit in a big lump like plain ol rice.
[print_this]
Risotto
Serves 6-8
Total cook time approximately 45 minutes.
1 tablespoon Butter
1 tablespoon Olive Oil
1 1/2 cups Arborio Rice
1 clove Garlic, minced or crushed
1 cup White Wine
salt pepper to taste
3 cups warm/hot Chicken Broth
1 cup Parmesan cheese
1. Melt butter with olive oil in a sauce pan over medium heat. Add rice and stir around for about 10 minutes until rice becomes toasty, but not really brown, just slightly tanning up. Add 1 clove of minced or crushed garlic, stir to distribute flavor.
2. Turn heat down to low, add 1 cup white wine. Wine should be drinking quality. Stir frequently to occasionally until all the liquid has been absorbed into the rice. This should take 5-10 minutes.
3. Add salt, just a smidge.
4. Measure out 3+ cups of chicken broth, and heat in microwave until warm to hot, but not boiling. Gradually add broth to rice, 1/2-1 cup at a time stirring as you go. Only add more liquid when the previous liquid has been absorbed into the rice. There should be 5-10 minutes between each addition of broth.
**taste a few grains, see how its coming, add salt as needed
5. After broth is gone and risotto is creamy, and al dente, add 1 cup of Parmesan cheese, and a generous amount of pepper. Make sure cheese is incorporated completely. Taste, add more salt if needed. Put cover on and let set for just a few minutes…not longer than 5. Serve immediately!
[/print_this]
How do you say yummy in Italian?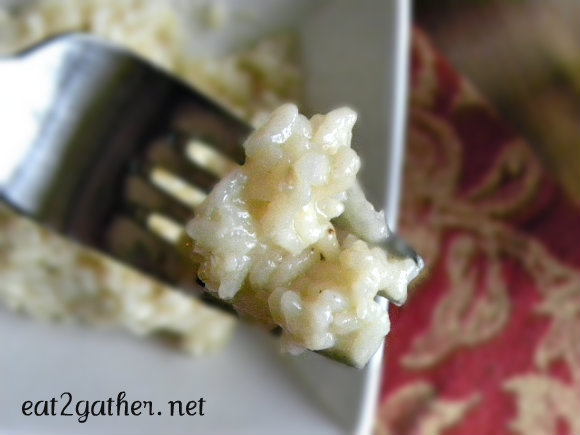 Have a great weekend!
Sheila