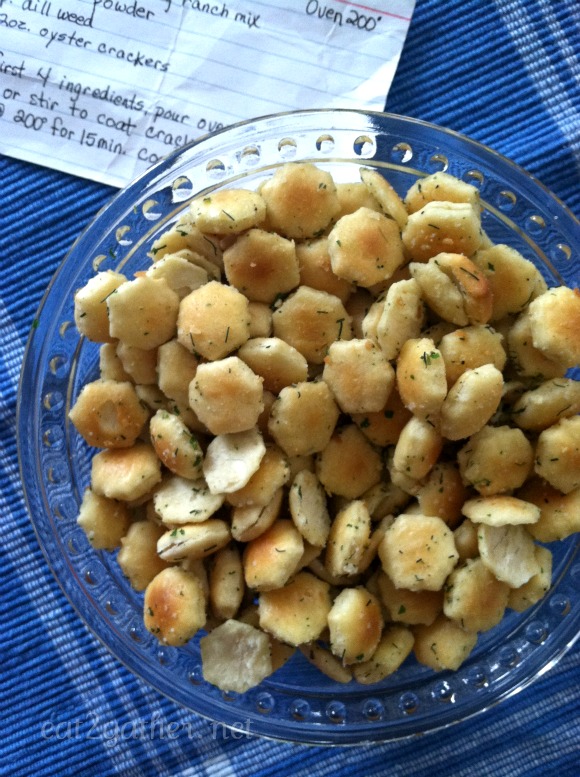 Do you like to nibble?  I have a nibbler in my house.  Her name is Cece.  If I let her she would never eat a whole meal, she would just graze morning, noon, and night.  She's a salty snack lover.  Popcorn, fishy crackers, pretzels….I find them all over my house in little cups and bowls.  This winter one of the volleyball moms brought a bag of these crackers to a tournament.  I think Cece ate nearly the whole bag.  I couldn't keep her out of it.  "Mom you NEED to get the recipe from Miss Christine for that yummy cracker stuff!"  she pestered.  Finally I remembered to ask Christine for the recipe, she chuckled.   Well it's really hard, she said,  I'll write it down for you.  Like the sweetheart that she is, she did write it down and remembered it the next day.  "We call it Munchies."  she said.
Good!  We'll call it munchies too….because that is what my littlest does all the time is munch, nibble, and graze!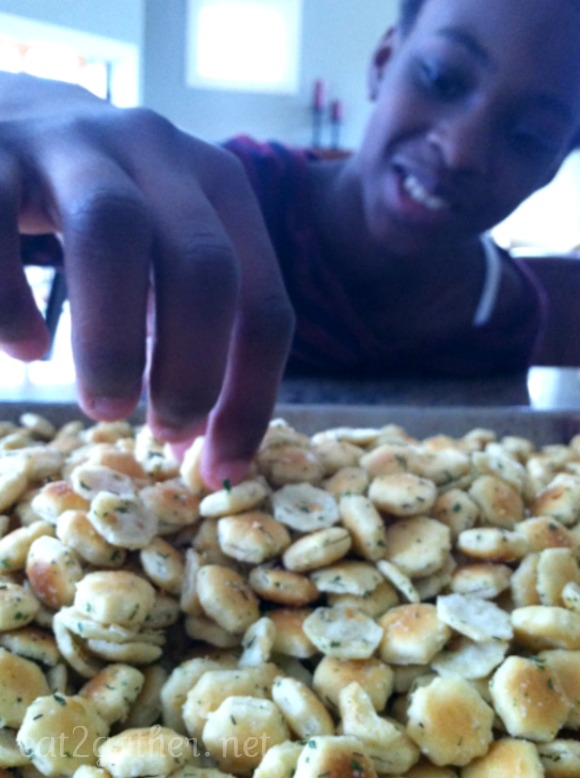 There's my muncher sneaking crackers off the sheet hot out of the oven!!
This Munchie mix is addicting.  It's perfect to have out at a party, for a change from the ordinary pretzels.  My mom makes something like this with pretzels too, so I think if you wanted you could apply the seasoning mix to any number of cracker, pretzel type foods.  I've haven't ventured out yet.  Plus because my husband loves oyster crackers…I always have a couple bags on hand for him, he pops them like popcorn.  It takes all kinds right!  Anyway since I always have oyster crackers on hand it makes it easy to whip up a batch of this for my munchers.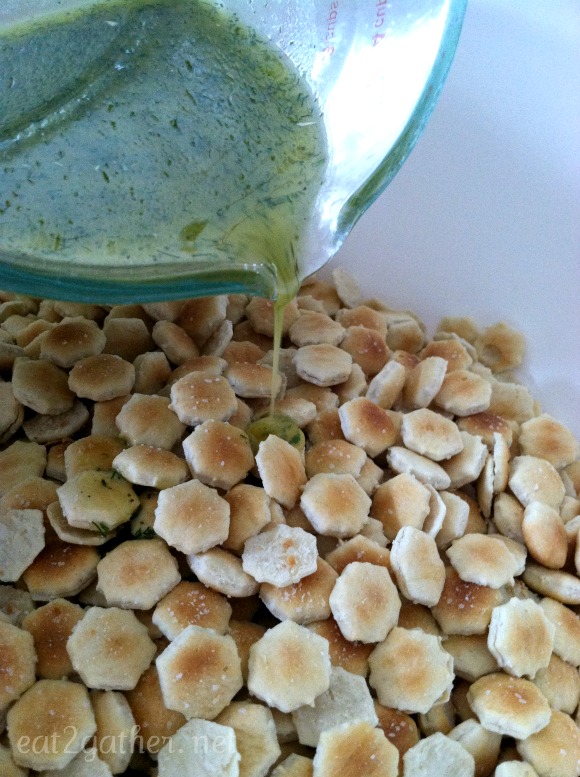 Here's how you do it.  Turn your oven on to 200 degrees.  Pour 24 ounces of oyster crackers in a large bowl, then mix together olive oil, 1 package of Hidden Valley Ranch Mix, 1/2 teaspoon of garlic powder,(Christine's recipe called for 1 teaspoon of garlic powder, but I toned it down for the sake of halitosis) 1 teaspoon dried dill.  Pour the season mix over the crackers  give a good toss/stir making sure all the crackers are coated.  Pour out on to baking sheets and pop in the oven for 15 minutes!  Let cool and store in a Zip-loc bag.
Is that easy or what?
You can whip up a quick little nibble in no time flat.  It's hard to keep your hands out of it when it's warm.  I think it would even be a nice hostess gifts poured in a mason jar with a ribbon around the top.

[print_this]
Munchies
2 12 ounce bags of Oyster Crackers (any brand will do)
3/4 cup Olive Oil
1 package Hidden Valley Ranch Mix
1/2 teaspoon Garlic Powder (1 teaspoon if you prefer it garlickier!)
1 teaspoon dried Dill
Preheat oven to 200 degrees.
Pour crackers in to a large bowl. In a small bowl whisk together olive oil, ranch mix, garlic powder, and dill. Drizzle slowly over crackers while stirring making sure to coat all the crackers evenly. Pour out on to baking sheets and bake for 15 minutes in a 200 degree oven.
Allow to cool and store in an airtight container for up to 2 weeks.
Happy Munching!
[/print_this]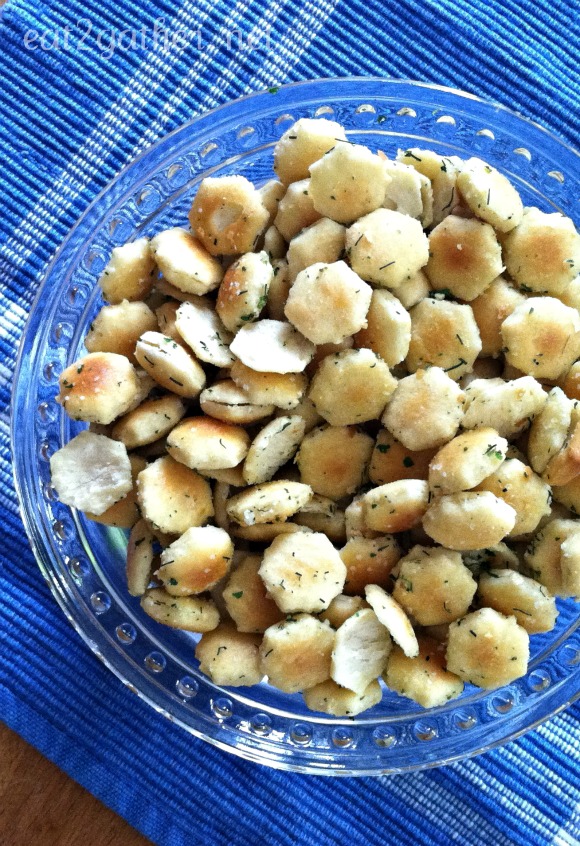 Do you have munchers in your house?  Like little gremlins that leave trails of snacks everywhere.  I used to be a stickler about only having food in the kitchen/family room area.  I've lost the battle…it really wasn't a very fiercely fought battle anyway as I liked to break the rule often myself ; )
Hope the sun is shining for you today!
Sheila