Award Winning Cheesy Chili
I can't tell you how many times people have stopped me and asked when I was going to get this recipe up on my blog.  Patients young Padawan.  At long last here is the official 2013 Grand Champion Chili!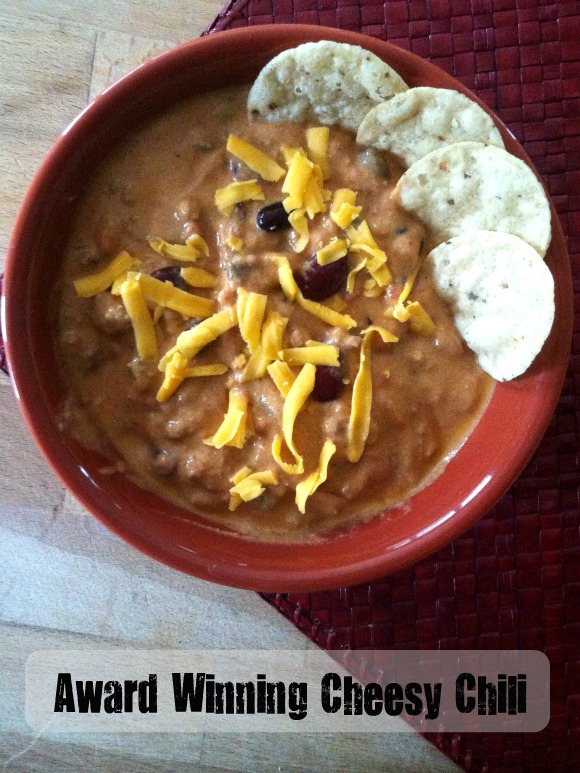 So for all you Jedi chili makers out there……Big D's Award Winning Cheesy Chili!
A couple of weeks ago in preparation for this week I made 3 chilis in one day and invited our small group families over to help us eat it all.  This chili was not only the winner of the chili cook-off at our church, but it was the clear favorite with our small group!  I had to quickly rescue a bowl to photograph for this post before it was all gone!
Maybe some of you instagram friends remember this picture….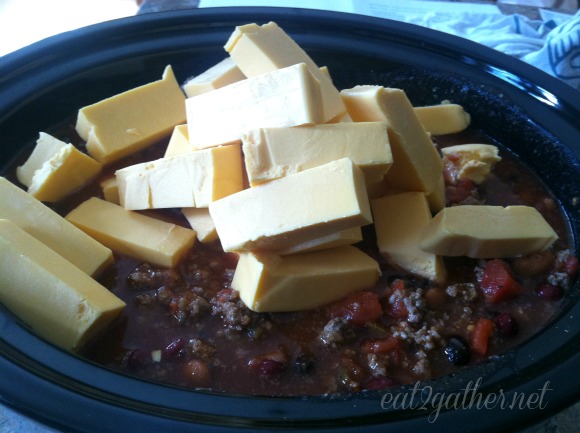 I posted it with the caption "Mountain of secret Award Winning Chili ingredient;)!".  I guess because I knew what the secret ingredient was it never occurred to me what it looked like.  Butter.  I very quickly had people commenting sort of panicylike regarding whether the ingredient was butter…please say that's cheese not butter, OMG is that butter???  OMG it does look like butter!  Egads that would be secretly awful actually…and you all know how much I love me some buttah.
Nope it's not butter, it's a whole two pounds of Velveeta cheese, maybe to some of you there isn't much difference.  I'm sorry.  Velveeta is just dang good.  I honestly can't live with out it.  Please love me, don't judge me for my nutritional short comings.
Velveeta will you marry me.
Forgive me Lord for I know not what I do….
[print_this]
This chili recipe is courtesy of Big D, she is the official overall winner of the 2013 Chili Cook-off!  D thank you for sharing your "secret recipe" with us!
Award Winning Cheesy Chili
serves a crowd
1 pound ground Sirloin
1 pound Mild Sausage
3 14 ounce cans Rotel, diced tomato with green chilis
1 32 ounce container of V8
3 14 ounce cans of Beans (combination of black, pinto, kidney) drained and rinsed
2 pound block of Velveeta Cheese
1 tablespoon Chili Powder
1 tablespoon Cumin
1 1/2 teaspoons Coriander
Brown beef and sausage together. Spoon off any excess grease. Add browned meat and all the remaining ingredients to your slow cooker (6 qt works best) or large pot. Stir frequently at first to insure that the cheese gets mixed in.Cook in slow cooker cook for 3 hours on high, then turn down to low or the keep warm setting.  On stove top cook on low for 3 hours stirring frequently.
Enjoy with Frito chips, tortilla chips, and any of your favorite chili toppings!
[/print_this]
There's more to come!  Chili recipes galore,  plus more prizes followed by 50+ chili recipe round-up on Friday from fantastic food bloggers everywhere!!
Don't forget to enter to win!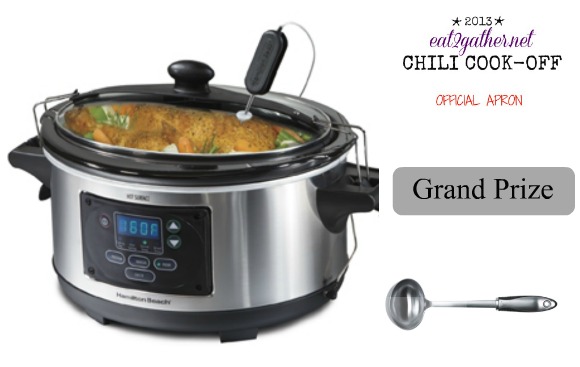 GRAND PRIZE Chili Cook-Off ENTER TO WIN –> HERE