Hello! Welcome to Meals 4 Sharing Link-UP! If you stopped by last week…hello again I'm glad your back.  If you're new to Eat 2gather,  the Meals 4 Sharing Link-up is about loving others through the gift of food. "Others" can be anyone….your kiddos, husband, neighbors, teachers, youth group, whoever…whenever!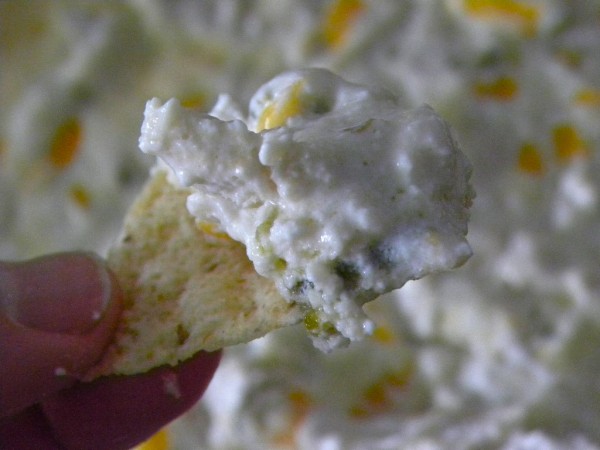 It's that time again, Super Bowl Sunday only two days away!!!  If you are an American whether you love football or not, it's hard to avoid.  Many of us start planning our parties before the teams are even known.  Super Bowl food is typically not sit down to the table food, it's grazing food.  My favorite kind of food! Finger food.  Refill your plate with a bite of this and a bite of that…..eat all night till your sick food.  Hey, it's the American way isn't it?  Indulgence.
What do you indulge your friends and family with on Game Day?
Whether we have friends over or not we always have all our favorites.   I said before that my Kenny can be an anti-social football watcher,  but this year we have invited some friends over to watch the game and chow-down with us.  You see his teams didn't make it in, so he's willing to be distracted by all of us Boo0yah's (me mostly) who just like to watch the commercials and  have an excuse to over eat!
What are your plans for Super Bowl Sunday?
I usually ask my team what they would like to eat and that's our game day menu.   This usually consists of Wings, Roasted Shrimp Cocktail, Guacamole, Pica de Gallo, assorted dips, Caramel Corn the list goes on and on.  It's really quite embarrassing how much food we have out for Super Bowl Sunday.  Oink!
This year I have a hankerin' for my cousin Angela's Disappearing Chicken Dip.  I had never made it before because I like her to make it, and then I like to eat it…ALL.  But we are not going to see my cousin on SBS,  so she gave me her recipe so I could make it myself.  "Me do it myself"……oh I long for the days when my kiddos said cutey patootey phrases like this.  Sorry, I completely had a moment.  I'm back on track……
So here it is Disappearing Chicken Dip. It's a meal.  It's a dip.  Itsa meal. Itsa dip.  Itsa addicting!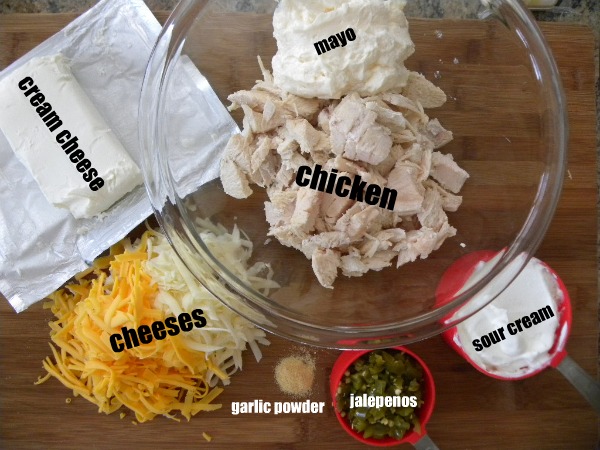 You will need a 8×8 baking dish for one recipe, but you might just want to get out your 9×13 and double it! Just saying, it's that good.  Preheat oven to 350 degrees.
Boil 3 Chicken Breast and cut them into bite sized pieces.  Chop 1/2 -1 cup of Jalepeno Peppers, the jarred variety.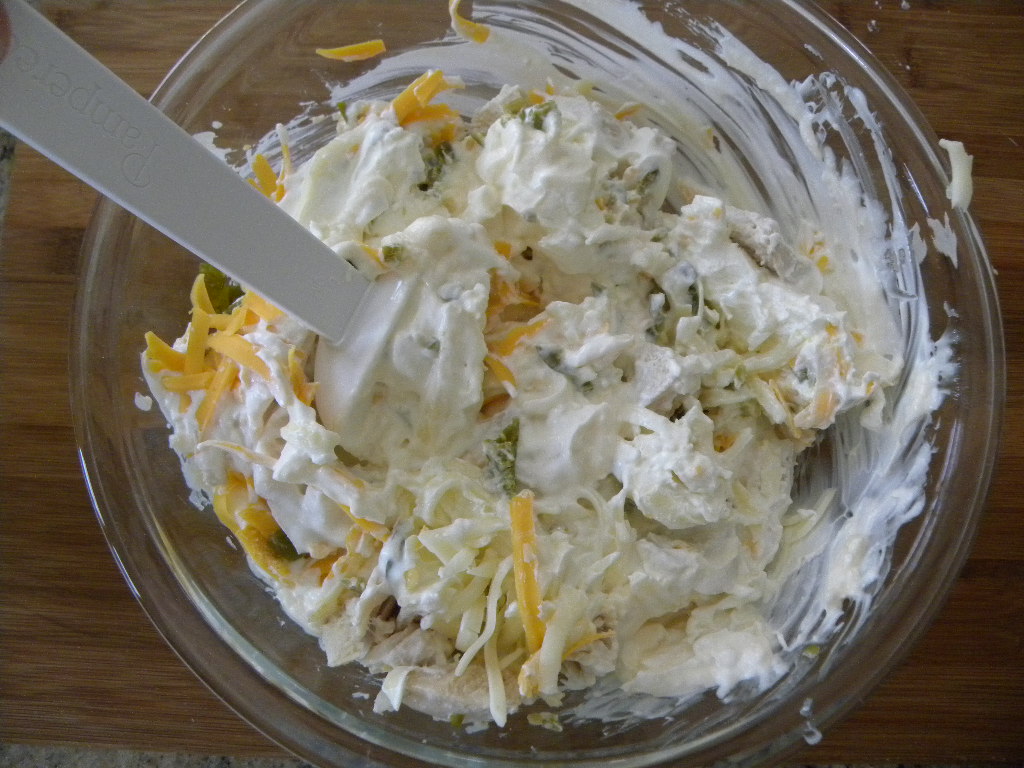 Add Chicken, Jalapenos, 1 brick of Cream Cheese, 1 Cup Hellmans Mayonnaise, 1 cup Sour Cream, 2 cups shredded Cheddar and or Monterey Jack Cheese, (as you can see it's real low-cal) 1/4 teaspoon Garlic Powder,  and salt and pepper to taste to a medium sized bowl.  Mix well, making sure there are no lumps of cream cheese.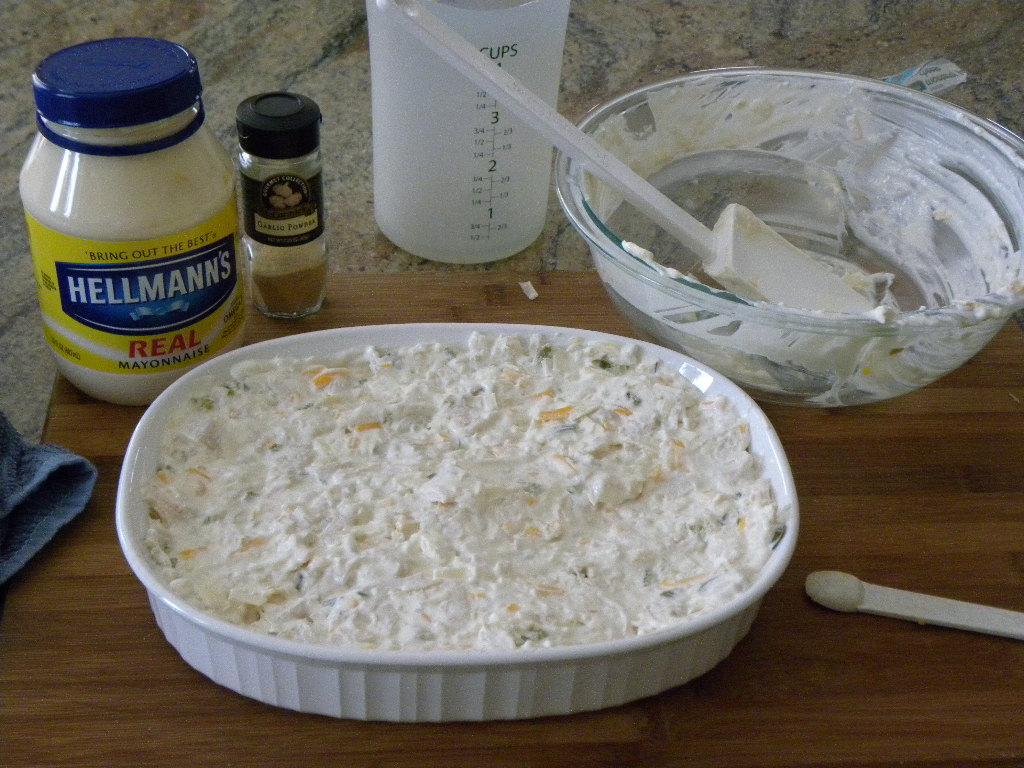 Spread into a shallow baking dish, and place in preheated oven (350 degrees) for 30 minutes or until bubbly and starting to brown around the edges.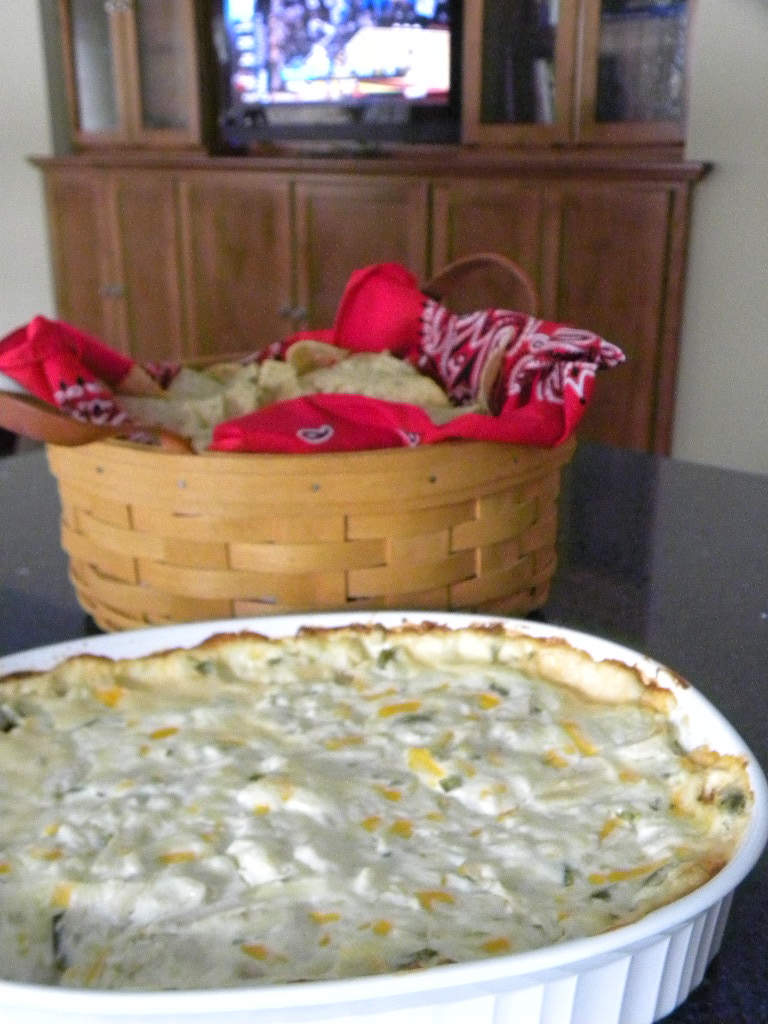 Serve with tortilla chips, crackers, pita chips, or slices of baguette.
Oh this dip is so oohey, gooey, spicy, and chunky.  Grab a chip…..


and scoooper up!  However, may I suggest you place a serving spoon in the dish, so your friends and family can spoon this hefty dip on their plates.  Otherwise you may run in to this….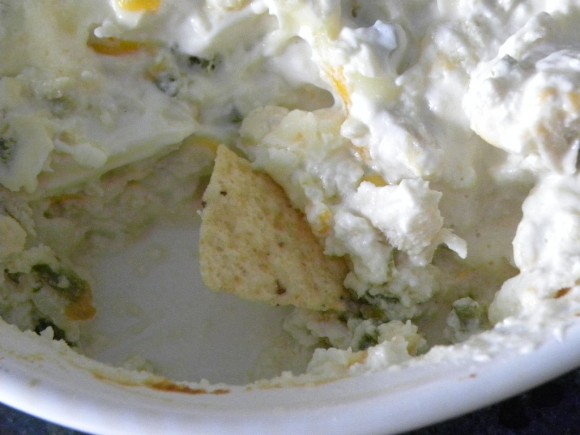 the broken chip left behind in the dip, and unsitely digging with fingers in the dip…and then finger licking.  Ewe, take my advice, you're going to want to #1 double the recipe #2 serve with a large serving spoon.
[print_this]
Disappearing Chicken Dip
3 cooked Chicken Breasts, cut into bite sized pieces
1 8 ounce brick Cream Cheese, room temperature
1 cup Mayonnaise
1 cup Sour Cream
1/2-1 cup jarred Jalapeno Peppers, finely chopped
1/4 teaspoon Garlic Powder
2 cups shredded Cheddar and/or Monterey Jack Cheese
salt and pepper to taste
Preheat oven to 350 degrees.
Combine ingredients in a medium sized bowl, mixing well making sure cream cheese is evenly distributed. Spread in a 8×8 baking dish, place in preheated oven. Bake for 30 minutes or until bubbly and starting to brown around the edges.
Make ahead tip: This dip can be made up to 2 days in advance. Keep covered in refrigerator until ready to bake. Add an additional 10-15 minutes to cook time for cold dip.
[/print_this]
OK PEOPLE it's time to get this Super Bowl LINK-UP Party started!!  I would love for you to share your favorite Game Day Foods below!
It's nice to SHARE!
1. Click on the Add link below then Add the permalink from your post.  Please do not link your websites homepage.
2. Select the photo you wish to link to your site and include the title of what you are sharing!
3. Create a link to Eat2gather.net within your post, to share all the great recipes with your readers.  I also included a blog button below if you share this on your sidebar or in your post I will hug you and kiss you!!  Well not literally, but maybe if I happen to run into you. (wink)
Eat 2gather is family friendly so make sure what you are sharing is also.  I reserve the right to delete any link if I feel it necessary.
OK LET THE SHARING BEGIN!!!