Chicken Souvlaki and a menu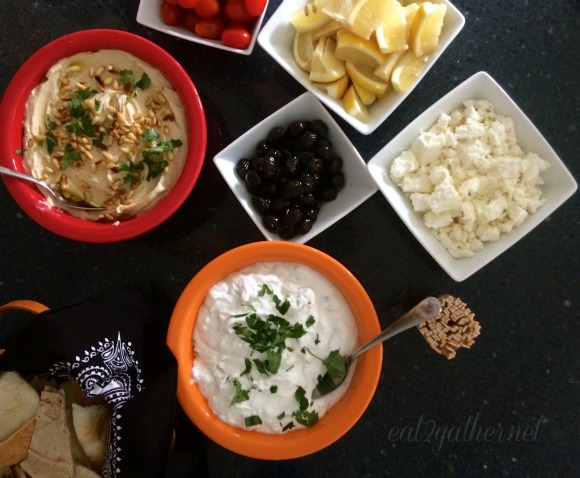 Chicken Souvlaki is the star of this easy make ahead meal.  What meals have you been sharing lately?  Do you tend to get together with friends and family more during the Spring and Summer?  I know I do!  Here's a simple and delicious  Summer Menu for sharing!
Menu:


Appetizer - hummus, tzatziki, olives, cherry tomatoes, feta cheese, served with pita wedges
Chicken Souvlaki
Mediterranean Chopped Salad (from A Farm Girls Dabbles blog)
Rice Pilaf
Naan Bread
Dessert - homemade Brownie Batter Ice Cream with fresh smashed strawberries
I have no qualms about taking shortcuts on certain menu items; for example I stopped at a local Mediterranean restaurant and purchased the hummus, tzatziki and the pita bread.  They are just as good or better than I can make and it saved me time and I dare say money!  Because time is money!  Right?!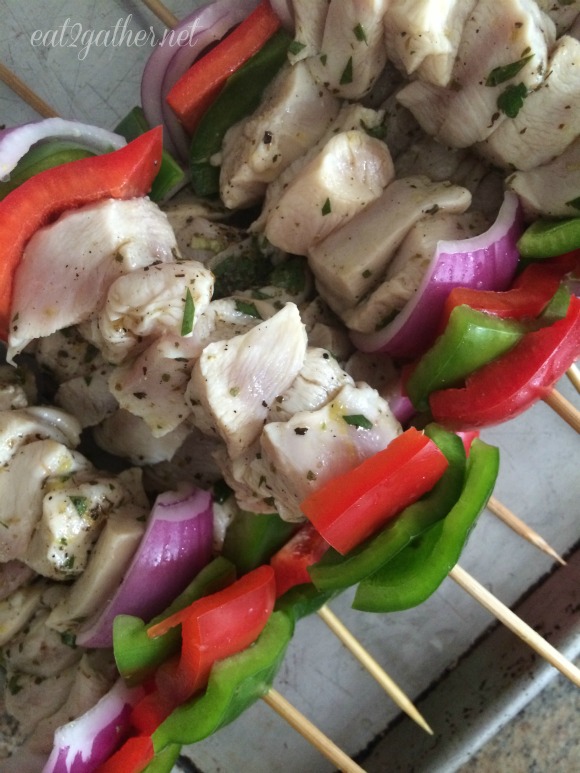 I love having friends over to enjoy our pool, but when its a beautiful summer day the last thing I want to do is spend the whole day inside cooking, so I like to make meals that can be prepared ahead of time.  Chicken Souvlaki, can easily be prepared up to two days in advance, and the skewers can be put together a few hours before the guests arrive.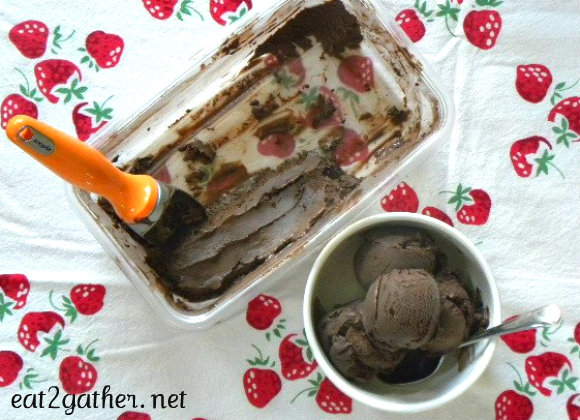 For dessert you don't have to make homemade ice cream you can purchase a good quality chocolate or vanilla ice cream and serve with strawberries or raspberries.  As much as I love to bake, sometimes I just run out of time to make a pie!  Gasp!  You can never go wrong with ice cream, and if a guest cannot eat ice cream, they can always nibble on the fruit.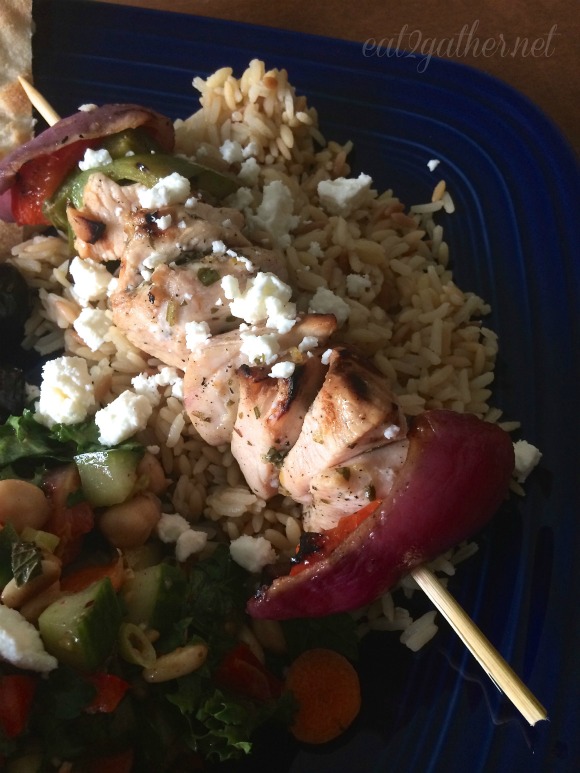 The leftovers from this meal are phenomenal!  I will tell you the salad recipe makes quite a large salad, which is perfect for a healthy light lunch the next day!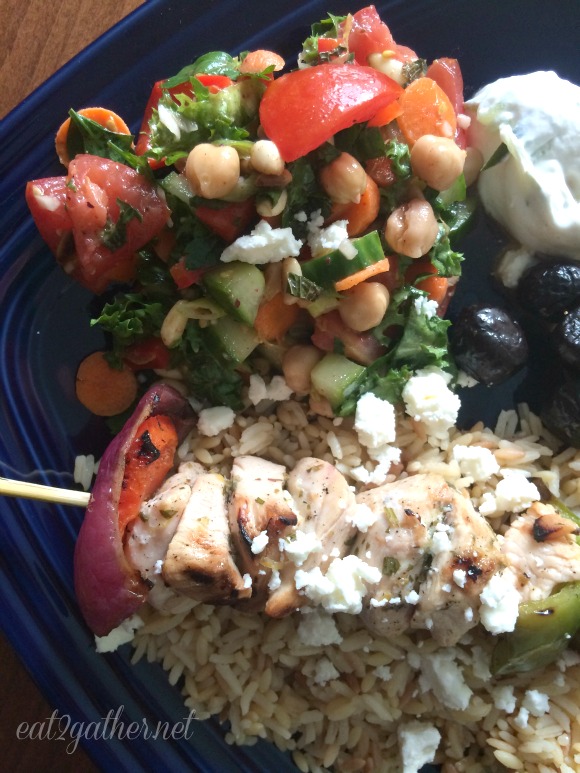 There is nothing better than crumbling feta cheese over your whole plate.  Talk about Mmm Mmm good!
TIP:  Keep appetizers simple.  I know it's tempting to make every yummy appetizer you've found on pinterest in the last month for your guest, but let's try to refrain.  Unless you want to make a meal out of appetizers, which is a great idea, but an entirely different topic!  I served hummus, tzatziki, olives, feta cheese, cherry tomatoes with pita bread wedges.  Perfect for nibbling, but won't fill you up!  And they double as the accompaniments to dinner, when it's time to eat move the appi's right to the table  with your meal.
[print_this]
Chicken Souvlaki
adapted from Cook's Illustrated magazine
8 Chicken Breasts, trimmed and cut in to 1 inch pieces
3/4 cup Olive Oil
1/4 cup Parsley, chopped fine
5 Lemons, juiced and zested
1 tablespoon Honey
1 tablespoon dried Oregano
3 Red Peppers, seeded and cut into 8 large pieces
3 Green Peppers, seeded and cut into 8 large pieces
1 large Red Onion, trim ends off, peel off outer skin and cut into large pieces
12 8-12″ bamboo skewers soak in water for 1 hour before using
Step 1: Whisk together olive oil, parsley, lemon juice, lemon zest, honey, and oregano. Place chicken pieces in a large glass bowl or a heavy duty zip-loc bag and pour marinade over chicken. Allow chicken to marinade for at least 1 hour or up to 24 hours.
You can do the next step up to 2 hours before you are ready to grill.
Step 2: Place 2 pieces of pepper and one piece on onion on a skewer, followed by 5-6 pieces of chicken, end with 2 more pieces pepper and a piece of onion. You can use more or less onions and peppers. Just make sure to place the vegetables only at the ends of the skewers and not in between chicken pieces.
Step 3: Grill
Gas Grill = Turn all burners on high and allow grill to get very hot. Turn two burners down low and leave the main burner on high. Place chicken skewers on the hot side of the grill, turn occasionally, allow to cook for 15-20 minutes or until chicken temperature registers at 160 degrees.
Charcoal Grill = The bottom vent needs to be wide. Light large chimney starter mounded with charcoal briquettes. When top coals are partially covered with ash you can pour the coals evenly over half of the grill. Set cooking grate in place, cover, and open lid vent completely. Heat gill until hot about five minute. Place chicken skewers on the hot side of the grill, turn occasionally, allow to cook for 15-20 minutes or until chicken temperature registers at 160 degrees.
Enjoy!!
[/print_this]
a few other easy appetizers:
Do you have a super easy appetizer?  I'd love to hear what it is….please share with us below!
Peace, Love, and Applesauce (which by the way is another great little dish to serve your guests!), Sheila