Is it just me or does a muffin seem healthier?  I could eat a triple chocolate chip muffin and feel like I just had a breakfast of champions, but I would never eat a piece of chocolate cake and think that.  As you know I love me a good muffin!  Or two.
A muffin can be what ever you want it to be wrapped up in one pretty little parchment paper package.  These muffins are a combo of two of my favorites pumpkin bread and carrot cake.  I thought why not let these beauties collide.  Although I refrained from topping them with cream cheese frosting, I still think that it would be really good.  Actually these muffins are so moist and delicious I think the frosting might mask the comfortingly refreshing flavors of apple, orange, and ginger…oh and don't forget the nutmeg.  Do what you want, but I think I'll just take my Morning Glory Muffin naked….in all it's glory. 
[print_this]
Morning Glory Muffins
12 muffins or 6 large muffins
2 cups Flour
1 cup Sugar
2 teaspoons Baking Soda
1/2 teaspoon Salt
2 teaspoons Cinnamon
1/2 teaspoon Nutmeg
1/4 teaspoon ground Ginger
2 eggs
1 cup Pumpkin
1/2 cup Vegetable Oil
1 teaspoon Vanilla
1 medium Apple, diced small
3/4 cup Carrot, grated
1/2 cup flaked Coconut
1/2 cup Golden Raisins
1/2 cup Pecans or Walnuts, chopped
zest of 1 Orange
Preheat oven to 350 degrees.
Combine flour, sugar, baking soda, salt, and spices in bowl. Crack eggs into separate bowl and whisk, add pumpkin, oil, and vanilla whisk to combine add to dry ingredients. Fold in apple, carrot, coconut, raisins, nuts and orange zest. Grease muffin tins or use muffin papers to line tins, fill 2/3 full bake at 350 degrees for 20 minutes or until toothpick comes out clean.
[/print_this]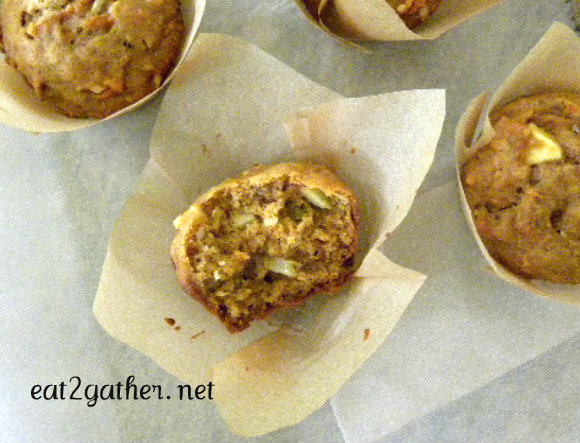 There you have it….
It's just another muffin Monday,
I wish were Sunday,
cause thats my Funday,
My I don't gotstah Runday…
Yeh well, if I were a Bangle that's how I would have written that song!
Enjoy ~ with love,
Sheila