It's peak season for blueberries and peaches and I cannot get enough of them!  Crisp is just one way that I love to use the fruits that are currently in season.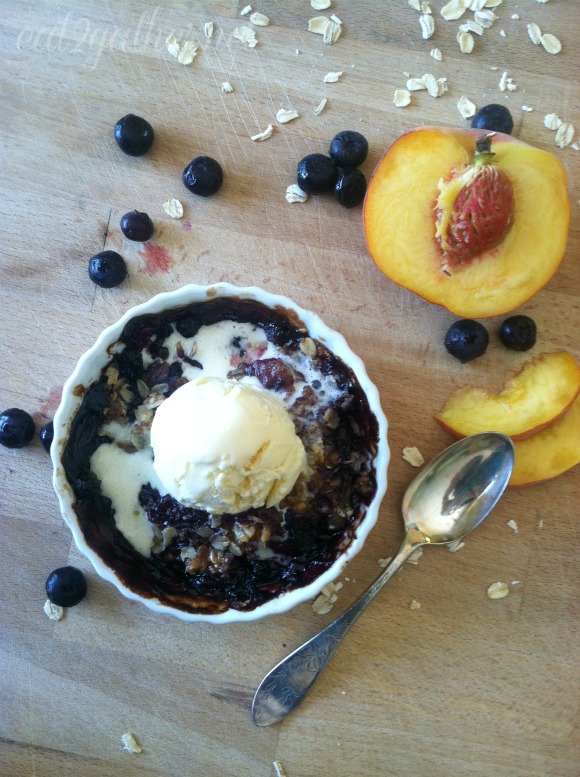 I could eat crisp everyday. I love it for dessert, with vanilla ice cream melting into all the fruity crevices. I love it cold for breakfast. I especially love to have it mid-afternoon warmed up with a cup of coffee. A special little treat just for me!  What I love most about crisp is how versatile it is. I have yet to find a fruit that doesn't work baked with this hearty buttery crumb topping baked over it….well ok maybe not melon.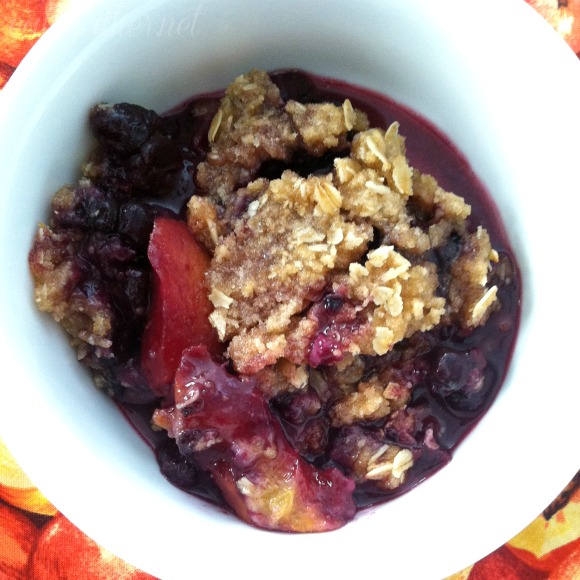 I love mixing different fruits together for crisp. Apple blueberry, strawberry rhubarb, pear blackberry, all berry crisp with strawberry raspberries and black berries….nommina nommina nom nom nom!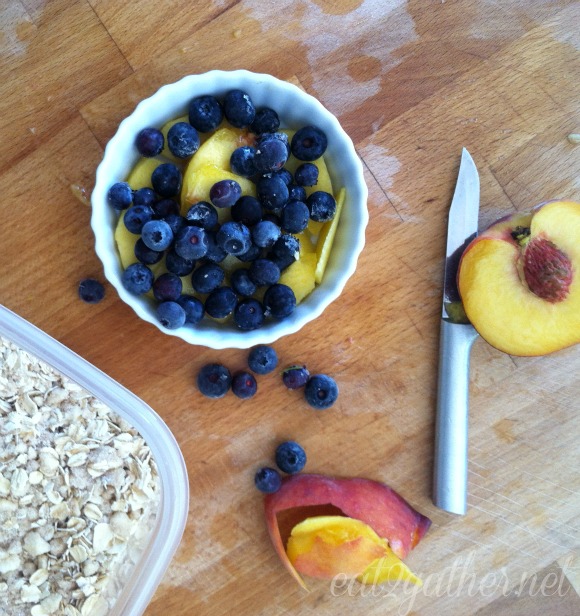 Crisp is so perfectly imperfect!  Just toss some fruit in a pan, and cover it with crisp topping, bake, and Voila delicious juicy crispy perfection! If you are having a dinner party and you would like to make it a bit more fancy you cam make it in individual ramekins.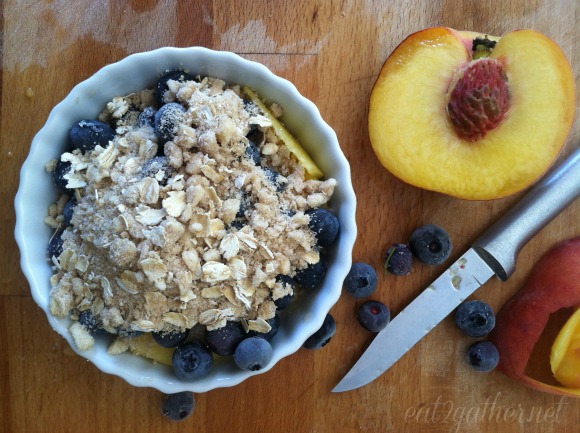 Your guests will think you are all fancy!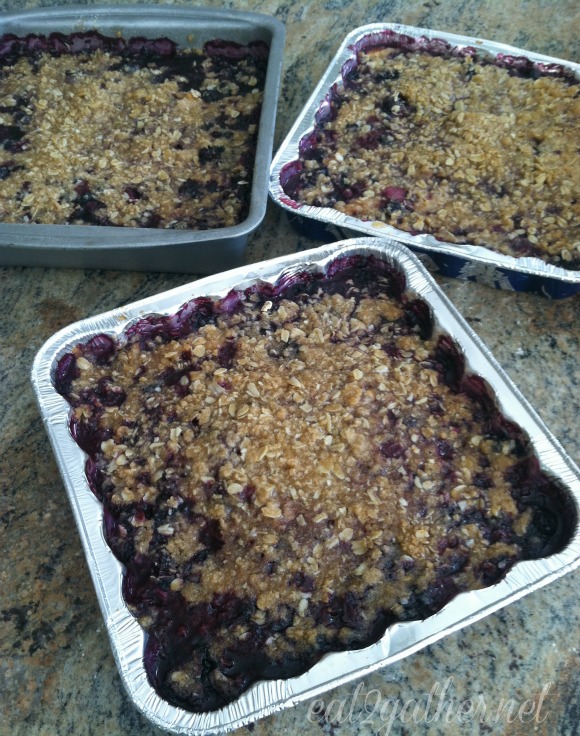 This recipe is especially easy to share!  Who doesn't love a pan of warm buttery crisp arriving at their doorstep?!  Two of my dearest friends are moving 🙁 One far away and one not so far, but I know how it is when you are packing up your home, there is no time to cook and life turns into a month of eating cereal or take-out food, and that can be a drag.  So I decided to make them each a meal and bring it over so they could have their tummies full and one less thing to think about…at least for that day.  I made them Chicken Enchiladas and this crisp, they were ecstatic!
This recipe makes three 8×8, one 9×13, or eight ramekins of dessert.  Go crazy and change up the fruit to what ever you like or have on hand.
[print_this]
Blueberry Peach Crisp
makes three 8×8″ pans, one 9×13″ pan, or 8 ramekins
6 cups Blueberries fresh or frozen
6 cups Peaches, peeled, pitted, and cut into chunks
1 cup Whole Wheat White Flour (I prefer King Arthur brand)
1 cup Brown Sugar
1 cup White Sugar
1 teaspoon Salt
1 teaspoon Cinnamon
2 dashes Nutmeg
1 cup Butter
1 cup Old Fashioned Oats
Preheat oven to 350 degrees.
Place fruit in bottom of pan.  If you are doing one pan then place all fruit in 9×13.  If you choose to do three 8×8 and share then place 2 cups of peaches and 2 cups of blueberry in each pan. (ramekins end up being approximately 1 1/2 cups of fruit per dish)
Crisp Topping: Combine flour, sugars, salt, cinnamon, and nutmeg together in a bowl cut butter in to the dry ingredients with a pastry cutter or if you have a food processor you can use it to combine ingredients.  Add Oatmeal last making sure it gets mix evenly throughout the crumb topping.
Evenly distribute topping over each pan of crisp, approximately 1 1/2 cups per crisp.  Press topping down in to the fruit.  Place crisps in preheated 350 degree oven for 45 minutes.  Allow to cool for 30 minutes before serving. (ramekins only need 30 minutes cooking time)
Note: This topping is easy to make-ahead in bigger batches and freeze in zip-loc freezer bags, making it easy  to use when you need a quick dessert.  It works with any fruit for crisp, or crumb pie recipe.
[/print_this]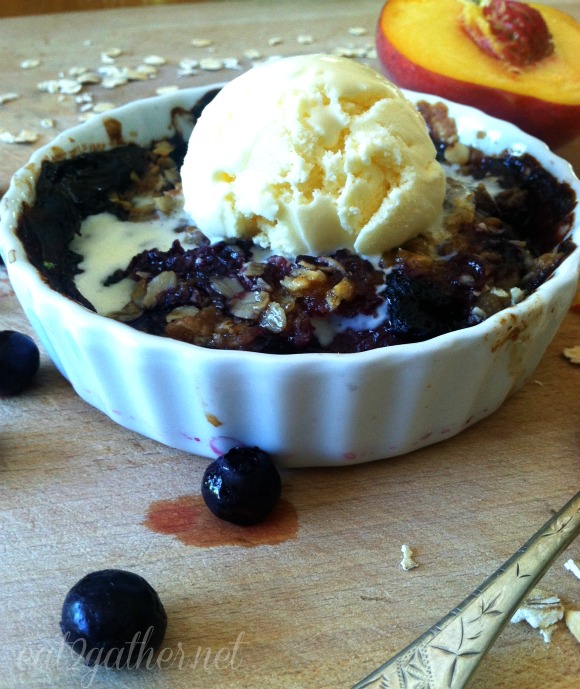 School starts on Tuesday for us, so we are saying good-bye to summer this weekend, I think a big pan of crisp would be a good way to lessen the pain of going back to school don't you?!
Have a great weekend!
Sheila