I haven't baked or cooked a thing for 10 days now!  Yikes! I left a week ago today for Seattle for Blogher Food.
Do you go through periods where you don't cook/bake?
In the Summer my style of cooking changes completely.  We are a pretty spontaneous family (of 6), so sometimes I will have dinner all planned only, to ditch it,  and head to the beach and eat ice cream for supper.  The rest of the year our schedule is so regimented with school, and sports I feel like my family needs to let it all hang out for a few weeks every now and then!
I am still in the Pacific NW with my boys. (Girls are home getting spoiled by daddy.)  Noah and Luke met up with me on Monday, in Seattle, we are having a fabulous time.  Lots of shenanigans, giggles, and of course delicious food.  We have seen quite a few deer, some beautiful birds, amazing vegetation, but not one Sasquatch!  Apparently the Pacific NW is the land of Bigfoot…so my boys say, but he is yet to come out to play!  Silly Squatch!
I thought I would share with you a few highlights from my trip so far.

Blogher Food was more than fun.  I met up with friends old and new.  I learned so much!  There are some crazy talented bloggers out there.  Here are a few you should check out:
Carrie Minns La Pomme de Portland
Sara Go Gingham
Corryanne Housewife Bliss
Sandy Reluctant Entertainer
Lisa With Style & Grace
Kelley Mountain Mama Cooks
Amy She Wears Many Hats
Catherine Weelicious
Amie The Healthy Apple
Lori Recipe Girl
There are so many more I don't have room to include them all!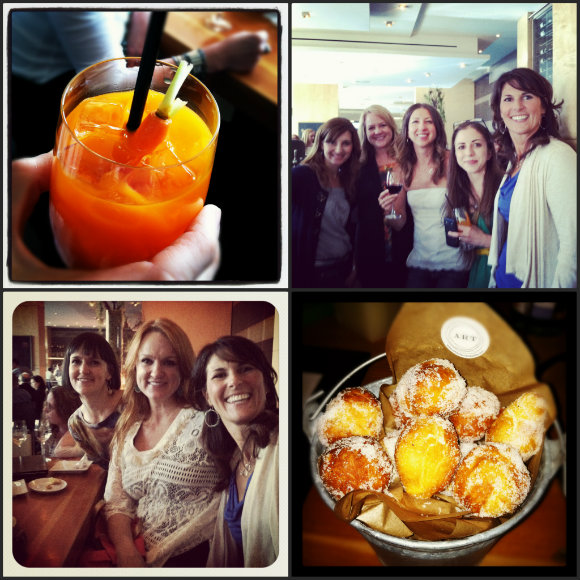 Friday Night was really, really fun.  For lack of a better description.  I got to share scrumptious food with friends and my cheeks hurt from laughing….and well er…um eating a few too many doughnuts….burp.  It was a blast!!! Thanks Ladies!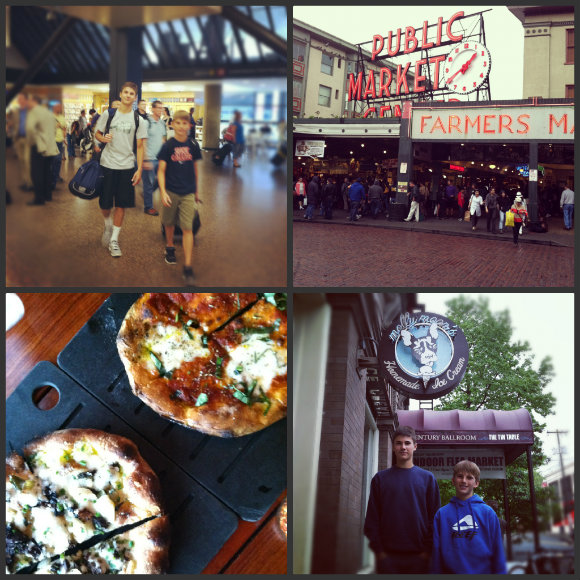 A weekend away with good friends is always fine and dandy…but oh how I missed my family. So when my boys arrived on Monday morning, I could barely contain myself! We wasted no time in exploring Seattle together.
We started out our day with lunch at the Space Needle, it was an unusually clear and sunny day, so the views from the needle were breathtaking!!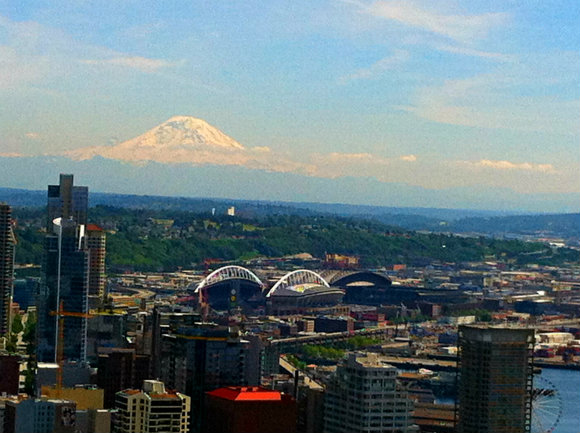 We took in this tour the next day, and we decided it wasn't a good idea to leave town with out first partaking in a bite from Serious Pie and then we felt the need to cure our sweet tooth at Molly Moons.  Seattle how I love thee let me count the ways!
I don't want to bore you with all the gory details of our trip, but…Ok maybe just a few more….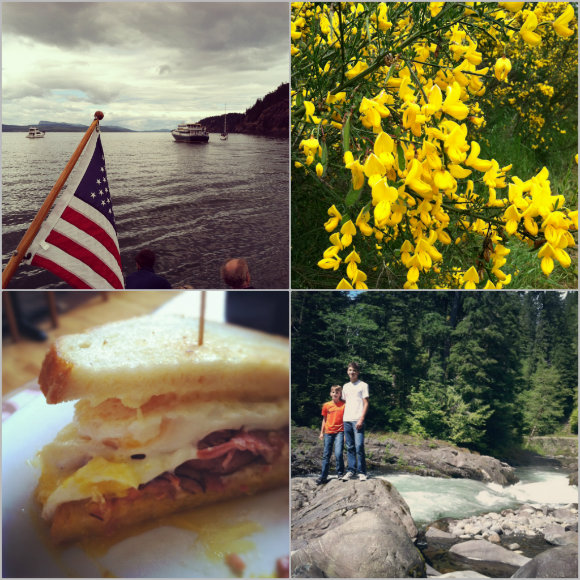 We left Seattle and headed up and over to Whidbey Island, it was breathtaking, and covered with the yellow flower that I have never seen before.  We landed ourselves in Port Townsend, one of the loveliest towns ever!  From there we set out on a day trip across the top of the Olympic Peninsula, then the next day we booked a trip on a Whale Watching boat.  Both days on our way out of town we fueled up at Sweet Laurette's Cafe and Bistro…it was amaaaZing!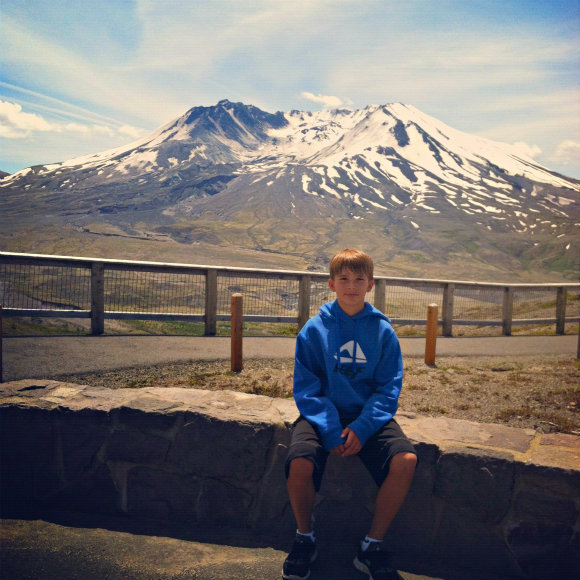 After leaving the Olympic Peninsula….still no Sasquatches in site…mind you, we headed south to visit my mom in Grants Pass, Oregon. On the way we took a few hours to explore Mt. St. Helens.  This would be my 12 year old with Mt. St. Helen in the back ground.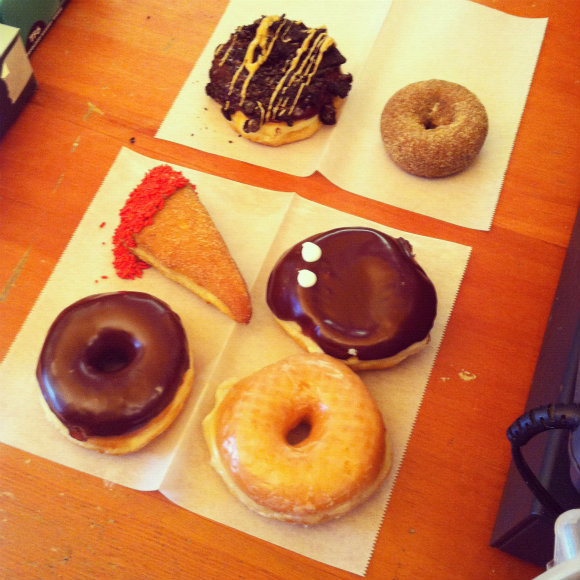 There was no way in h e double hockey sticks that we could pass through Portland with out a few tasty morsels, we found ourselves some amazing BBQ at Podnah's Pit BBQ, and then I gave my gal Carrie a call to see if she had any suggestions on where we should fill our sweet tooth…Voodoo doughnuts!  Forehead SMACK, duh! Of course.  Voodoo Doughnuts is slightly over the top…just saying.
We made it to my mom's safe and sound, and woke up this morning to the amazing aroma of coffee and…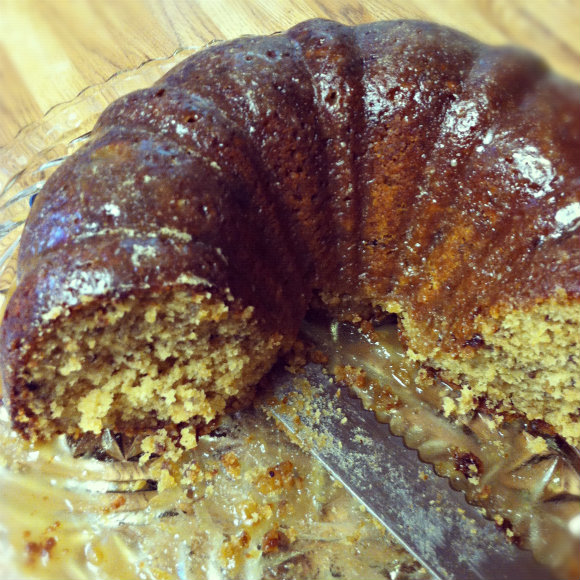 Caramel Toffee Breakfast Cake….be still my soul…I may have to share the recipe.
So that's all for now. I am having a unbelievable time with my boys, but my heart aches for my girls, and my Kenny. Happy Fathers Day Kenny, you are beyond the best father and husband on the planet. I wonder every day what I've done to deserve you.
Much Love, Sheila