Caramel Toffee Bundt Cake ~ M4S Friday
I'm back!  Hokey Pete is it good to be home.  I had a fantastic time with my boys.  We covered alot of ground in the Pacific NW.  We traveled the Olympic Peninsula all the way to the Redwoods, and everything in between! Phew!  I read
Vicki
Courtneys
book
5 Conversations You must have with your Son
, it's a great book!  And helped me delve into a few interesting and informative conversations, with my boys! Talk about Phew!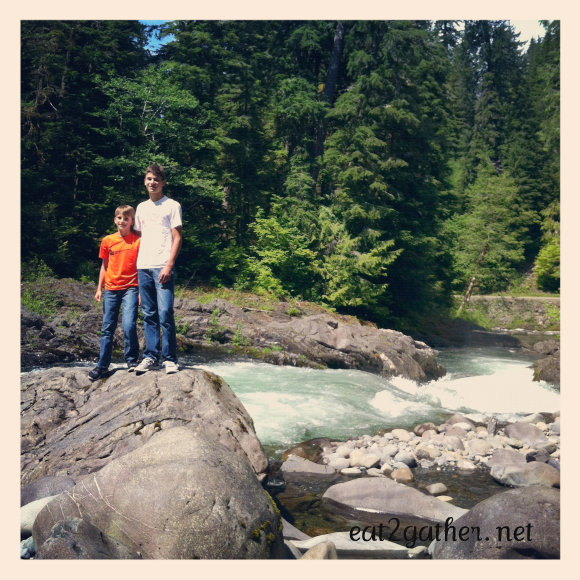 Good Golly did we have it easy or what?  When I was 12 the biggest worry I had was which candy bar I was going to buy with the quarter my Grandpa gave me, the Charleston Chew or the 100Thousand Dollar Bar. I guess by the time I was 15 things got a little crazier, like should I record "You Spin me Right Round" over my Meatloaf tape cassette or dole out the bucks for a new Memorex tape…..ugh!  The choices we faced where excruciating!
Any way my plan was to share my Moms scrumptious bundt cake with you not get all philosophical, about how crazy our world has become, and how frantic I am about keeping the communication lines open with my kiddos.  Hep meh!
So did I say that the boys and I visited my Mom in Oregon?  We did.  That was really the sole reason for our trip to the Pacific NW, all the sites and Blogher Food where just an extra bonus!  What? You thought my mom lived in Florida?  Well she does, in the winter, and then in the summer her and her husband live in Grants Pass, Oregon.  Seems a bit extreme I know…I'll save that story for another day!  For now lets get back to the bundt cake.
What is it?  
It's a bundt.
A bun?
Bundt!
Bunk?
Bundt!!!
OooOh its a kek….thank you very much…(whisper) there's a hole is this kek. 
Hahaha!  Name that movie!  It's one of my all time favorites.
So this particular bun kek, is one of the many pound cakes my mom makes in a bundt pan.  You could make it any form pan you like, but my momma uses her bundt pan.  The best thing about this caramel soaked cake is that it gets better with time.  It's really delicious, right away warm, but then have it two days later (if there's any left) and it's better than the first piece you had. True story.  That makes it a great cake to share, especially when you have over night guest, because you can pull it our for breakfast, mid morning coffee, mid afternoon coffee, or a bedtime snack.  You might just want to make two!  This cake also freezes well so you could make it ahead and pull it out of the freezer a few hours before you need it.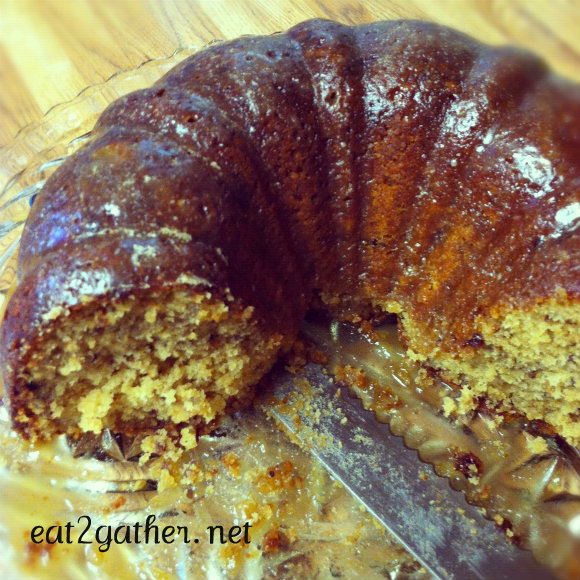 There it is, my Moms Caramel Toffee Bundt Cake,  just minutes after she poured the caramel over it…half gone!  So with out further ado here it is the recipe.
[print_this]
Caramel Toffee Bundt Cake
1 sticks Butter
1/2 cup Vegetable Shortening
2 cups Brown Sugar, packed down
1 cup granulated Sugar
5 Eggs
1 tablespoon Vanilla
3 cups Flour
1/2 teaspoon Baking Powder
1/2 teaspoon Salt
1 cup Milk
1/2 cup finely chopped Pecans (optional)
1 cup Heath English Toffee Bits
Preheat oven to 325 degrees.
In mixing bowl cream together butter and shortening. Add brown sugar and beat until smooth and creamy, then add granulated sugar and beat until incorporated well. Add eggs one at a time, beating well after each addition. Add vanilla mix until incorporated. Combine flour, baking powder, and salt (My mom sifts the flour, I rarely sift, I'm lazy that way.) alternately add flour and milk to batter mixing as you go. Mix until just combined, do not over mix at this point. Fold in Heath Bits and nuts. Pour into a greased bundt pan.  Bake for 1 1/2 hours. Cool for 10-15 minutes,(During this time make the caramel. Recipe below.) Invert bundt cake on to a cake plate, and spoon the hot caramel slowly over cake. Slowly to ensure that the caramel soaks into the cake and to ensure that you cover every inch of the cake with caramel.
Caramel Glaze
4 tablespoons Butter
1 cup Brown Sugar
1/4 cup granulated Sugar
1/2 cup Half & Half
1 teaspoon Vanilla
Melt butter.  Add sugars and half & half, bring to a boil and whisk until smooth and there are no sugar crystals, whisk in vanilla. Spoon hot caramel glaze over warm bundt cake.
Enjoy!
Note: I think this cake would be fabulous with a cup of mini chocolate chips in it as well.  This cake also freezes really well, just make sure you cool it completely and wrap it well with plastic wrap.
[/print_this]
I would love to hear what your favorite treat to serve guest is.  LINK-up,
or give me your 2 cents below!
It's time to  SHARE  your FAVORITE RECIPES!  Here's how……
1. Click on the Add link below then Add the permalink from your post.  Please do not link your websites homepage.
2. Select the photo you wish to link to your site and include the title of what you are sharing!
3. Create a link to Eat2gather.net within your post, to share all the great recipes with your readers.  Please feel free to grab my  blog button from the sidebar.  If you share the button on your sidebar or in your post I will hug you and kiss you!!  Well not literally, but maybe if I happen to run into you. (wink)