There is no greater meal for sharing than fondue!  Fondue is meant to be shared.  Can you even imagine sitting and eating fondue alone?
Did you know that I love all things fondue? Did you know that I am indeed the Queen of Fondue?  I am!  How can I make such a bold statement?  Whal, here's the story.  About 12 years ago my sweet Seestor bought me a fondue pot….or maybe my mom bought me the pot, hmmmm did Kenny buy me the pot?  Anyway somebody gave me a fondue pot, because I mentioned that I thought fondue would be fun to do for Christmas Eve dinner.  The rest is history!  One pot turned into two pots, now I own four fondue pots and if I do a big party I often have to call Big D and borrow her pots.  That's alot O pots!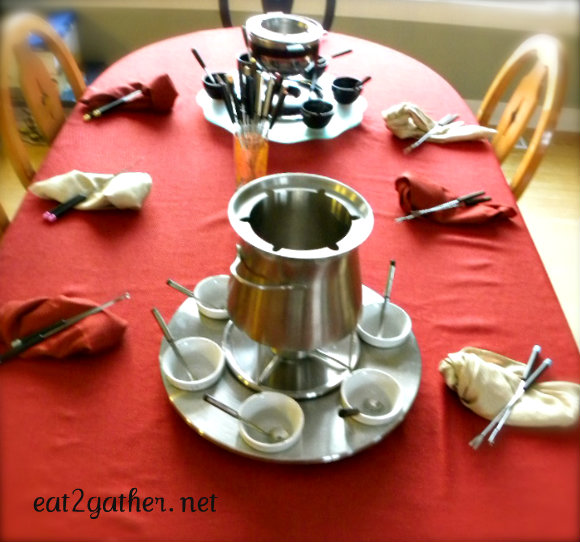 You see the word got out that I could put together a mean fondue dinner, and people have requested that I donate this dinner at different auctions.  It is always a top auction item!  My fondue dinner is a feast that goes on and on.  The evening begins with cheese fondue….3 different and uniquely savory cheese pots!  Then we mosey on over to the broth and oil fondue, where all sorts of delicacies are boiled and dipped.  From there we crawl to the Peace de Resistance! Fondue au Chocolate! Three pots O chocolate….it's heavenly, it's divine, it is quite literally DEATH BY CHOCOLATE.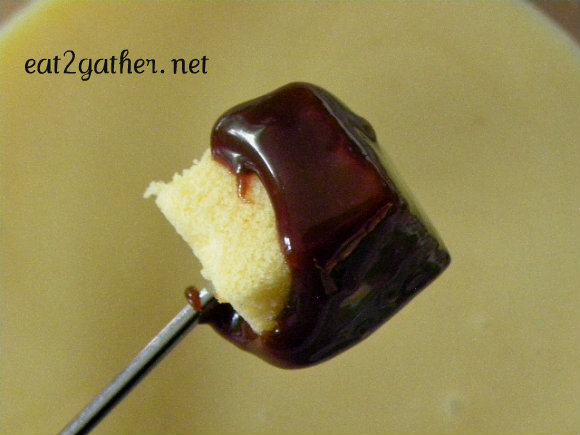 The most popular dessert fondue that I make is Toffee Fondue.  Excuse me for a minute while I……
AAAAAAAAAAAAAaaaaaaaaaaaaaaaaa jump jump jump….cart wheel….(ouch) hirky jump!
get a little excited.
Until you have had Toffee Fondue you cannot completly understand the scene above.  But after you partake of this dip into heaven, then and only then will you know from whence I come……..
So today, I am sharing with you Toffee Fondue.  Hold your applause ….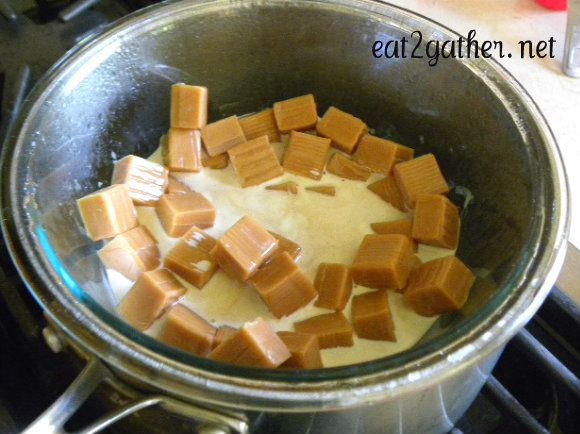 In a double boiler, or glass bowl over a pan of water, unwrap 1-14 ounce bag of Caramels, add in 1/4 Heavy Cream, and 1/4 cup strongly brewed Coffee.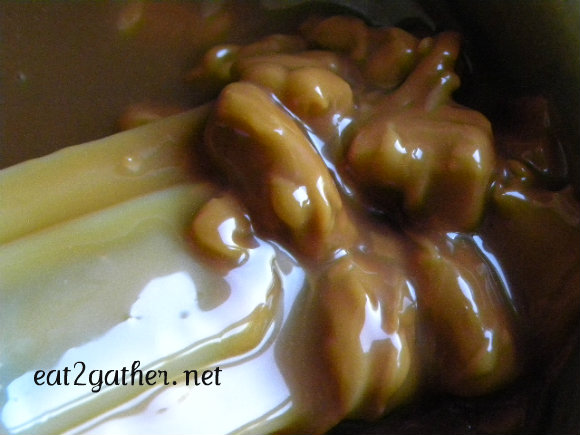 Stir and stir and stir….this takes some patience, but Oh Baby it's worth it.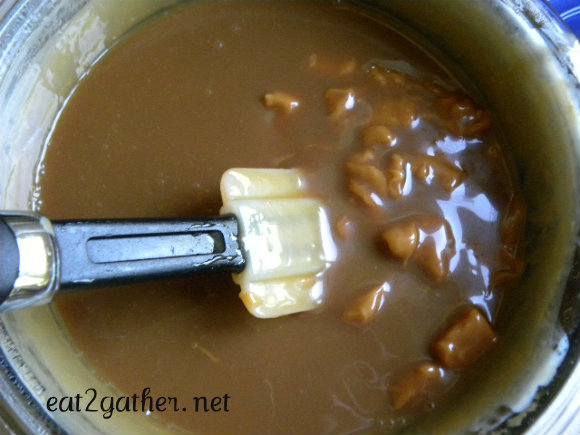 This step may take up to 30 minutes or longer.  You don't have to stir the entire time, but don't get too far away, you want to stir often, the caramels will melt faster if you do.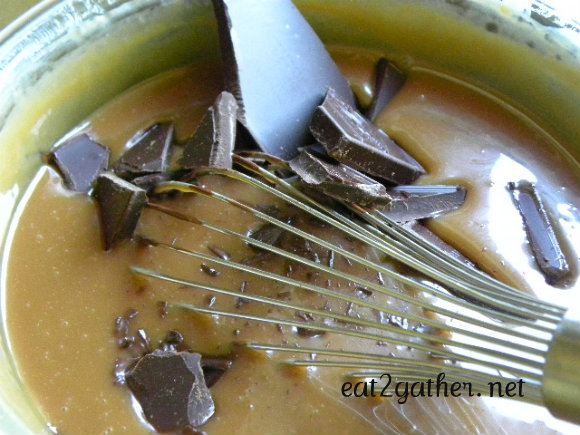 Once the caramels are completely melted, remove from heat and toss the bittersweet chocolate in.  I like to use the best chocolate I can get my hands on.  It' only 4 ounces so spare no expense!   Stir until chocolate has melted and completely incorporated into caramel.  At this point you can pour the Toffee Fondue right into your pot, or you can let it cool, then pour it into an airtight microwavable container for up to 2 days.  When ready to use microwave on low slowly, then add to fondue pot.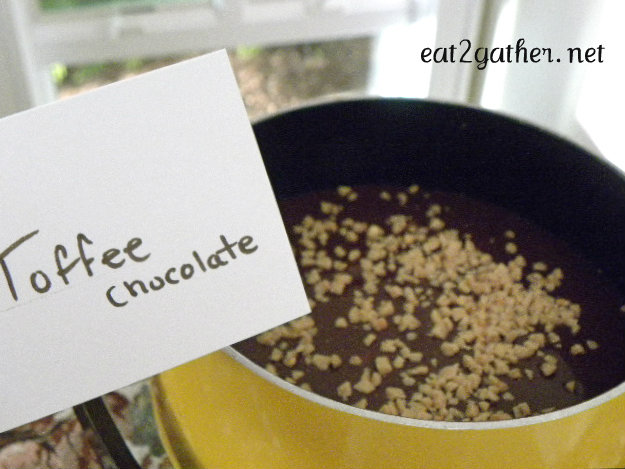 Sprinkle the Heath English Toffee Bits over the top and serve.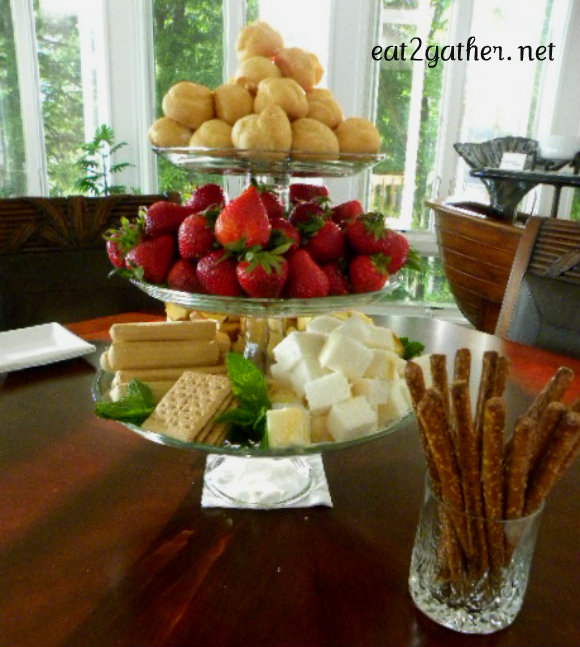 Serve with all sorts of accompaniments.  You can dip just about anything your heart desires in this fondue. My heart desires pretzels, then bananas, and lastly pound cake.  But honestly you could dip your dogs tail in this stuff and it would be magnificent!
Ok now you can applaud.
[print_this]
Toffee Fondue
serves 4-6
(You might has well just double this recipe. I always do. Unless of course you are in fact going to fondue alone, then one recipe will do.)
11 ounce package Wrapped Caramels
1/4 cup Heavy Cream
1/4 cup brewed Coffee, strong
4 ounces Bittersweet Chocolate, chopped
1/2 cup Heath English Toffee Bits
accompaniments for dipping: pound cake, pretzels, strawberries, cream puffs, graham crackers, biscotti, your face, marshmallows, bananas
Remove wrappers from caramels. Place caramels, coffee, and cream in double boiler. (If you don't have a double boiler, use a glass bowl inside a sauce pan filled with 2 inches of water.) Stir caramels often as they melt. This will take about 30 minutes. When caramels are completely melted and smooth, remove from heat, and add in the bittersweet chocolate pieces, and stir until they melt and incorporate into the sauce.
You can a.) pour this right into your fondue pot and get the party started or b.) let cool, and store in an airtight microwavable container for up to 2 days before you are ready to use. If you chose b. when you are ready slowly warm in microwave and pour into your fondue pot, sprinkle with toffee bits, and serve with dippers.
Enjoy!
[/print_this]
Have you ever done Fondue with friends?
I would love to hear all about it!  In fact if you have a favorite fondue post or just a favorite recipe you like to share today is your lucky day!
It's time to  SHARE  your FAVORITE RECIPES!  Here's how……
1. Click on the Add link below then Add the permalink from your post.  Please do not link your websites homepage.
2. Select the photo you wish to link to your site and include the title of what you are sharing!
3. Create a link to Eat2gather.net within your post, to share all the great recipes with your readers.  Please feel free to grab my  blog button from the sidebar.  If you share the button on your sidebar or in your post I will hug you and kiss you!!  Well not literally, but maybe if I happen to run into you. (wink)