Pumpkin Spice Caramel Apples
 Think of all the flavors Fall wrapped up in one perfectly ambrosial treat, and you've got yourself a
Pumpkin Spice Caramel Apple!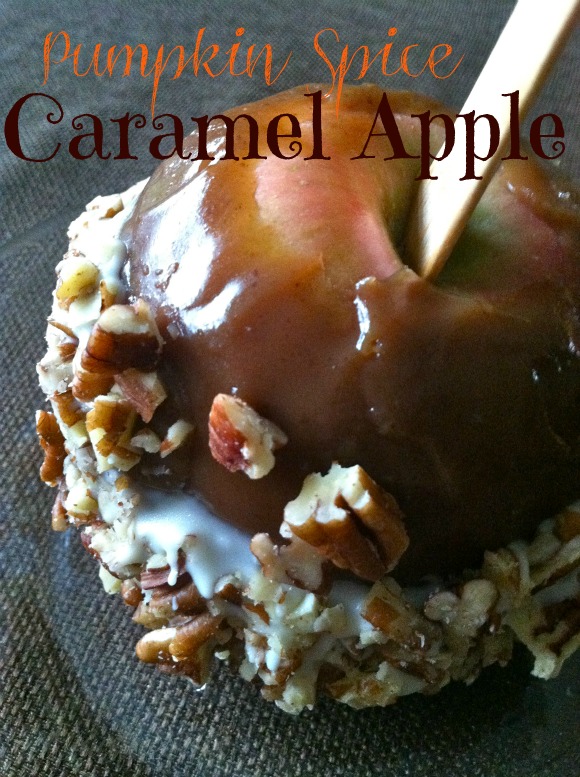 You can blame my friend Jen for this recipe.  She asked me if I had a good recipe for dipped caramel apples.  I had to admit I did not.  But it got me thinking.  Thinking about unique flavors and embellishments for caramel apples.  What's trending?  Bacon.  Bacon is still hot. Kale…not with caramel.  Spicy…maybe?  Pumpkin Spice is still big, it's the trend that keeps on giving.  When I think of pumpkin spice…I think fall, sweaters, Ugg boots and chilly weather.  It's a comforting flavor.  I like that they (Starbucks) take it away and bring it back every year.  It makes me want it more.  Absence makes the heart grow fonder….same holds true for appetites!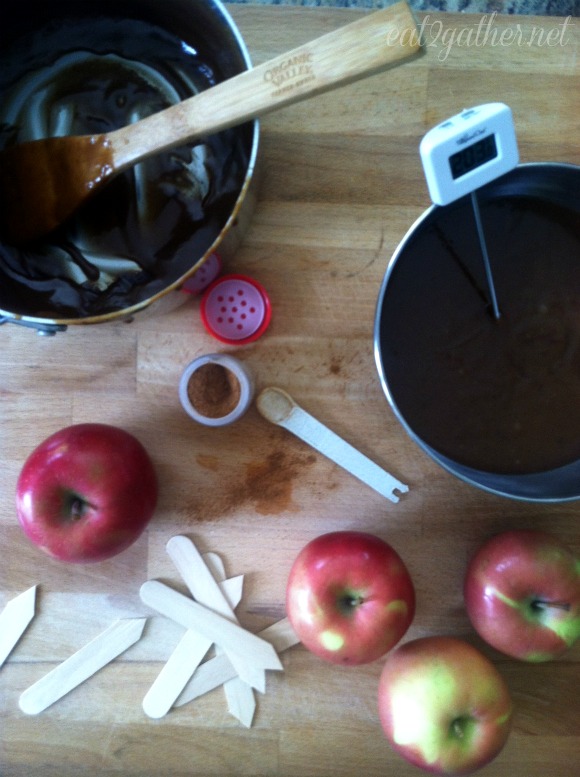 So back to the apples.  I was thinking fallish type toppings to roll the apple in once it's dipped in caramel.  I have to admit I'm somewhat of a purest when it comes to caramel apples.  I don't really care for layers and layers of chocolate, and nuts, and candy bar, and more caramel.  I want to taste the apple and the caramel.  Don't get me wrong I'm not entirely opposed to embellishing my caramel apples.  I just rather keep it simple.
The idea came to me (in my mini van a.k.a my think tank) of putting the flavors of fall in the caramel, what's wrong with changing up the caramel?  Nothing!
Thus Pumpkin Spice Caramel was born…
Dang!   It's a spoonlicker!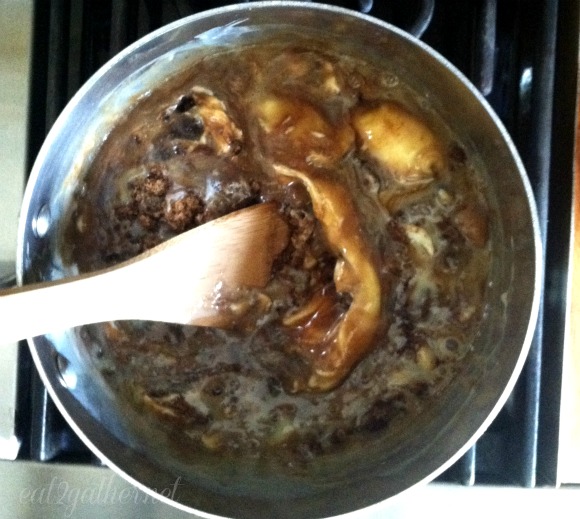 I didn't google it….honestly I don't want to know if it's been done before.  I want to think that I invented it, and by all means if I did and no one else has done this before, you can call me genius.  You're welcome.  Apron curtsy.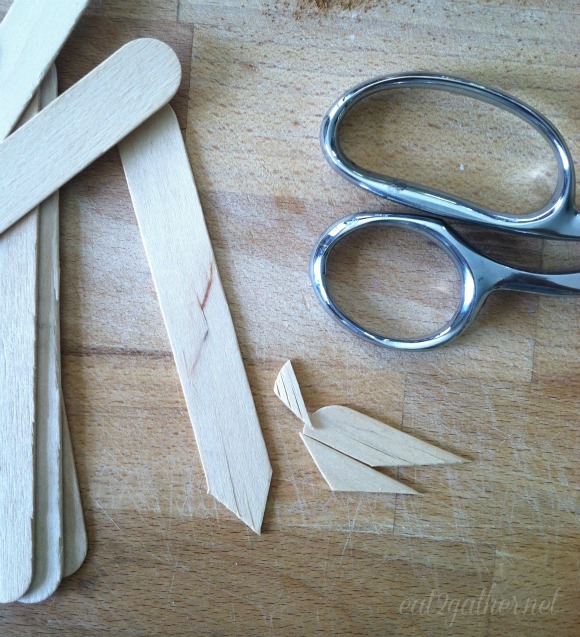 You will need a few things before you get started making your Pumpkin Spice Caramel Apples, and most likely you have them all on hand.  Apples (I used Romes.  I say use what ever variety you love to eat.), popsicle sticks or any sort of sturdy stick that will hold up to the weight of the apple, parchment paper, butter for greasing parchment,  and the ingredients for the caramel ~ brown sugar, sweet condensed milk, butter, Karo syrup, vanilla, salt, pumpkin pie spice.


Dipping apples in caramel is not for wussies.  It's messy.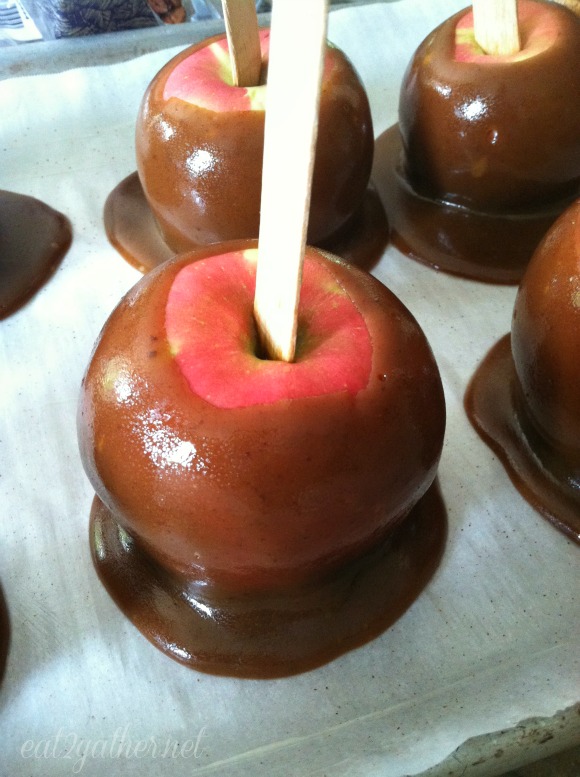 It will appear that all the caramel is escaping off the apple on to the pan…have no fear, once you dip your apples, place them in the refrigerator until caramel sets.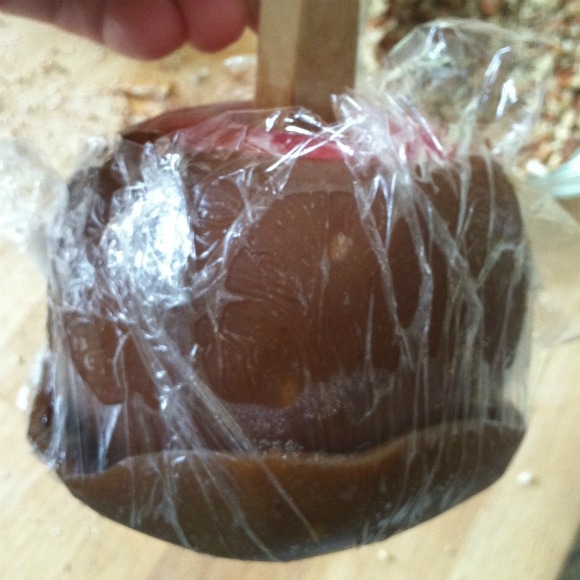 Then I took plastic wrap and molded the caramel back around the apple.
My mom did most things from scratch when I was growing up, but not caramel apples. (Not that I remember anyway.) Remember the wrapple?  I loved me some wrapple whenI was a wee one.  I would usually eat one flat piece of caramel and wrap one around an apple.  Then came the marvelous invention of caramel dip (do you have Marzetti's?) and really that was the end of my wrapple obsession, because I could simply dip each bit of apple in caramel.  Caramel Dip for apples is seriously the best food invention ever.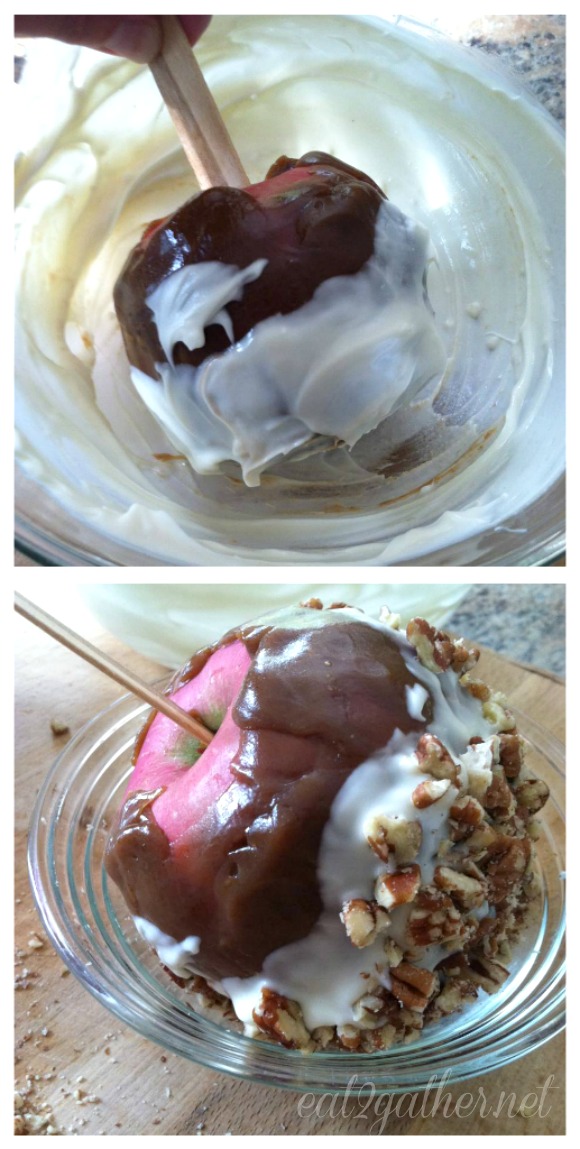 So now that you have the caramel molded evenly back in place around your apples, you can enjoy as is OR you can embellish to your hearts content!  I chose to dip in white chocolate then into pecans, and or toffee bits.  You could get super creative here.  One other thought was to melt some cinnamon chips in with the white chocolate.  Or to candy coat the pecans adding even more flavor.
The possibilities are endless.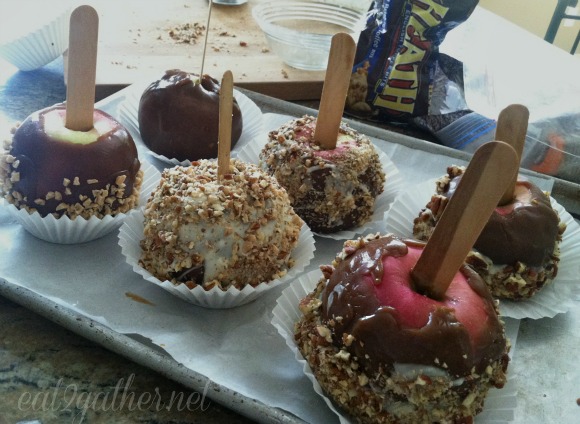 Ok I have to tell you.  I couldn't help myself.  I said I didn't care, but I do!  So I googled.  I know.  It's a sickness.  You know yesterday I was at the doctors office with my son (he's fine, just a few zits) and the cover of Time was "can google solve death" not sure what that even means…..I think that's one of those over my head articles.  I know that google can cause me anxiety which can cause stress which has been known to cause heart failure which causes death….that doesn't sound like any solution to me.  I digress…..
Nothing came up for "pumpkin spice caramel apple" when googled.
Stress gone.
Death solved…maybe that's what they meant. Hmmmm…maybe the article was about food bloggers 😉
Ok I hope I didn't loose you with talk of death and googling "and so on and so forth and what have you"….. (my families all time favorite Sue Heck line.)
Enough already you need to be carameling some apples!
Here it is the never seen before pumpkin spice caramel apple…….
[print_this]
Pumpkin Spice Caramel
1 pound Dark Brown Sugar
1 14 ounce can Sweetened Condensed Milk
2 sticks Butter
2/3 cup Dark Karo Syrup
1 teaspoon Vanilla
1/4 teaspoon Kosher Salt
1 teaspoon Pumpkin Pie Spice
8 medium Apples (I used the Empire variety, they are a sweeter variety)
8 popsicle sticks
**candy thermometer needed
Assorted decorations: I used white chocolate, heath bar, toffee bits, and pecans.
1.Place medium sized sauce pan on stove over medium/high heat and combine brown sugar, sweetened condensed milk, butter, karo syrup, vanilla, and salt. Stir constantly until butter has melted and ingredients are smooth.  Bring to a low boil, place candy themometer in caramel and continue to stir until it reads 230 degrees.  Remove caramel from heat and allow to cool down to 210 degrees. Sprinkle pumpkin pie spice over top of the carmel, and whisk until incorporated. (The reason you want to sprinkle evenly is because if you simply toss a glob of spice into hot caramel it might stick together and it's harder to incorporate the flavor through out the caramel.)
2.Place sticks in apples that you have washed and dried.  Make sure the sticks are sturdy in the apple, and not going to fall out when you dip in your caramel.
Cover baking sheet with parchment paper and grease parchment paper with butter. Dip each apple in caramel, place apple on a baking sheet covered with parchment paper.  After you have dipped all your apples place the baking sheet in the refrigerator for 1 hour.
3. Remove apples from refrigerator.   Use plastic wrap to mold the caramel that as slipped down off the apple back around it.
4. Melt 1 pound of white chocolate baking pieces in the microwave.  Swirl apple in the white chocolate and dip in chopped pecans, crushed heath bar, or toffee bits or all of the above.  Place apple back on parchment paper.
Once the chocolate has set, wrap Pumpkin Spice Caramel Apples in plastic wrap, and store in a cool place.  Apples will last up to one week.
Have fun and enjoy!
[/print_this]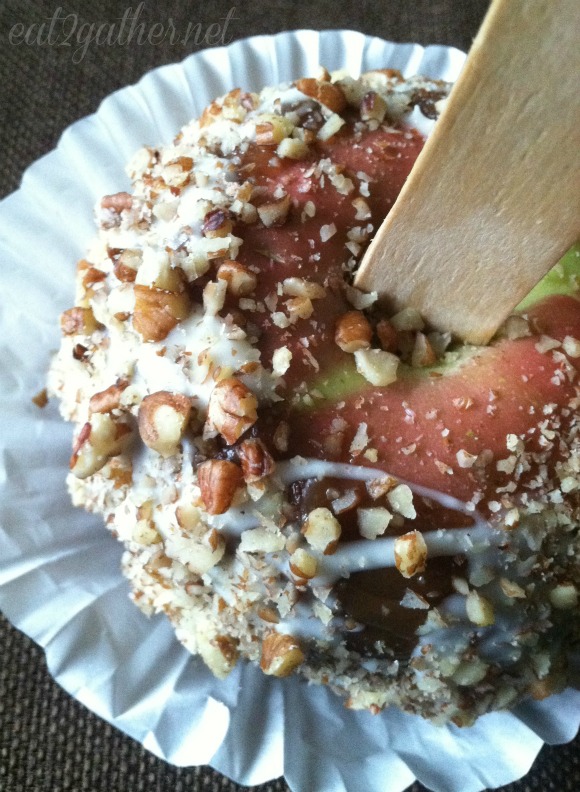 So I need to know….What's your favorite fall treat?  If it's caramel apples do you prefer them all gussied up or perfectly plain?
I'm going to get up with the scarecrows tomorrow morning and get my kiddos Pumpkin Spice Donuts from Post Family Farm and grab our pumpkins for carving….I know GASP! we have not carved pumpkins yet!
Have a great weekend! Sheila